This Crockpot Sloppy Joes recipe will give you a new appreciation for this classic homestyle dinner. Ground sausage and ground beef simmer with flavorful BBQ sauce, tangy apple cider vinegar, rich tomato sauce, brown sugar, and other simple ingredients.
Easy Slow Cooker Sloppy Joes
Sloppy Joes are a hit in our family. The kids love the name and the flavor. Plus the adults love eating the "blast from the past" sandwiches. There's a reason this recipe has been around for so long!
The list of ingredients shows that there is going to be a ton of flavor in these slow-cooked sloppy joes. The first sign is adding ground sausage to the mix. Typically, sloppy joes are made with beef alone. But adding the sausage adds incredible flavor!
Plus, we add BBQ sauce in addition to sweet and tangy ketchup. And some apple cider vinegar and brown sugar to add to the sweet and sour flavor. It all balances out with earthy yellow mustard and salty Worcestershire sauce.
Don't forget that this is also a slow cooker recipe! So simply "set it and forget" and dinner will be ready when you are!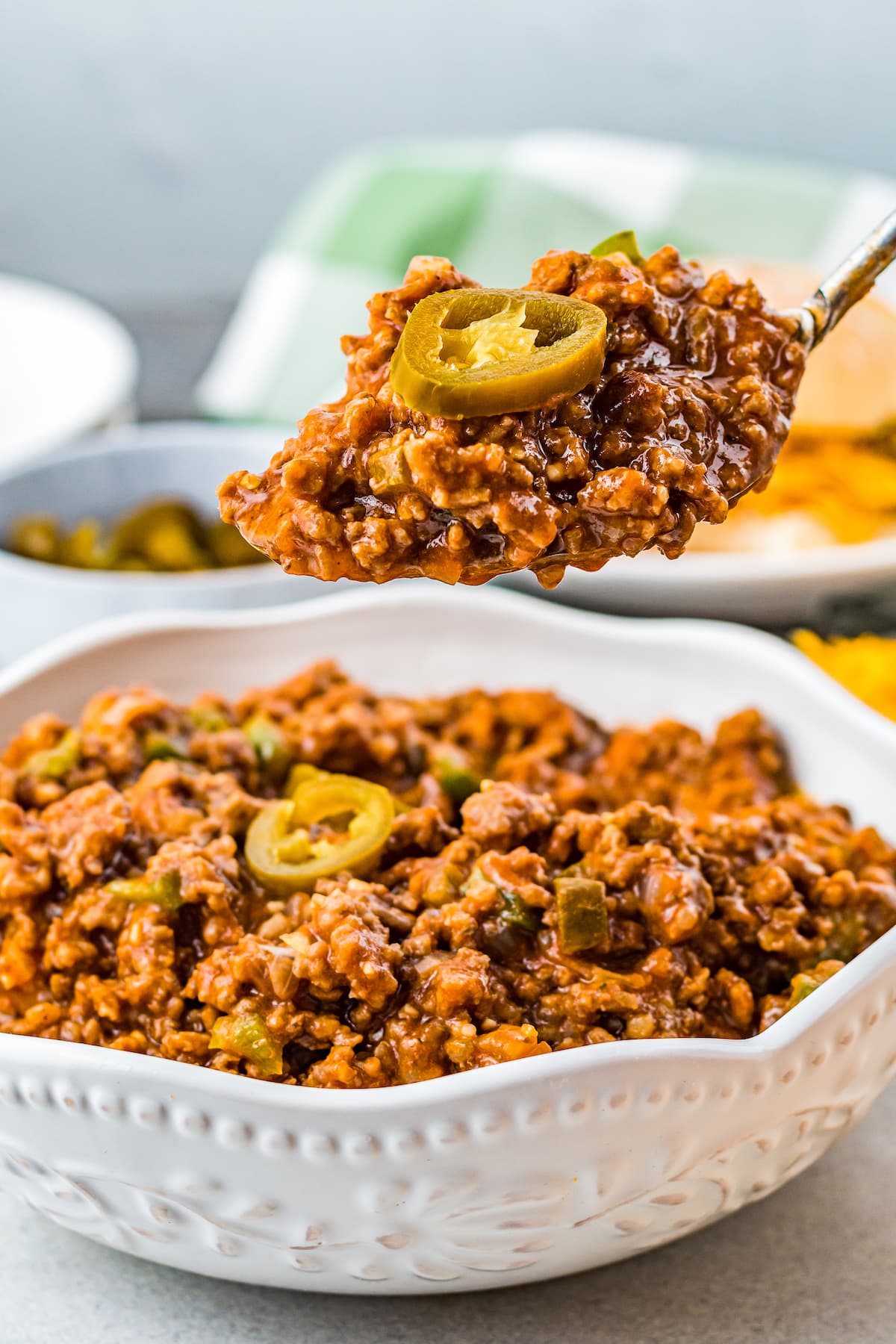 Why You'll Love This Recipe
Here's why you're going to love this easy sloppy joe recipe.
It takes less than 10 minutes to prep. And then the slow cooker does the rest!
It's going to be a crowd favorite. The flavor of this sloppy joe recipe is so memorable. You'll never go back to the basic recipe again! And your friends will be asking for the recipe. It's THAT good!
The ingredients are simple and easy to find. This is one of those recipes you could make on a whim because a lot of the ingredients are pantry staples.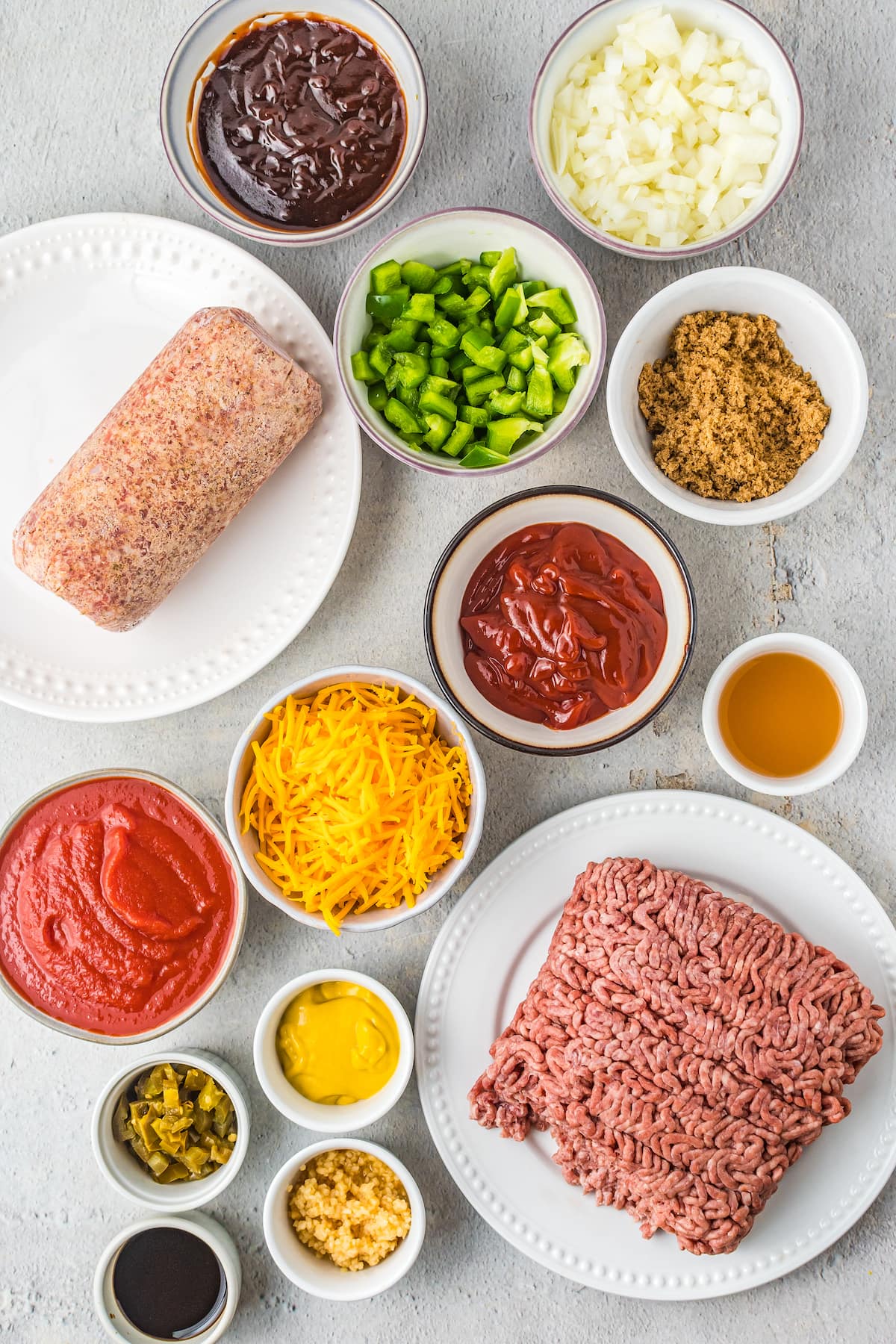 Recipe Ingredients
Here is what you need to make Slow Cooker Sloppy Joes.
Ground Beef: We like to use an 80/20 mix of ground beef so that the beef doesn't dry out.
Ground Sausage: Adding sausage to the sloppy joe mix gives it so much flavor!
Yellow Onion: Starting the dish with onions builds flavor. Plus it adds texture and a little sweetness.
Garlic: The rich garlic compliments the tender onions perfectly. We always recommend using fresh garlic when possible.
Green Bell Pepper: This is a staple sloppy joe ingredient! It adds more texture and fresh flavor.
Tomato Sauce: It's best to use unsalted tomato sauce so that you can control the salt flavor.
Ketchup: Using ketchup helps add that little "kick" of flavor and builds subtle sweetness.
BBQ Sauce: This is an ingredient that adds a lot of flavor with just one bottle. BBQ sauce is so flavorful on its own and it adds smokiness and sweetness to the sloppy joe mix.
Brown Sugar: Here's another ingredient to round out the sweet flavors of this dish. Use more or less to your liking.
Apple Cider Vinegar: A heavy splash of apple cider vinegar brings some acid to the recipe. The acid helps elevate the other flavors and adds a little tanginess.
Yellow Mustard: The mustard will add rich earthy notes to the beef mixture. Which will also balance out the sweetness.
Worcestershire Sauce: This is an ingredient that adds salty flavor. A little bit will go a long way!
Pickled Jalapenos: Optional but recommended!! We love adding a little heat. But feel free to omit it when serving the little ones.
Shredded Cheddar Cheese: Or you can use pepper jack for added heat!
Hamburger Buns or Texas Toast: You need something soft and delicious to put the sloppy joe mix on! We also like using mini dinner rolls for the kids for sloppy joe sliders!
Variations
You can use all ground beef if you'd like. You can also use ground turkey or chicken! If using ground turkey or chicken, we recommend not using the extra lean kind because it will dry out.
Use different bell peppers. You can swap it out for a sweeter and milder red, yellow, or orange bell pepper if you don't like green peppers.
Try a different sweetener. You could also use maple syrup instead of brown sugar.
How to Make Crockpot Sloppy Joes
The steps are so simple! Here's what you need to do to make this simple dinner.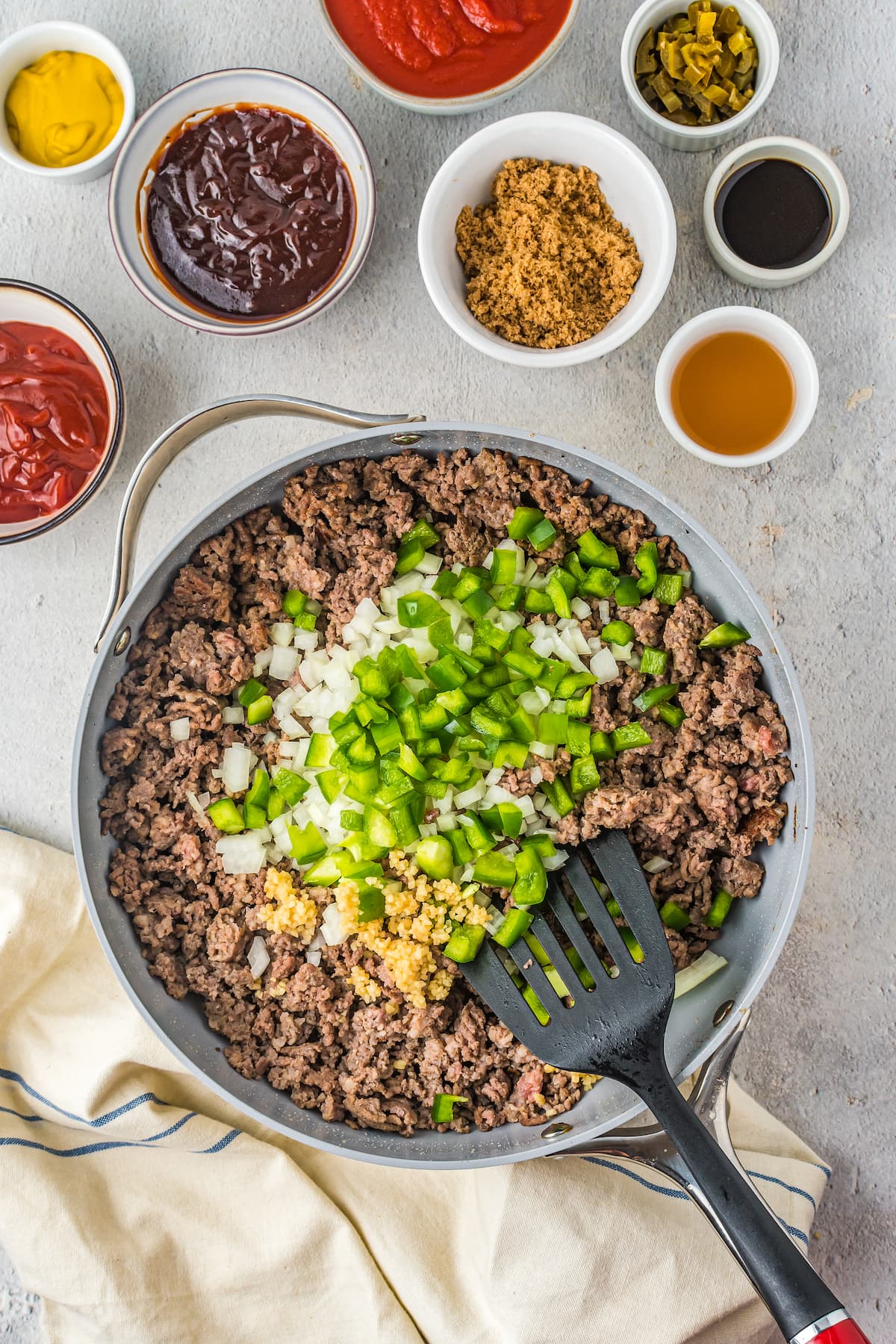 First, brown the beef and sausage in a pan. You'll want to cook the meat until it's no longer pink. And then drain the grease when it's done.
Add the onions, garlic, and green peppers. Cook with the beef/sausage mix for about 4 minutes.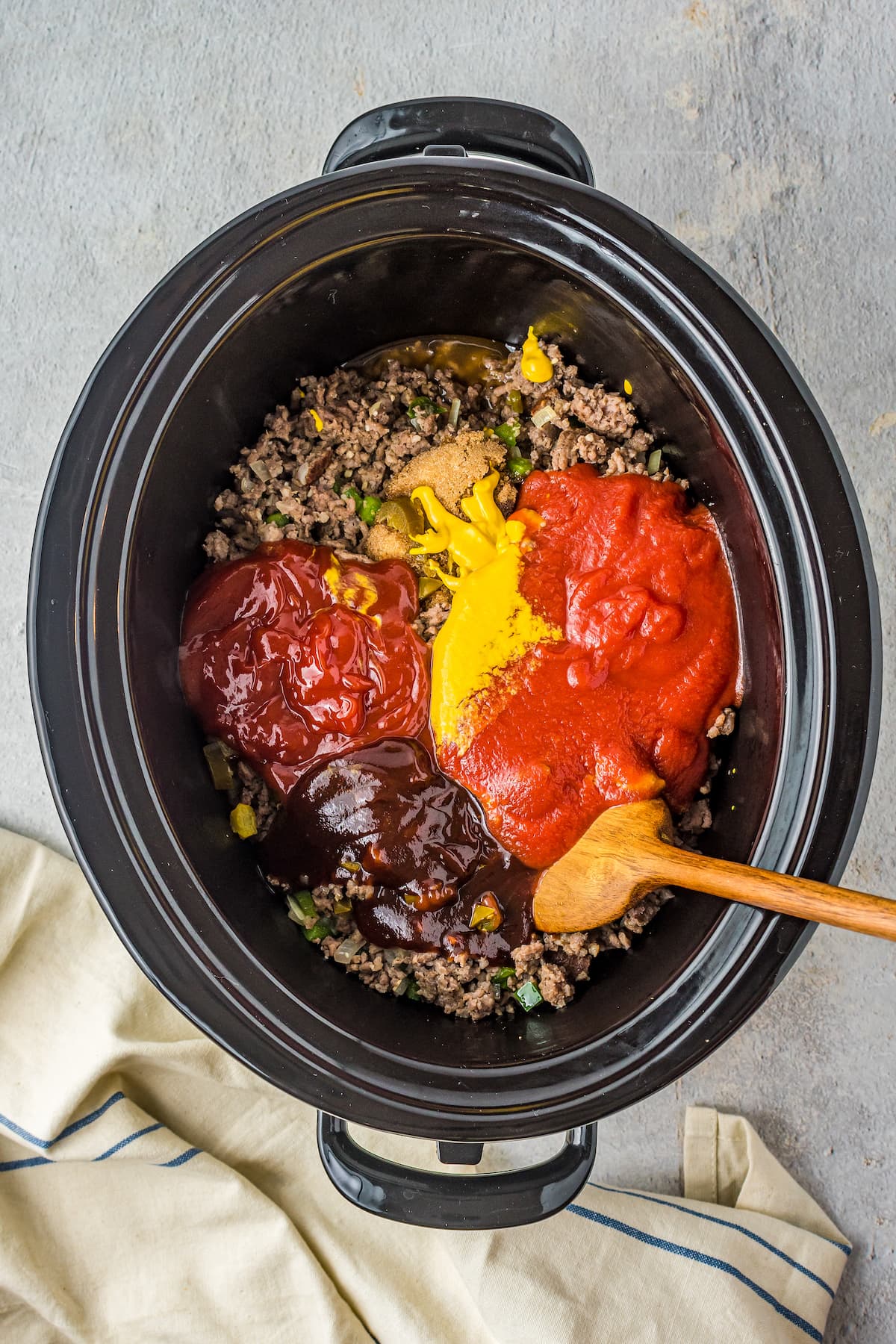 Then add everything to the slow cooker. Add the meat mixture and the remaining ingredients to the slow cooker.
Cook for 3 hours (on high) or 6 hours (on low). Be sure to check the seasoning when it's complete. Adjust as needed and then serve with hamburger buns or Texas toast.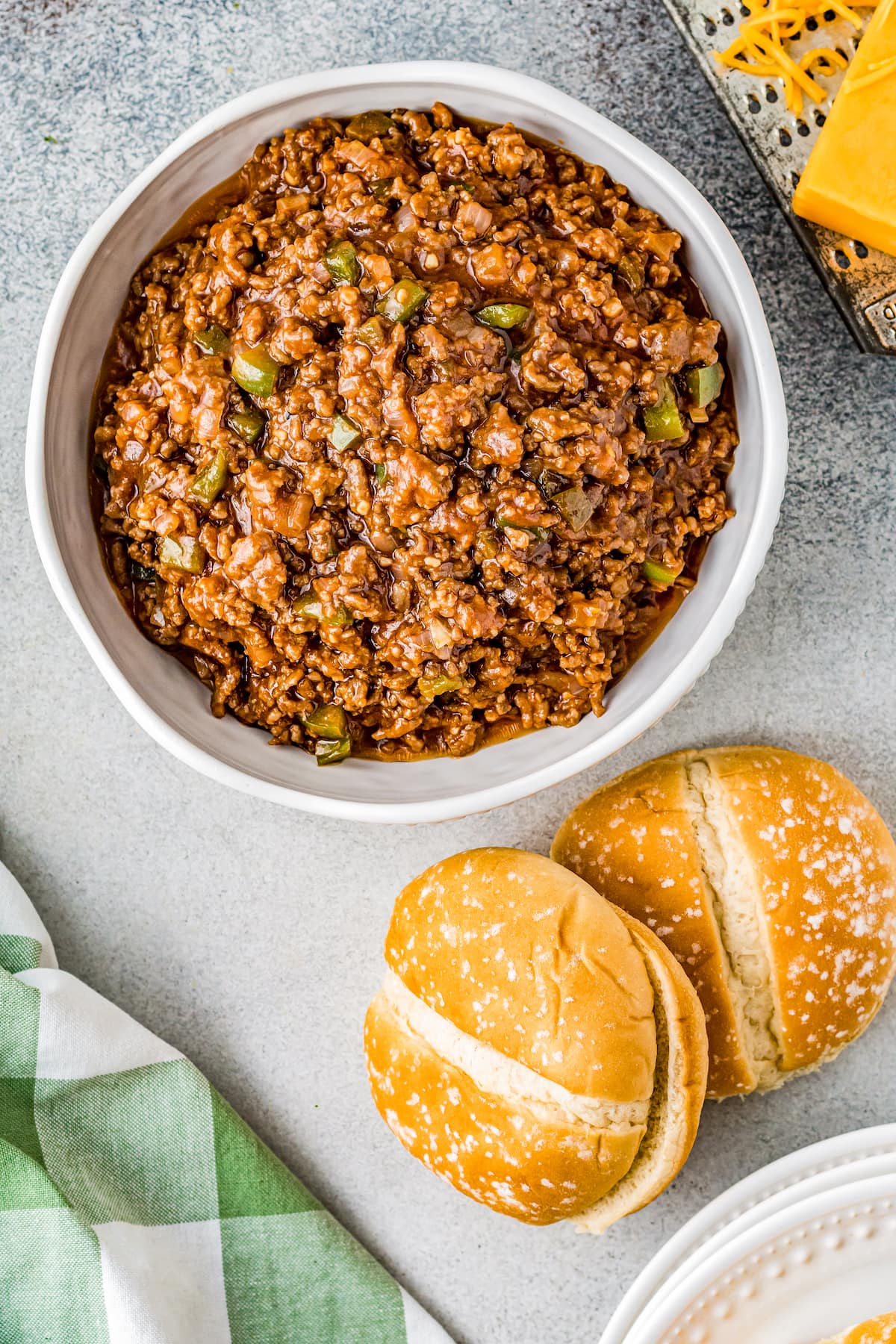 Do I Have To Brown the Meat First?
We prefer to brown the meat before putting it into the slow cooker. Browning meat before slow cooking adds so much flavor. However, it's not always necessary.
You can put all of the ingredients right into the slow cooker and cook it that way. The meat will not be as chunky though. You could even say it will be sloppier and more sauce-like.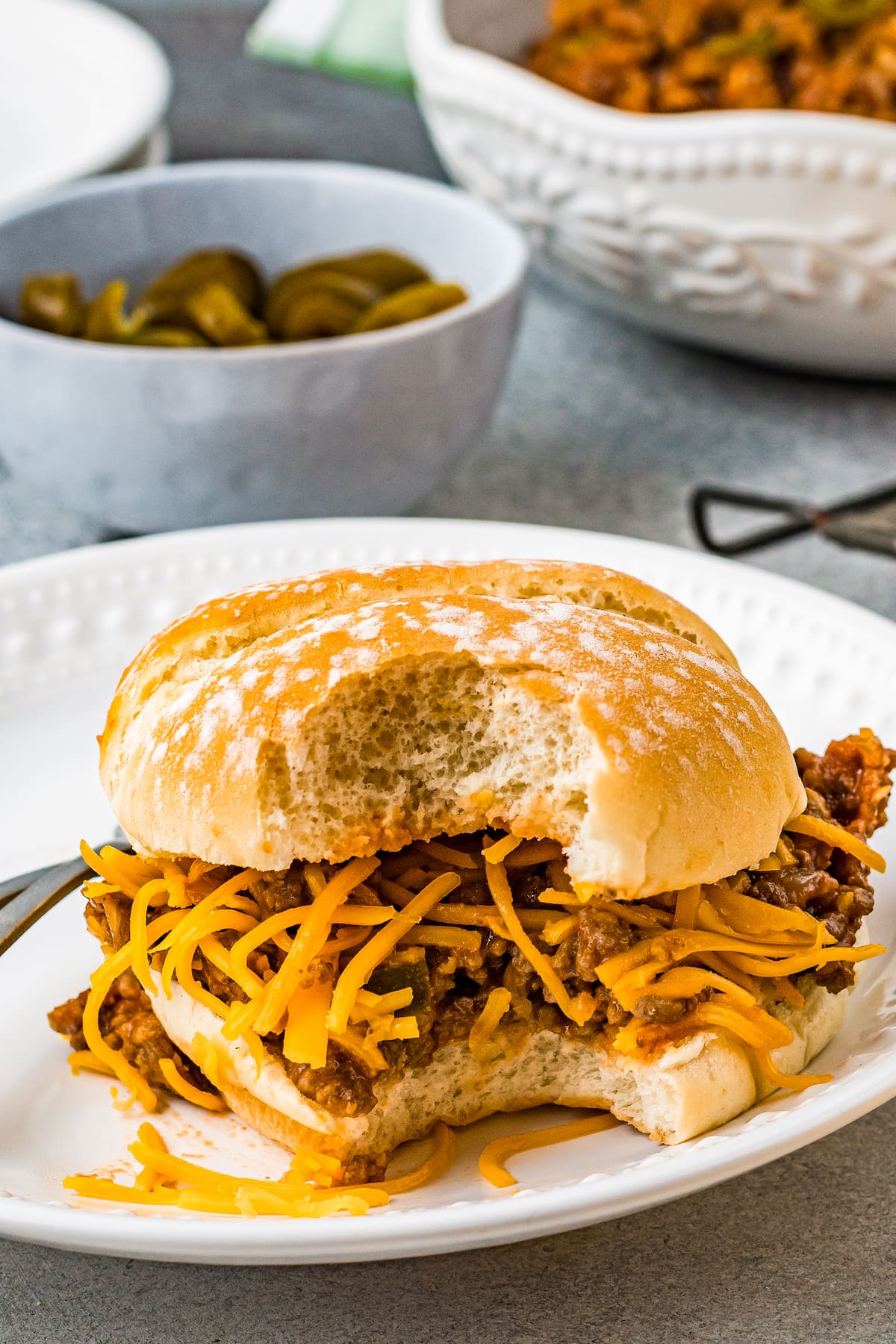 Can These Be Cooked on The Stovetop Instead?
Yes, you can cook this sloppy joe recipe on the stovetop. No problem!
Just cook the meat, onions, garlic, and peppers in a large dutch oven or pot instead. And then add the other ingredients and simmer for about 20 minutes.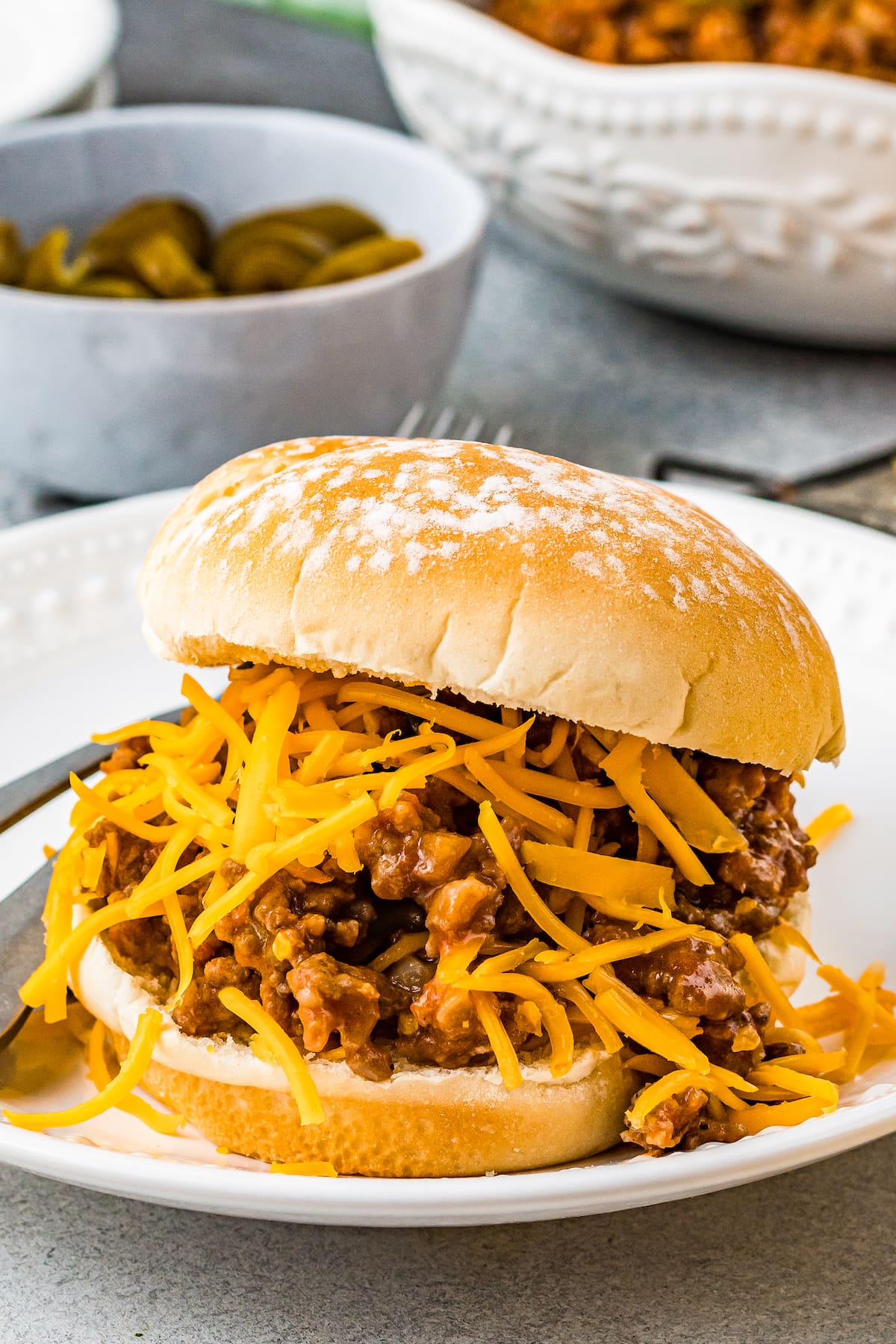 Tips for Success
Here are a few helpful tips to follow along the way.
Prep in the morning and dinner will be ready when you get home. You can let this cook in the slow cooker while you are at work and have a delicious supper ready when you get home.
Make it spicy. About the pickled jalapeño peppers – these are optional but are great if you like things a little spicy. If you want it hotter, add more. If you are serving this to kids, you can skip them completely.
Add some veggies. You can easily toss in some finely chopped carrots or sweet potatoes for added nutrition. And we don't think you'll be able to tell at all! It's a great way to sneak in veggies.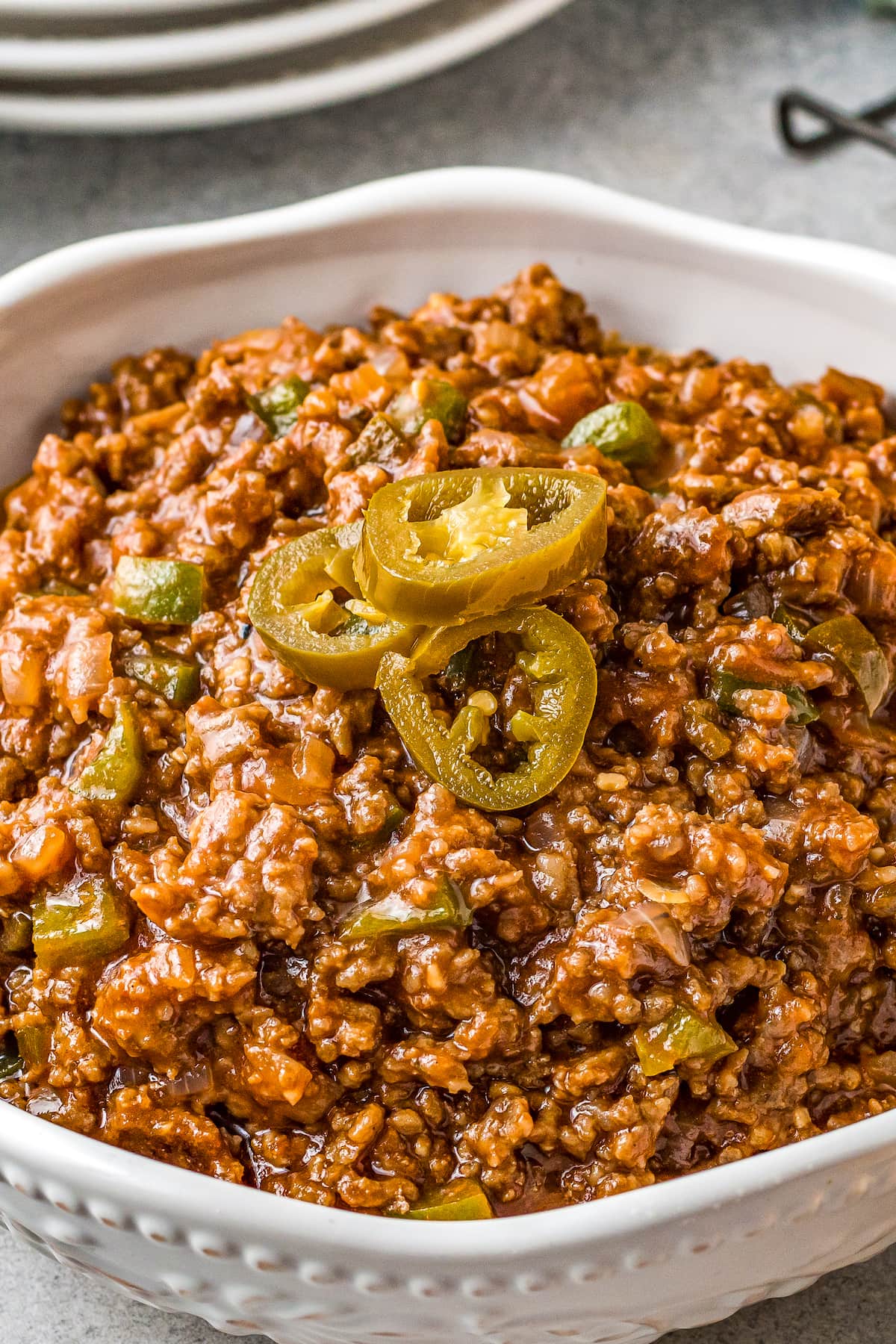 Serving Suggestions
Here are some of our favorite ways to serve these sloppy joes.
Pick the best serving vessel! We love to use soft and plump hamburger buns. Or Texas Toast is also another great option.
Use a potato if you're gluten-free. Using the sloppy joe mix as a topping for Air Fryer Baked Potatoes is a great gluten-free option.
Pick the best side dish: We love to eat french fries or potato chips with sloppy joes. For a healthier option, try our Cucumber Salad.
Add some mac and cheese. Sloppy joes go great with a side of homemade mac and cheese. The sloppy joe mix would even be a great mac and cheese topping!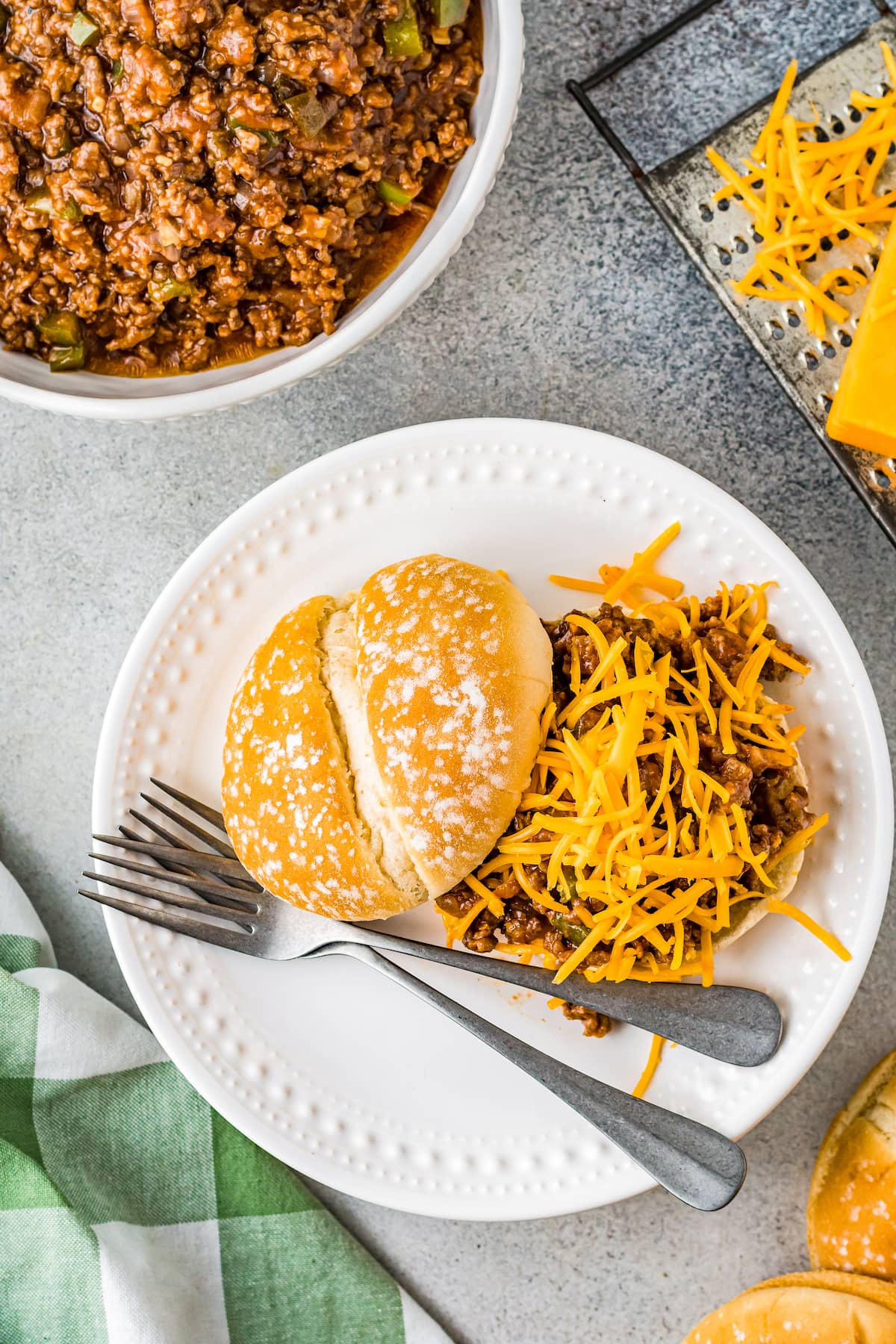 How to Store & Reheat Leftovers
You can store any leftovers in an airtight container in the refrigerator for up to 5 days. Then simply reheat in the microwave or on the stovetop.
Can Homemade Sloppy Joes Be Frozen?
This recipe is great for freezing! It can be frozen for up to 3 months in an air-tight and labeled container. Be sure that you always thaw and heat before serving.
Crockpot Sloppy Joes
These Crockpot Sloppy Joes have the perfect combination of sweet, spicy and a little bit of tang. Serve it on a hamburger bun, over Texas toast, and add plenty of cheddar cheese!
Ingredients
1 ½

pounds

ground beef

1

pound

ground sausage

½

cup

chopped yellow onion

2

large garlic cloves

,

minced

1

medium green bell pepper

,

seeded and diced

1

15 oz can tomato sauce

½

cup

ketchup

½

cup

BBQ sauce

¼

cup

packed brown sugar

2

tablespoons

apple cider vinegar

2

tablespoons

yellow mustard

1

tablespoon

Worcestershire sauce

2

tablespoons

chopped pickled jalapeño peppers

,

optional

½

cup

shredded cheddar cheese

Hamburger buns or Texas toast

,

for serving
Instructions
In a large sauté pan, cook the hamburger and sausage till no longer pink. Drain any grease.

Add the onions, bell pepper, and garlic and cook for 4 more minutes.

Place the meat mixture into the slow cooker. Add the tomato sauce, ketchup, BBQ sauce, brown sugar, vinegar, mustard, Worcestershire sauce, and jalapeños to the meat. Stir till well combined.

Set the slow cooker on high for 3 hours, or low for 6 hours.

When ready to serve, warm the buns and serve the sloppy joes over the bread, topped with cheddar cheese, and serve immediately.
Nutrition
Serving:
1
,
Calories:
554
kcal
,
Carbohydrates:
27
g
,
Protein:
33
g
,
Fat:
34
g
,
Saturated Fat:
12
g
,
Polyunsaturated Fat:
17
g
,
Trans Fat:
1
g
,
Cholesterol:
117
mg
,
Sodium:
1132
mg
,
Fiber:
1
g
,
Sugar:
18
g
More Easy Crockpot Recipes: