Crockpot Shredded Chicken is the easy answer to any recipe that calls for pre-cooked chicken! And, the best part is, the only ingredients you'll have to buy ahead of time are chicken and broth. It is SO easy to make tender shredded chicken breast!
Simple Slow Cooker Shredded Chicken
Shredded Chicken is an important base for a number of filling meals. You can use it to make chicken tacos, chicken chilis, chicken stews or soups, and more. Today, we're going to show you how easy it is to make shredded chicken in the crockpot, so that you can meal prep at a moment's notice!
Crockpot chicken comes out perfectly juicy and tender every time, and it takes very little effort to make. As long as you have two forks ready to shred the chicken once it's done cooking, you're fully equipped to master this recipe.
Slow cooker shredded chicken is also really simple to store, so you can make it ahead and use it throughout the week in both lunches and dinners. It's one of those truly golden recipes that you'll use over and over again in so many different ways!
If you are in a rush, try our recipe for Instant Pot Shredded Chicken. It's ready in 30 minutes!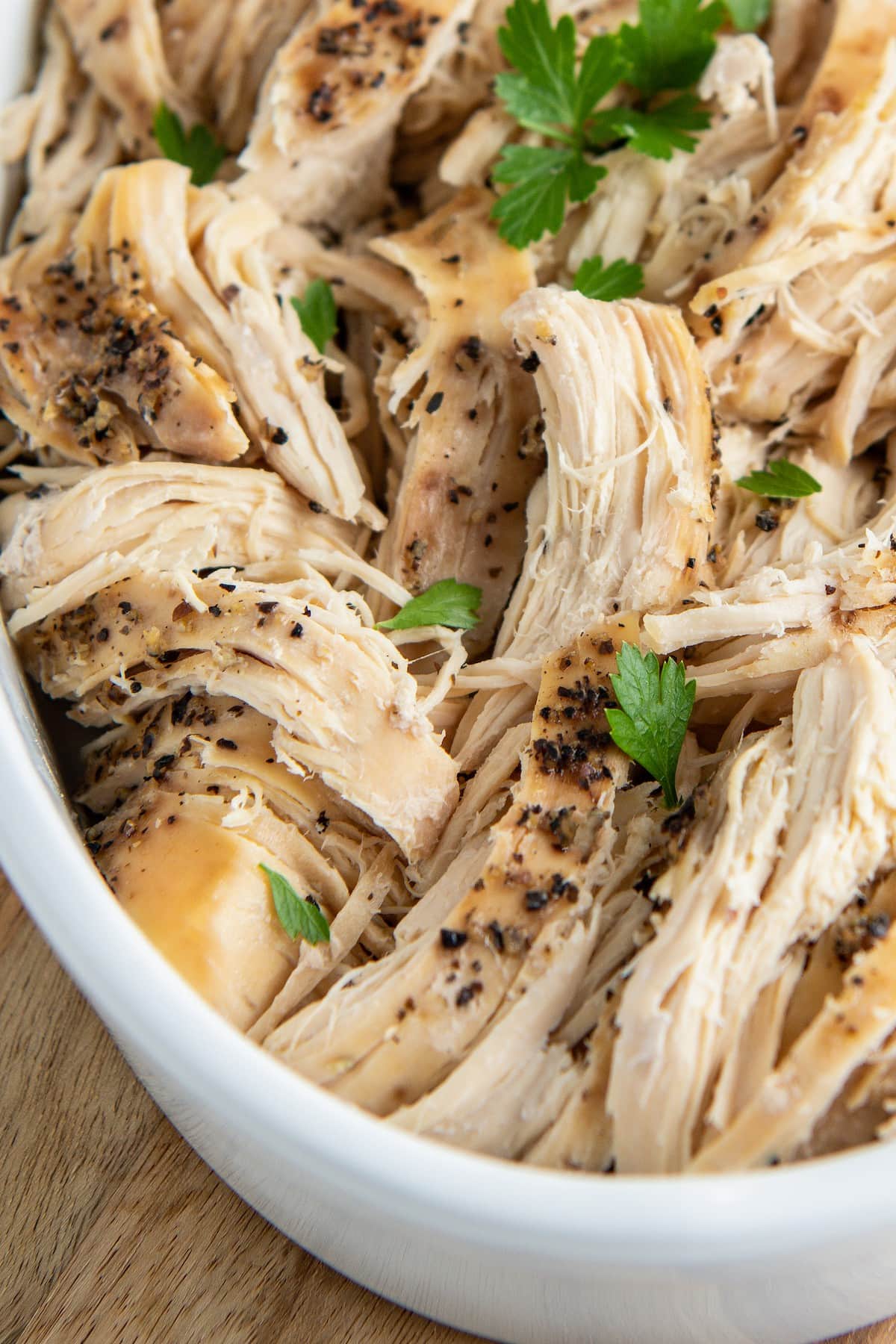 Why You'll Love This Crockpot Shredded Chicken Recipe
It's not the fanciest recipe of all time, but this shredded crockpot chicken is absolutely a keeper. There are so many reasons to fall in love with it:
Simple Seasoning: The combination of salt and pepper may be simple, but it's perfect for this juicy shredded chicken. It tastes great as-is, or you can add it to other dishes with bolder flavors later – the choice is yours!
Quick and Easy! This slow cooker chicken recipe requires just two minutes of your time in prep work. Just add the ingredients to the crockpot, let the crockpot do it's magic, and then shred the chicken. That's it!
Meal Prep: Making shredded chicken is a great way to meal prep for work because you can cook it over the weekend, and then make lunch or dinners with it all week. Salads and wraps, for example, are super easy to prepare and they travel well, too.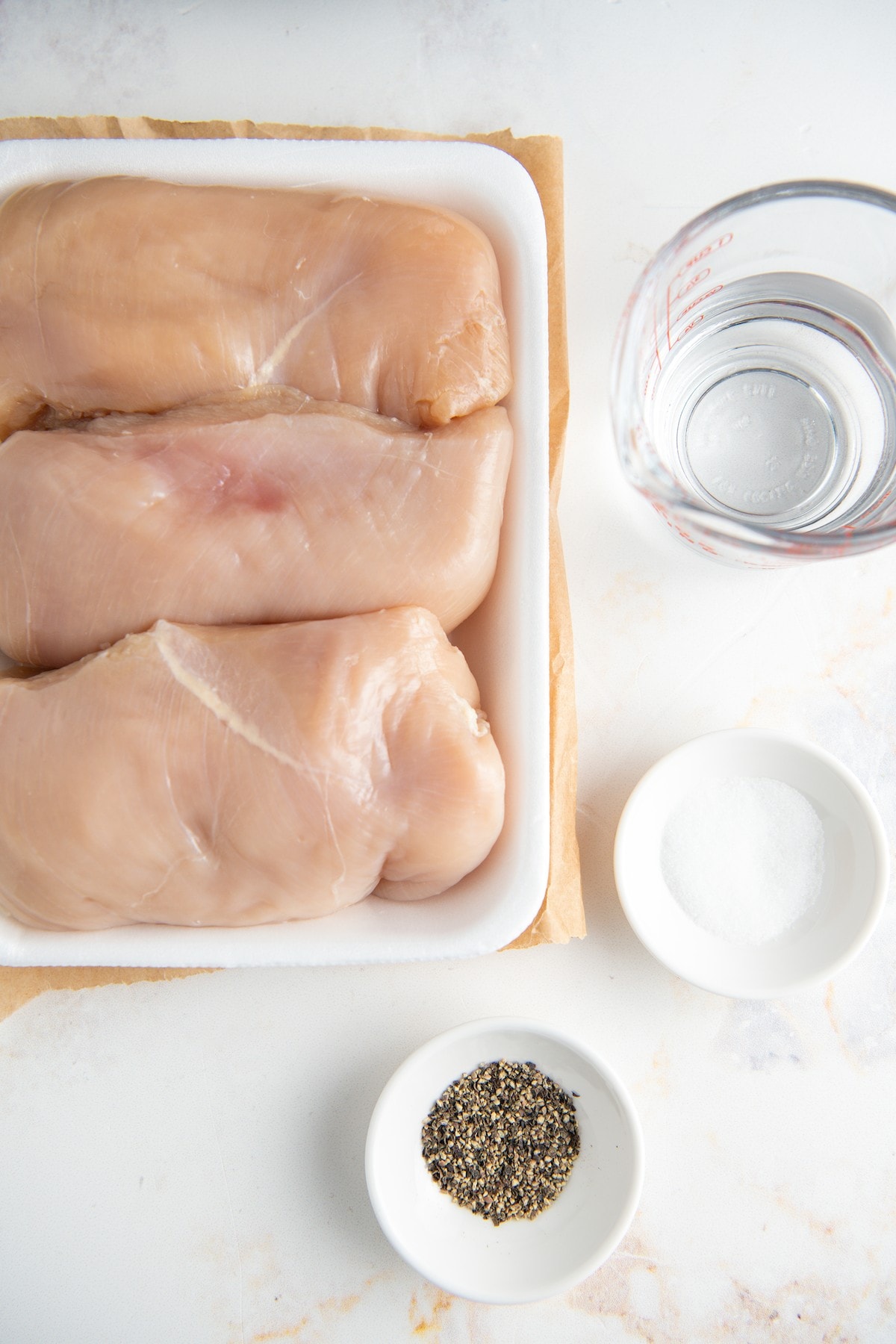 What You'll Need
There are just four ingredients to cover for this shredded chicken recipe. Note that you can find the precise amounts for each one in the printable recipe card at the bottom of this post.
Chicken Breast: We like to use boneless skinless chicken breasts, but boneless thigh meat can be used in place of breast meat.
Chicken Broth: This will keep your chicken nice and juicy as it cooks. You can also use water if you don't have any broth.
Seasoning: Keep it simple with salt and pepper! (Other suggestions are listed below.)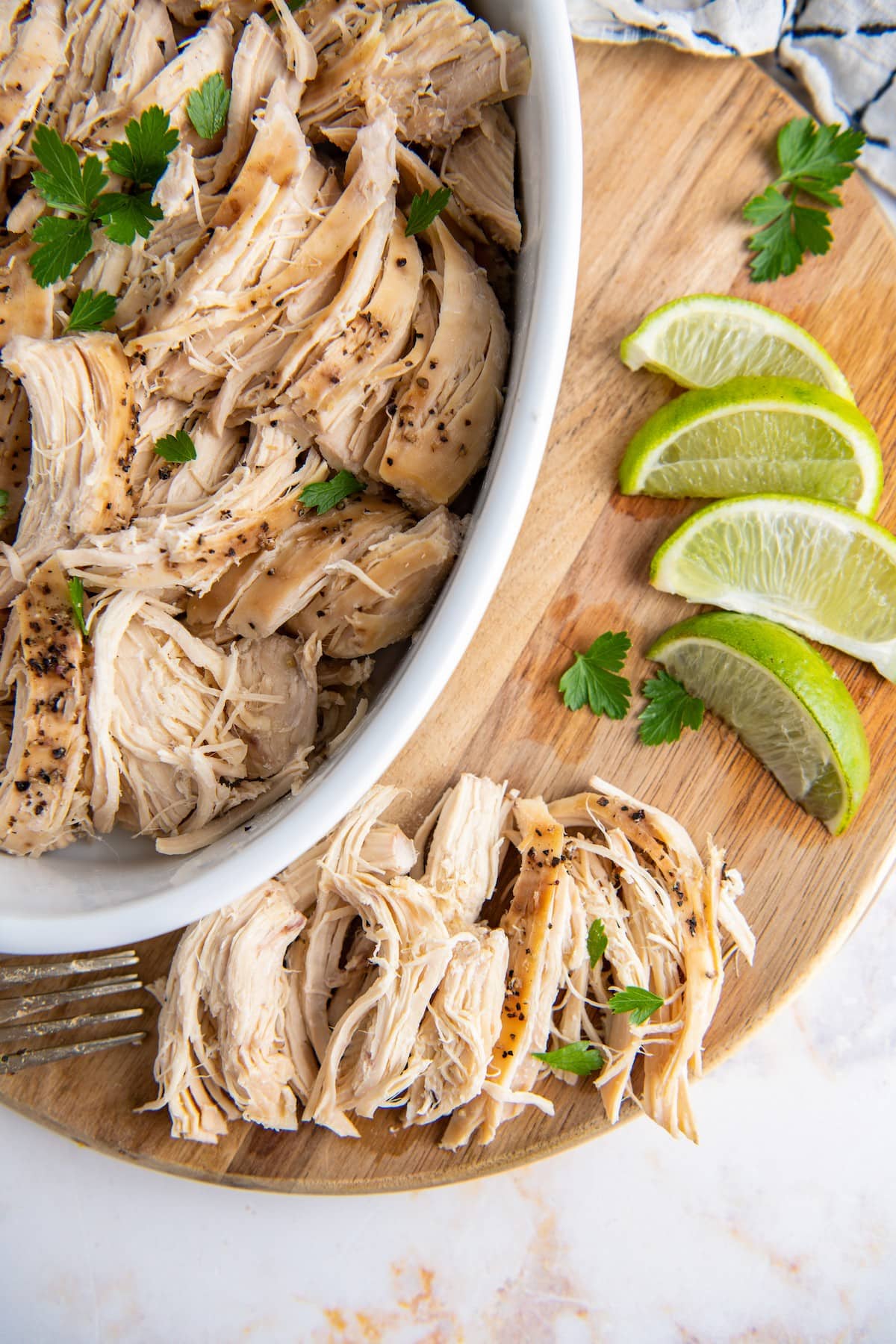 How to Make Crockpot Shredded Chicken
Let's go over the step-by-step guide on how to cook shredded chicken. Here's what you need to know about making perfect pulled chicken in the crockpot:
Pour in the Broth: Add chicken broth (or water) to the bottom of the crockpot.
Add the Chicken: Place your chicken breast in the water and season it with salt and pepper.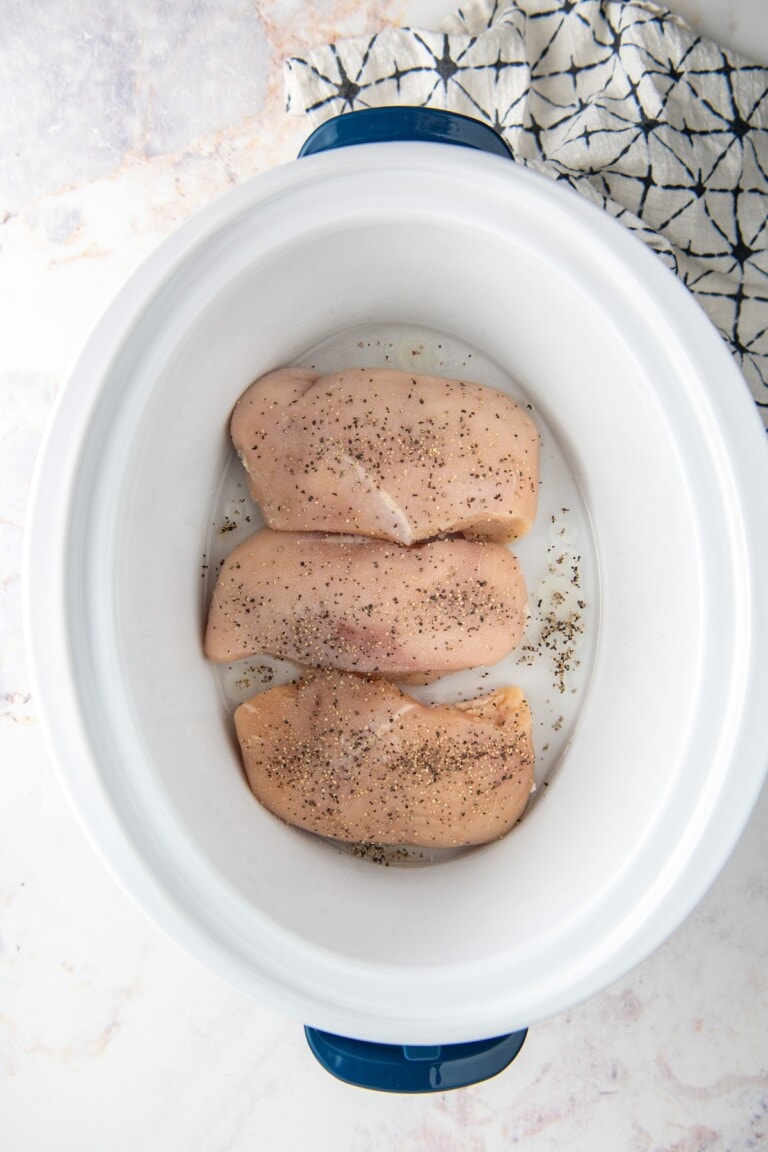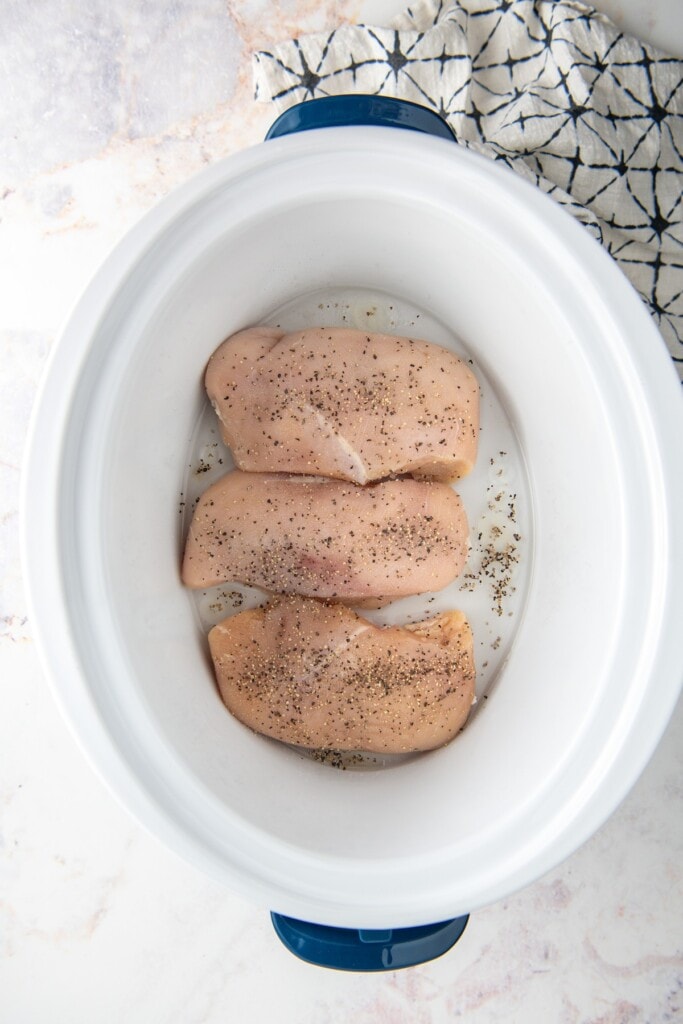 Cook: Cook the chicken on low for 6 to 8 hours, or on high for 3 to 4 hours, until it's cooked through and easily shredded.
Shred the Chicken: Shred your chicken with two forks in the crockpot (or in a stand mixer, or with a hand mixer). Serve or use as desired!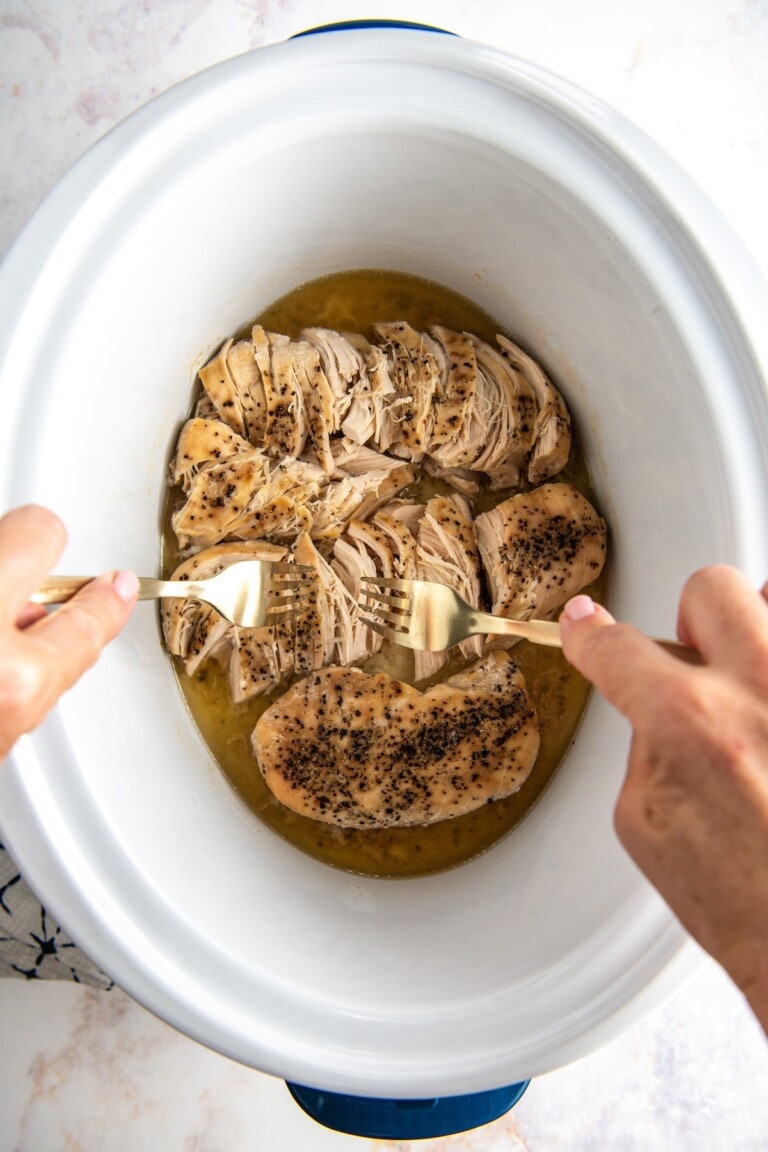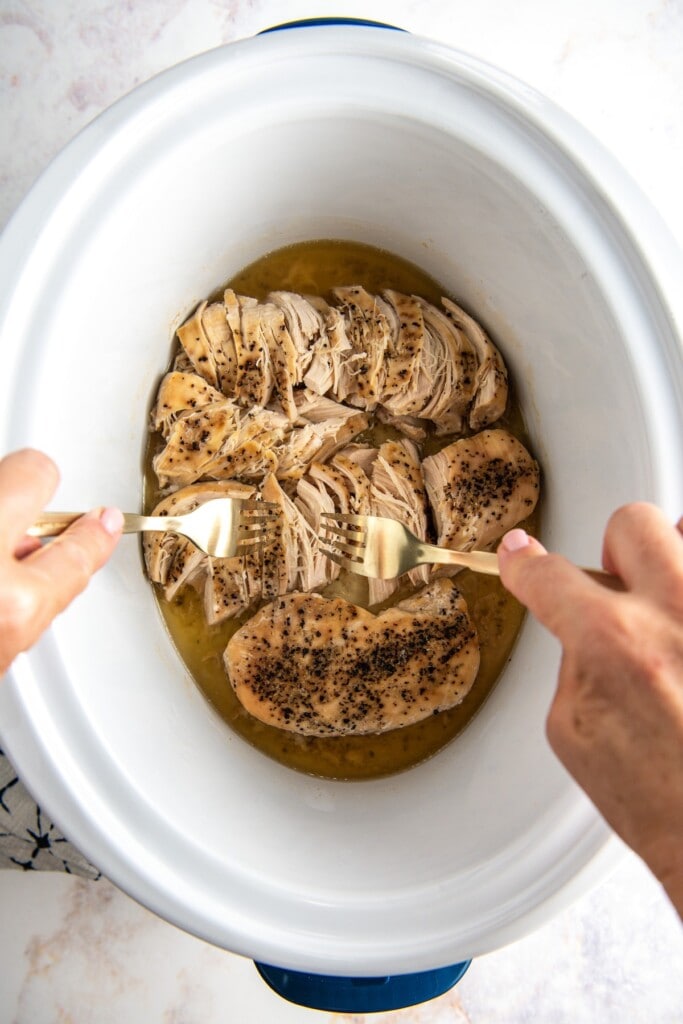 Why Is My Pulled Chicken Tough?
There are a couple of reasons that your shredded chicken might be tough. The first is that it's undercooked, and not quite ready to fall apart when shredded with a fork. You can easily fix this by letting the chicken cook for another 30 minutes to an hour, then try again. Add a little extra broth if needed.
The second is that it's overcooked and dry/hard. Sadly once this has happened, it's too late for your chicken. You can avoid this by making sure you don't leave your chicken in the crockpot longer than the recipe states.
The best way to avoid both of these scenarios is the check the internal temperature with a meat thermometer, to make sure that the chicken does not exceed or fall below 165°F.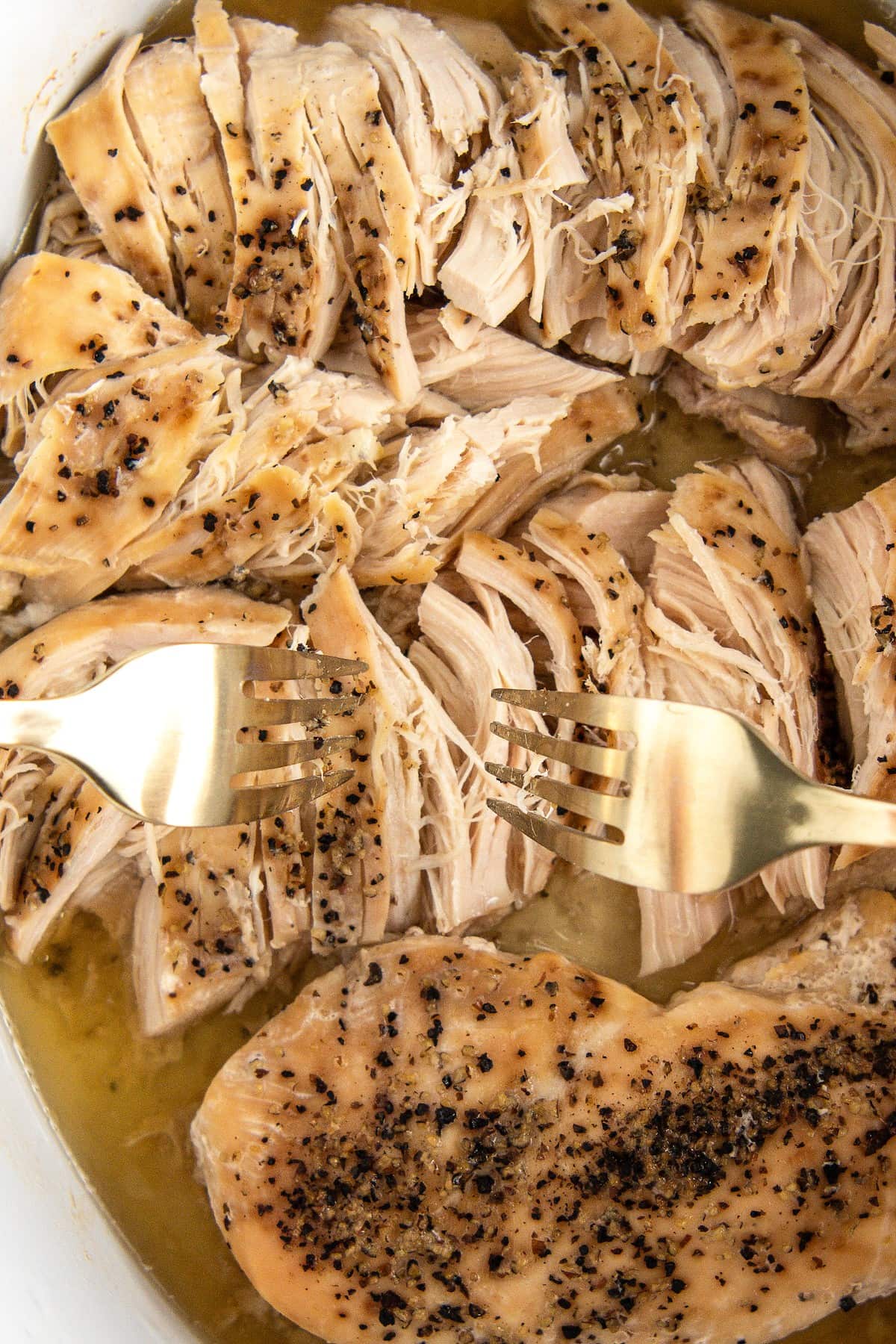 Tips for Success
You've almost got all of the information you need to be a crockpot chicken pro! Here are a few more tips and tricks that might be helpful:
What Kind of Recipes Can I Use This Chicken In? Use this EASY shredded chicken in all of your favorite recipes that call for pre-cooked chicken or a rotisserie chicken.
How to Shred Chicken: We like to use forks because it's simple, but you can use a stand mixer, a hand mixer, or even a food processor if you want very finely-shredded chicken. (Be careful with this last one, it's very easy to blend it too much.)
Can I Use Bone-In Chicken? Yes, but if you use chicken with the bone-in, cooking times will need to be a little longer. Use a meat thermometer to ensure that the chicken reaches 165°F.
How to Season Your Chicken: Add different seasonings and sauces such as Cajun Seasoning, Chicken Taco Seasoning, paprika, Italian seasoning, red pepper flakes, barbecue sauce, etc. for different flavors, or keep it simple with only salt and pepper.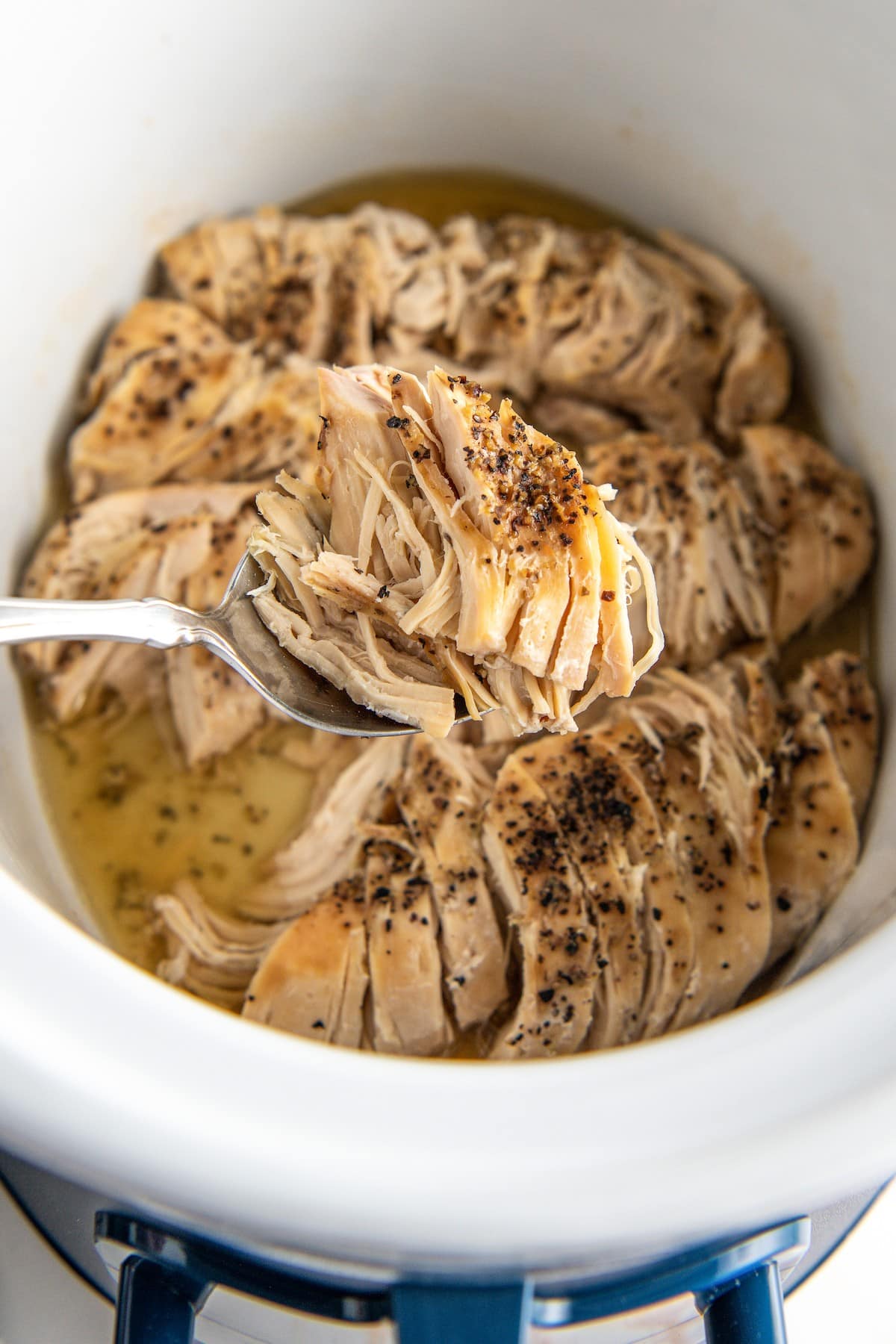 How to Use Shredded Chicken
We've mentioned a few popular shredded chicken recipes above, but here's a quick list of our favorites. You might like to try making:
Quesadillas or Chicken Wraps: Grab some lettuce, tomatoes, and your favorite salad dressing to make a simple chicken wrap, or round up some shredded Mexican Blend cheese for a cheesy chicken quesadilla!
Chicken Tacos: Shredded chicken tacos are so flavorful, and they're even better when you make them with Homemade Chicken Taco Seasoning!
Soup: This Chicken and Rice Soup is so cozy and filling! It's perfect for lunches or a light dinner.
Casseroles: Any casserole recipe that calls for shredded chicken can make use of this crockpot recipe. Try King Ranch Chicken Casserole if you're looking for something new! This Chicken Bacon Ranch Pasta or our easy Chicken Pot Pie Casserole are also big hits at our house!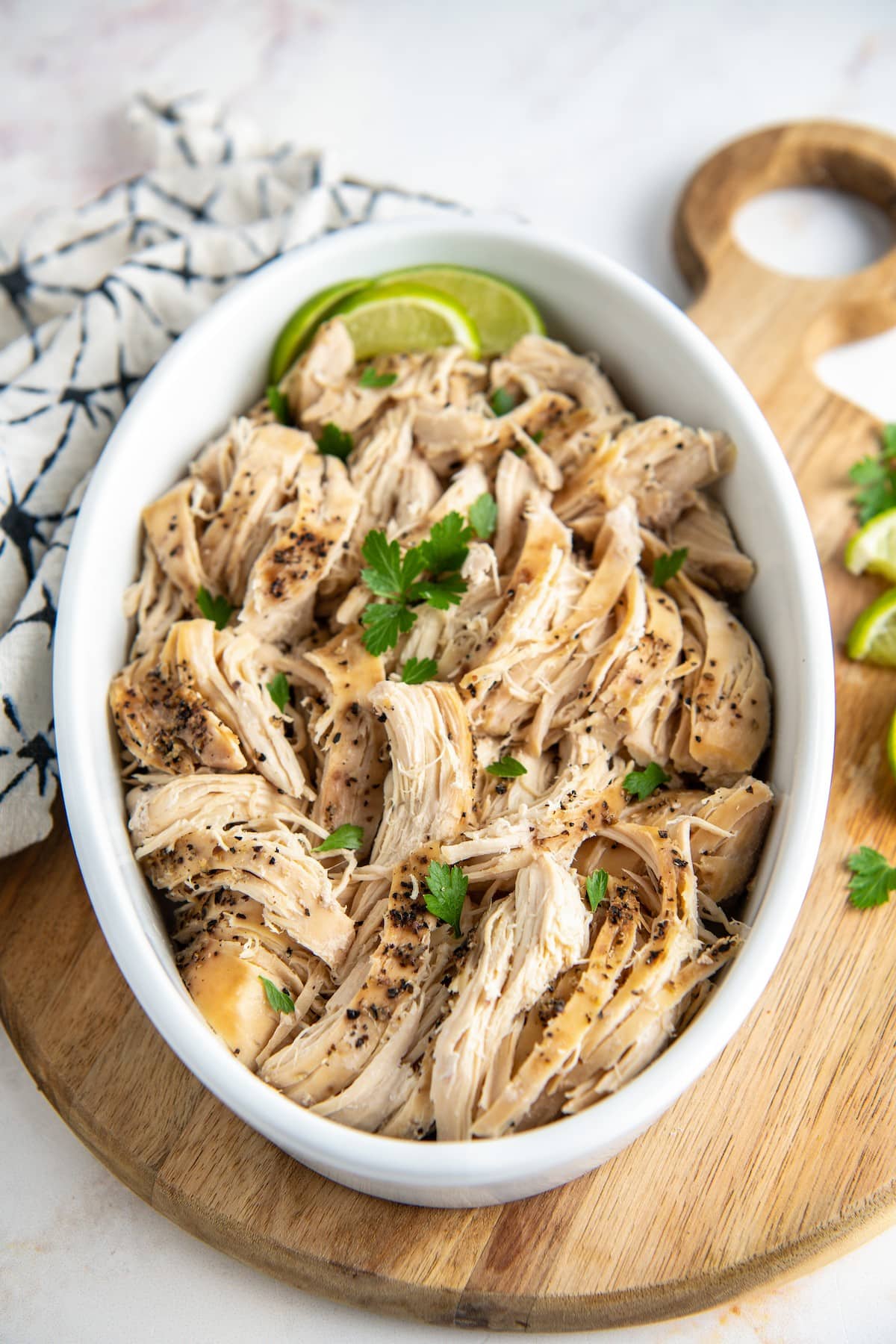 How to Store Shredded Crockpot Chicken
If you're not using the chicken right away, pour the broth from the crockpot over the meat and then place it in an airtight container in the refrigerator for up to 5 days. This will help keep your chicken juicy.
Can I Freeze My Chicken?
Yes! You can safely freeze this pulled chicken for up to 3 months if you like. Make sure to thaw it in the fridge overnight before using.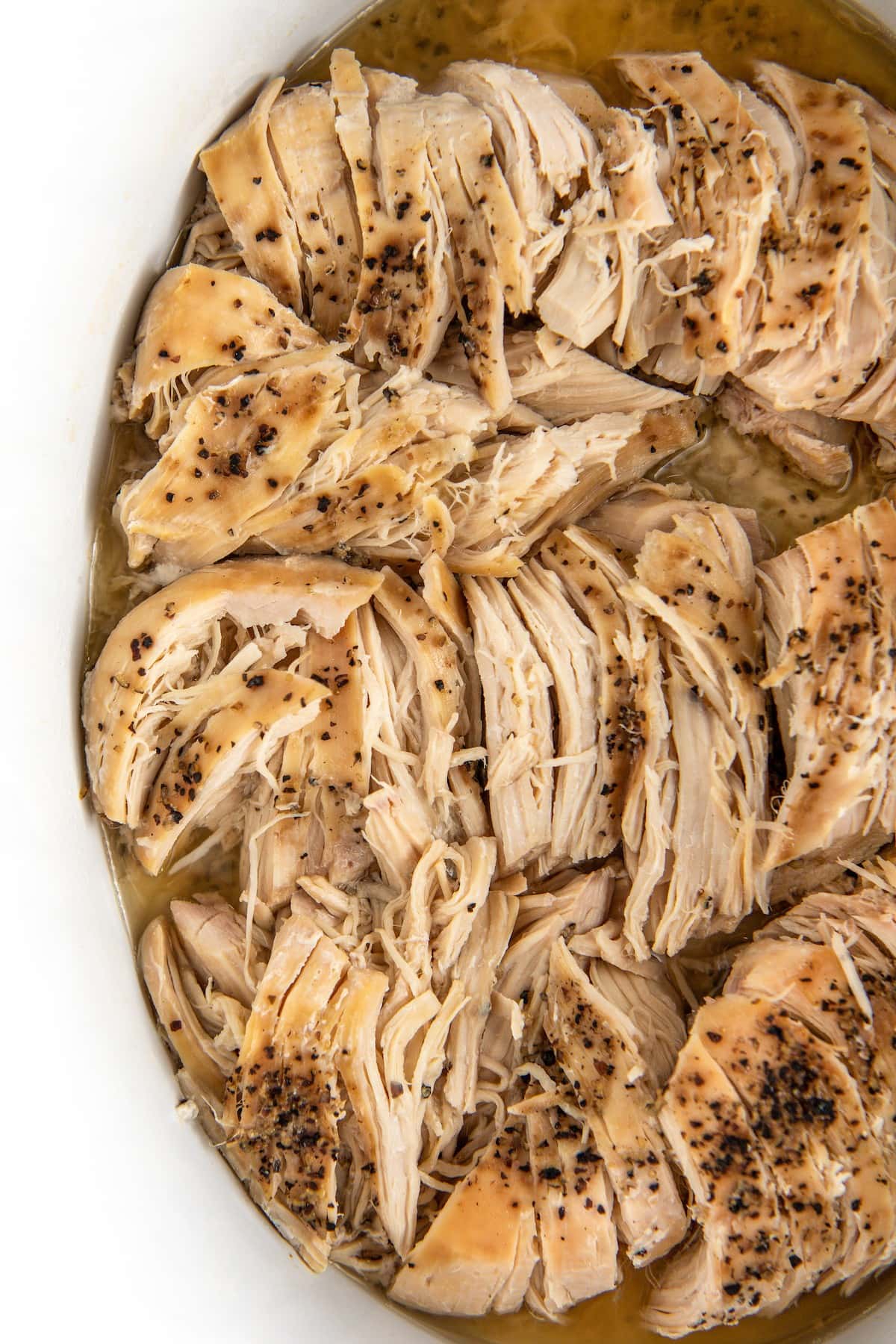 More Crockpot Chicken Recipes
Looking for more easy chicken dinners to whip up in your crockpot? Check out these ones!
Crockpot Shredded Chicken
Crockpot Shredded Chicken comes out perfectly juicy and tender every time you make it. Use this easy pulled chicken recipe to make chicken tacos, chicken wraps, and more!
Ingredients
2

pounds

boneless skinless chicken breast

,

or boneless chicken thighs

½

cup

chicken broth

,

or water

½

teaspoon

salt

½

teaspoon

pepper
Instructions
Add chicken broth (or water) to the bottom of the crockpot.

Place chicken breast in the water and season the chicken with salt and pepper.

Cook on low for 6 to 8 hours, or high 3 to 4 hours, until chicken is cooked through and easily shredded.

Shred chicken with two forks (or in a stand mixer or with a hand mixer) in the crockpot. Serve or use as desired.

Notes
To Store: Store leftovers in an airtight container, in the fridge, for up to 5 days.
To Freeze: You can freeze this shredded chicken in an airtight container for up to 3 months.
Nutrition
Serving:
1
,
Calories:
377
kcal
,
Protein:
71
g
,
Fat:
8
g
,
Saturated Fat:
2
g
,
Polyunsaturated Fat:
5
g
,
Cholesterol:
193
mg
,
Sodium:
550
mg