This easy Crockpot Chicken and Dumplings recipe is a breeze to make! Just dump the ingredients and you're good to go. Plus, the dumplings are made with pre-made biscuit dough to make it even easier.
Super Easy Chicken and Dumplings Recipe
No one ever turns down Chicken and Dumplings whenever we offer this meal for dinner. Why would they? Chicken and Dumplings are the ultimate comfort food combination! Plus, there are even some veggies in there to make it a nutritious meal option for everyone.
Our Crockpot Chicken and Dumplings recipe is a really easy way to make this comfort food classic. All you need to do is put the ingredients in the slow cooker and you're good to go! Our other time-saving secret for this recipe is using pre-made biscuit dough instead of making the dumplings from scratch. This will save your kitchen from a floury mess!
So grab your ingredients and let's get cooking! Here's how to make our super easy Crockpot Chicken and Dumplings recipe.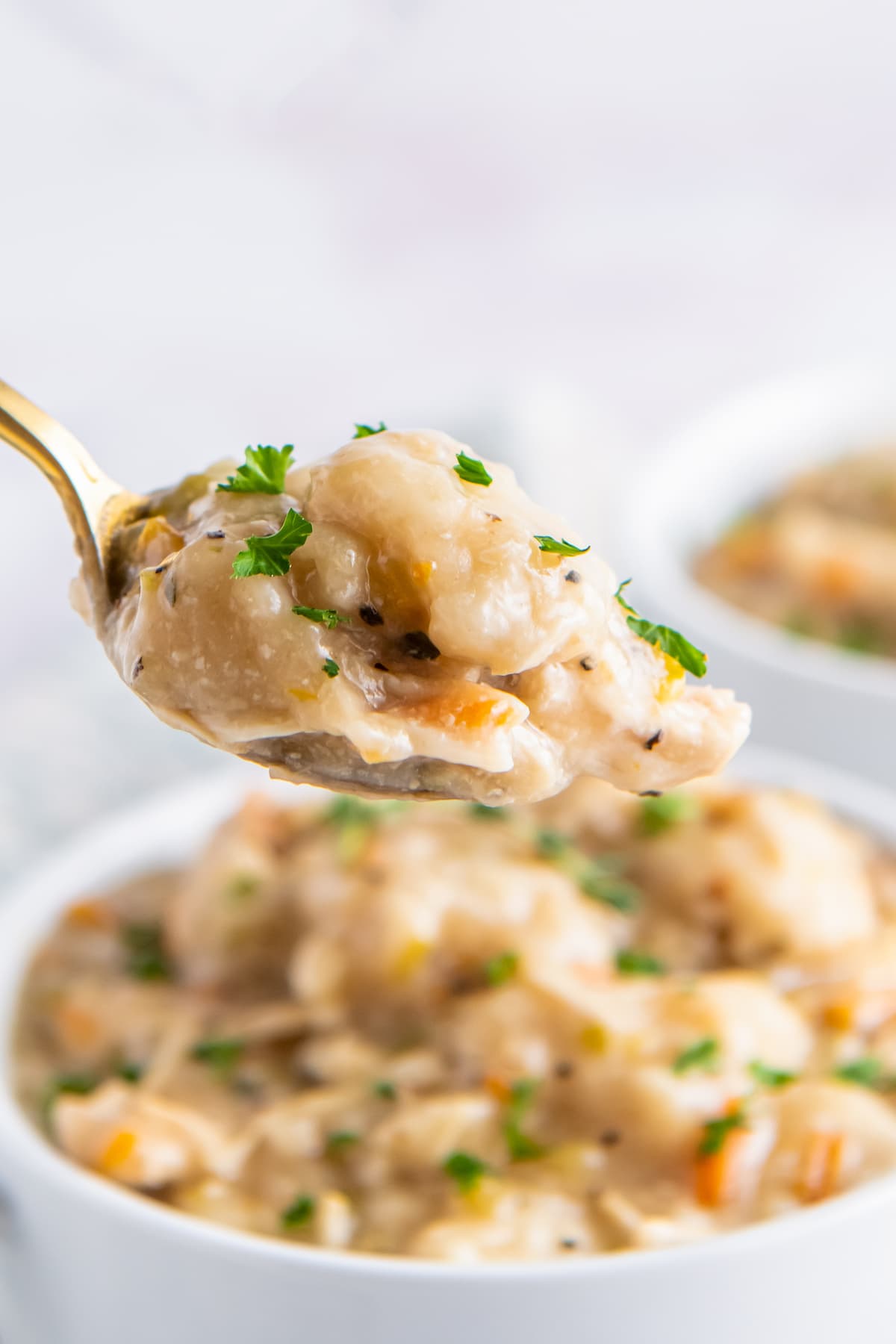 What You'll Need
Here's what you need to make Crockpot Chicken and Dumplings. This list is very straightforward and please check out the measurements below in the recipe card.
Chicken: We like to use boneless and skinless chicken breast for this recipe, but you could also use chicken thighs.
Yellow Onion: You can also use white or sweet onions.
Celery
Carrots: Matchstick or sliced carrots work great for this recipe.
Fresh Thyme: Or you can substitute with dried thyme (but use a little less).
Garlic: Fresh garlic is best, but you can also use dried.
Chicken Broth: Chicken stock or vegetable stock will also work.
Cornstarch: This will be used to thicken the broth at the end.
Biscuits: We like to use Grands Homestyle Biscuits. You can use another brand, too, just keep in mind that the larger (thicker) ones work best for dumplings.
Salt and Pepper
How to Make Crockpot Chicken and Dumplings
The instructions on how to make this easy slow-cooker meal are below.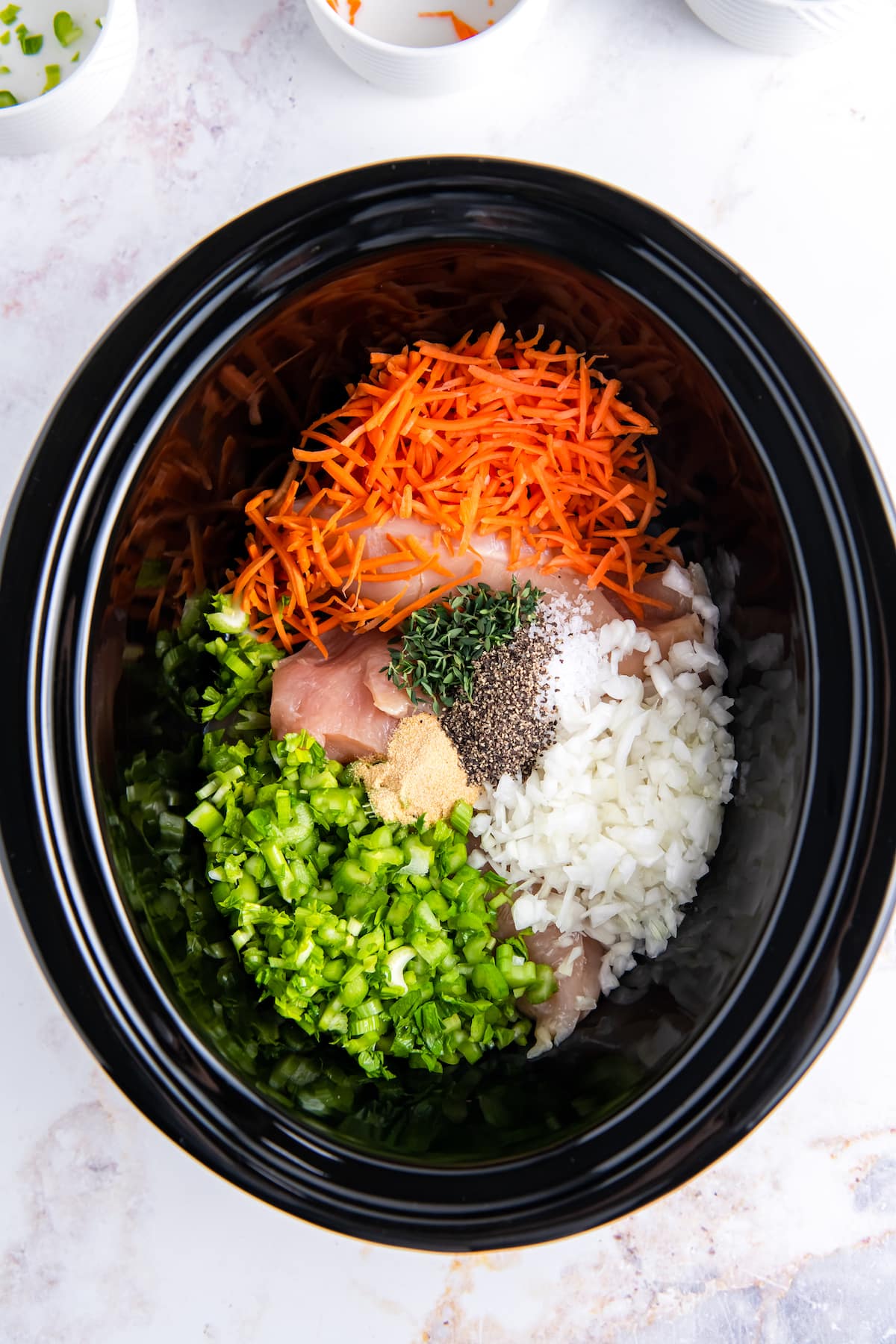 First, put most of the ingredients into the Crockpot. You'll add the chicken, vegetables, broth, and seasonings into the Crockpot.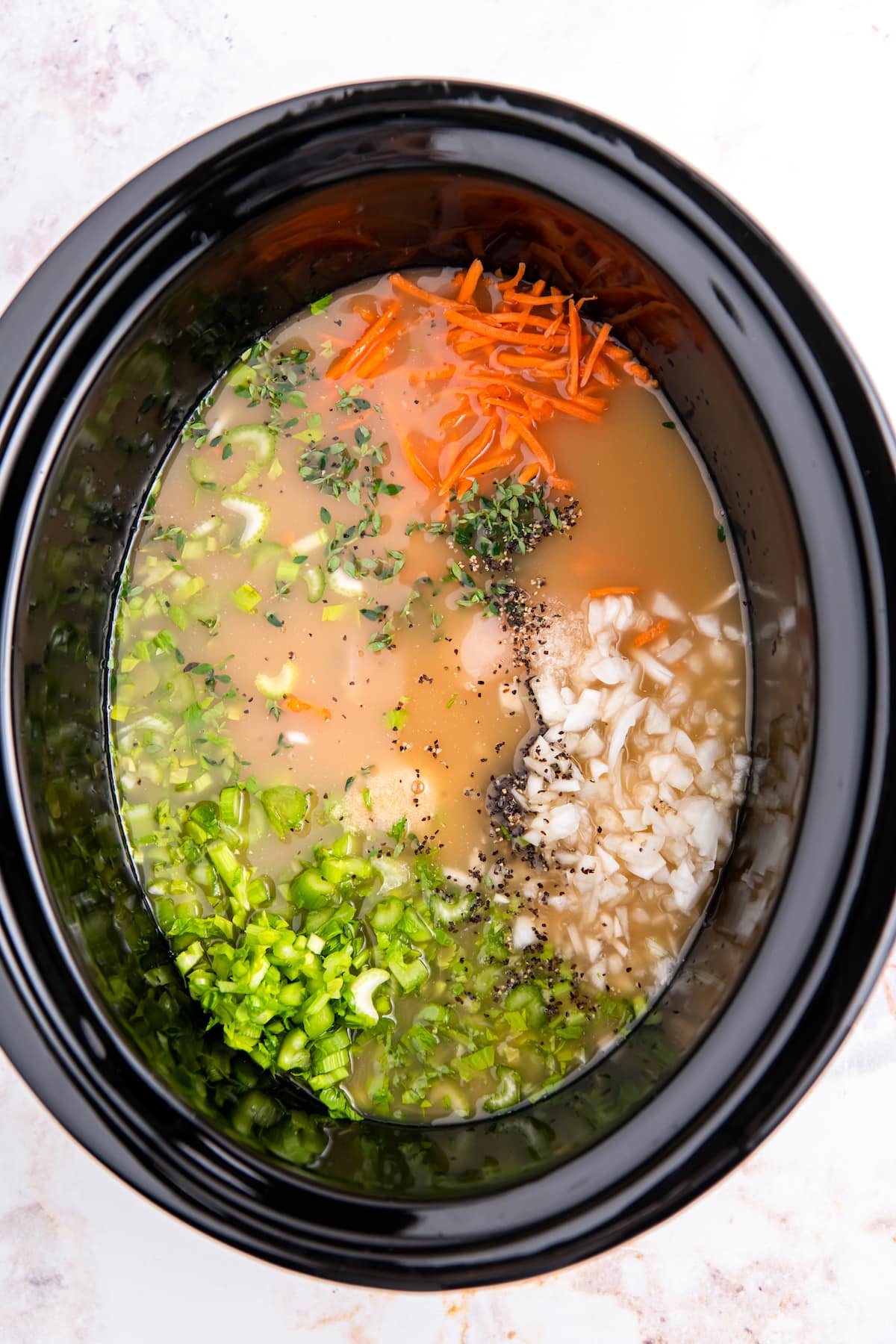 Then cook on low for 6-8 hours. Make sure that the lid is on and try not to open it while it's cooking!
Shred the chicken in the Crockpot. There's no need to remove the chicken to shred it. It should fall apart when you use two forks to pull it apart.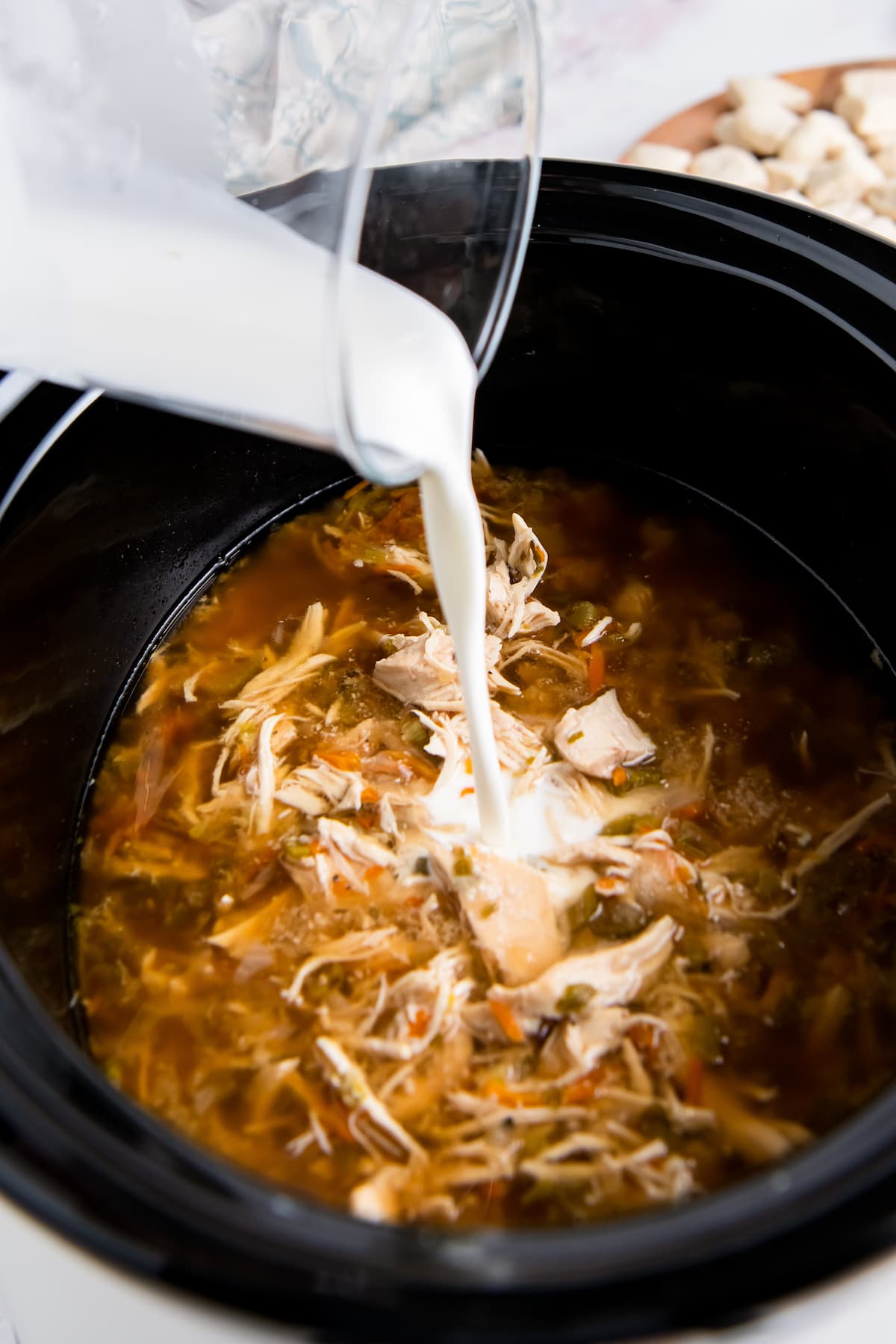 Next, make a cornstarch slurry. Whisk together the cornstarch and 2 tablespoons of water. Then pour it into the Crockpot, cover it, and set it to a high temperature.
Cut up the biscuits and add them to the Crockpot. Then add the little bits of biscuits into the Crockpot and cook for another hour covered.
The Chicken and Dumplings are done when the biscuits are cooked through. You can then serve this dish immediately!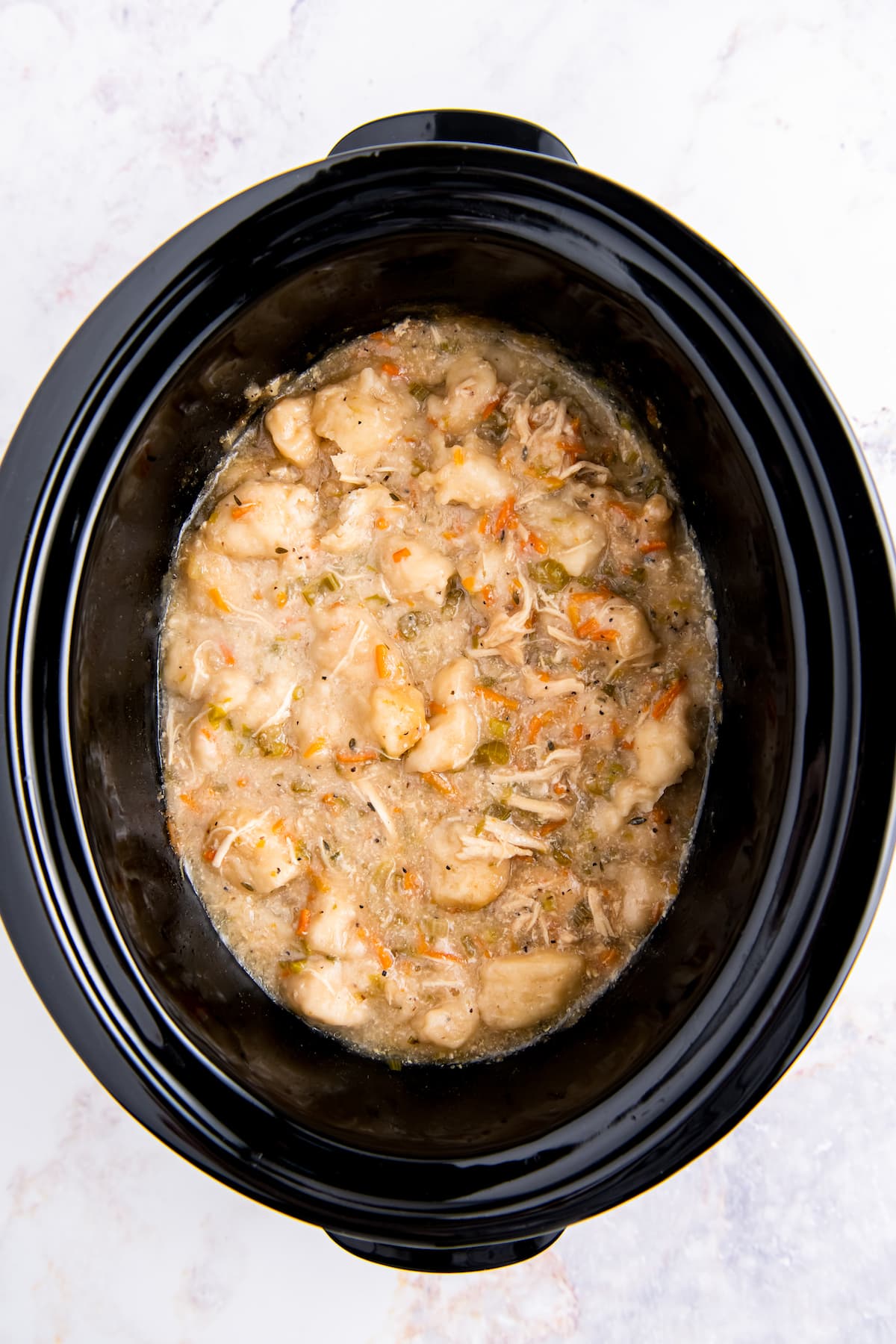 Tips for Success
Here are some helpful tips to follow when making this Slow Cooker Chicken and Dumplings recipe.
Don't roll the biscuit dough out. If you roll the biscuits flat and then cut them, they will not be as fluffy.
Cut the biscuits evenly and to the right size. The smaller you cut the biscuits the quicker they will cook.
Add some more green vegetables. Add 1 cup of sweet peas if desired for a little sweetness and more veggies. You can add the sweet peas when you add the biscuits.
Using bone broth also adds more nutrition. We used bone broth because it has more flavor and nutritional value than regular chicken broth. We also used low sodium so that we can control the amount of salt.
The dumplings may look gooey and stick together, here's how to fix it! Don't freak out if the biscuits look gooey while cooking. When they are cooked they will look and taste good. It's simply due to the way we are cooking them (using steam instead of baking in an oven). Also, the dumplings will stick together a bit when cooked. Use a spoon to easily separate them again and stir to combine.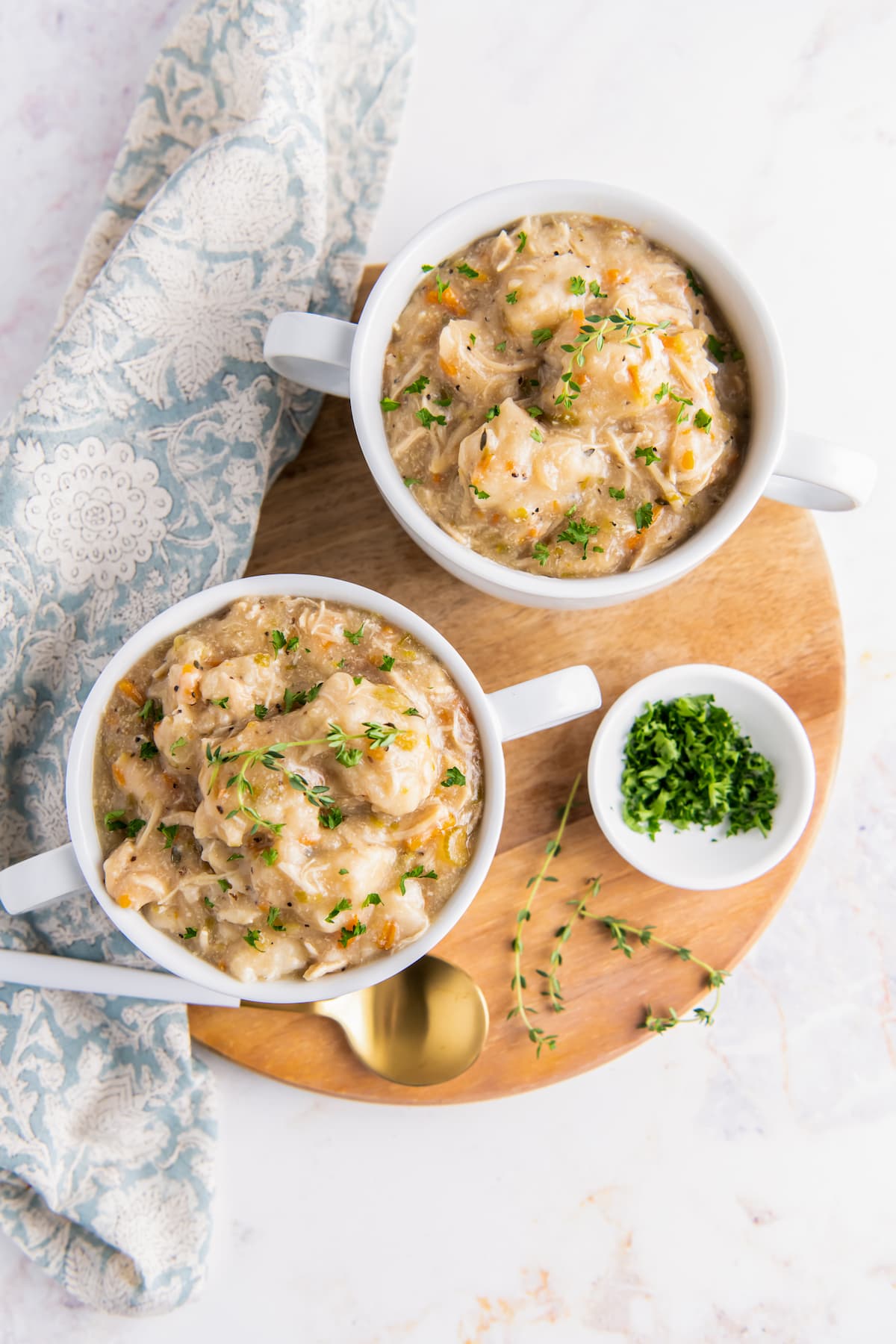 What to Serve With Slow Cooking Chicken and Dumplings
To us, chicken and dumplings is a full dinner all in one! However, there are always a few good options to add on the side.
Add a Salad: On the flip side, adding a salad will balance the meal out by adding something a little lighter. We like to make our quick and easy Cucumber Salad.
Green Vegetable Sides: You could also serve a side of steamed broccoli or Southern Style Green Beans with this recipe for added nutrition and flavor.
Rolls: While not necessary with the dumplings, who would turn down a Cheesy Herb Crescent Roll?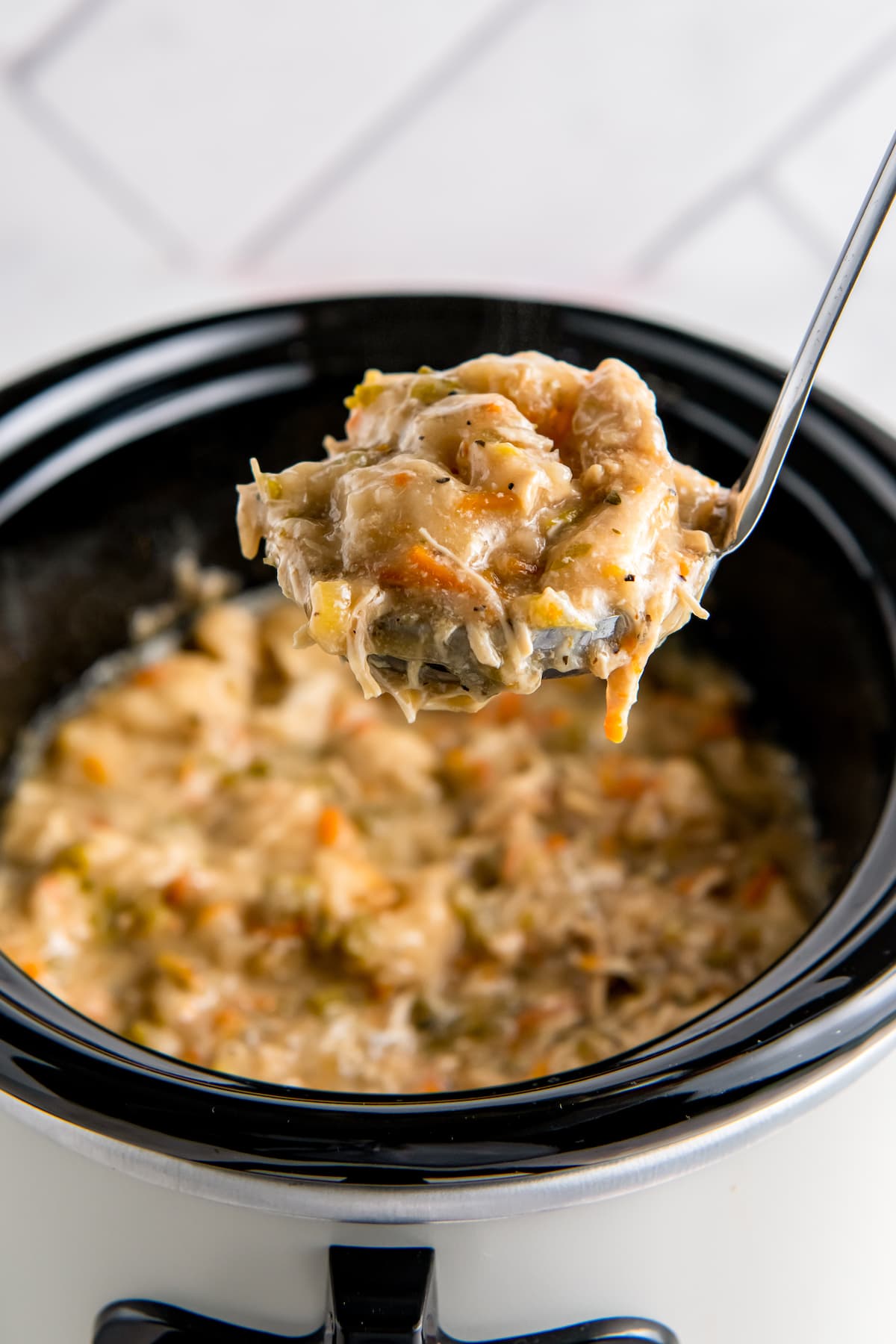 How to Store & Reheat Leftovers
You can store any leftovers in an airtight container, in the fridge, for up to 5 days. And then reheat the leftovers either on the stovetop or in the microwave.
Can I Freeze This?
You can freeze this meal after it's been cooked, but the dumplings may get softer when you reheat it. Our suggestion is to make a freezer bag with the portioned ingredients (raw chicken, vegetables, and spices) and then have them ready to throw into the Crockpot whenever you want to make this meal.
Yield: 6 servings
Crockpot Chicken and Dumplings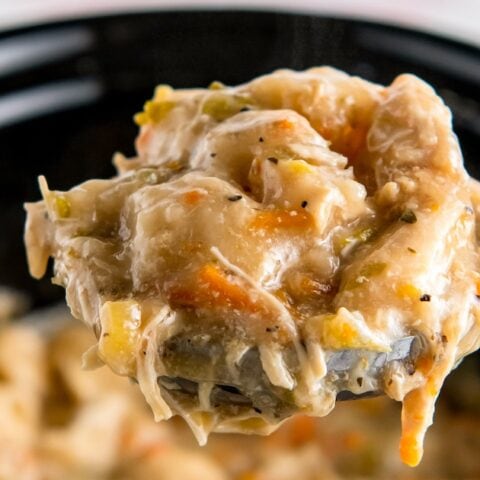 A family favorite, this easy and creamy Crockpot Chicken and Dumplings is made with canned dumplings to keep it extra easy! It's a great set it and forget it dinner, let the crockpot do all the hard work.
Total Time
5 hours
15 minutes
Ingredients
1.5 to 2 pounds boneless skinless chicken breast
1 medium yellow onion, diced
1 cup diced celery
1 cup matchstick carrots (or sliced carrots)
1 tablespoon fresh thyme (or 1 ½ teaspoon dried thyme)
1 teaspoon fresh or dried garlic
32 oz chicken broth
2 tablespoons cornstarch
1 (16.3 oz) can Grands homestyle biscuits, cut into quarters
Salt and pepper, to taste
Instructions
Place chicken, onion, celery, carrots, garlic, thyme, parsley and bone broth into the crockpot. Stir to combine and place the lid on the crockpot.
Cook on low for 6-8 hours or high for 4-6 hours, until chicken is cooked through.
Using two forks, shred the chicken in crockpot.
In a small bowl, whisk to combine the cornstarch and 2 tablespoons of water. Pour into crockpot, mix well, cover and turn crockpot to high.
Cut biscuits into bite size chunks and place into the crockpot. Cook on high for one hour or until the biscuits are cooked all the way through.
Serve immediately.
Notes
Storage: You can store any leftovers in an airtight container, in the fridge, for up to 5 days. And then reheat the leftovers either on the stovetop or in the microwave.
Nutrition Information:
Yield:
6
Serving Size:
1
Amount Per Serving:
Calories:

354
Total Fat:

9g
Saturated Fat:

2g
Trans Fat:

0g
Unsaturated Fat:

5g
Cholesterol:

132mg
Sodium:

959mg
Carbohydrates:

17g
Fiber:

2g
Sugar:

4g
Protein:

50g
Filed Under:
More Easy Crockpot Recipes: