This Instant Pot Shredded Chicken is the perfect addition to your meal prep routine. The recipe is so simple and it only takes 5 minutes to prep. Then use the chicken with a ton of different recipes like tacos, salads, and wraps!
Easy Shredded Chicken Breasts
Shredded chicken is always handy to have around. It's a great protein option for so many different recipes. The tricky thing about shredded meat is that it usually takes a lot time to cook. The slow cooking ensures that the meat is tender and able to be pulled apart (without being chewy and tough). So, to make things easier (and quicker!) we wrote this Instant Pot Shredded Chicken Recipe.
And all you need is chicken…really! Yes, you should use chicken broth (the Instant Pot always needs some sort of liquid) and seasoning. But those ingredients are usually in the kitchen anyways. In less than 5 minutes, your shredded chicken will be cooking fuss-free and you can work on something else.
Then once it's cooked you can use it in so many different ways! We like to use it in our favorite Mexican dishes (the kids love Walking Tacos!), salads, and wraps.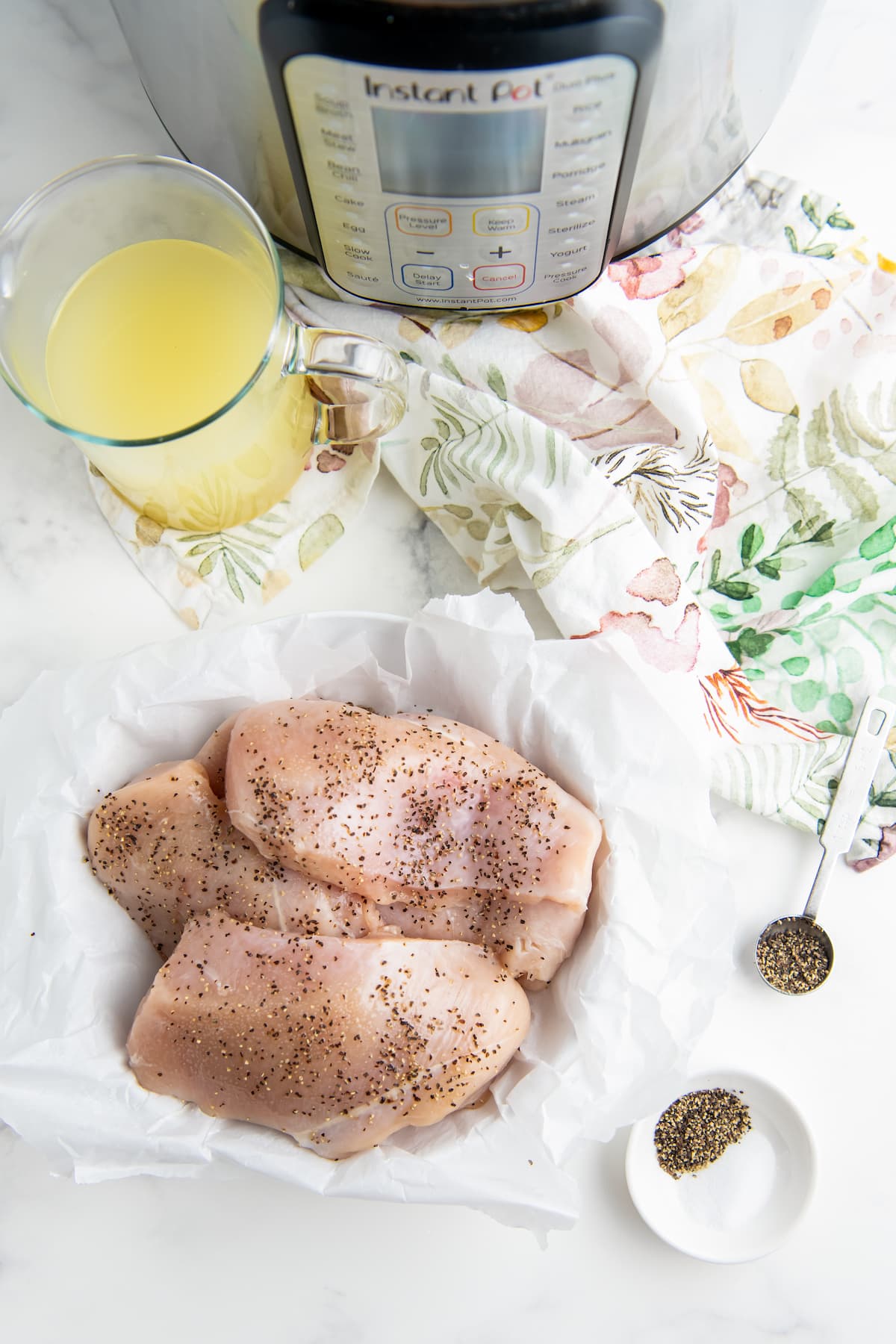 What You'll Need
The list is so simple! You probably don't even need to go to the store. Here's what you need to make Instant Pot Shredded Chicken:
Chicken Broth: You can also use water if you don't have any broth or chicken stock around. Vegetable stock will also work.
Chicken: We recommend using boneless and skinless chicken breasts and/or thighs.
Salt & Pepper: Or if you want more flavor, you can use any seasonings you would enjoy. I will often add a little Adobo Seasoning, Italian seasoning, Taco Seasoning or Cajun Seasoning depending on what I plan on using the chicken for.
Can I Use Other Cuts Of Chicken?
Yes, you can absolutely use other cuts of chicken like the legs or thighs. Just remember, depending on the cut of meat you use, there will be bones! So make sure that you pick the meat off the bones prior to using it in another recipe.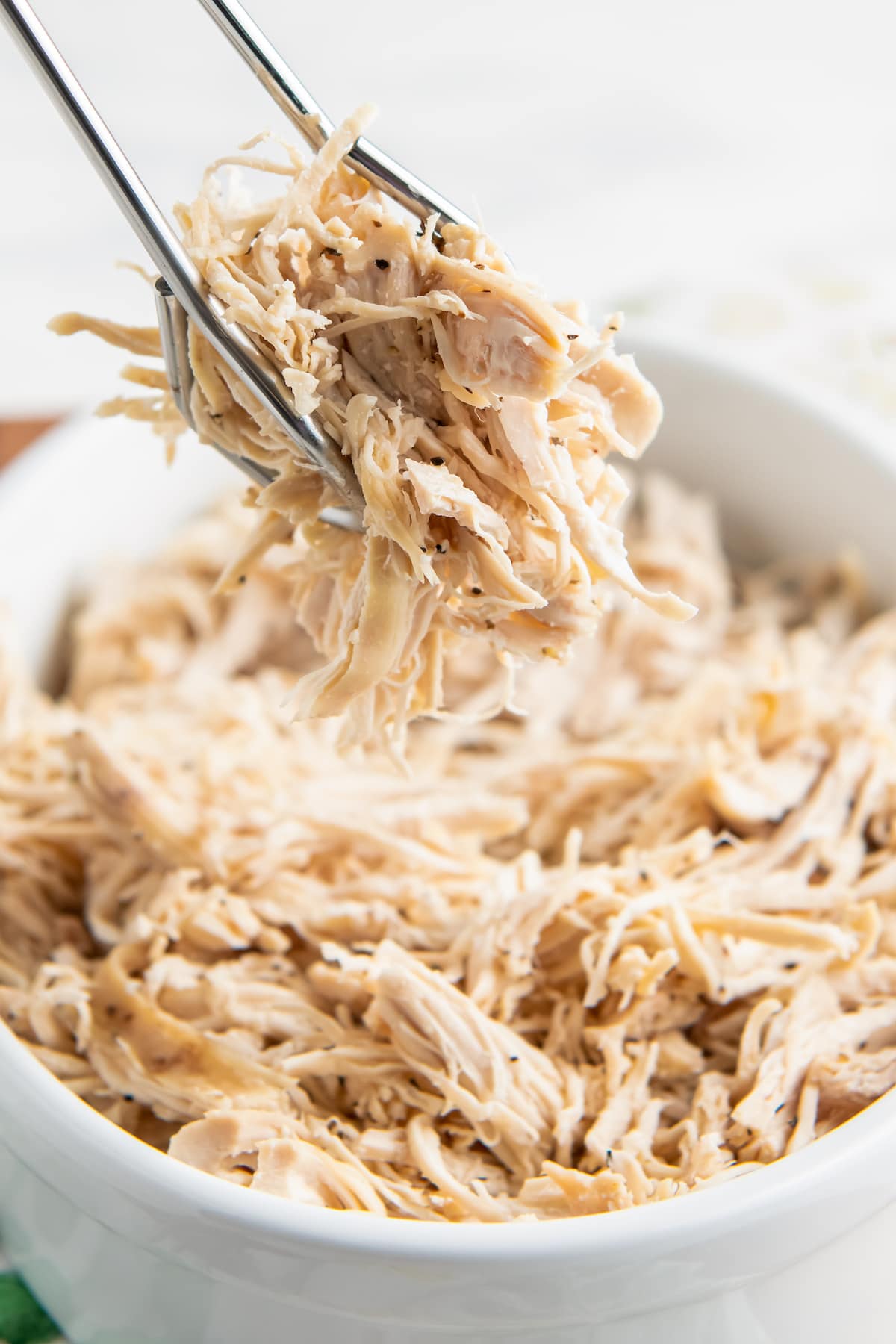 How to Make Instant Pot Shredded Chicken Breasts
This recipe could not be any easier! The simple steps are below.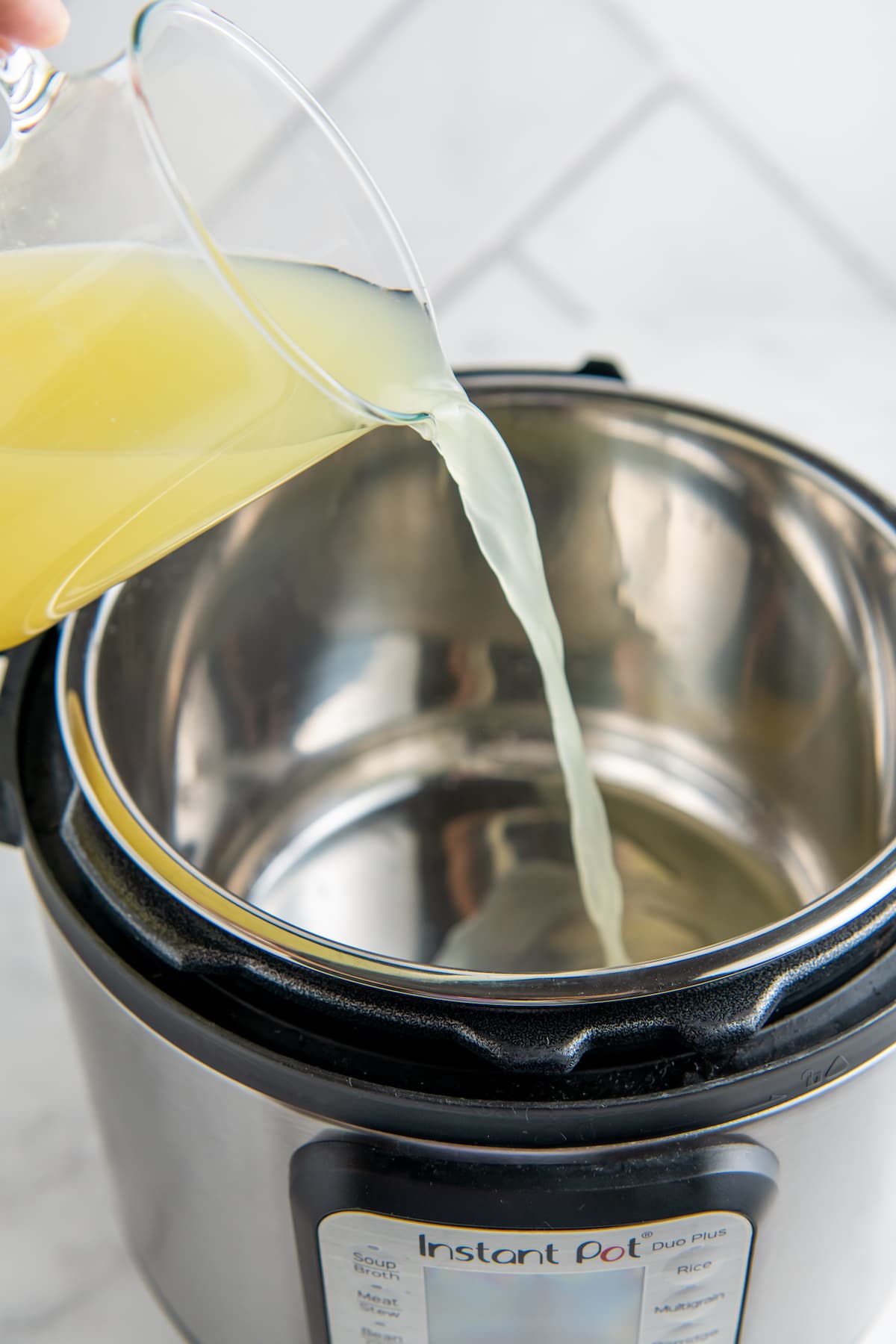 First, pour the broth into the Instant Pot. Remember, you must always have at least 1 cup of liquid when cooking with an instant pot. This helps create a seal and keeps the chicken from drying out and burning.
Then season the chicken. Use the salt and pepper to season all sides of the raw chicken and then place them in the liquid in the Instant Pot.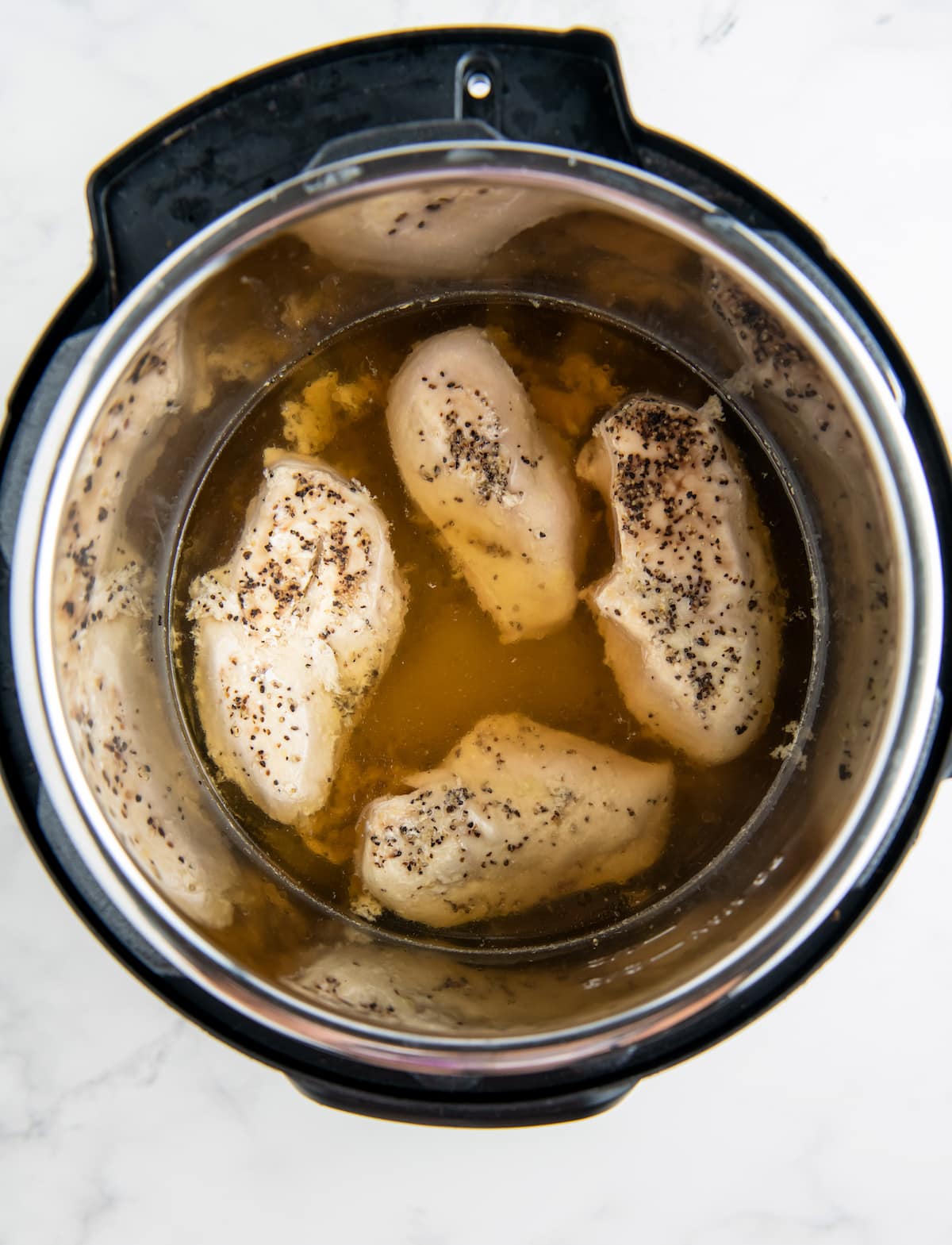 Turn on the Instant Pot. Set the pressure cooker to HIGH and then set a timer for 12 minutes. Once the timer goes off, let the air naturally release for 10 minutes. Then you can release the pressure so that you can open the lid.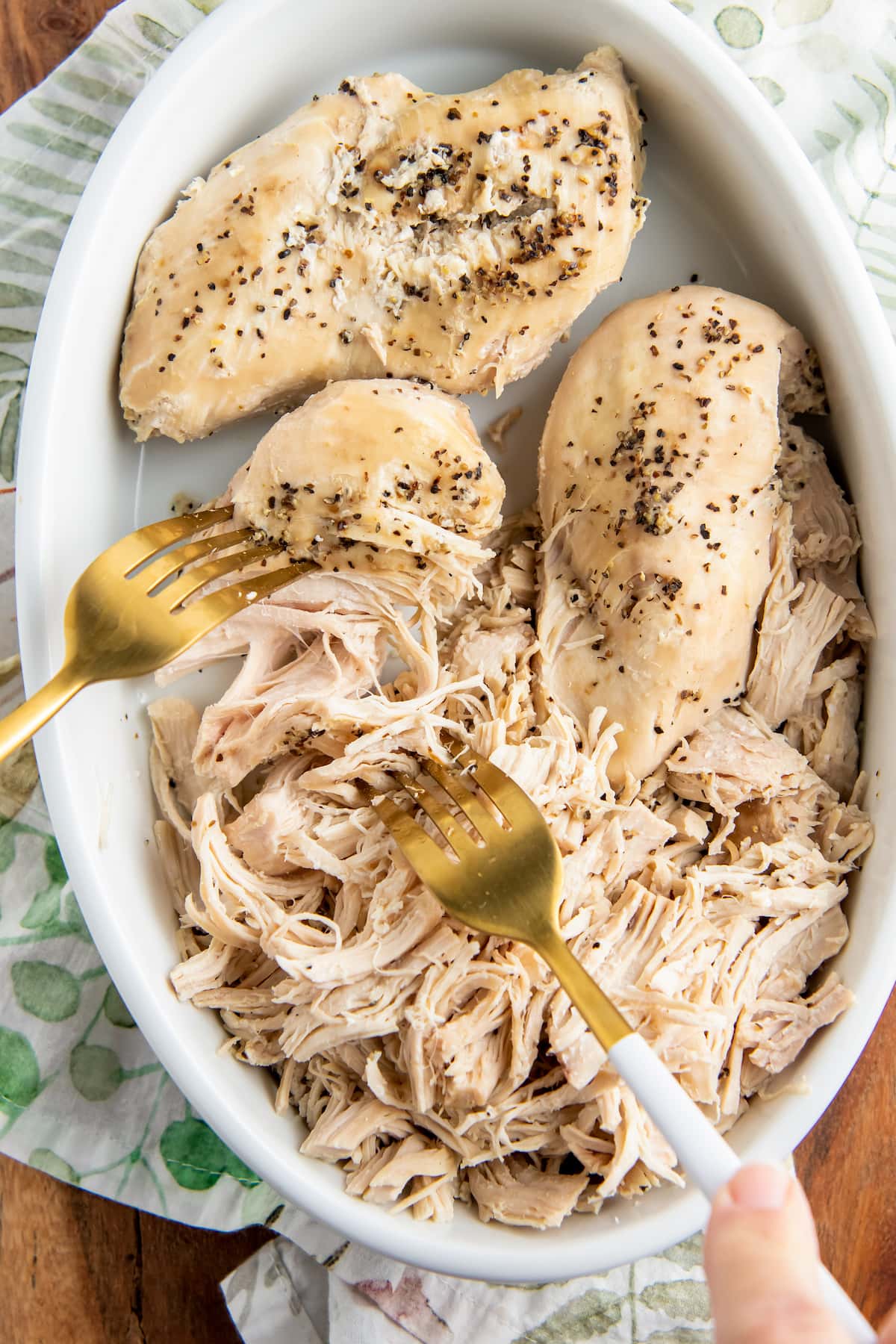 Shred the chicken in a bowl. Using two forks to shred the chicken and then serve it however you'd like! We have some great suggestions below.
What Should I Do If My Shredded Chicken Is Dry?
If the chicken is a little dry once it's been shredded, you can add a little of the leftover broth from the Instant Pot to moisten up your shredded chicken.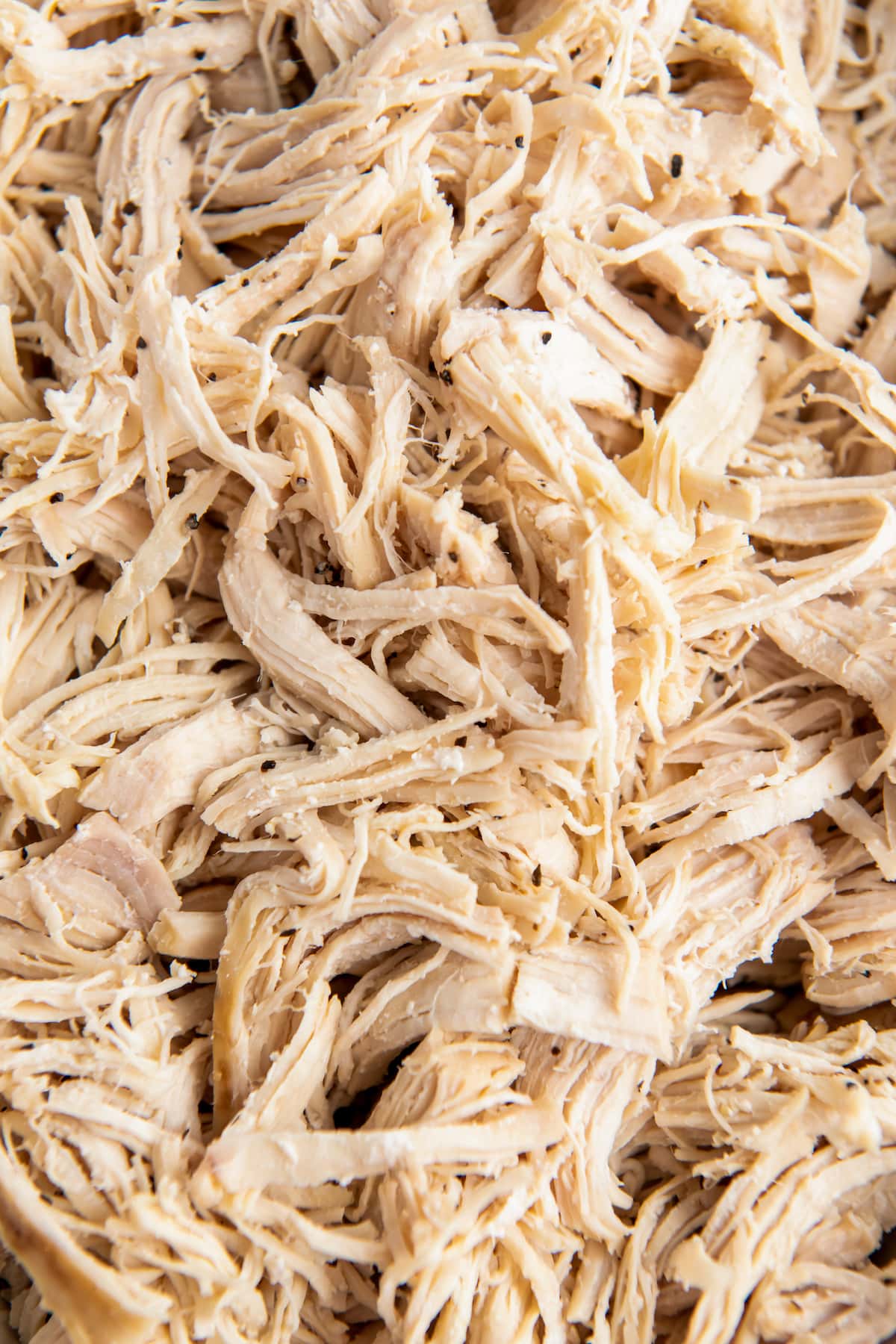 Tips & Variations
Here are some helpful tips and different ways that you can enhance this Instant Pot Shredded Chicken Recipe.
Make sure you give yourself enough time to make this recipe. Don't forget to allow for the time that the Instant Pot takes to come to pressure and account for at least 10 minutes of release.
Add more seasonings. You can add more seasonings like garlic powder, paprika, onion powder or keep it simple with just a pinch of salt and pepper.
What if the chicken is rubbery? If the chicken is rubbery put it back in the instant pot and cook for 2-3 minutes more.
DIY Chicken Broth! This leftover broth is also great to use in any recipe calling for chicken stock/broth. Store the broth in a mason jar for up to 5 days in the refrigerator or freeze for up to 3 months.
What To Do With Shredded Chicken
Here are some of our favorite ways to use this Instant Pot Shredded Chicken recipe.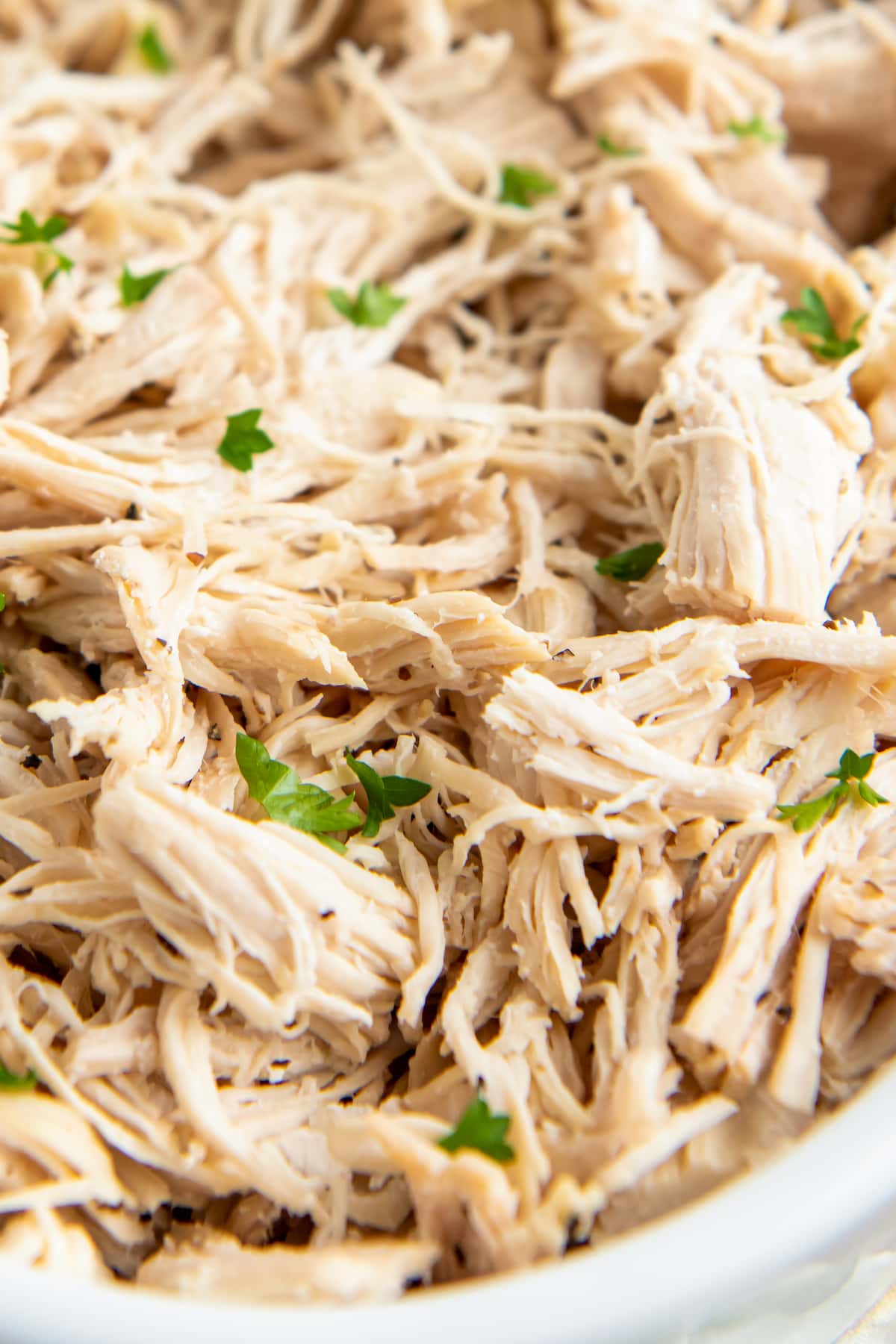 How to Store & Reheat Leftovers
Instant Pot Shredded Chicken can be stored in an airtight container in the fridge for up to 5 days. You can reheat on the stovetop or in the microwave. You can also served it cold.
Can I Freeze This?
Yes, you can freeze Instant Pot Shredded Chicken for up to 6 months. It's perfect to keep small portions in the freezer for quick and easy meals. We recommend thawing overnight in the refrigerator before you want to use it in a recipe.
Instant Pot Shredded Chicken
Make the best juicy shredded chicken easily in your instant pot! This Instant Pot Shredded Chicken recipe is easy to make ahead for weeknight dinners for casseroles, tacos, salads, wraps and more!
Ingredients
1

cup

chicken broth or water

2

pounds

skinless

,

boneless chicken breast or thighs

1

teaspoon

pepper

½

teaspoon

salt
Instructions
Season chicken with salt and pepper and add to instant pot.

Place lid on the instant pot, making sure the release valve is sealed. Set cooker to high pressure for 12 minutes cook time. (The instant pot will start the 12 minute countdown once it reaches pressure, about 10 minutes.)

Allow the instant pot to naturally release the pressure for 10 minutes. (This means to not touch your instant pot for 10 minutes after it finishes the 12 minute cook time.) Then, using a rag or spoon, switch the valve to open to release the rest of the pressure before opening the pot.

Remove the chicken breast and place them in a large bowl. Use two forks to shred the chicken.

Serve as desired or use in your favorite recipes
Notes
Storage: Store in an airtight container, in the fridge, for up to 5 days. Freeze for up to 6 months. Thaw overnight in the fridge for best results.
Nutrition
Serving:
1
,
Calories:
449
kcal
,
Carbohydrates:
1
g
,
Protein:
78
g
,
Fat:
13
g
,
Saturated Fat:
4
g
,
Polyunsaturated Fat:
8
g
,
Cholesterol:
236
mg
,
Sodium:
722
mg
More Instant Pot Recipes