Bacon Brussels Sprouts is an easy vegetable side dish that only takes 20 minutes and 3 ingredients. Crispy bacon and fresh garlic create this incredible flavor that will make it easy to eat Brussels sprouts over and over again.
Easy Brussels Sprouts and Bacon
If you are one of those people who are turned off by Brussels sprouts then we're guessing that you haven't had them with bacon yet. Bacon goes well with just about everything but it goes extra well with Brussels sprouts…something about that salty bacon and Brussels is a match made in heaven!
These Bacon Brussels Sprouts are the perfect combination of savory and slightly bitter cabbage-like flavor and crispy and salty bacon. Plus, there's fresh garlic which also tastes great on anything (especially cooked vegetables).
And this recipe is so easy to make! Unlike oven-roasted Brussels sprouts, you only need 20 minutes to make this quick side dish.
If you love brussels sprouts as much as we do, make sure to also check out our Air Fryer Brussels Sprouts!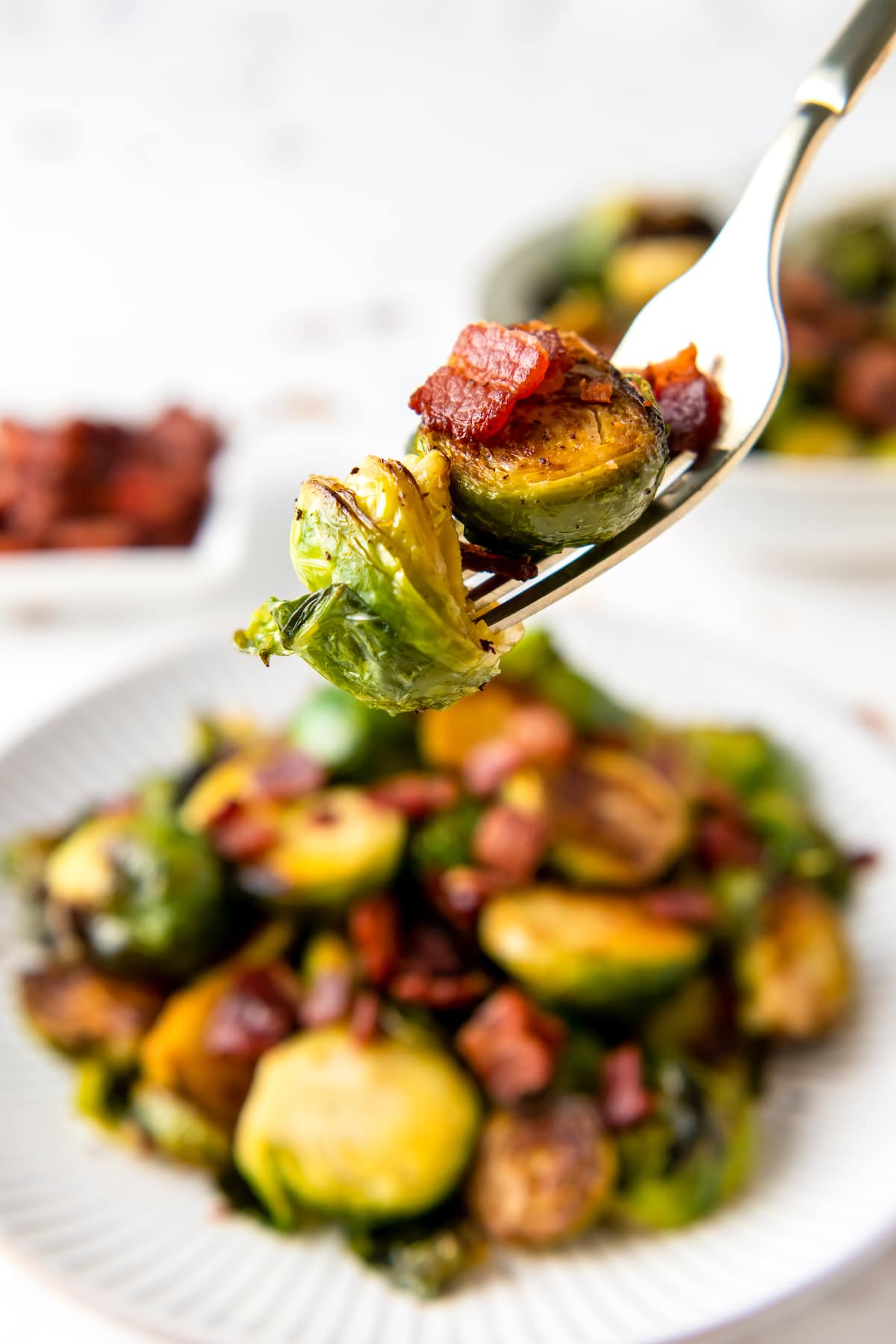 What You'll Need
Here is a short list of ingredients for this recipe. The exact amounts that you need for each ingredient are listed below in the recipe card.
Bacon: We like to use thick-cut bacon and then cut it into small pieces so it cooks quickly and evenly.
Brussels Sprouts: Remember to take the bottoms off and then cut them in half.
Garlic: You can use dried garlic (granulated garlic powder), but it really does give the best flavor if you use freshly minced garlic. It's worth the extra minute of effort! If you don't have one, we highly recommend our favorite garlic press so you don't get smelly garlic fingers mincing it.
Salt and Pepper: Or if you want some heat, use our favorite Cajun Seasoning instead! We do this often when we want to change it up.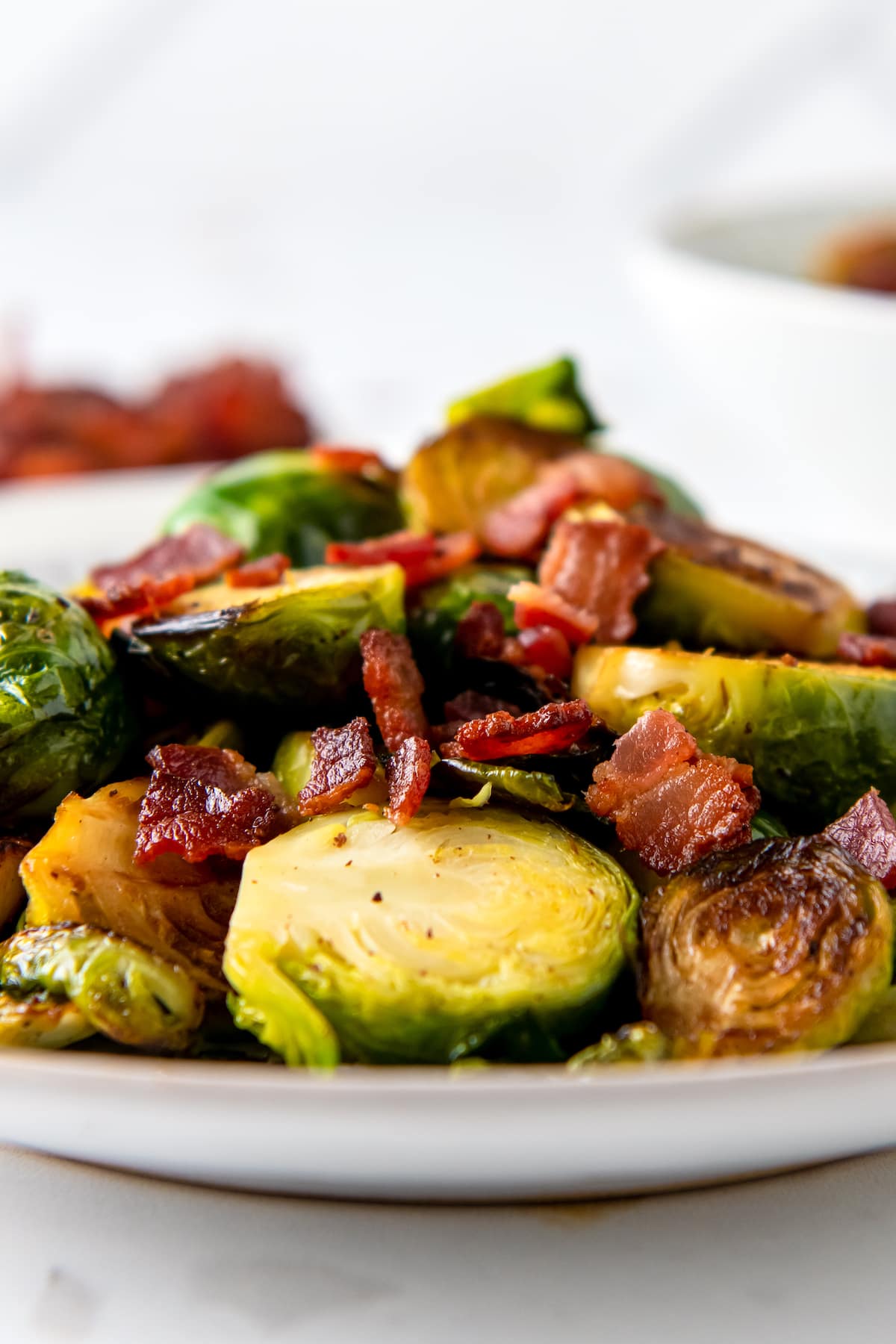 Recipe Variations
Recipe variations are below to help you mix up the recipe a little bit.
What if you don't like (or don't eat) bacon? That's ok! You can omit the bacon and just cook the Brussels in your favorite cooking oil. You could also use pancetta or even diced ham in this recipe. But if you're a vegetarian, just go ahead and omit the bacon.
Add some dijon mustard for a little kick. You can drizzle a little mustard at the end and gently toss the Brussels sprouts to give the dish a little spicy zest.
Drizzle a little maple syrup for a little sweetness. We find that this works great when we want the kids to eat Brussels sprouts! You don't need a lot, but a little drizzle caramelizes perfectly with the bacon and Brussels sprouts. You can also use balsamic glaze or honey.
Add a little tartness. When the Brussels are cooked and you add the bacon back into the skillet, you can also add some dried cranberries or dried tart cherries if desired.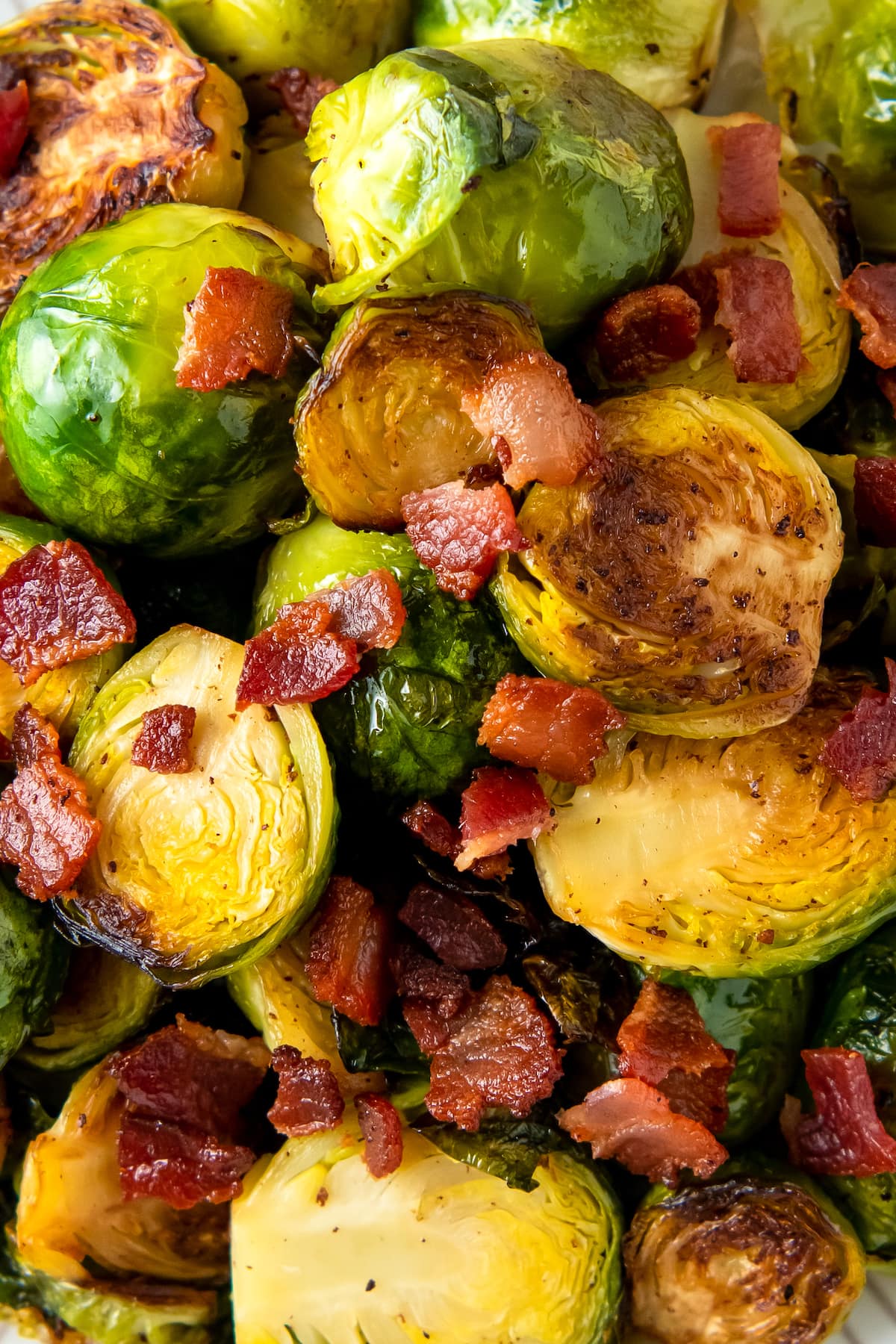 How to Make Bacon Brussels Sprouts
Here are the simple steps for making this delicious vegetable side dish.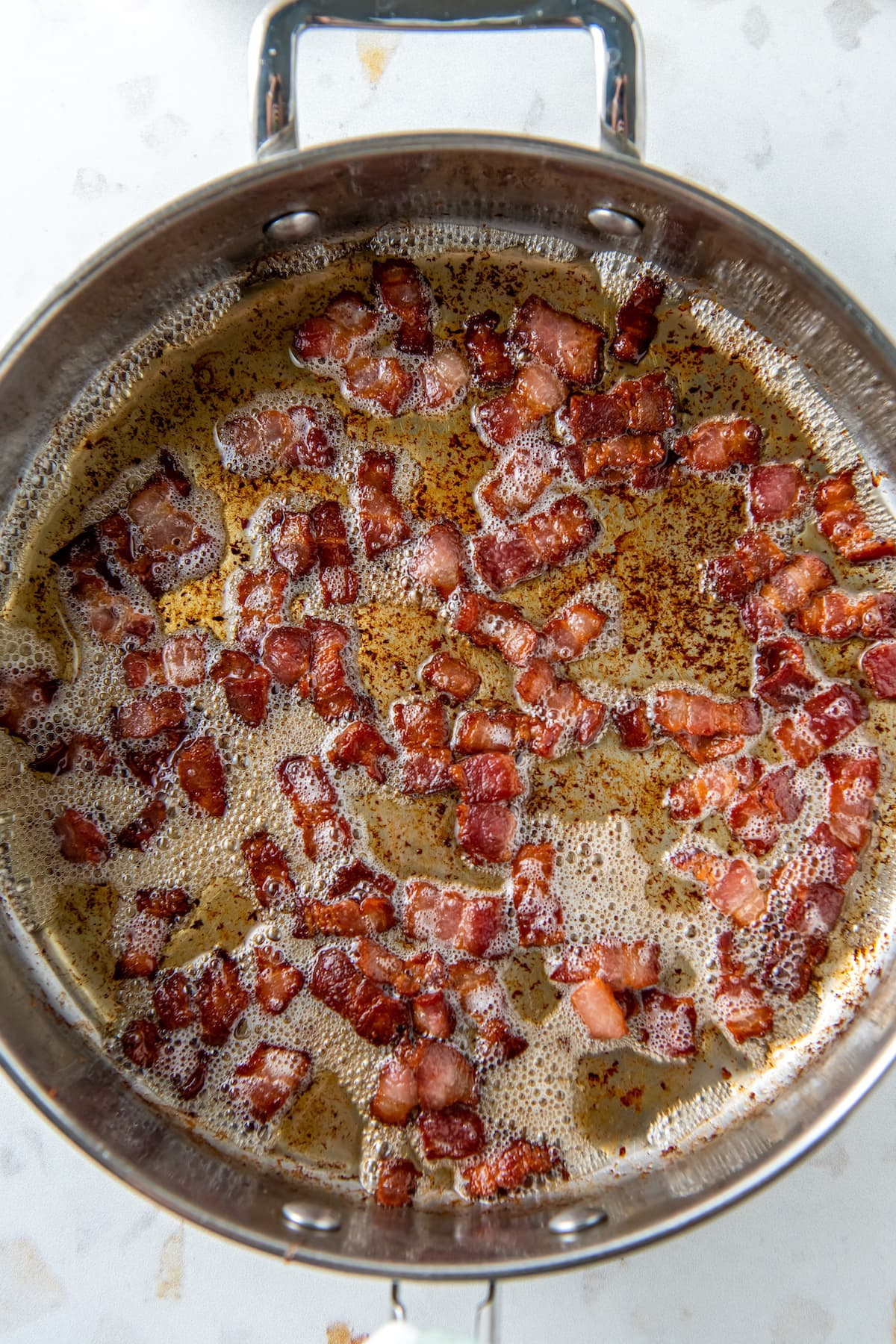 First, fry the bacon. When the bacon is done, scoop it out with a slotted spoon and drain the bacon on a plate lined with paper towels. Make sure you leave the bacon grease in the pan.
Then add the Brussels sprouts and garlic to the pan. The bacon grease is going to be your cooking oil. That's how all that delicious bacon flavor get's into these Brussels sprouts.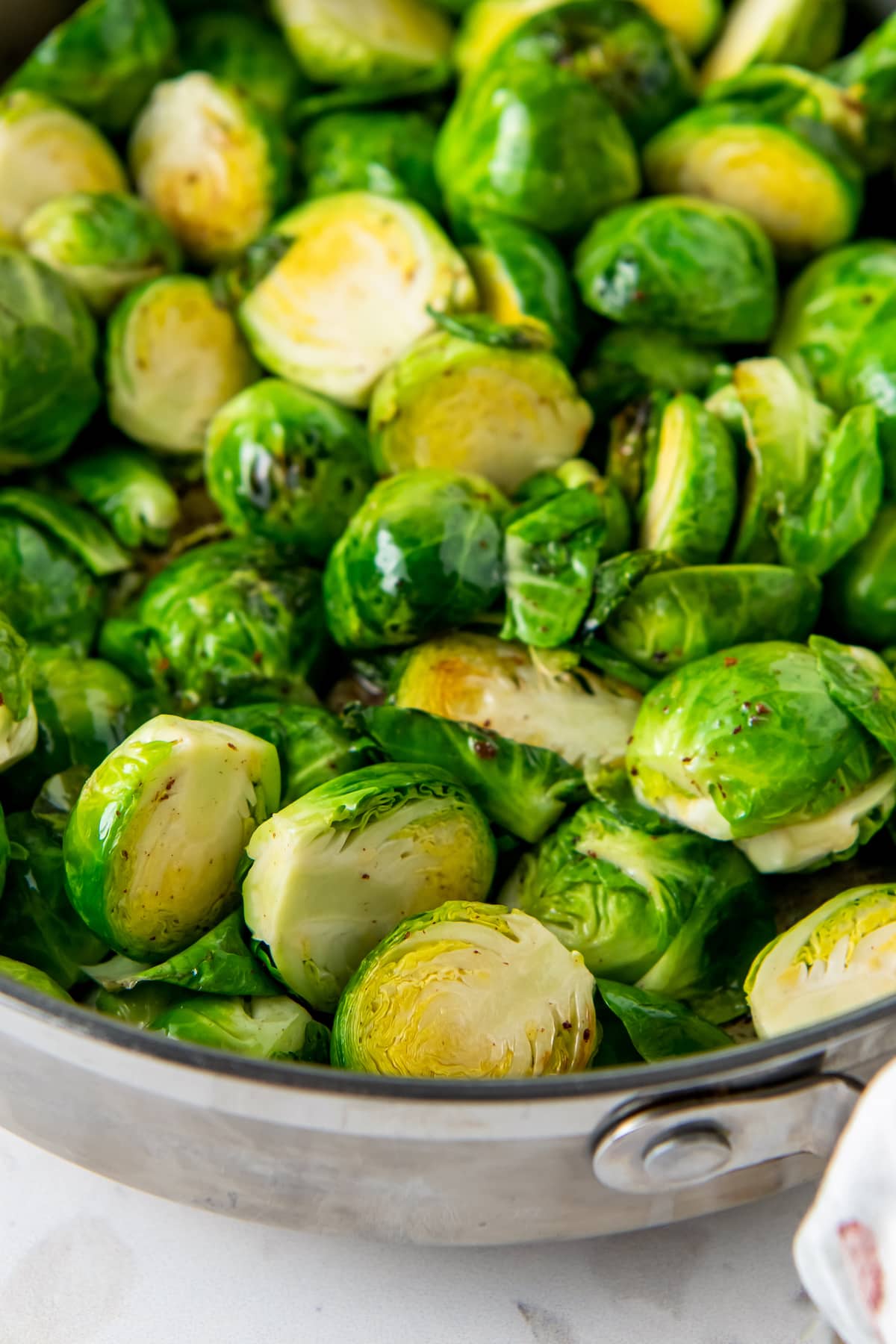 Pan-roast the Brussels sprouts. Cook them in the bacon grease for about 10-12 minutes or until they are tender. Make sure to allow the sprouts time to caramelize by not stirring them too often.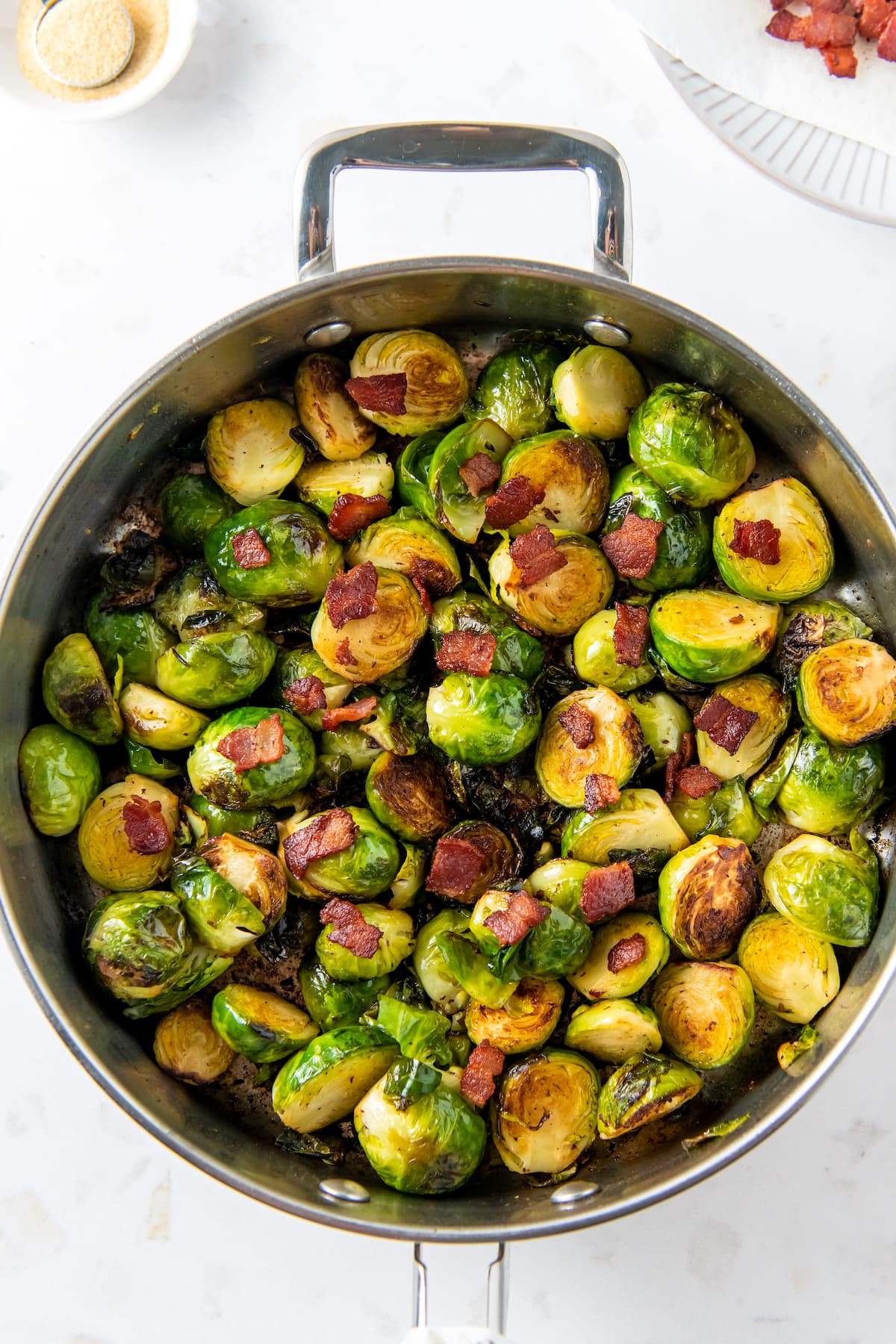 Lastly, add the bacon back into the pan. You'll want to crumble the cooked bacon first so that every bite has a little bit of bacon! Then add it back to the pan and gently toss to mix the bacon and Brussels sprouts together.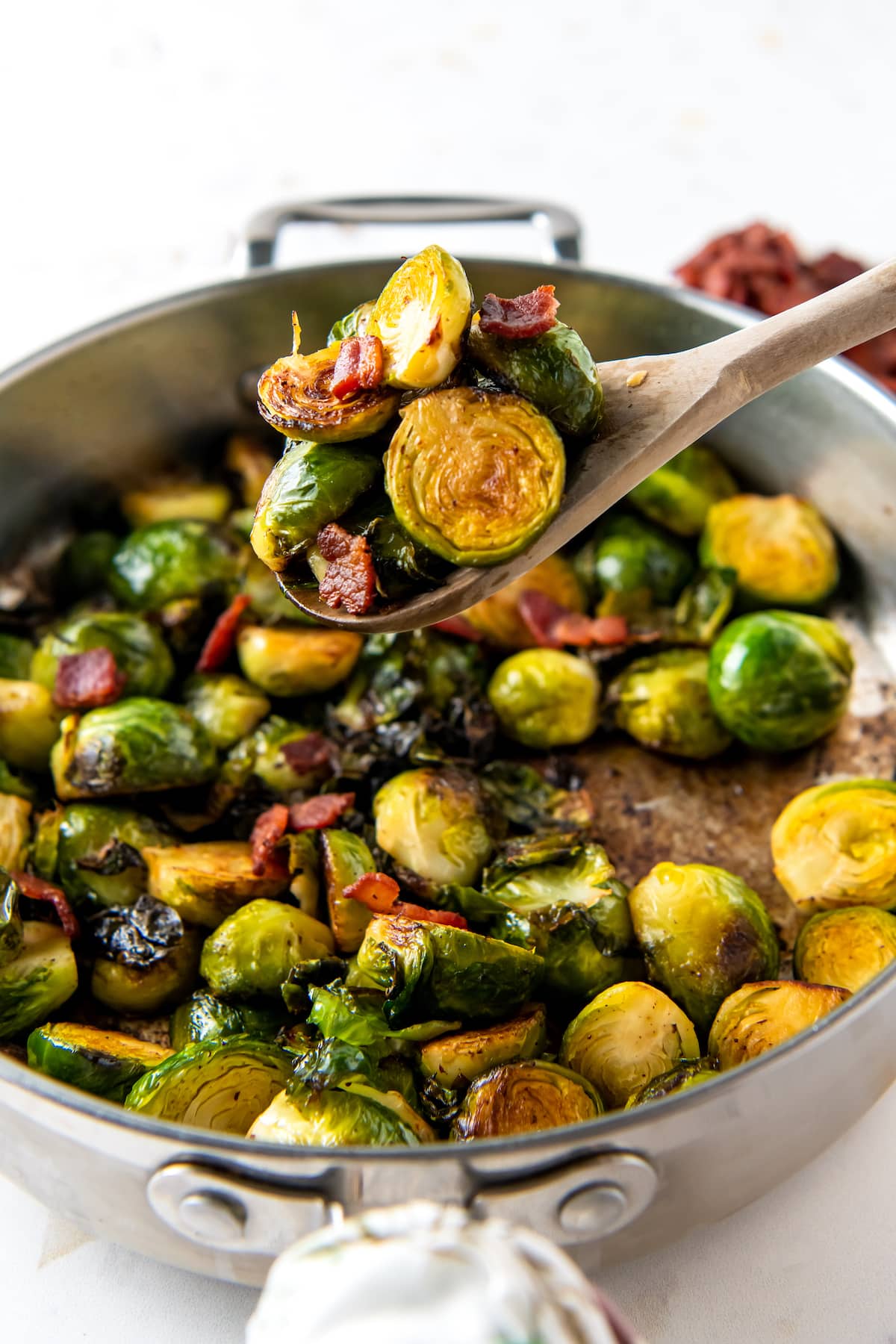 Tips for Success
Some helpful tips for making this recipe are below.
The bacon needs to be crispy! Make sure that it's cooked enough so that it's crispy and able to be crumbled.
Don't over-stir your Brussels sprouts while they cook. Giving your Brussels some time to stay on the bottom of the pan and against the heat will give them a great char and caramelization.
Cover the pan. Covering the skillet helps to steam the Brussels and cook them more quickly if you are in a rush.
Fresh Garlic: Use fresh garlic for the most flavor. Jarred garlic just doesn't have the same amount of bite!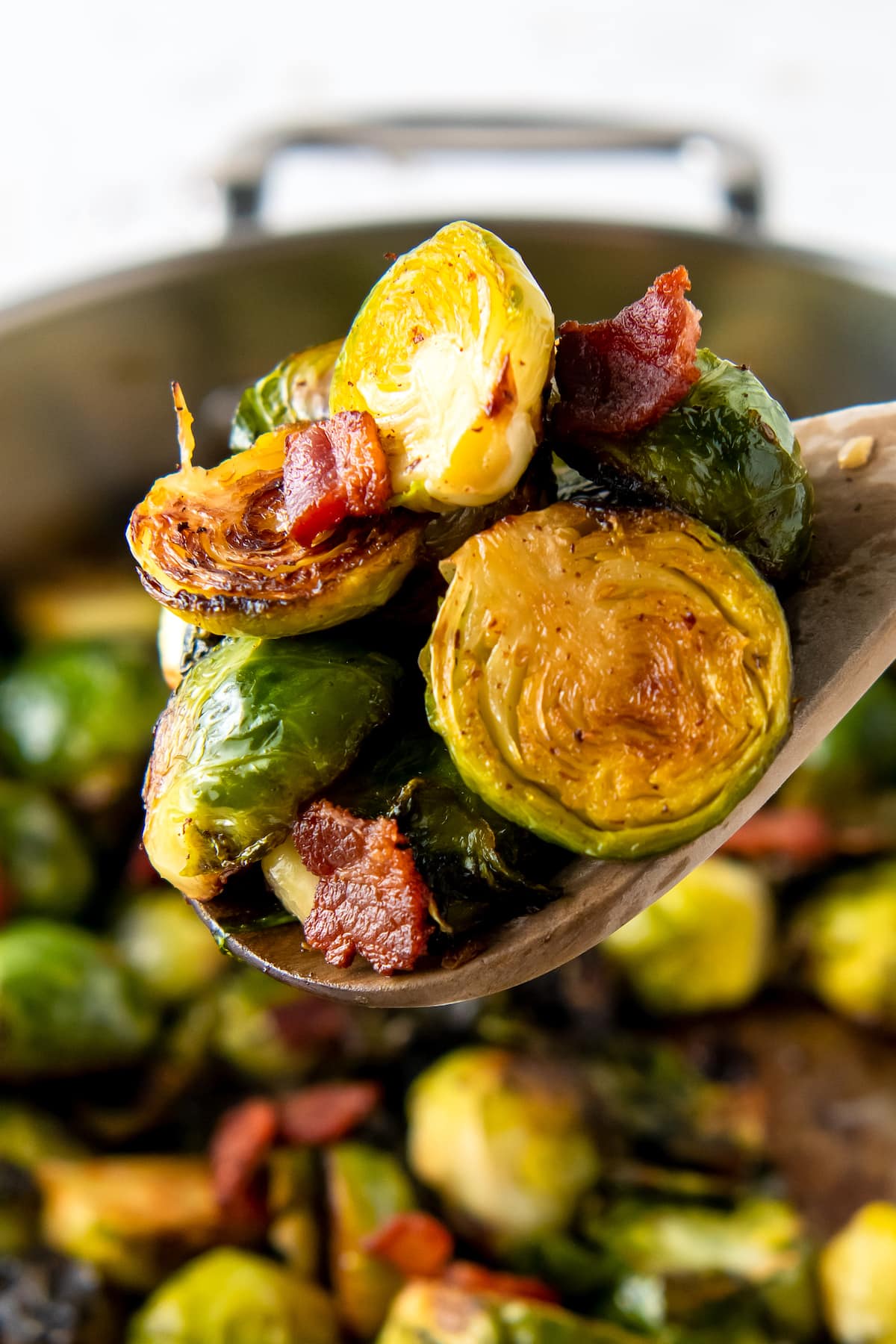 What to Serve With Sauteed Brussels Sprouts with Bacon
This is one of our favorite (and easiest) side dishes to make! Here are some of our favorite recipes to serve these Bacon Brussels Sprouts with.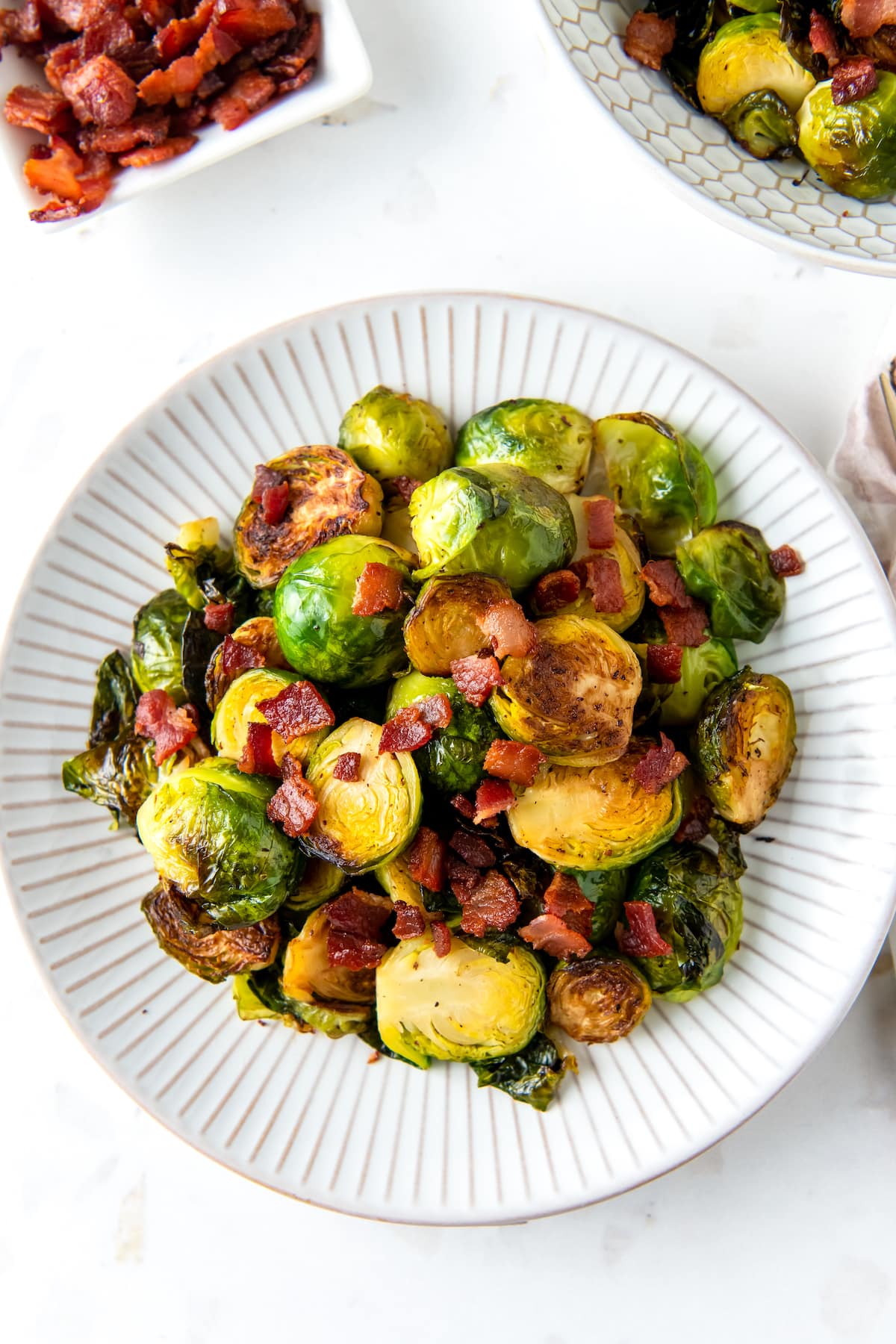 How to Store & Reheat Leftovers
Store any leftovers in an airtight container, in the fridge, for up to 5 days. Then you can reheat them in a skillet or the air fryer. If they are a little dry, add a little extra oil or butter to your skillet as you reheat them.
Yield: 4-6 servings
Bacon Brussels Sprouts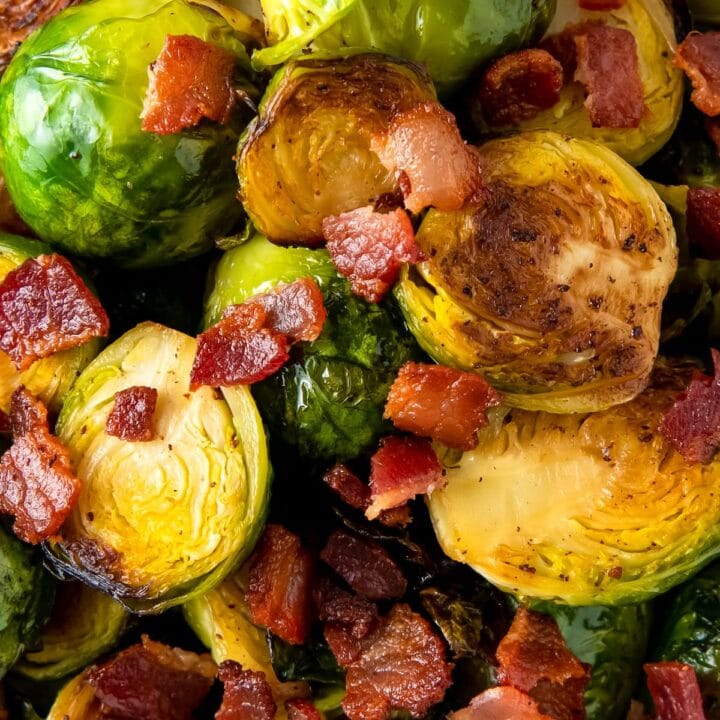 These 20-minute Bacon Brussels Sprouts are an easy vegetable side dish that only requires a few simple ingredients. Packed with flavor from crispy bacon and garlic, these sprouts are sure to become your new favorite side dish!
Ingredients
4-5 slices thick cut bacon, cut into small pieces
1 pound brussels sprouts, bottoms removed and sliced in half
2 cloves garlic, minced (or 1 teaspoon garlic powder)
Salt and freshly cracked pepper, to taste
Instructions
In a medium size skillet, fry the bacon until crispy. Using a slotted spoon, scoop out the bacon and place on a plate lined with paper towels. Set aside.
Add the brussels sprouts and garlic to the hot bacon grease and cook over low to medium low heat with the lid on, stirring occasionally, until brussels are tender, about 10 to 12 minutes.
While the brussels cook, crumble the bacon. Once the Brussels are tender, add the bacon back into the skillet cook for an additional minute. Serve immediately.
Notes
Storage: Store leftovers in an airtight container, in the fridge, for up to 5 days. Reheat them in a skillet or the air fryer. If they are a little dry, add a little extra oil or butter t the skillet as you reheat them.
Spicy: Want your brussels sprouts to have a little heat? Swap out the salt and pepper for Cajun Seasoning! Or add some crushed red pepper flakes.
Sweet: Like your sprouts to be a sweet and savory? When you add back in the bacon, you can drizzle in some honey or balsamic glaze.
Nutrition Information:
Yield:
4
Serving Size:
1
Amount Per Serving:
Calories:

112
Total Fat:

6g
Saturated Fat:

2g
Trans Fat:

0g
Unsaturated Fat:

4g
Cholesterol:

15mg
Sodium:

350mg
Carbohydrates:

9g
Fiber:

3g
Sugar:

2g
Protein:

8g
Filed Under:
More Easy Vegetable Side Dishes