This easy and quick Orzo Salad with Arugula is bursting with fun, flavorful, and healthy ingredients! This salad is a mix of many flavors with creamy feta, sweet dried cherries, tangy red onions, spicy arugula, and Orange Salad Dressing.
Easy & Filling Orzo and Arugula Salad
Salads don't always have to be mixed greens and vegetables. We love combining not just different flavors in salads, but textures, too. This Orzo Salad with Arugula has an incredible variety of flavors but has many different bites to it!
For example, the tender and filling orzo is the base for the recipe. Orzo is a great ingredient to add to salads when you want to add some heartiness to them. A salad that has orzo, or any other pasta ingredient, is guaranteed to leave you feeling full and satisfied.
Then there is the spicy arugula. We love the flavor that this delicate green adds to recipes. It's a fun way to make a salad without using standard lettuce like romaine or iceberg. To add some texture we've included crunchy and tangy red onions, sweet and chewy dried cherries, and salty feta.
It's the perfect combo of sweet, tangy, and salty and we know you're going to love this delicious salad!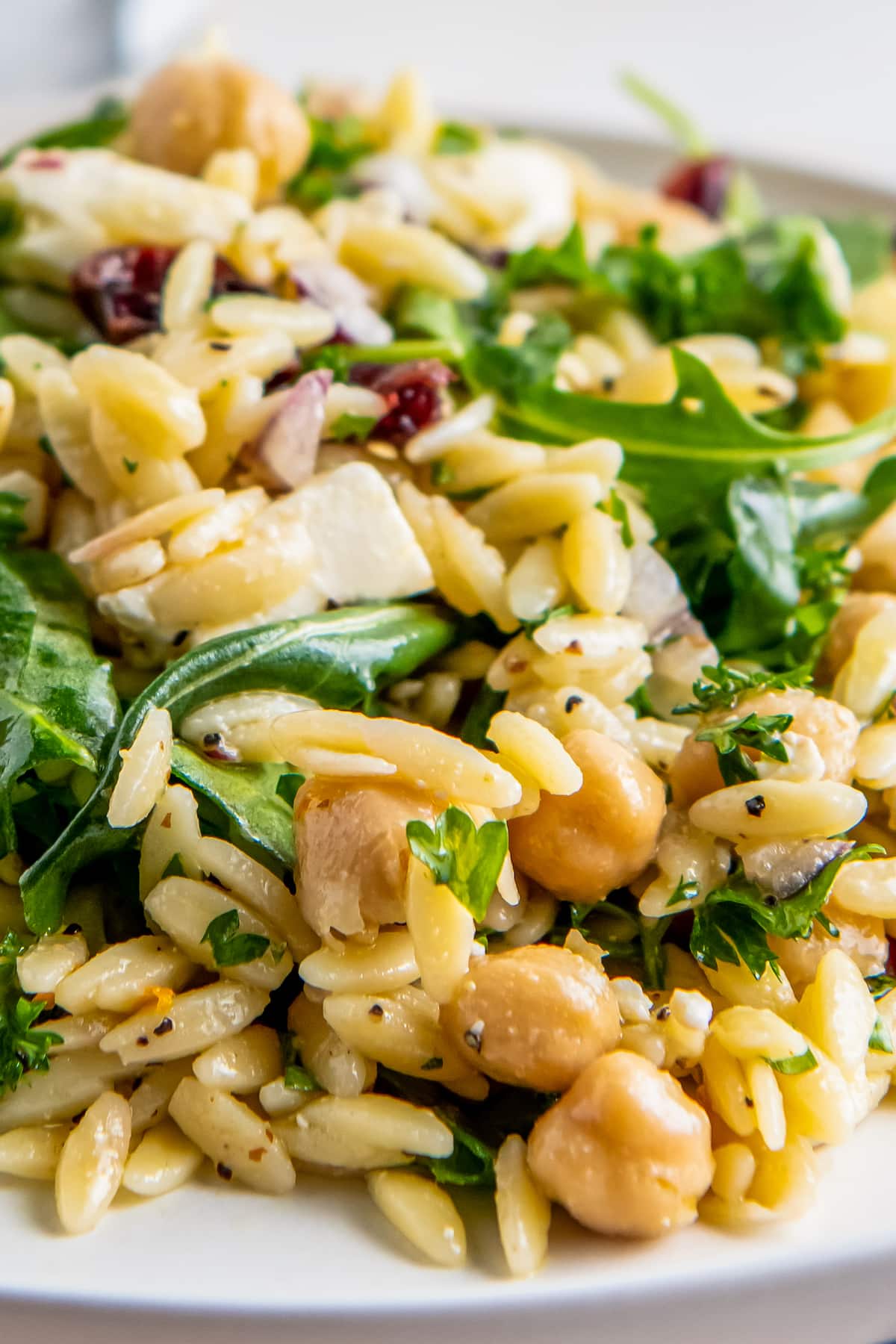 Is Orzo Healthy?
You might be wondering if orzo is a healthy addition to your diet. The thing to remember is that orzo is pasta and not rice. It's often made with white flour, but can also be made with wheat flour (which has many health benefits).
Adding orzo, or other pasta, to your diet can be a great choice when eaten in moderation. The carbohydrates in orzo are what our body needs to create energy.
What we love about orzo is that it pairs well with so many different vegetables (cooked or not) and is a great way to add a small amount of carbohydrates to an already healthy recipe.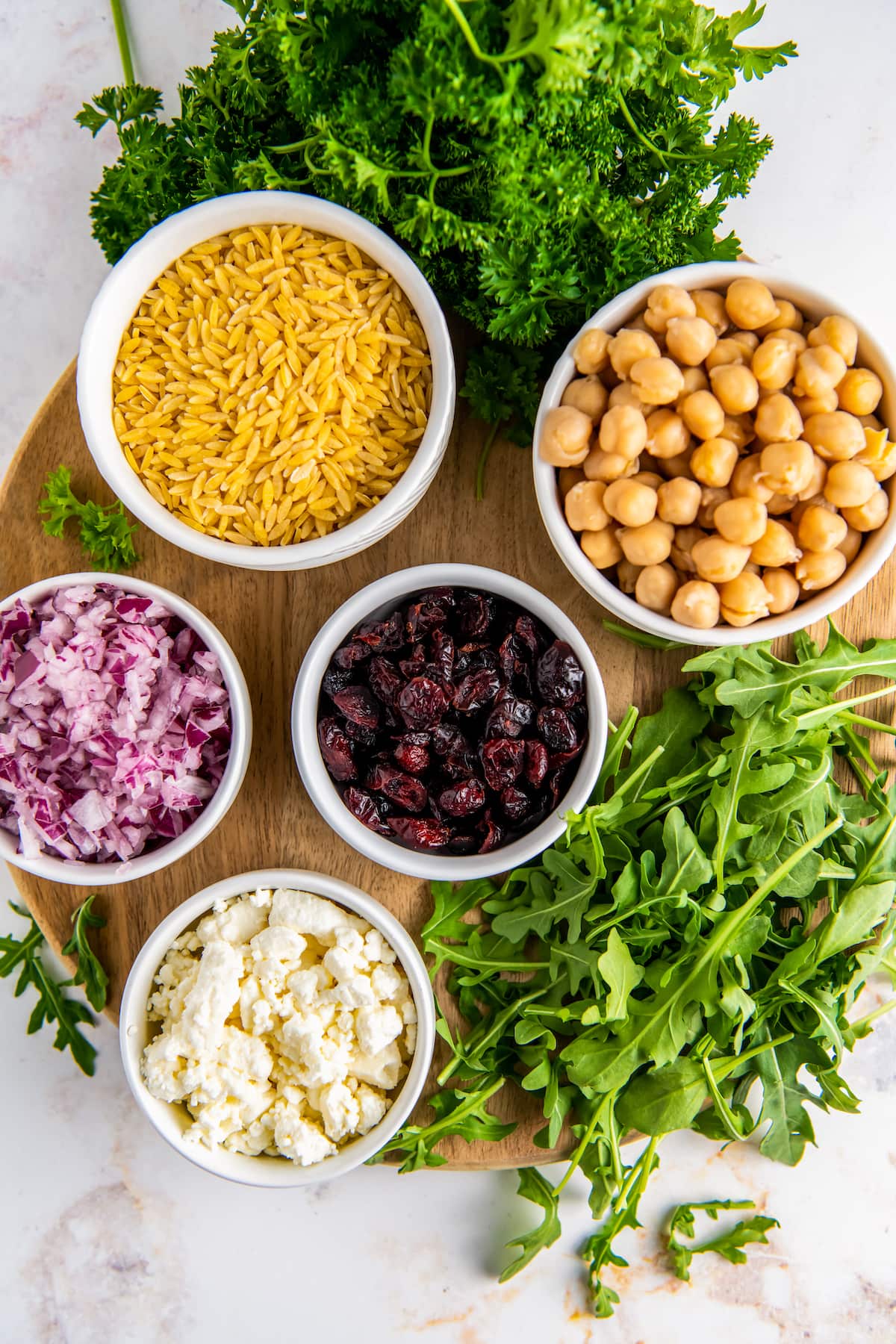 What You'll Need
Here is what you need to make this Arugula Orzo Salad.
Orzo: Remember, this is pasta, so it will be with the other pasta at the supermarket. It's also great in soups!
Arugula: It's delicate and spicy with a hint of pepper flavor and so delicious.
Dried Cherries: You could also use dried cranberries.
Parsley: If you don't have any parsley you could substitute mint, basil, or chives.
Red Onion: You could use scallions if you don't have any red onions.
Garbanzo Beans: Also called chickpeas, you'll want to drain and rinse them first before putting them in the salad.
Feta Cheese: You could also use goat cheese, but it will add more of a creamy taste than saltiness to the salad.
Orange Salad Dressing: You can use any salad dressing you enjoy, but this Orange Salad Dressing adds the perfect bright and zesty flavor to this orzo salad.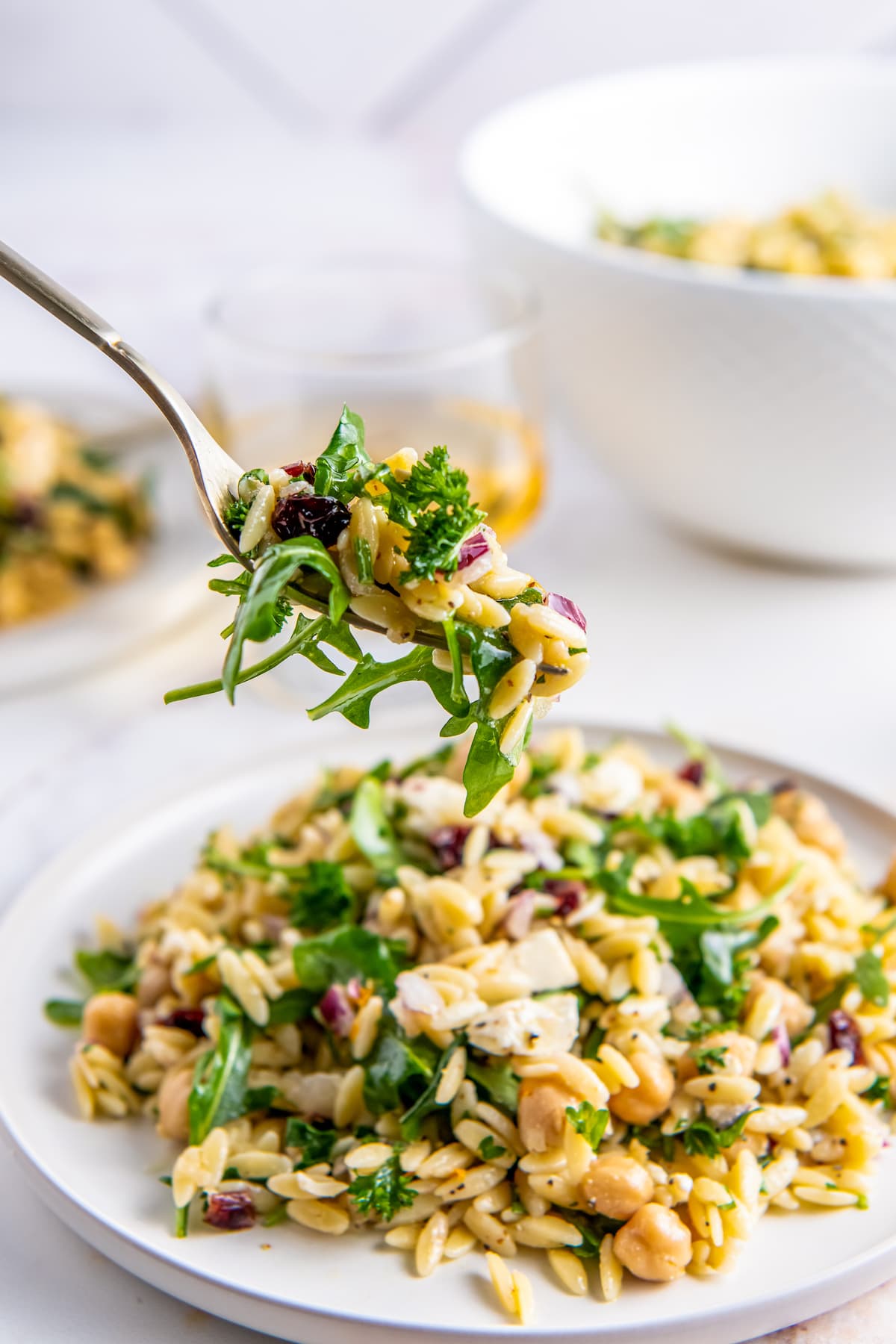 How to Make Orzo Salad with Arugula
The steps are simple for making this salad. Remember that you do need to give yourself enough time to cook the orzo and let it chill.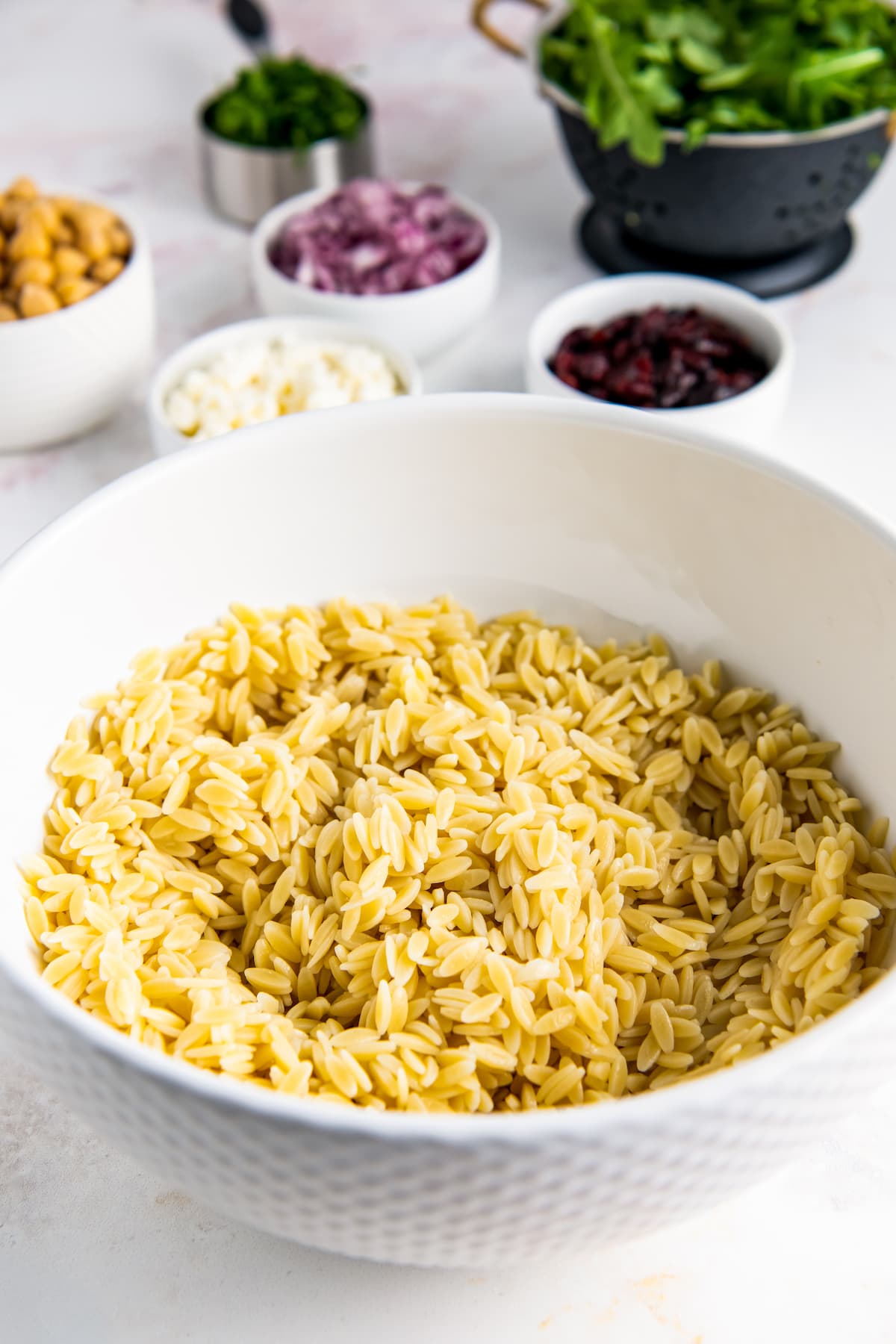 First, you'll cook the orzo. You do this just like you would for other pasta – in a pot of boiling water until it's al dente. Then strain the orzo and set it aside to cool down.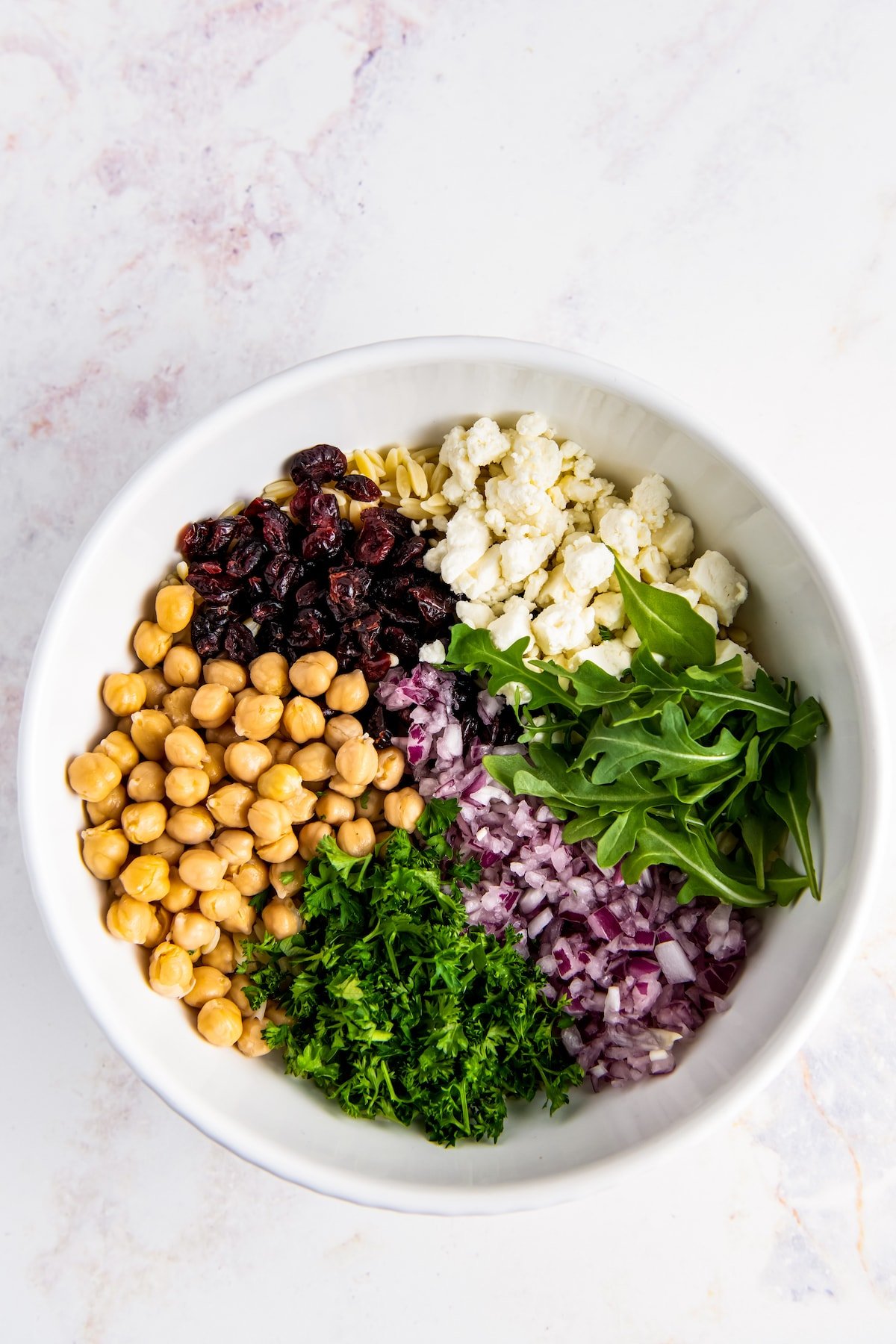 Next, grab a large bowl to mix everything together. You'll add the garbanzo beans, arugula, parsley, red onion, dried cherries, and feta and gently toss them together.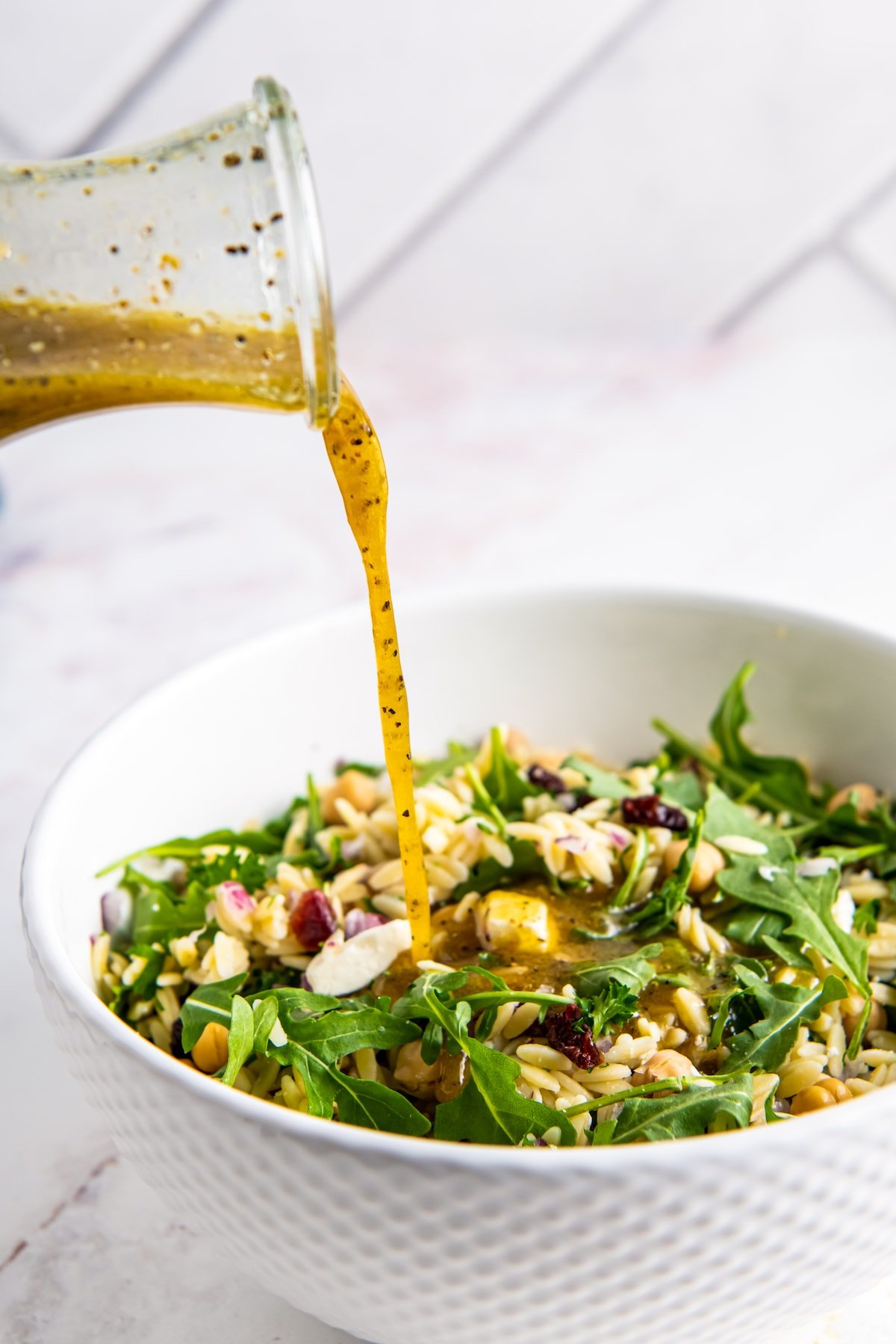 Then add the dressing. Once the dressing is added you can stir everything together.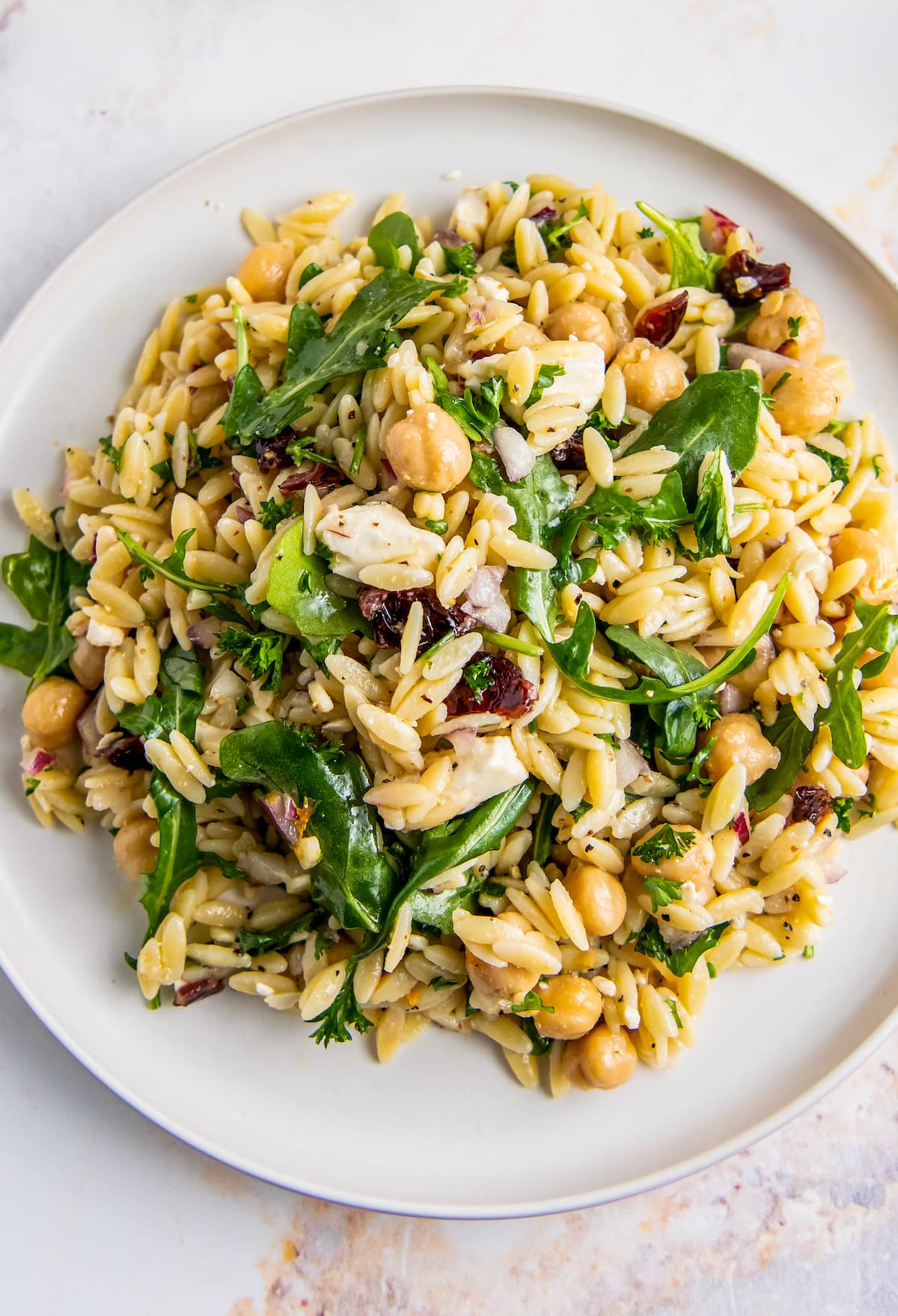 Tips for Success
Some helpful tips are below!
Add some other ingredients that you have laying around! This is a great opportunity to use up some produce that might be going bad. We like to add chopped granny smith apples, diced cucumber, or other spring greens sometimes.
You can make the salad ahead of time. However, we recommend that you do not add the arugula until you're ready to serve or it will wilt.
Serve the dressing on the side. You can mix in about half of the dressing and then serve the remaining on the side to pour over once the salad is plated.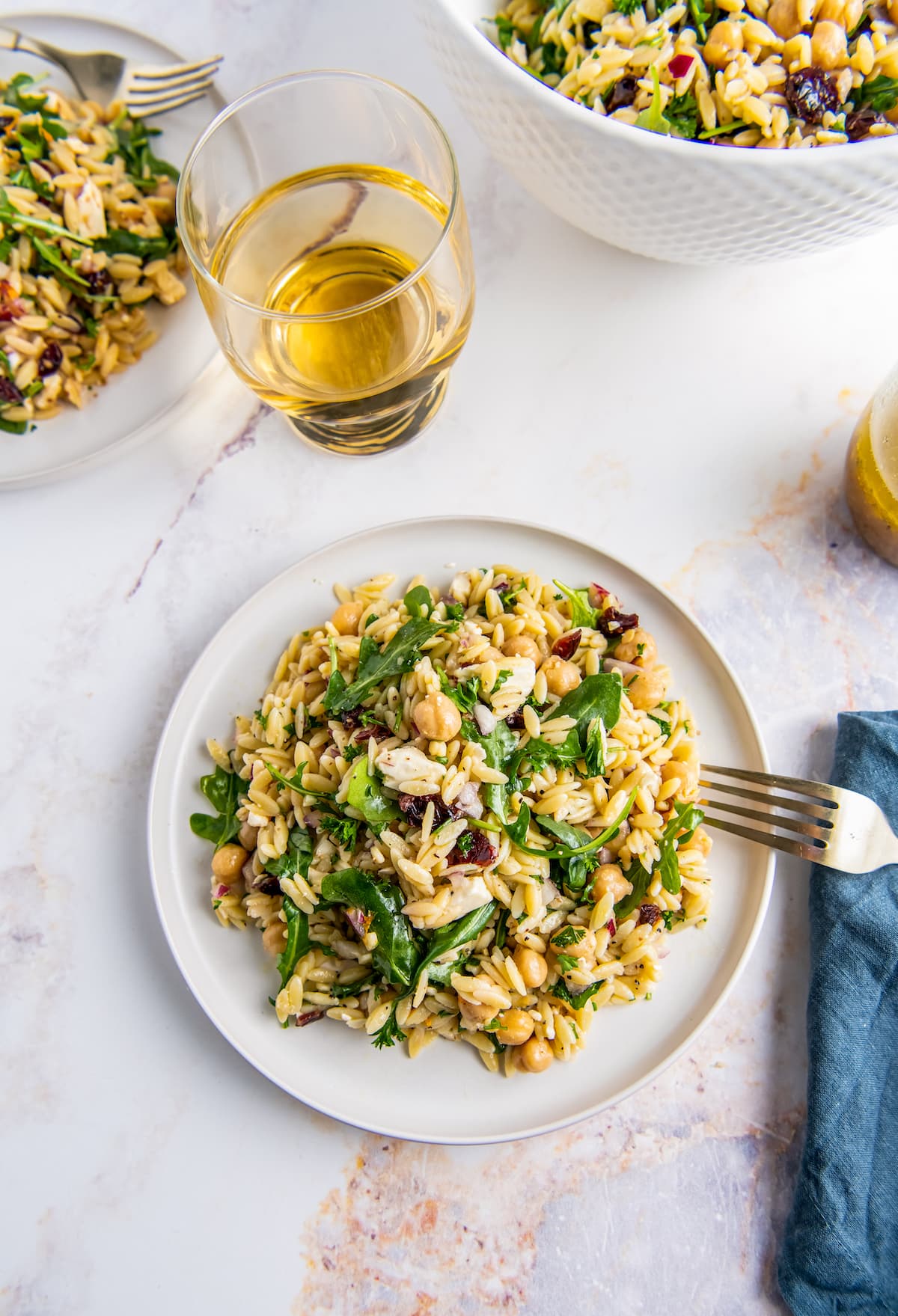 What to Serve With Orzo Arugula Salad
Here are some suggestions as to what to serve with this salad.
Add chicken as a protein: Adding shredded chicken would be a great way to round out this salad with some extra protein. We think that leftovers from our Citrus Roasted Chicken are a great idea!
Serve it at a BBQ: This salad is a great side dish when paired with Country Style Ribs and Baked Beans.
Salad and sandwich combo: Pairing a sandwich with this salad would make for a great lunch or dinner idea. We like to serve our Pesto Grilled Cheese or you could make chicken salad sandwiches or BLTs.
Can This Be Prepared In Advance?
Yes, but we recommend prepping and storing the different parts separately and combining everything together right before you serve. If you add the arugula and all of the salad dressing and then store it, the arugula will wilt and the pasta will likely soak up all the dressing.
Yield: 4-6 servings
Orzo Salad with Arugula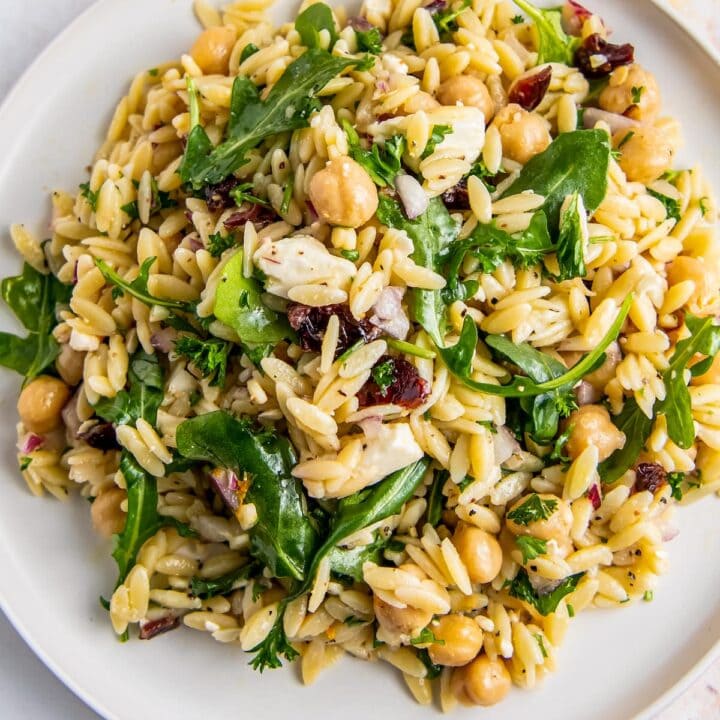 This super easy Orzo Salad with Arugula is made in under 15 minutes! It has an exciting assortment of ingredients like red onion, dried cherries, chickpeas, and feta cheese.
Ingredients
1 ½ cups orzo pasta
2 cups fresh arugula
½ cup dried cherries or dried cranberries
½ cup finely chopped parsley
½ cup diced or sliced red onion
1 (16 oz) can garbanzo beans, drained and rinsed
½ cup crumbled feta cheese
1 batch Orange Salad Dressing
Instructions
In a medium size pot, cook the orzo according to the package directions till al dente in well salted water. Drain and rinse the cooked orzo and set aside to cool.
In a large bowl, toss to combine the orzo, arugula, cherries, parsley, red onion, garbanzo beans and feta.
Add dressing, toss again, and serve immediately! (You can add all the dressing, or you can add half of the dressing and serve the remaining dressing on the side.)
Notes
Storage: This pasta salad is best served fresh once all assembled, however leftovers can be stored in an airtight container for up to 3 days.
Nutrition Information:
Yield:
4
Serving Size:
1
Amount Per Serving:
Calories:

461
Total Fat:

10g
Saturated Fat:

4g
Trans Fat:

0g
Unsaturated Fat:

5g
Cholesterol:

19mg
Sodium:

555mg
Carbohydrates:

80g
Fiber:

9g
Sugar:

32g
Protein:

15g
Filed Under:
More Easy Salad Recipes