This Chicken Pot Pie Casserole recipe is a quick and easy dinner. Tender chicken is combined with the traditional creamy sauce and vegetables. Then it's topped with buttery crescent rolls for the ultimate melt-in-your-mouth crust topping.
Easy Chicken Pot Pie Casserole with Crescent Rolls
Our family LOVES chicken pot pie. Who doesn't?! It's one of those meals that the kids will eat all of their helpings and then beg for more! It's the ultimate comfort food, but we'll be the first to admit that making it from scratch can be a little bit of a hassle. So, we created this simple Chicken Pot Pie Casserole meal that's so much easier and just as delicious!
The trick here is to use pre-cooked chicken and pre-cut vegetables. The frozen mixed bag of vegetables is perfect! And this is a great recipe to use up any leftover chicken or a rotisserie chicken.
The rest of the ingredients are just as simple. One of the best ingredients is buttery crescent rolls! It's so much easier to use these rolls as a topping rather than fussing with homemade biscuit dough.
So you'll need about 15 minutes to prep the casserole and then it's ready to go into the oven. It bakes for about a half hour and then dinner is ready. This Chicken Pot Pie Casserole is by far one of our favorite easy comfort food recipes!
Why You'll Love This Pot Pie Casserole
We've put together a list of the reasons why you're going to love this recipe! Here's why it's one of our favorites:
It's ready in under an hour. There's no fussing with chopping vegetables or making biscuit dough. Using premade ingredients makes this recipe move really quickly.
It makes great leftovers. This is a great meal to reheat for lunch or dinner the next day.
It's freezer-friendly. It's really easy to double up and make two and then pop one in the freezer for another day.
It's affordable. Not only are the ingredients simple and easy to find, but this meal doesn't require expensive ingredients.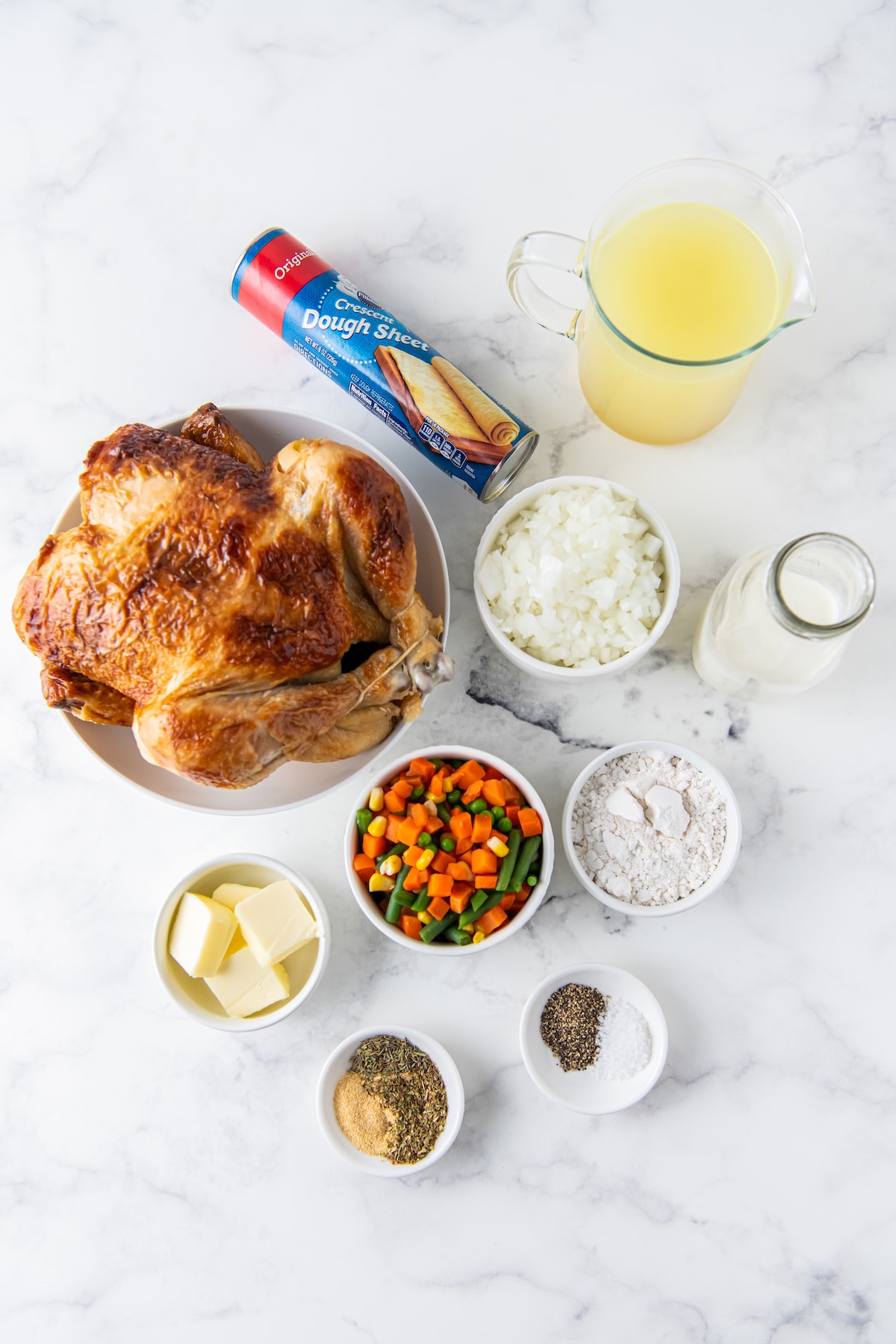 What You'll Need
Here's what you need to make this simple Chicken Pot Pie Casserole. Remember, the exact amounts are down below in the recipe card.
Butter: For cooking the chopped onion and making the roux to thicken the sauce.
Yellow Onion
All Purpose Flour: This is going to help thicken the creamy sauce.
Chicken Broth: You could also use chicken stock. Vegetable stock or broth would also work.
Heavy Cream: Half and half or whole milk can also be used.
Oregano: Dried oregano will work fine for this recipe.
Thyme: Dried thyme is also great for this recipe. You can use fresh herbs, we just recommend adding a little bit more.
Garlic Powder: Granulated garlic is a good substitute if you don't have any garlic powder.
Salt & Pepper
Shredded Cooked Chicken: You can use a rotisserie chicken, leftover chicken, or even canned chicken.
Bag of Frozen Mixed Vegetables: This usually includes peas, carrots, green beans, and corn.
Crescent Dough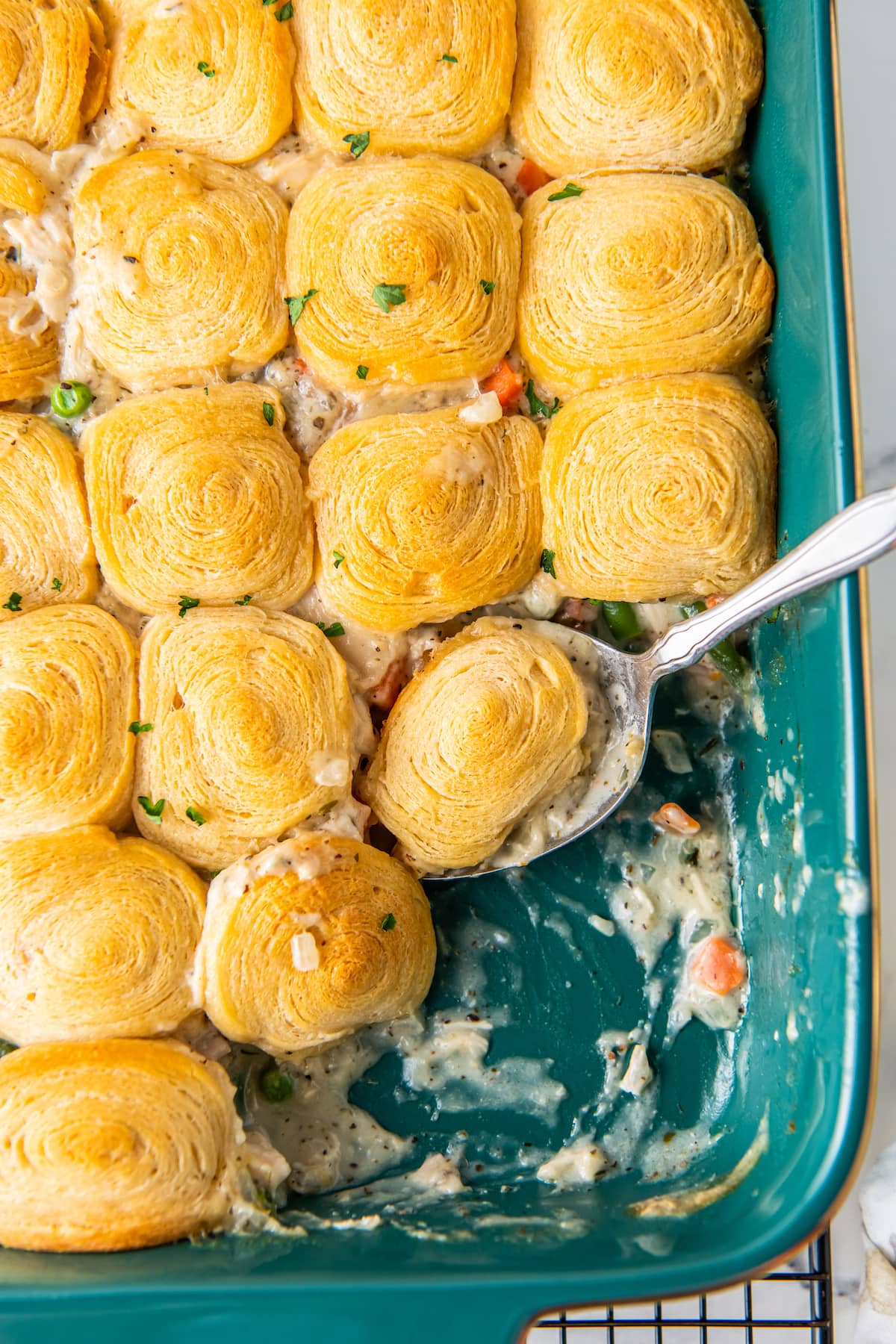 Easy Variations
The best thing about this recipe is that you can mix up the ingredients if needed, to use up what you have. Here are some variation ideas for you.
Use whatever vegetables you have on hand. You can use canned vegetables, too (just make sure you drain them). Or you can use fresh vegetables, but you may need to saute them a little with the onions first so that they soften up.
Add parmesan cheese. This is a great way to add a salty flavor to the dish and of course, a bit of cheesiness!
Use puff pastry instead. The crescent rolls on top are a delicious, buttery, flakey crust! This is way tastier than a boring pie crust. However, if you aren't a fan of crescent rolls, you can also use puff pastry on top!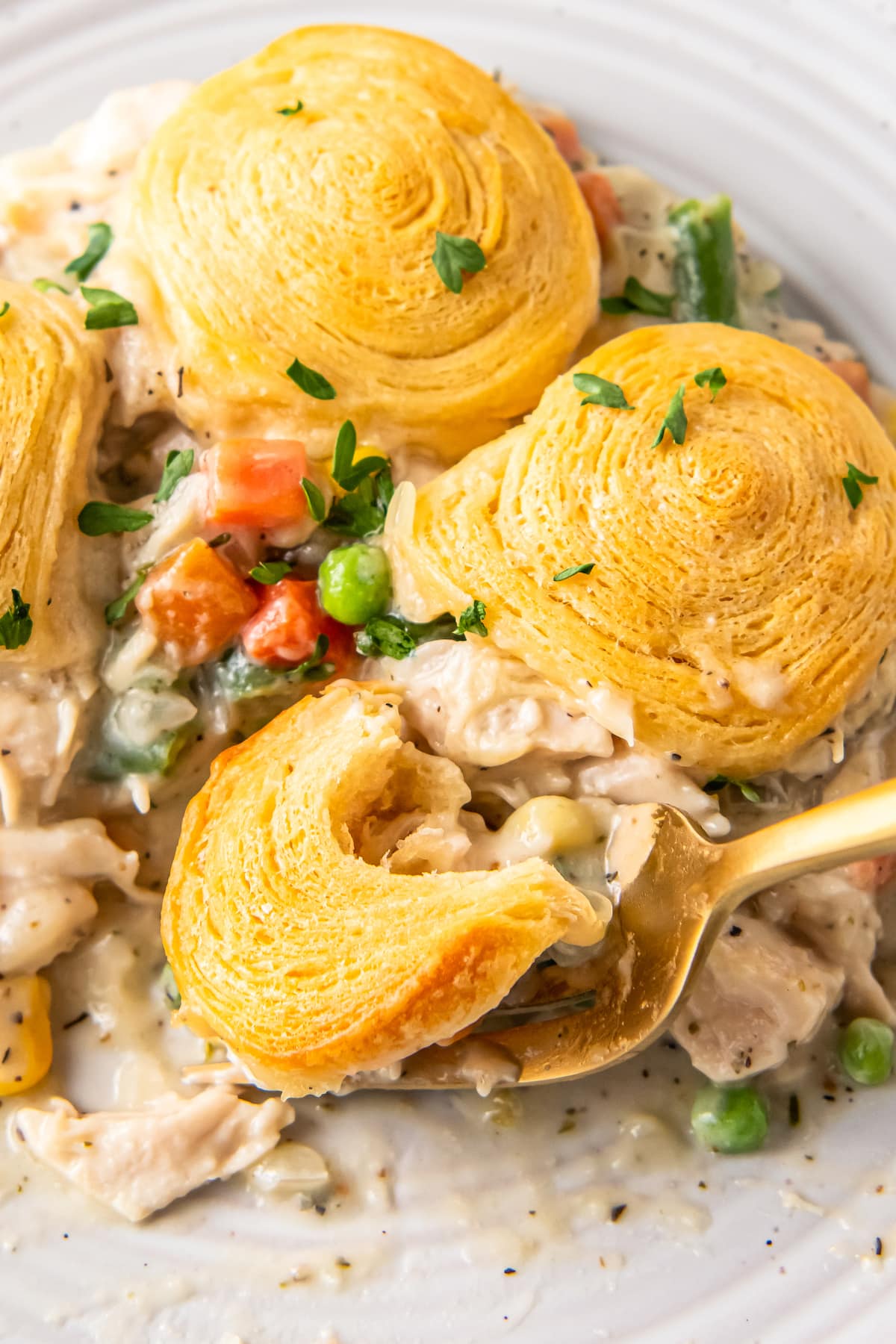 How to Make Chicken Pot Pie Casserole
The steps are very simple for making this recipe and the prep only takes 15 minutes. Here's what you need to do:
First, preheat the oven and prep a casserole dish. You'll want to spray a casserole dish with non-stick spray for easy cleanup.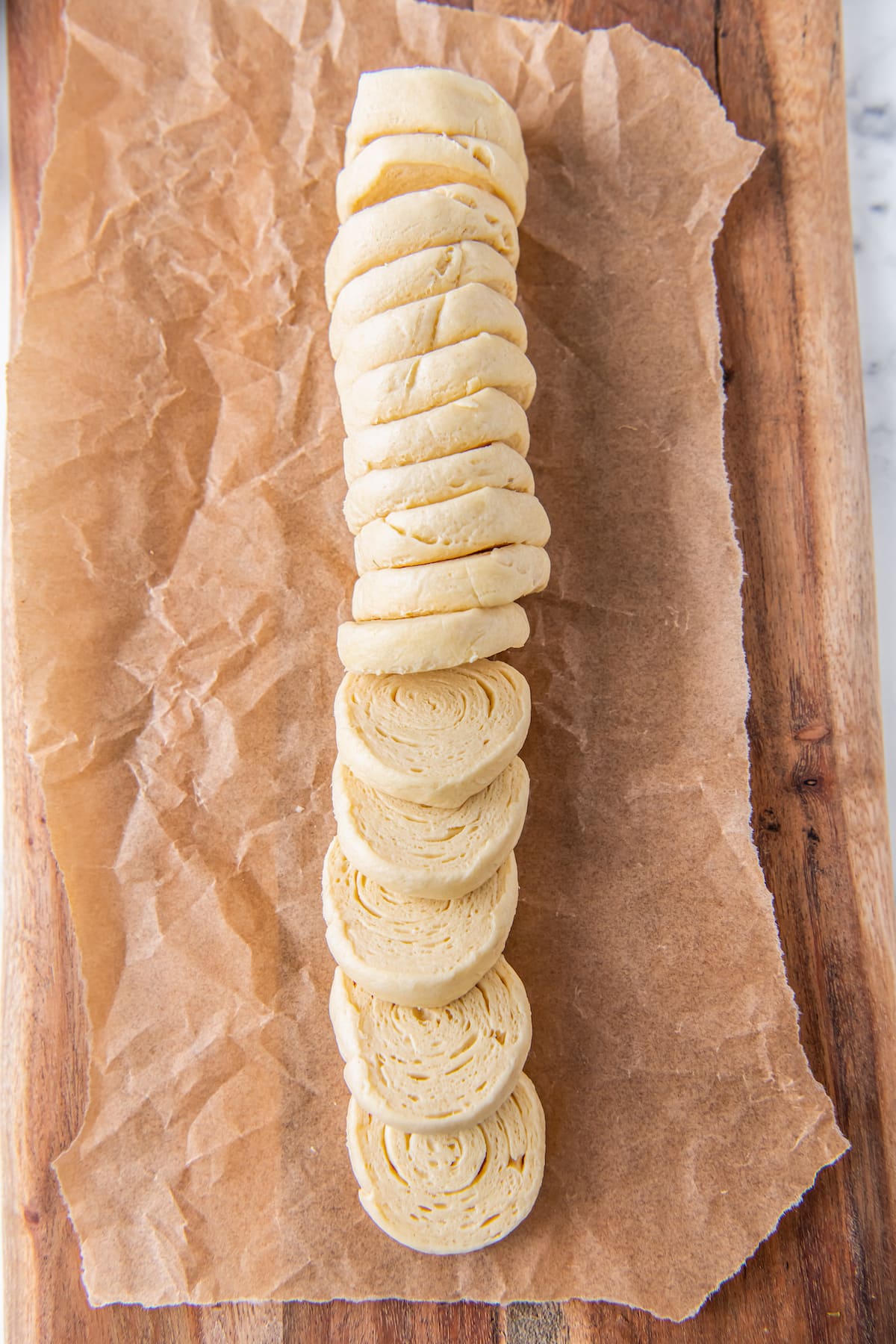 Then cut the crescent rolls so they are ready to go into the pan as soon as the filing is done. You don't want to unroll the dough but simply slice it into small discs so that they can lay flat on the chicken pot pie filling.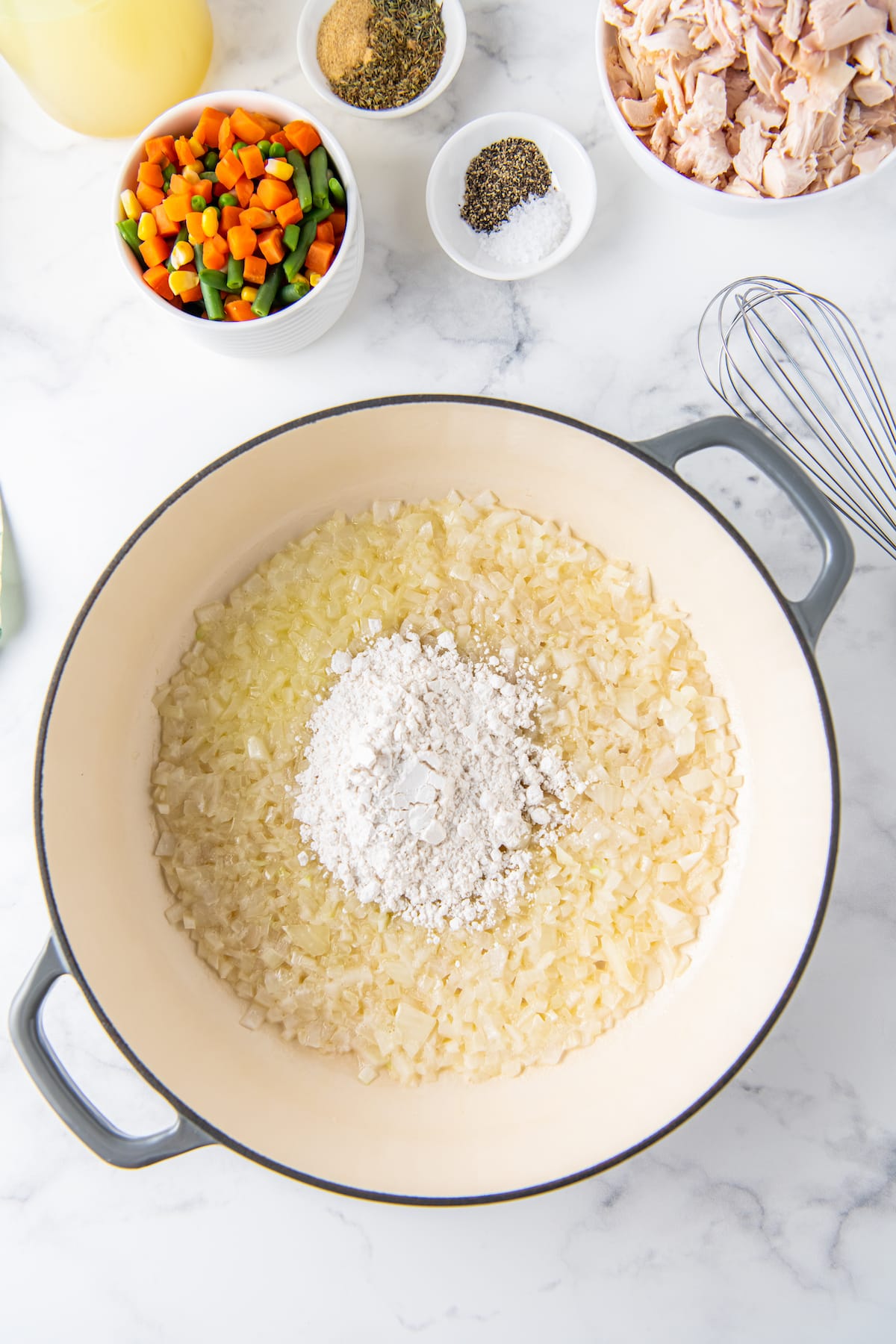 Next, cook the onions with the butter and flour. You'll saute the onions first in the butter and then whisk in the flour to coat the onions.
Pour the chicken stock and heavy cream into the pot with the onions. While you pour, continue to whisk until the mixture begins to thicken.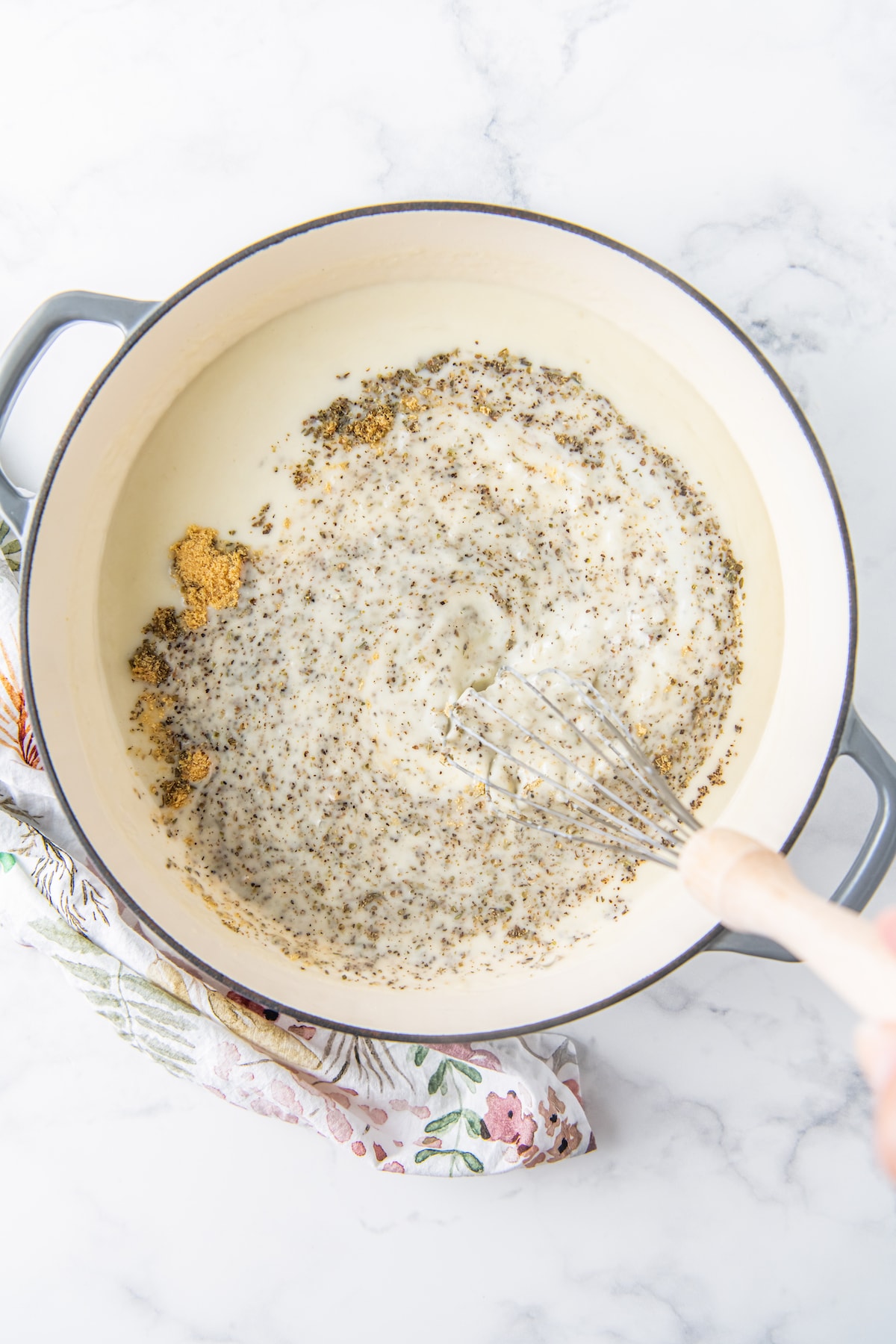 Add the seasonings. Then continue to whisk everything together.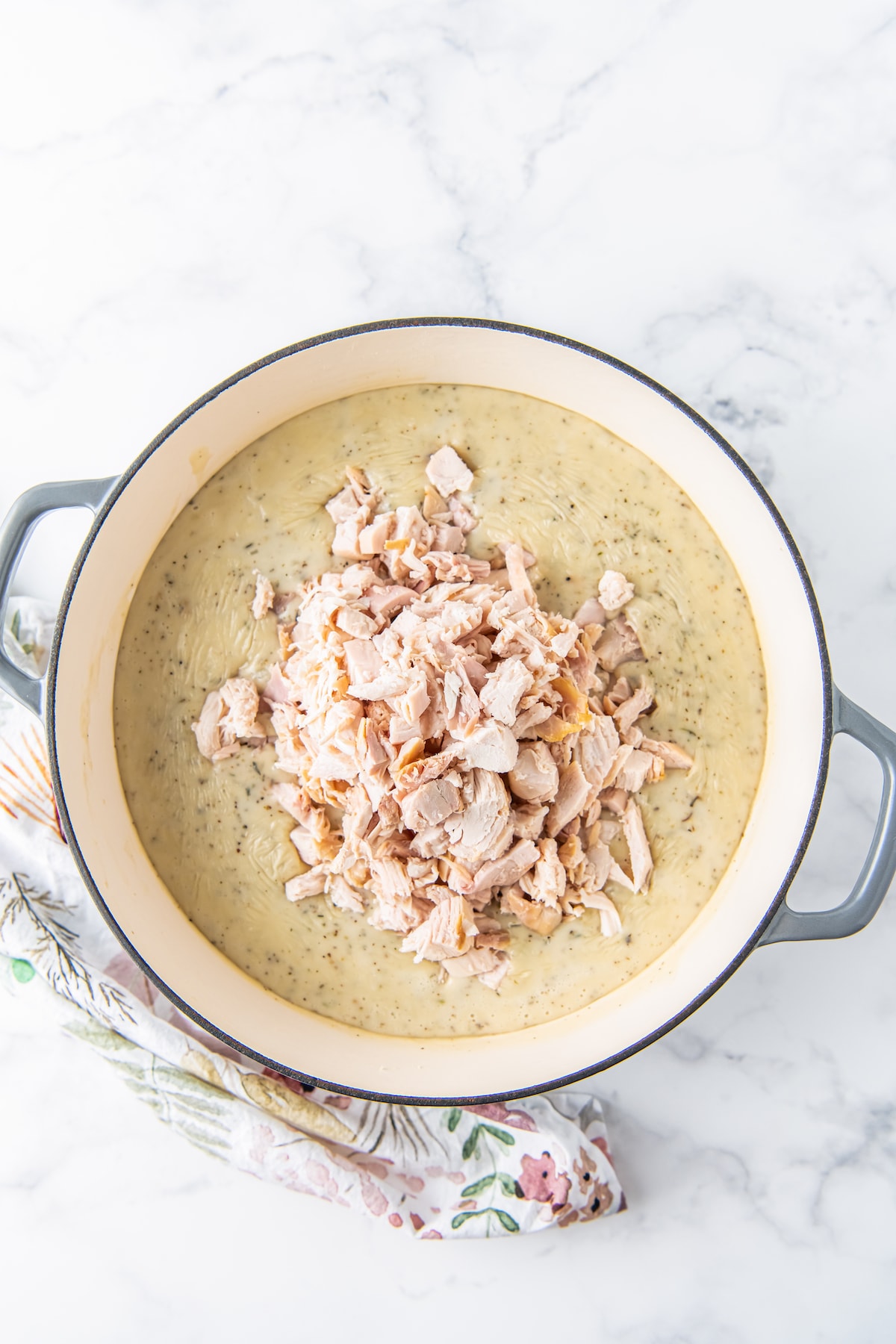 Next, stir in the chicken. It's best if the chicken is either cut up into small pieces or shredded.
And then add the vegetables. Remove the pot from the heat and pour the filling into the casserole dish.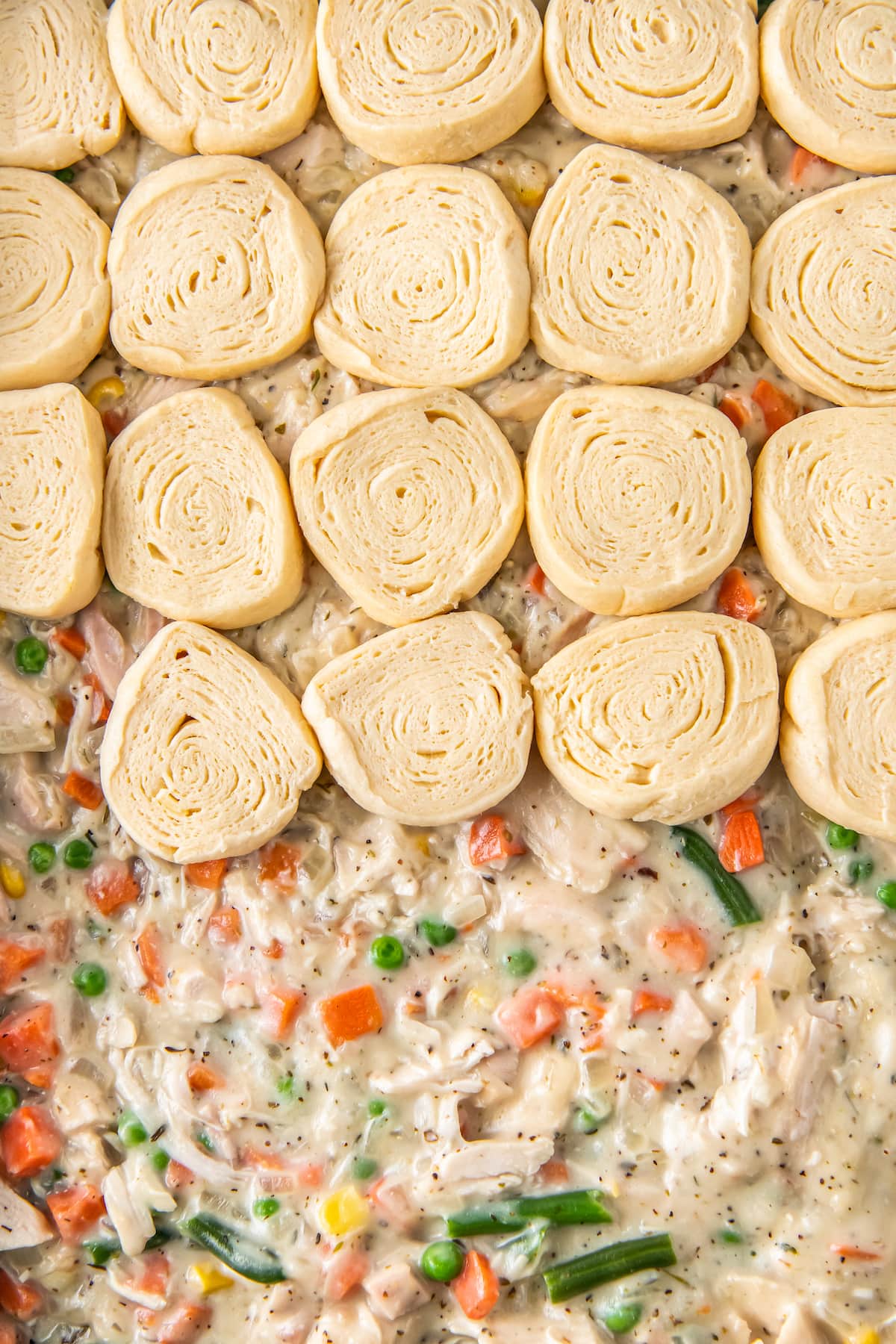 Then create your topping. Do this by covering the top of the filling with the sliced crescent rolls.
Bake for about 15 minutes. Or until the crescent rolls are golden brown.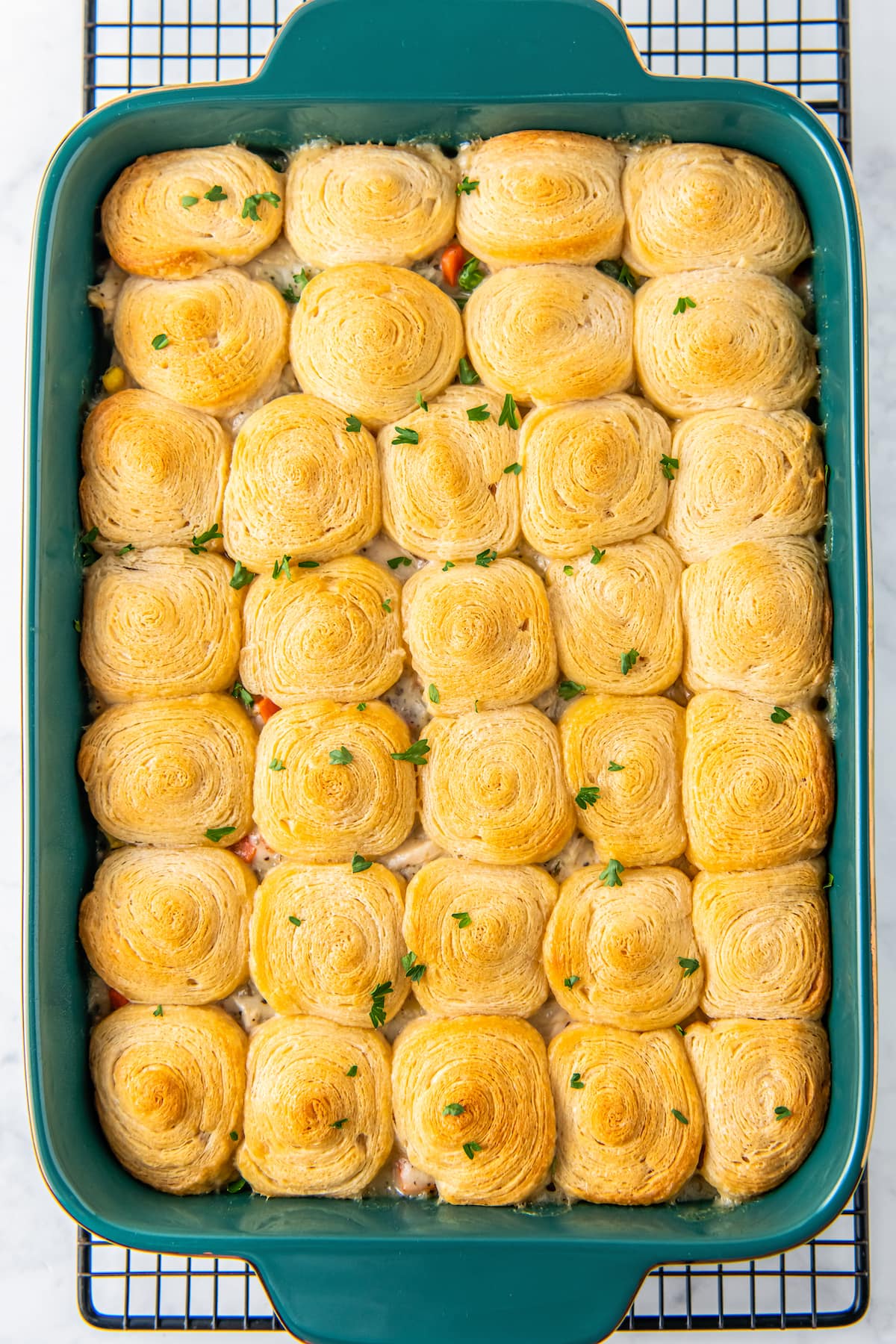 Remove the casserole from the oven and enjoy! The casserole tastes best if you let it sit for about 5 minutes before serving.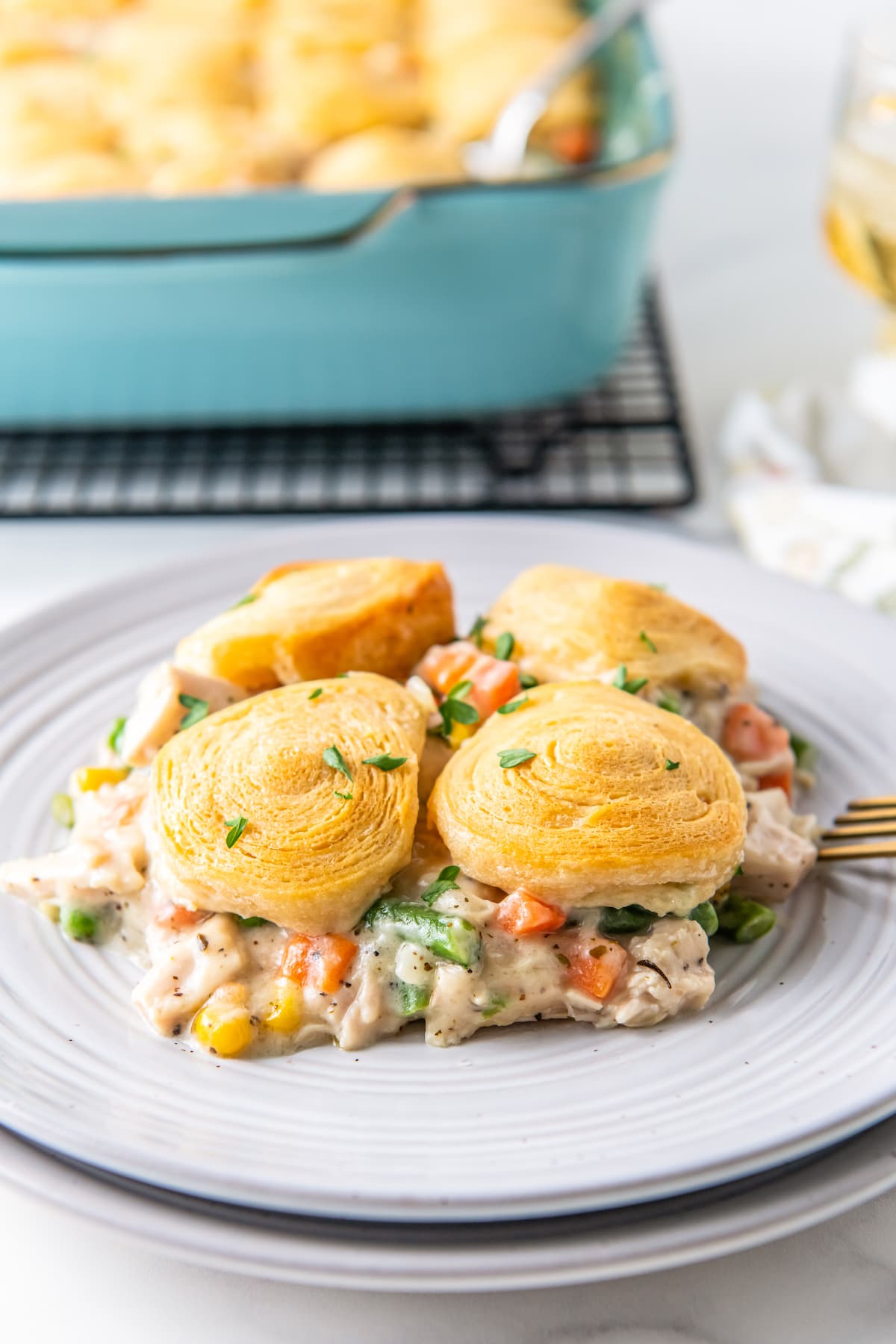 Tips for Success
Here are some helpful tips to follow when making this recipe!
Don't brown the onions and butter. In the beginning, make sure that the onions are just barely cooked and that they don't brown – or you will end up with a brown-colored and bitter creamy sauce.
Add extra flavor by using the broth in the rotisserie container. If using pre-cooked rotisserie chicken, add any broth in the bottom of the rotisserie container to your broth for the filling. It adds tons of flavor to the gravy!
Remove any excess water from the vegetables. If for some reason your frozen vegetable mix has thawed, make sure that you drain and remove any liquid or the filling will be too runny.
Have your crescent rolls ready to go. Make sure and cut the crescent rolls before starting, this way when you pour the hot mixture into the casserole dish and then top it with the cut rolls, the pot pie stays hot and has less time in the oven to get bubbly. This also helps with cooking the rolls and not having to keep them in the oven for a long time risking burning them.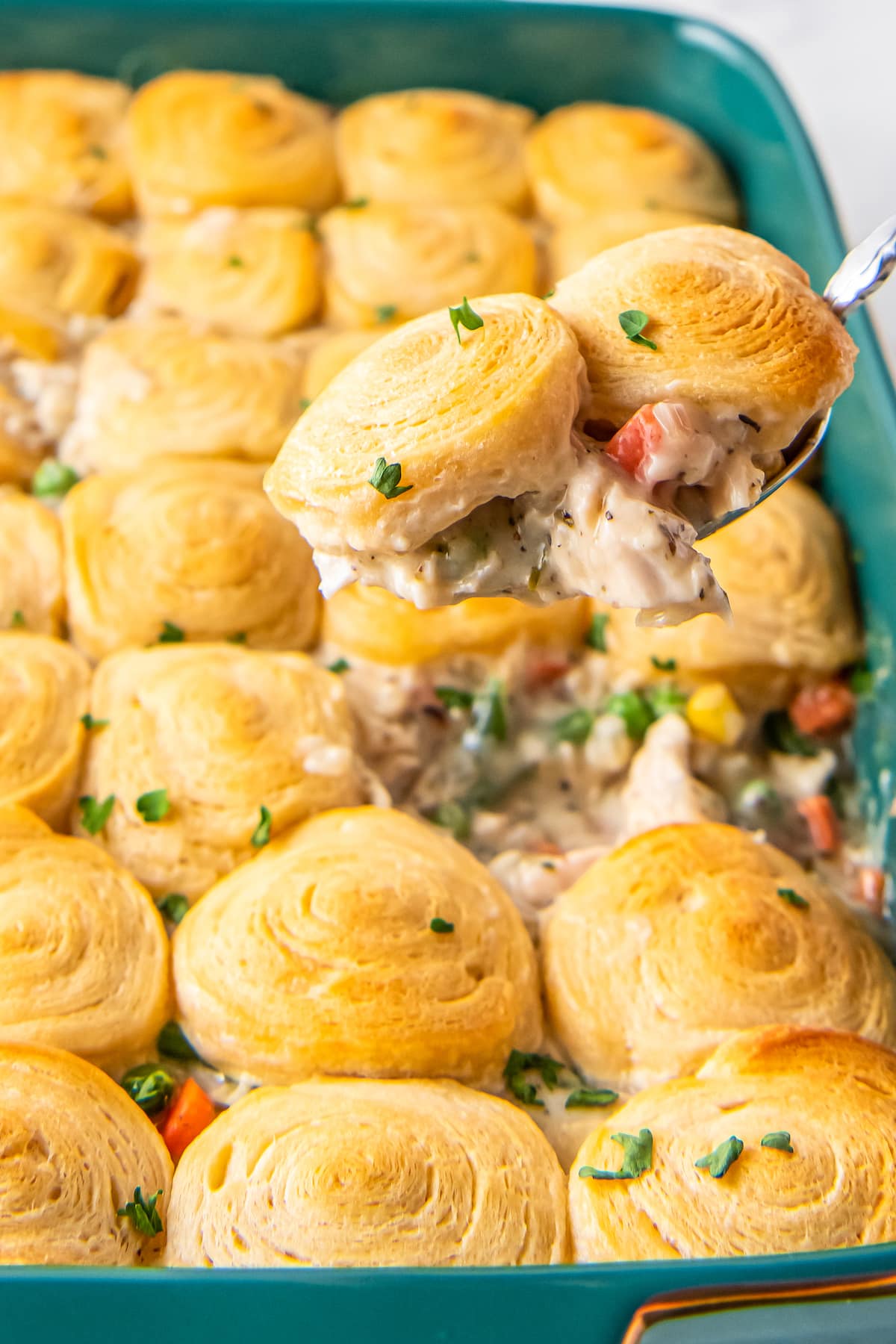 Serving Suggestions
This recipe is great on its own or paired with some of the suggestions below:
Serve a salad on the side. It's always a good idea to serve a fresh and healthy salad on the side of a casserole dish like this one. It doesn't need to be anything fancy – some lightly dressed greens will work! You could also make this simple Tomato Cucumber Salad.
Add a vegetable side. This meal is already loaded with vegetables but you could add a side of Mashed Potatoes for extra deliciousness!
More rolls on the side. If your kids are like ours, they can't get enough of the crescent rolls. So sometimes we make these Air Fryer Rolls to serve on the side.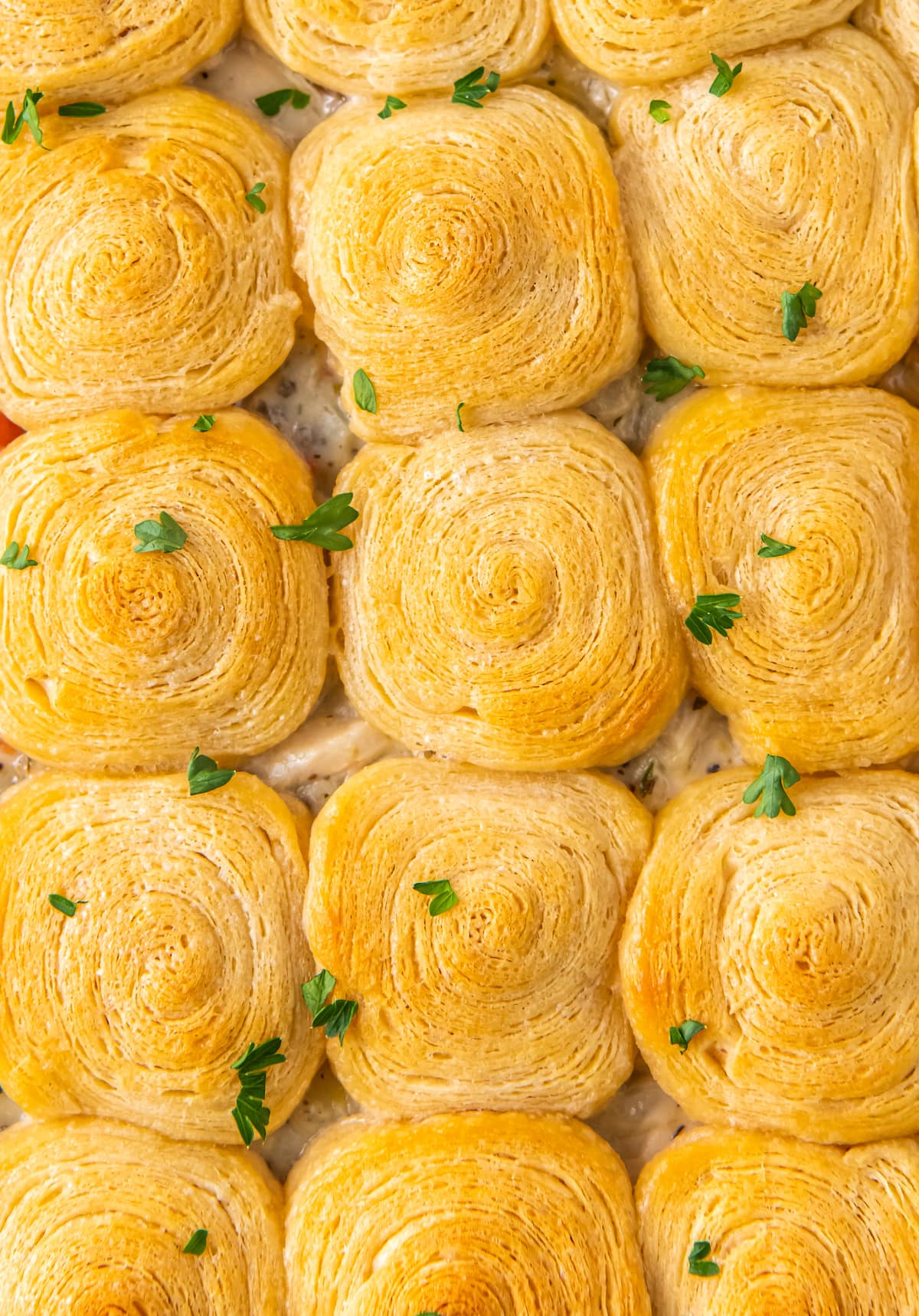 How to Store & Reheat Leftovers
You can cover and store any leftovers in the fridge for up to 4 days. When you're ready to reheat, you can do that in the microwave for smaller portions. You can put the casserole right back in the oven if there is a lot leftover (at 350°F for 10-12 minutes or until it's heated through again).
Can I Freeze This?
Yes! You can freeze this Chicken Pot Pie Casserole. For the best results, we recommend freezing the filling only. You can even do this in a plastic bag so that you save space in the freezer.
It's best to thaw it in the fridge overnight before serving again. Then, reheat the filling on the stovetop (or microwave) briefly before putting it in a casserole dish. Add the crescent rolls then and bake per the instructions above. This is the best way to ensure that you have a buttery, crispy, and delicious topping.
Chicken Pot Pie Casserole
This Chicken Pot Pie Casserole is made from scratch and ready in under an hour. It's a delicious spin on the traditional pot pie and is made with simple ingredients and topped with soft flaky crescent dough.
Ingredients
4

tablespoons

butter

1

small yellow onion

,

diced (about 1 cup)

5

tablespoons

all-purpose flour

,

divided

2

cups

chicken broth or stock

½

cup

heavy cream

,

half & half or whole milk

1

teaspoon

oregano

1

teaspoon

thyme

1

teaspoon

garlic powder

1

teaspoon

salt

1

teaspoon

pepper

3

cups

shredded cooked chicken

12

oz

bag mixed vegetables

,

peas, carrots, green beans and corn

2

8 oz can crescent dough
Instructions
Preheat oven to 375°F.

Spray a 9×13 casserole dish with nonstick spray and set aside.

Remove the crescent rolls from the can, but do not unroll them. Using a sharp knife, cut them into ¼" circle rounds and set aside. (See step by step photos in the post above for a visual guide.)

In a medium size, deep sided skillet, melt butter over medium heat. Add the onions and cook, stirring often, until translucent, about 3 minutes.

Add flour and whisk continuously for 2 minutes, until flour is fully absorbed. Slowly add the broth and heavy cream, continually whisking for 2 to 4 minutes, or until rue is starting to thicken.

Add the oregano, garlic powder, salt and pepper, whisk until blended. Stir in chicken and mixed vegetables mix and remove from heat.

Pour mixture into prepared baking dish, cover the top with the cut crescent rolls.

Bake for 12 to 15 minutes, or until the crescent rolls are golden brown and the casserole is bubbly.

Let the casserole rest for 5 minutes on the counter before serving.
Notes
Storage: You can cover and store any leftovers in the fridge for up to 4 days. When you're ready to reheat, you can do that in the microwave for smaller portions. You can put the casserole right back in the oven if there is a lot leftover (at 350°F for 10-12 minutes or until it's heated through again).
Nutrition
Serving:
1
,
Calories:
370
kcal
,
Carbohydrates:
15
g
,
Protein:
21
g
,
Fat:
25
g
,
Saturated Fat:
13
g
,
Polyunsaturated Fat:
11
g
,
Trans Fat:
1
g
,
Cholesterol:
112
mg
,
Sodium:
870
mg
,
Fiber:
2
g
,
Sugar:
4
g
More Easy Casserole Recipes