This Easy Chili is ready in just 30 minutes. It's fast and simple and loaded with beans, beef, chili seasoning, garlic, and onions. This is a classic recipe made simple!
A Simple Chili Recipe
For a long time, the only chili recipes we could find required hours and hours of cooking time. Whether it was on the stovetop or in the slow cooker, the chili always required a slow simmer for at least 4-6 hours. But what about when you don't have time to simmer but you still want to make a delicious and easy chili?
That got us thinking, can you make an easy chili in under an hour? You sure can. And we are about to give you the recipe! Now, the ingredients don't differ that much from a chili that is slow-cooked – and that's ok. The main takeaway here is that these ingredients are simple (and probably already in your kitchen) and there isn't a lot of them!
This recipe goes to show that you can do a lot with just 30 minutes and a short list of ingredients. All you need is ground beef, beans, onions, garlic, seasonings, and tomato sauce for this recipe. That rich flavor still develops and you've made it in a fraction of the time!
Looking for more easy chili recipes? Try out these other reader favorites: Hot Dog Chili, Crockpot Mexican White Chili, and Instant Pot White Chicken Chili!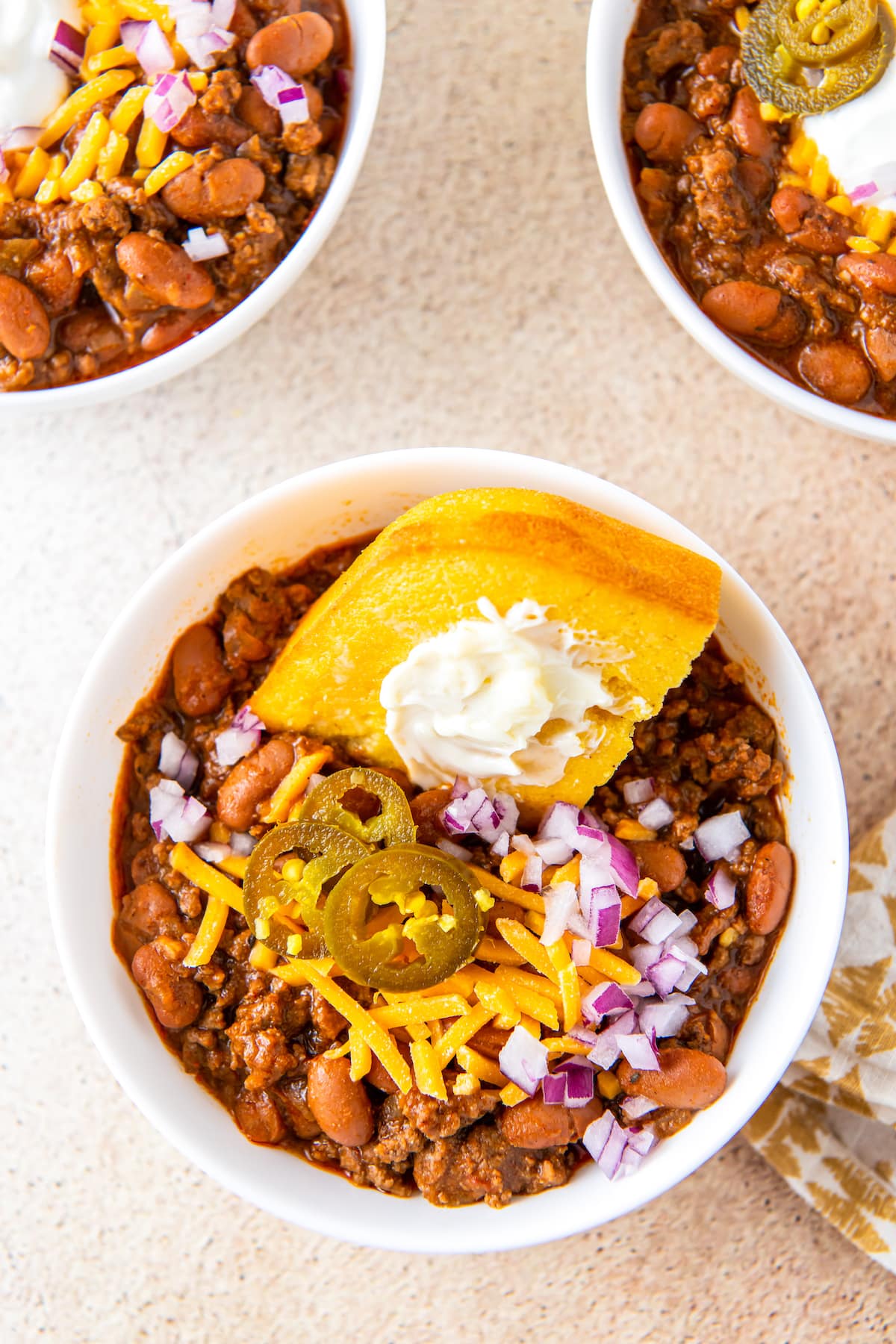 Why You'll Love This Homemade Chili
First, let's talk about why this recipe is so great. It easily became a family favorite and here's why:
It's so quick. We've already said this and we'll say it again. You can decide at 4:30 that you want to make chili and it will be ready by 5 because this recipe just takes 30 minutes to make.
This recipe is kid-friendly. Oftentimes kids don't love chili because it contains a lot of ingredients that they may not like (we're talking about chipotle peppers, cayenne, etc.). But this recipe has a basic ingredient list that will satisfy everyone's tastebuds.
It's a one-pot recipe. Not only will the recipe be done in record time, but you also won't have a big mess to clean up!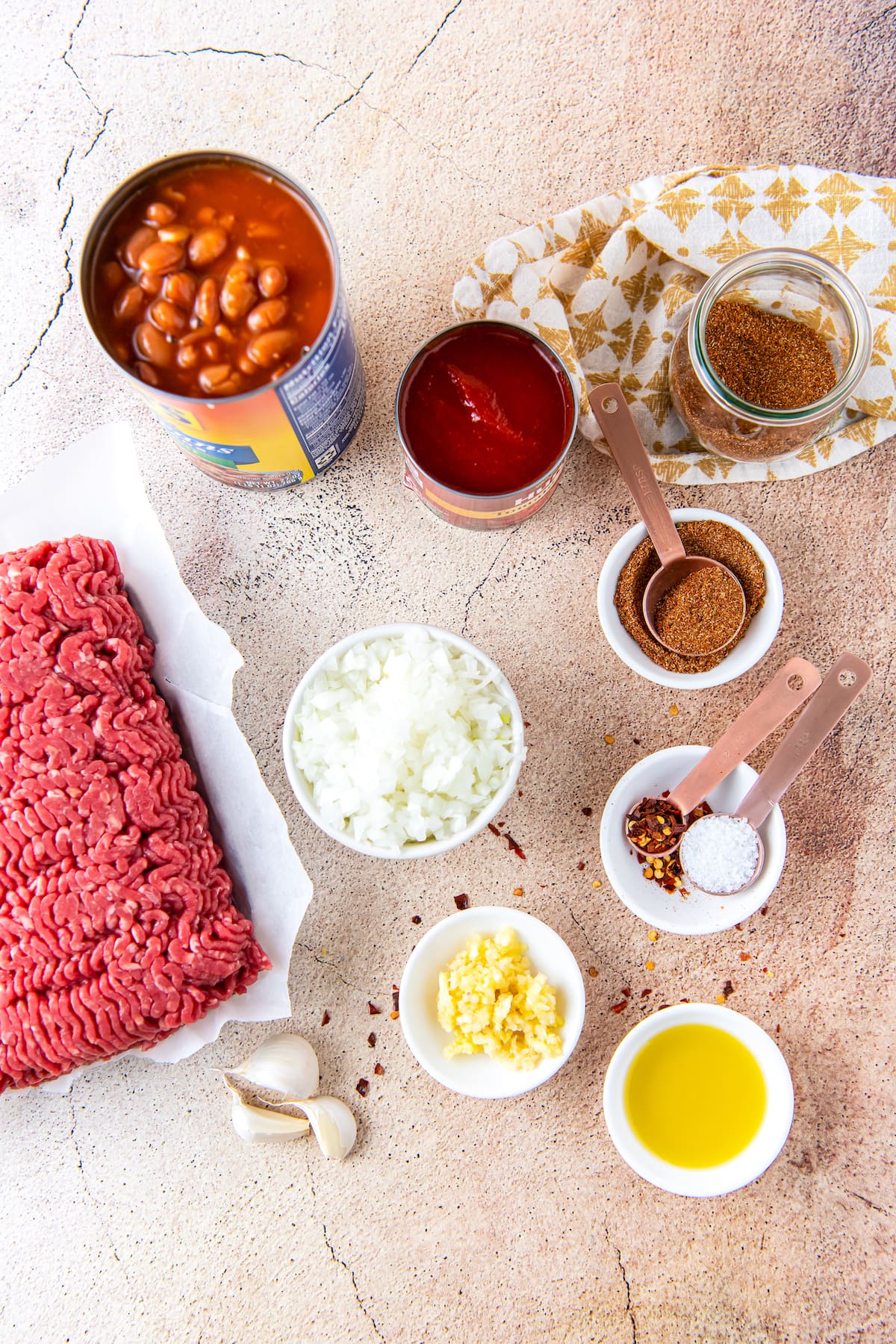 What You'll Need
Here's what you need to make this Easy Chili recipe. The goal is that you don't have to run to the store for anything!
Olive Oil
Yellow Onion: White or sweet onions will also work.
Garlic: We highly recommend sticking to fresh garlic for this recipe.
Ground Beef: We used ground sirloin 90% lean. You can also use ground turkey or even ground chicken!
Tomato Sauce: We like to use unsalted so that we can adjust the level of salt ourselves.
Water
Chili Seasoning: You can use store bought or our favorite Homemade Chili Seasoning!
Salt
Crushed Red Pepper Flakes: You can add more if you like it spicy.
Chili Beans: We love Bush's chili beans, they add a great layer of flavor to your chili!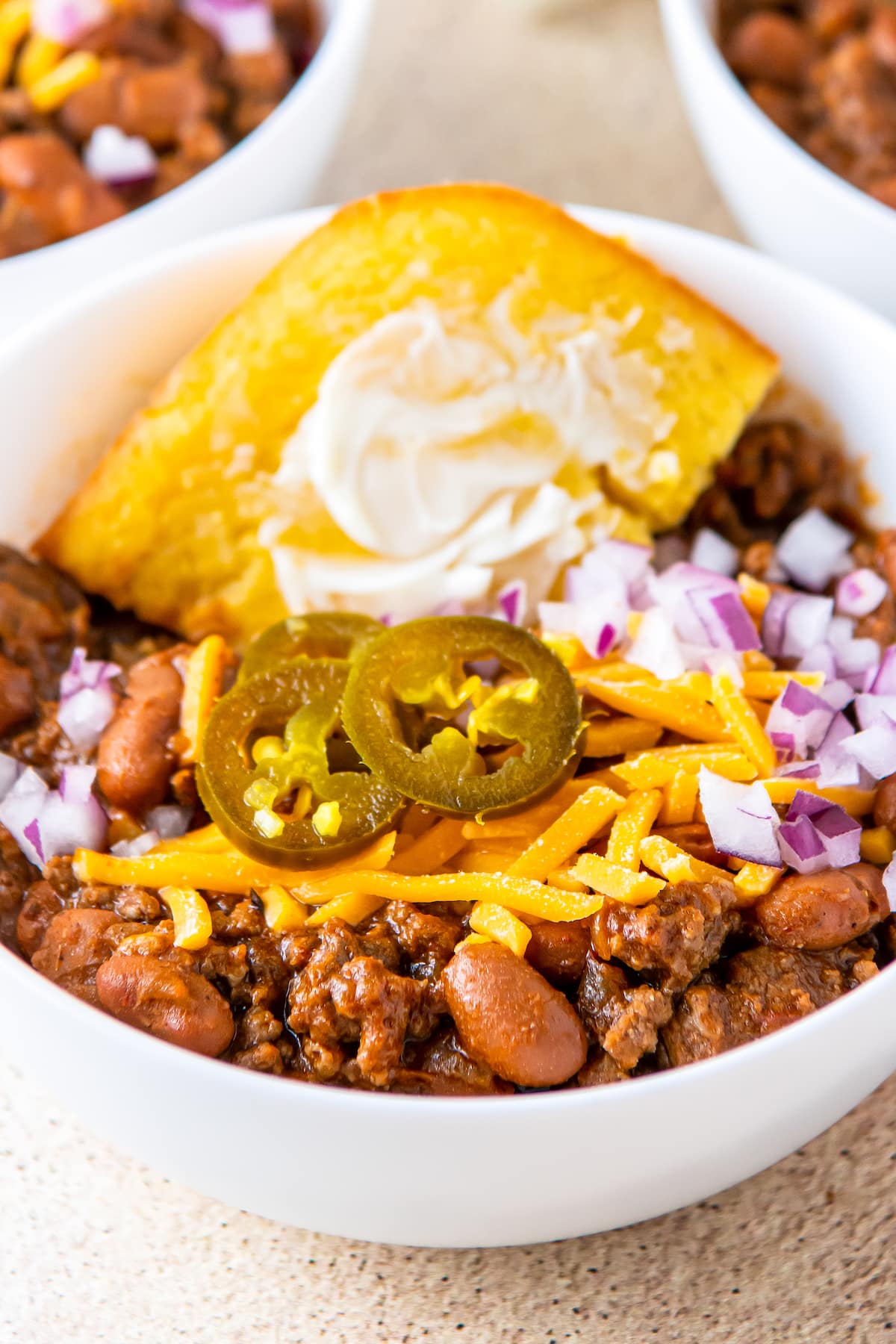 Recipe Variations
The joy of this recipe is that you can mix up some of the ingredients to make use of what you have in the kitchen already.
Try different beans. You can use pinto, white chili beans, black beans, or kidney beans.
Use another ground meat. You can also use leaner ground turkey or chicken and save some calories!
Use chicken or beef stock instead of water. This will make the flavor richer.
Add some heat. If you aren't feeding little ones, you can add more heat by adding more chili powder, chipotle peppers, or cayenne pepper.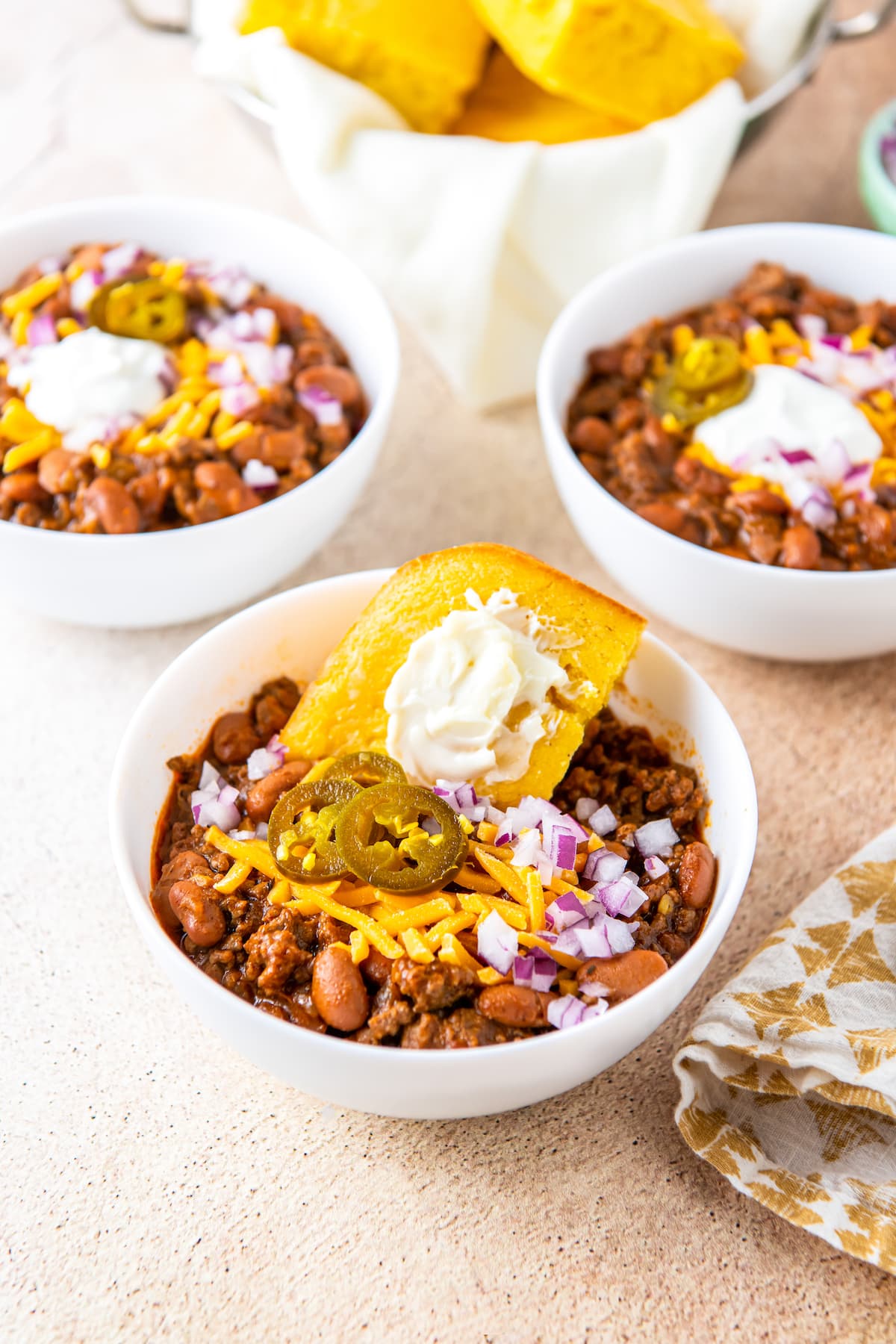 How to Make This Easy Chili
You'll have dinner on the table in 30 minutes! Here's how to make this simple dinner recipe.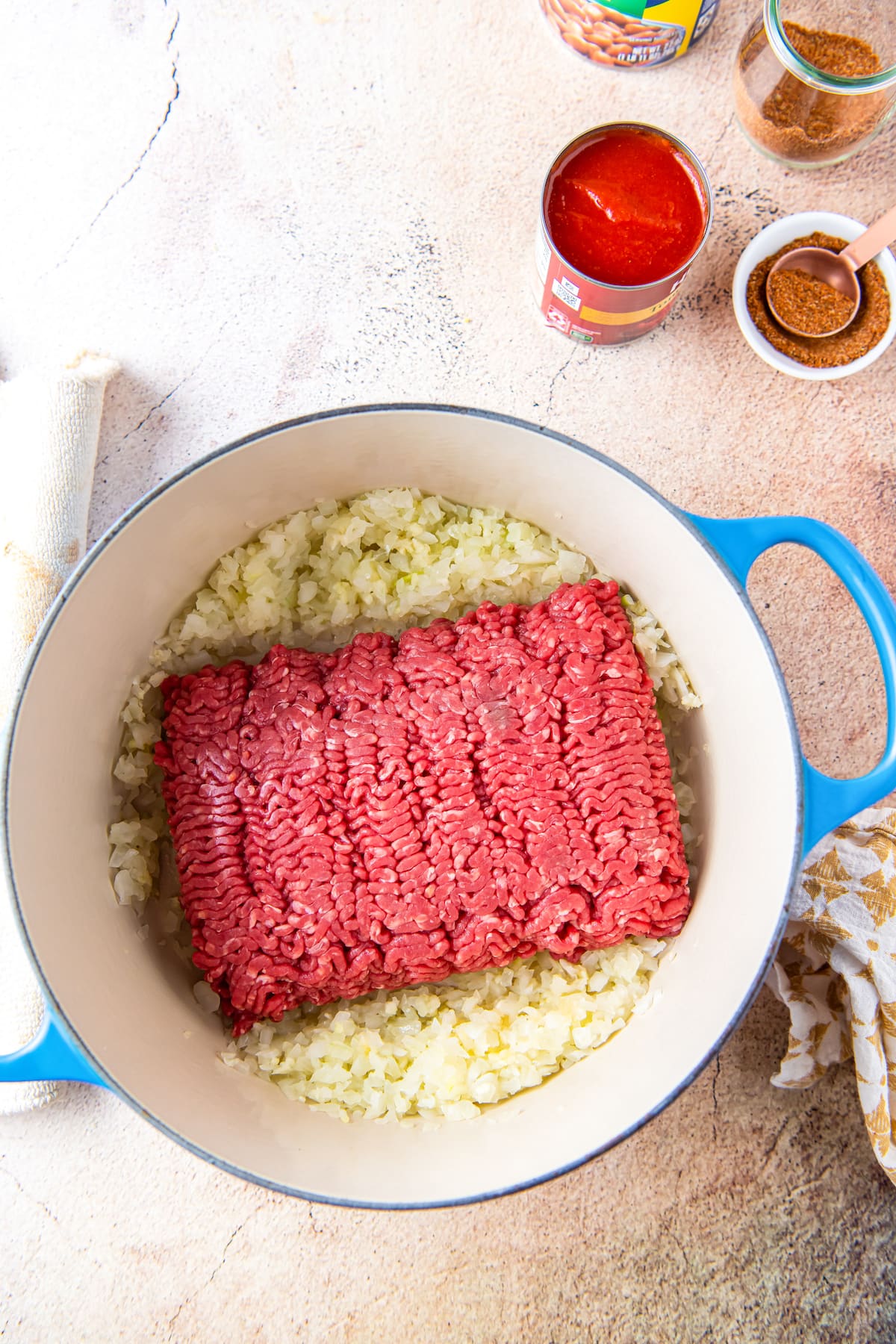 First, saute the onions and garlic in a dutch oven. You want to be sure that you cook them to be soft and translucent but not browned.
Then add the meat. Break up the meat while it cooks so that there are not any large chunks.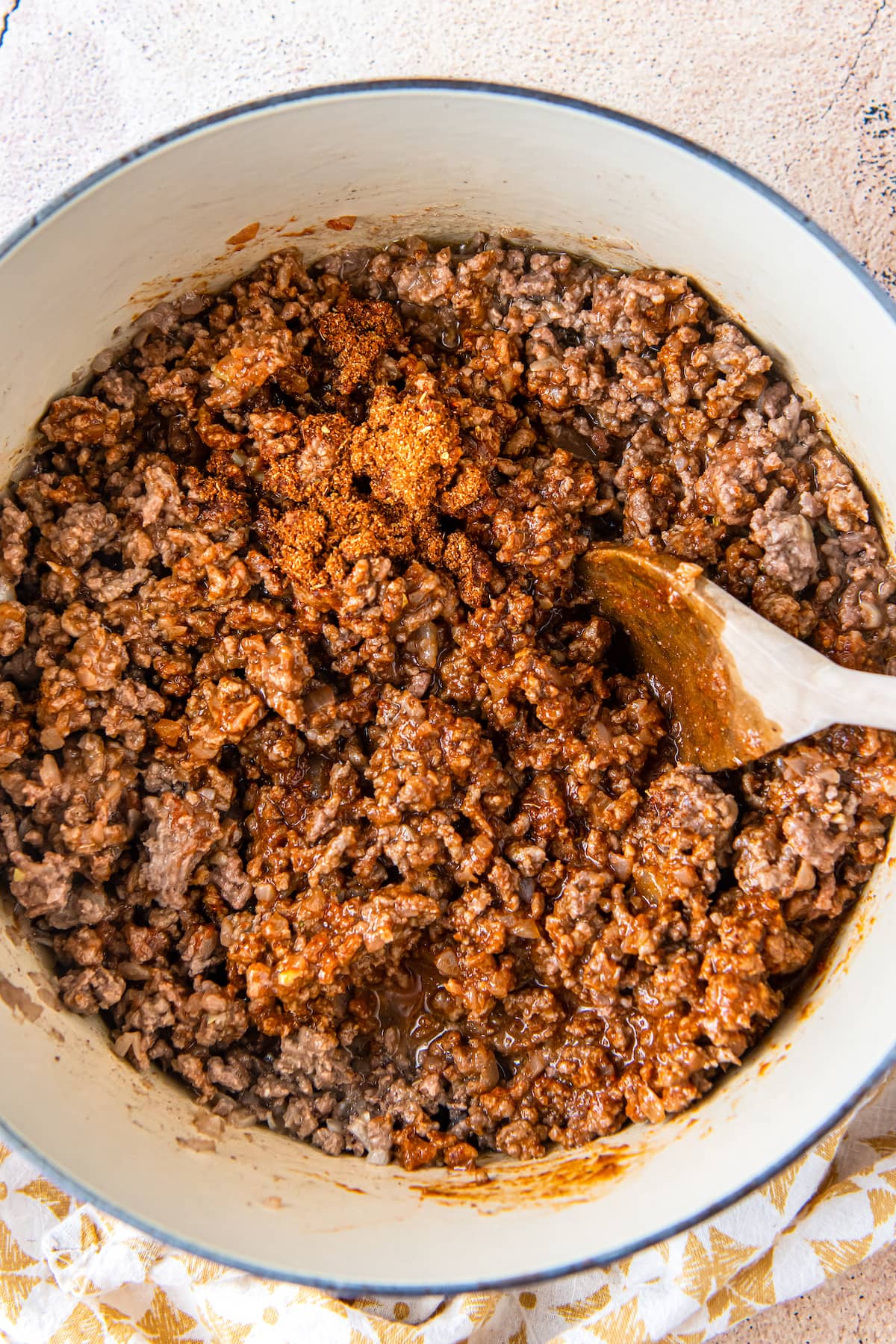 Add the seasoning, red pepper flakes, salt, water, and tomato sauce. And then let it simmer for about 20 minutes.
Lastly, add the beans. Then simmer for an additional 10 minutes before serving.
Serve the chili warm. And, of course, don't forget the toppings!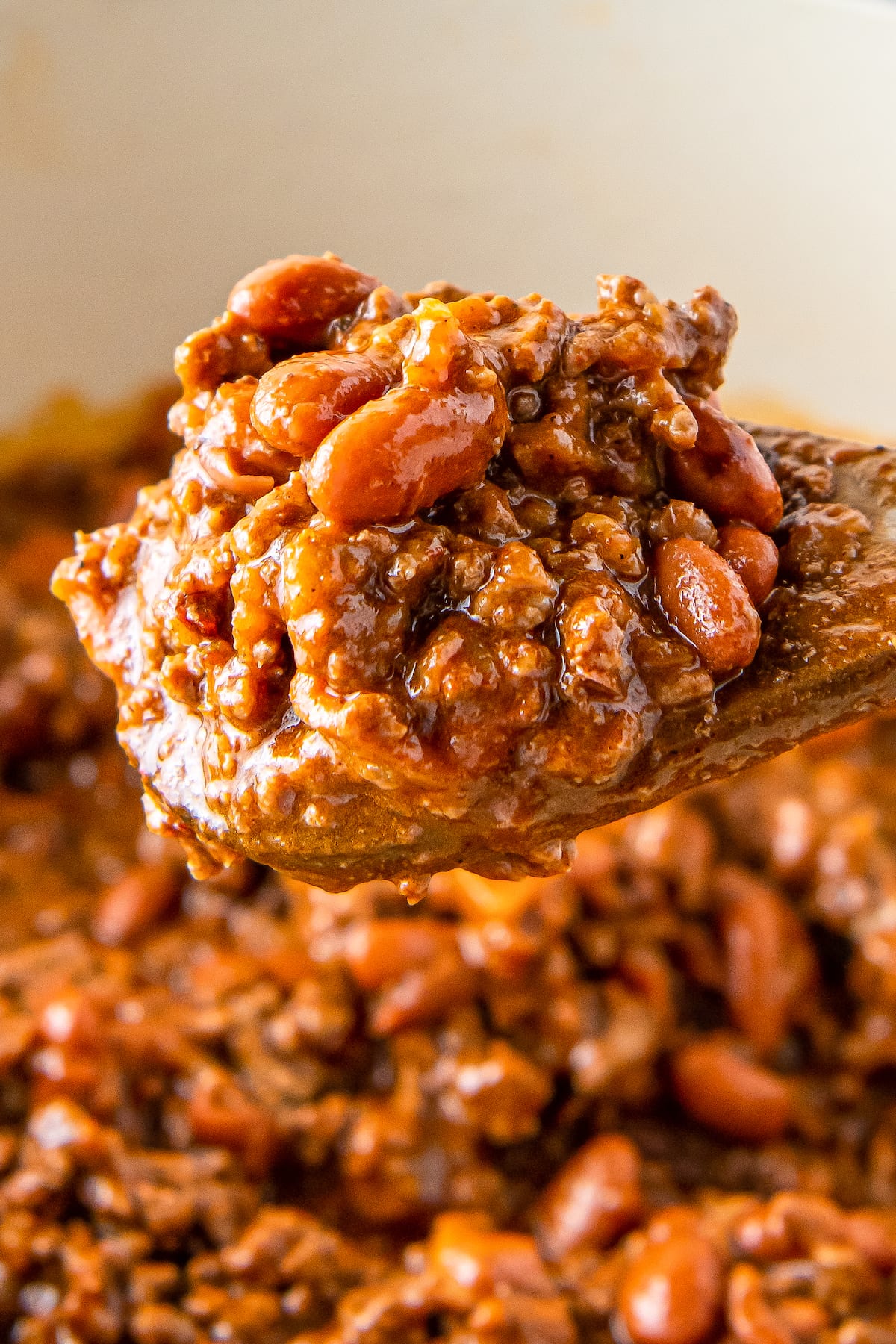 Tips for Success
Follow these tips to make sure that your recipe turns out perfectly!
Deglaze with water if needed. If you notice that the beef, onions, and/or garlic start sticking to the bottom of the pan, add a little water. When the water hits the hot pan it will help release the stuck-on pieces of food and add more flavor to the dish.
If the chili gets too thick: If it gets thick add a little water or beef broth, especially after storing it in the refrigerator.
Use lean meat. The chili tends to get greasy when you use meat that has a higher fat percentage.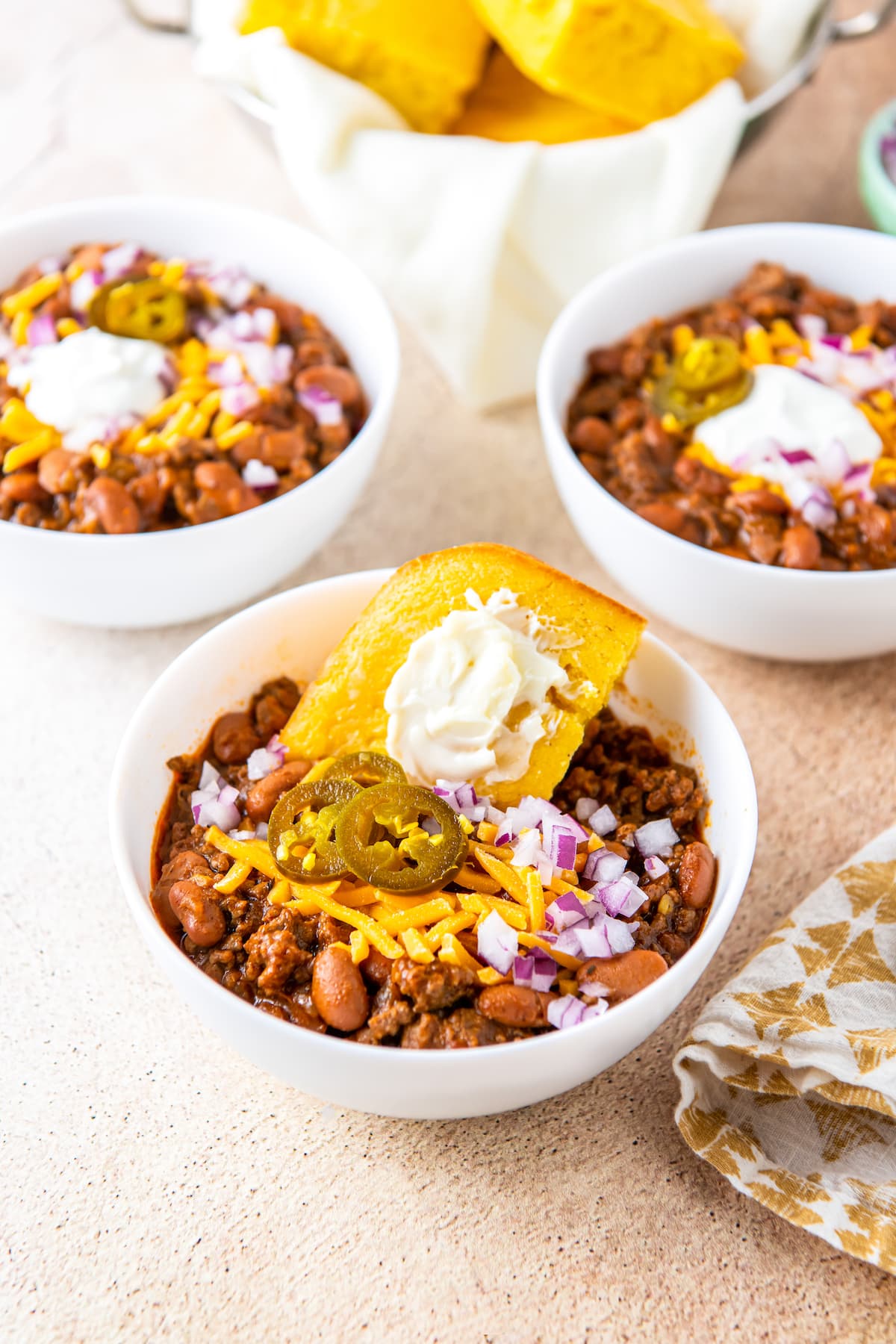 Topping Ideas
We love adding different toppings to our bowls. That's the fun part! And here are some of our favorite ideas.
Shredded Cheese
Chopped Onions
Sour Cream: Or plain Greek yogurt
Jalapenos: Pickled jalapenos would also be great!
Cilantro: Or fresh chives or green onions.
Avocado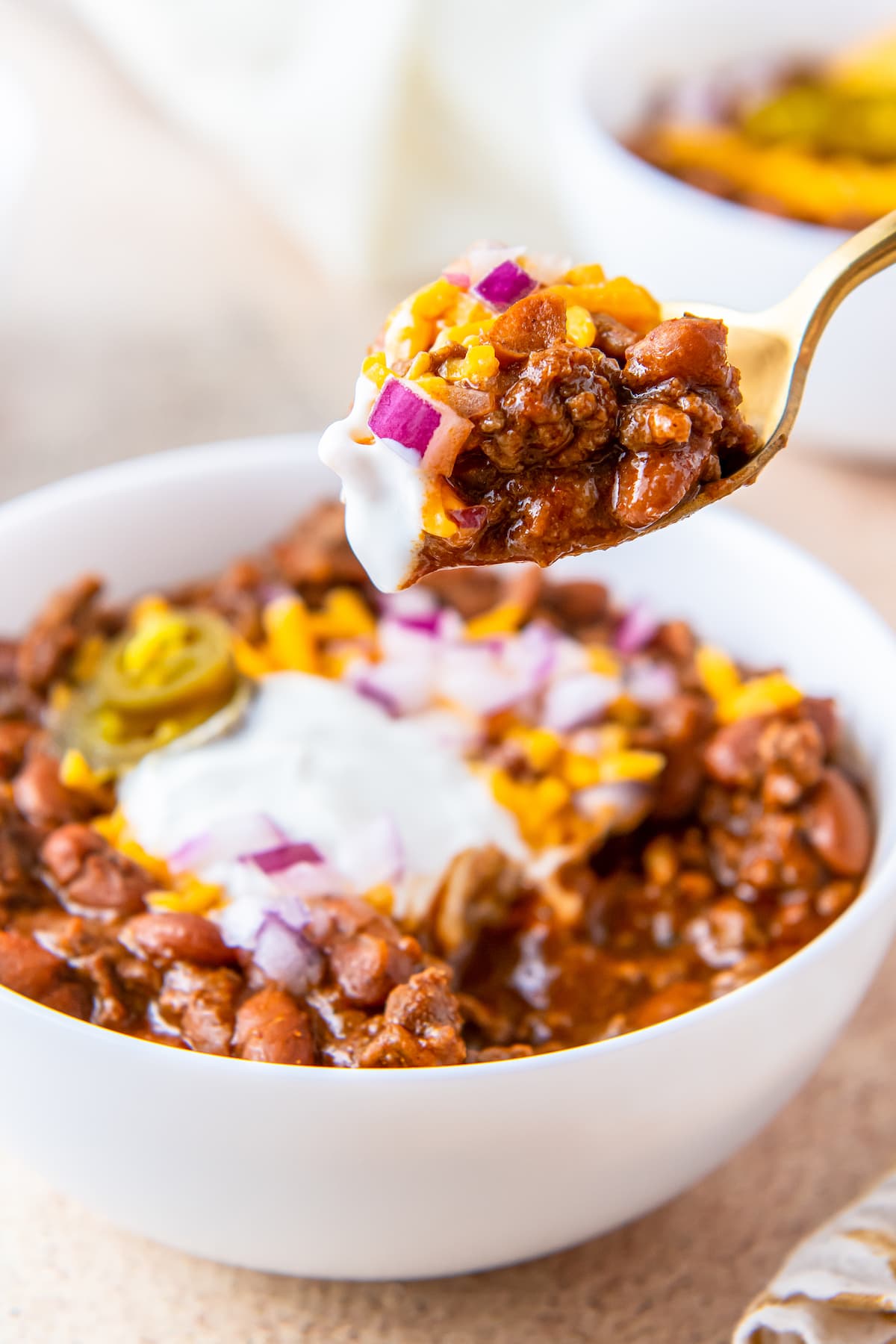 How to Store & Reheat Leftovers
Store leftovers in an airtight container, in the refrigerator, for up to 5 days.
Then you can use a microwave to reheat or you can do it on the stove.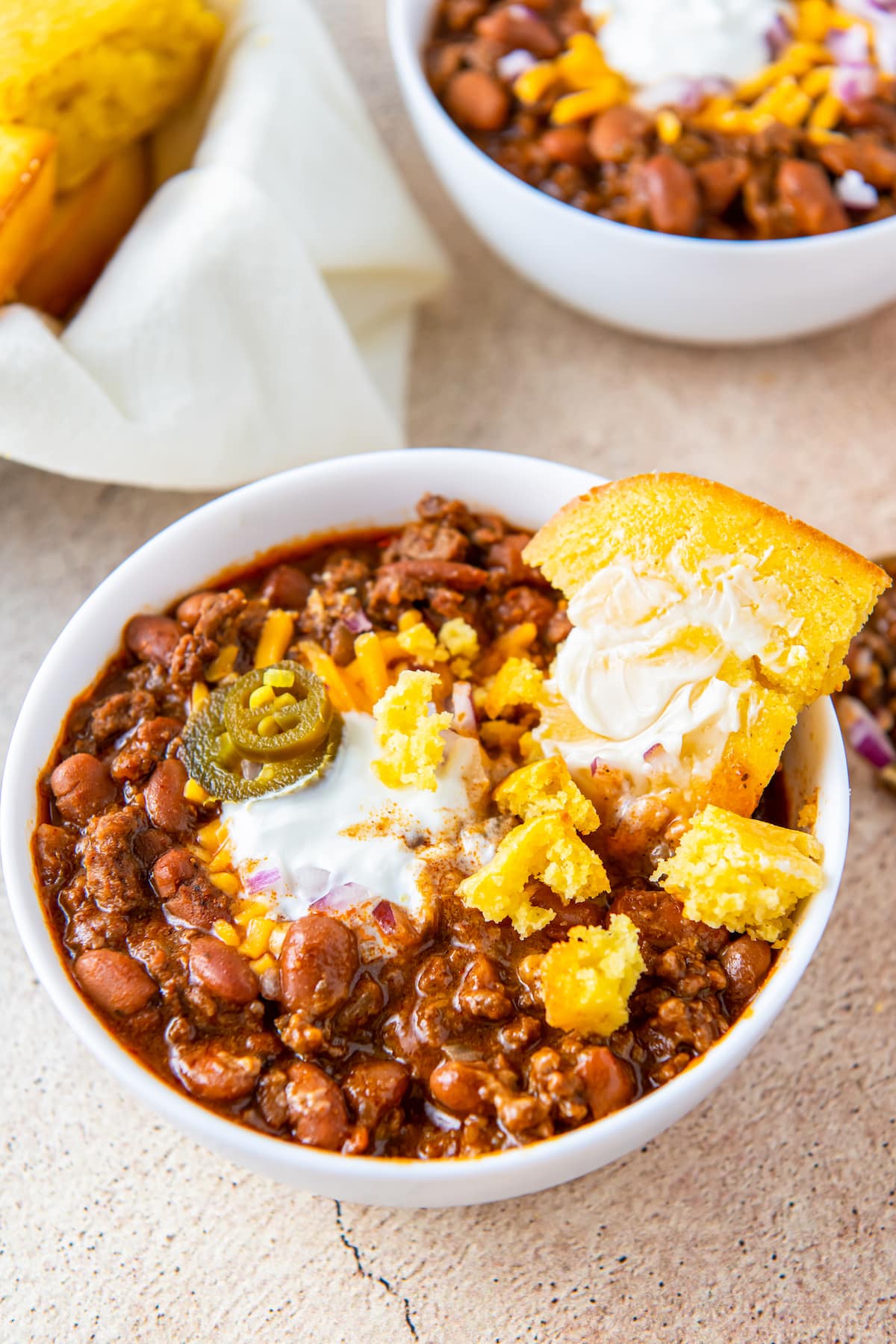 Can I Freeze Homemade Chili?
Yes! Freezing this recipe is a great idea. We recommend using freezer-friendly bags so that they can be stored flat in the freezer. This recipe can be frozen for up to 3 months.
Easy Chili
This Quick and Easy Chili is exploding with flavor and made in 30 minutes with just one pot with easy kitchen stables!
Ingredients
1

tablespoon

olive oil

1

medium yellow onion

,

chopped

2

tablespoons

minced garlic

2

pounds

ground beef

1

8 oz can tomato sauce

1

cup

water

2

tablespoons

chili seasoning

1

teaspoon

salt

½

teaspoon

crushed red pepper

1

27 oz can chili beans (do not drain or rinse)
Optional Toppings:
Shredded cheddar cheese

Chopped onions

Sour cream

Jalapeños

Cilantro

Avocado
Instructions
In a Dutch oven or large deep sided pot add oil and sauté onion for 2 minutes, add garlic and sauté 2 more minutes.

Add ground beef and simmer over medium heat, break up any large pieces of meat (if there is a lot of grease from the meat drain it before going further).

Add tomato sauce, chili seasoning, salt and red pepper flakes, continue simmering 20 minutes.

Add chili beans, stir and simmer 10 more minutes.

Serve warm with all your favorite toppings.
Notes
Storage: Store leftovers in an airtight container, in the refrigerator, for up to 5 days. This recipe can be frozen for up to 3 months.
Nutrition
Serving:
1
,
Calories:
838
kcal
,
Carbohydrates:
19
g
,
Protein:
67
g
,
Fat:
54
g
,
Saturated Fat:
18
g
,
Polyunsaturated Fat:
29
g
,
Trans Fat:
2
g
,
Cholesterol:
212
mg
,
Sodium:
1291
mg
,
Fiber:
6
g
,
Sugar:
6
g
More Cozy Chili & Soup Recipes