Have some pork chops and looking for an easy dinner idea? These Pan Fried Pork Chops are extra juicy, perfectly seared and are ready in minutes! Pan frying your pork chops in butter and fresh herbs is always the way to go.
Pan Fried Pork Chops
Pan frying your pork chops in butter and fresh herbs will always be my favorite way to cook a pork chop. Frying pork chops in a heavy bottomed cast iron skillet will give you that perfect golden brown sear on the outside and a juicy, tender pork chop on the inside. Add some butter and herbs, that you baste over the top of the pork chops as they cook, and they are seriously irresistible!
There are some dinners that everyone enjoys and leftovers rarely happen. Pork chop night is one of those dinners in our house! It's a quick and easy main dish that pairs well with almost any kind of side dish!
The best part about this recipe is that you don't need any special ingredients or kitchen equipment to make it. You only need a handful of common ingredients to fry pork chops. It's a simple dinner recipe that even beginner cooks can knock out of the park! Let's get started!
Looking for another easy way to make pork chops? Don't miss our favorite Slow Cooker Pork Chops with Stuffing!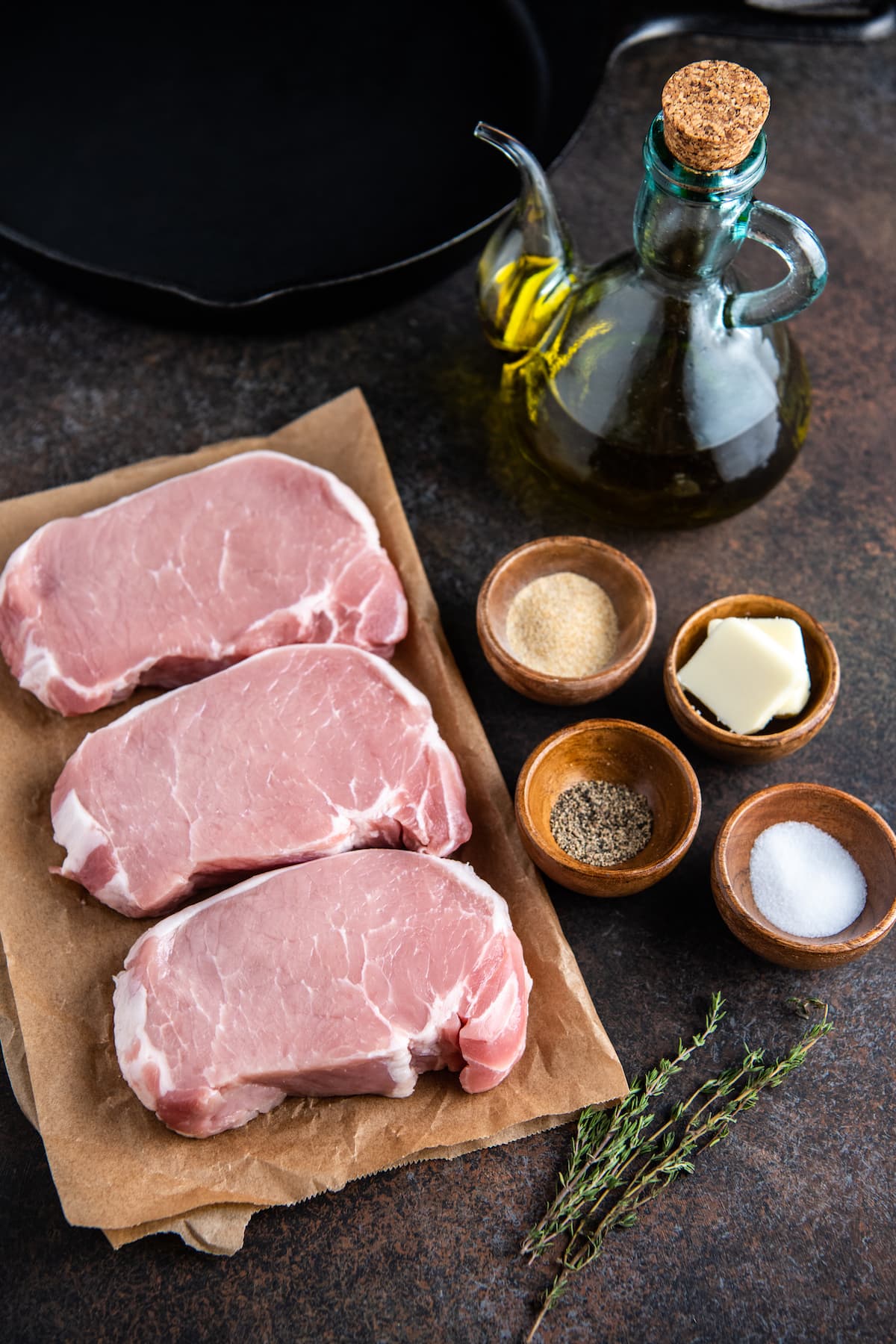 Ingredients
You only need a handful of ingredients to make these juicy fried pork chops on the stove top. To make them you will need the following:
Boneless Pork Chops: You will want to get lean thick cut pork chops. This means you want a pork chop that is about 1 ½ to 2 inches thick and has most of the fat removed.
Seasonings: Garlic Powder, Salt and Pepper. Or you can use fresh garlic, just be careful not to let it scorch in the hot pan giving your pork chops a burnt flavor.
Olive Oil: Substitutes for olive oil include avocado oil, canola oil, vegetable oil, etc. You want an oil with a high smoke point that can tolerate high temperatures.
Butter: Salted butter works best for this recipe. If you are worried about the sodium content, feel free to use unsalted butter or reduce the salt added.
Fresh Thyme: This gives the pork chops an amazing flavor! You can also use rosemary! Dried herbs can also be used here as well if you don't have fresh on hand.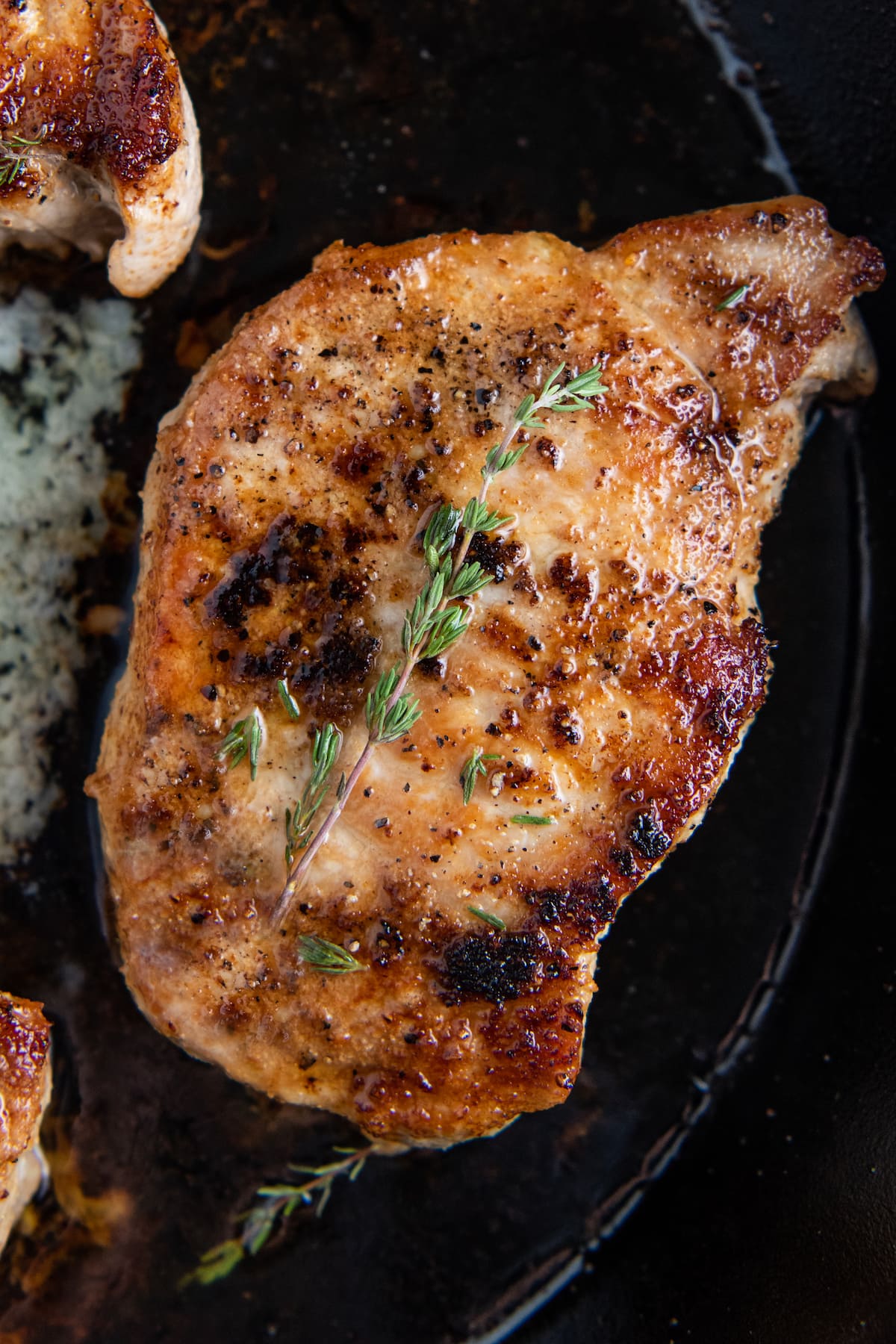 How To Pan Fry Pork Chops
Once you have gathered all your ingredients, you are ready to make these easy pan fried pork chops! Make sure that you are using a heavy bottomed skillet, like a cast iron skillet, to get a nice hot and even heat to cook your pork chops.
Prepare the pork chops: You will want to rinse the pork chops and then pat them dry with a paper towel. This will ensure that the spices stick to the chops. Add your garlic powder, salt and pepper to both sides of the pork chops.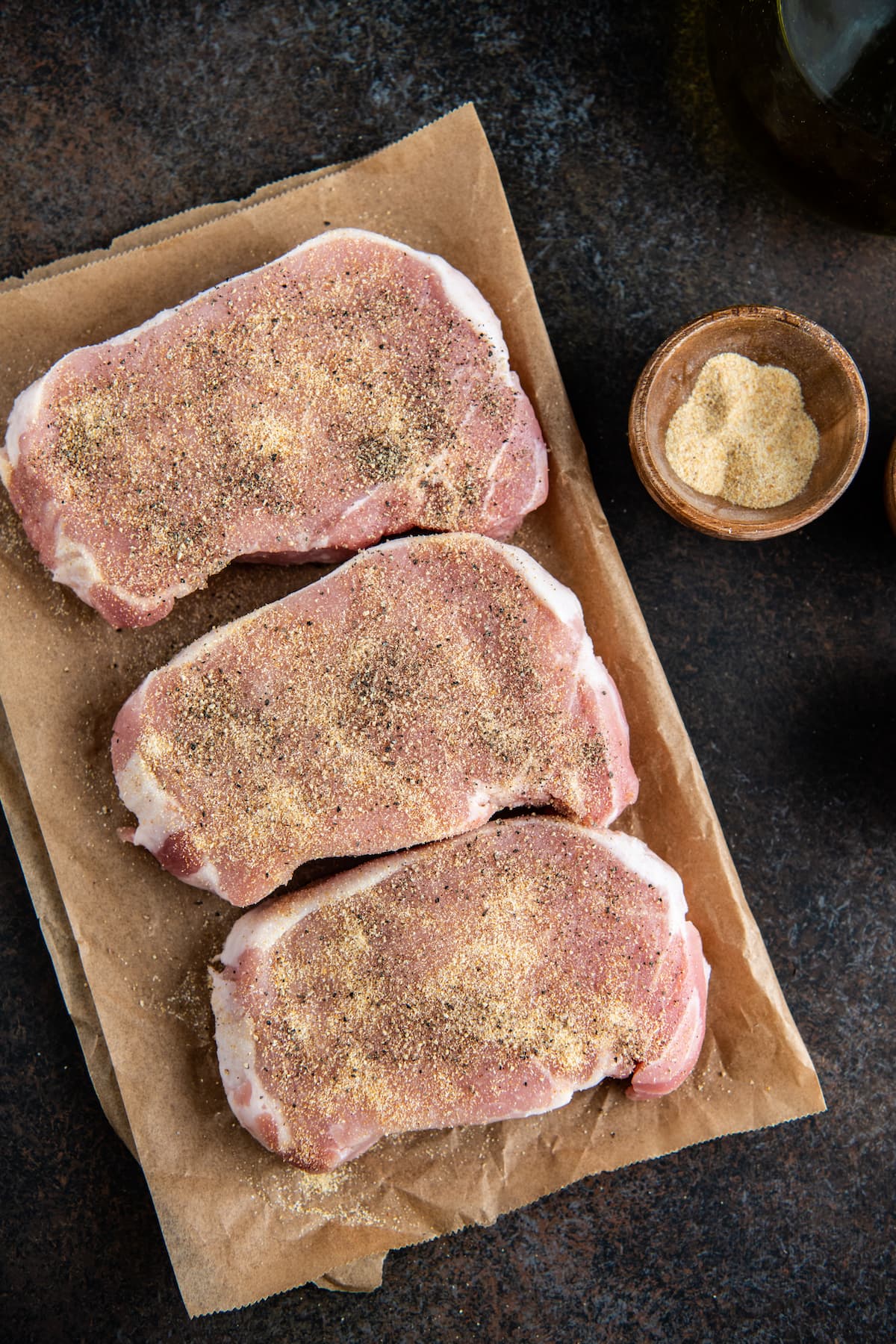 Sear the pork: Place your oil in a skillet and allow it to get hot. Carefully place your pork chops in the skillet and allow them to cook until golden brown on the bottom. Try not to move them too much to allow them to get that delicious crust. This should take about 1-2 minutes. Then flip your pork chops and sear the other side.
Continue cooking the pork chops: After you have a good sear on the pork chops, you will want to continue to cook them until they reach an internal temperature of 145 degrees. Flip the pork chops a few times to ensure they are cooked evenly in the skillet.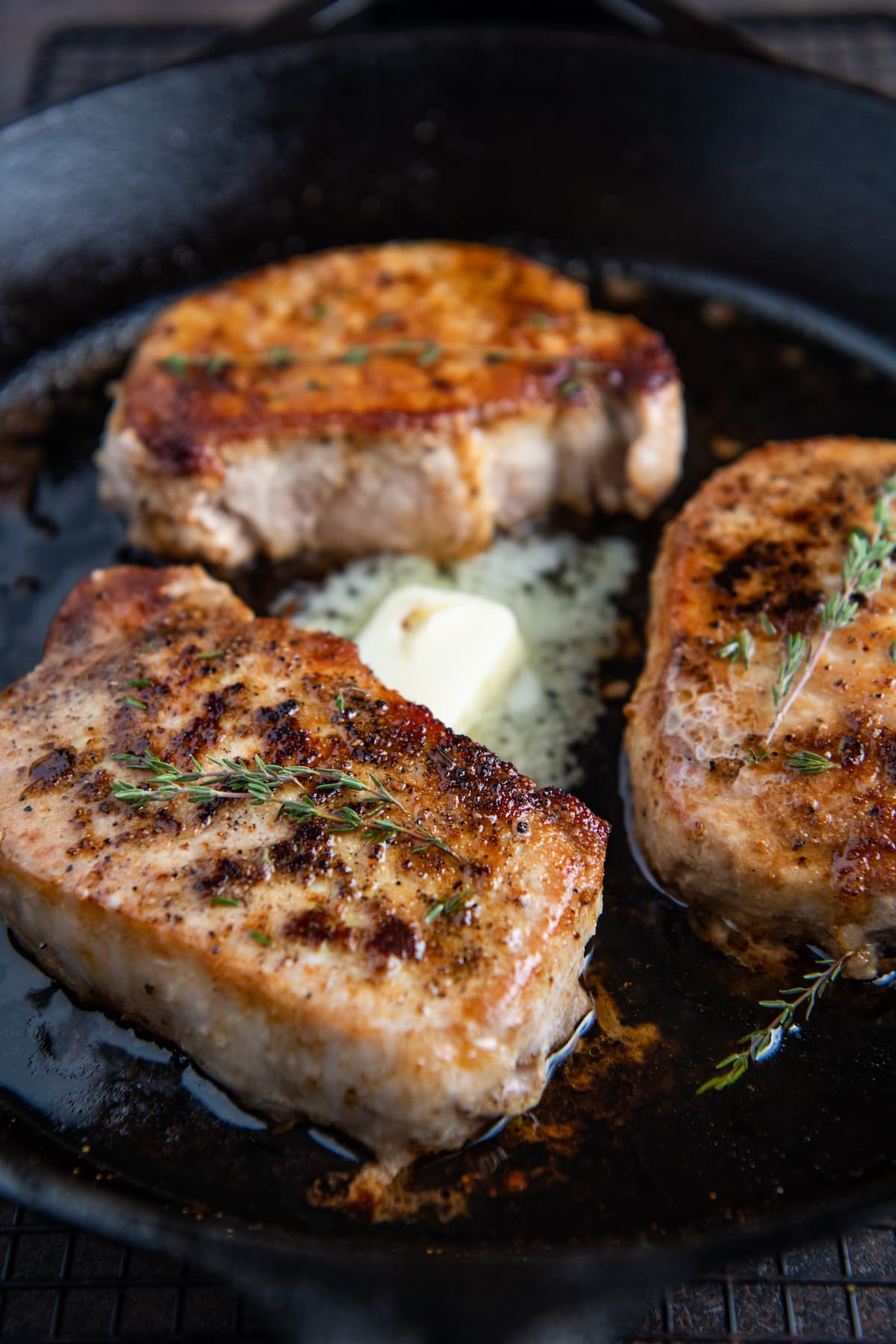 Create the sauce: Add the butter and the thyme to the skillet and allow it to cook down, spooning it over the pork chops as they cook. The herbed butter sauce will keep your pork chops juicy and add lots of flavor.
Serve and enjoy: Spoon the butter and herbs over the top of your pork chops one last time before removing from the skillet. Allow the chops to rest for 5 minutes on a plate, lightly tented with foil, before serving!
Tips For The Perfect Fried Pork Chops
Fresh pork chops. Make sure you use fresh or fully thawed pork chops for this recipe. If you have frozen chops, you will need to thaw them fully first.
Trim the fat. If your pork chops are not lean and have a large fat ring, feel free to trim it off. However, it won't hurt to leave it on and let the fat render while cooking. It only adds flavor!
Heavy bottomed skillet. A heavy bottomed cast iron skillet works best for pan fried pork chops because the heat will be even and most cast iron skillets are seasoned so your pork chops will not stick.
Sear well. Allow your oil to get hot before adding your pork chops so they develop a nice "crust" on the top and bottom. The better the sear the pork chops get, the juicier they will be.
Add fresh garlic. If you love garlic, add a few cloves of garlic to the skillet with the butter to give these chops an even more intense flavor. I recommend slicing the garlic and adding it about half way through the cooking time to baste your pork chops with. If you add it too early, the garlic will quickly burn.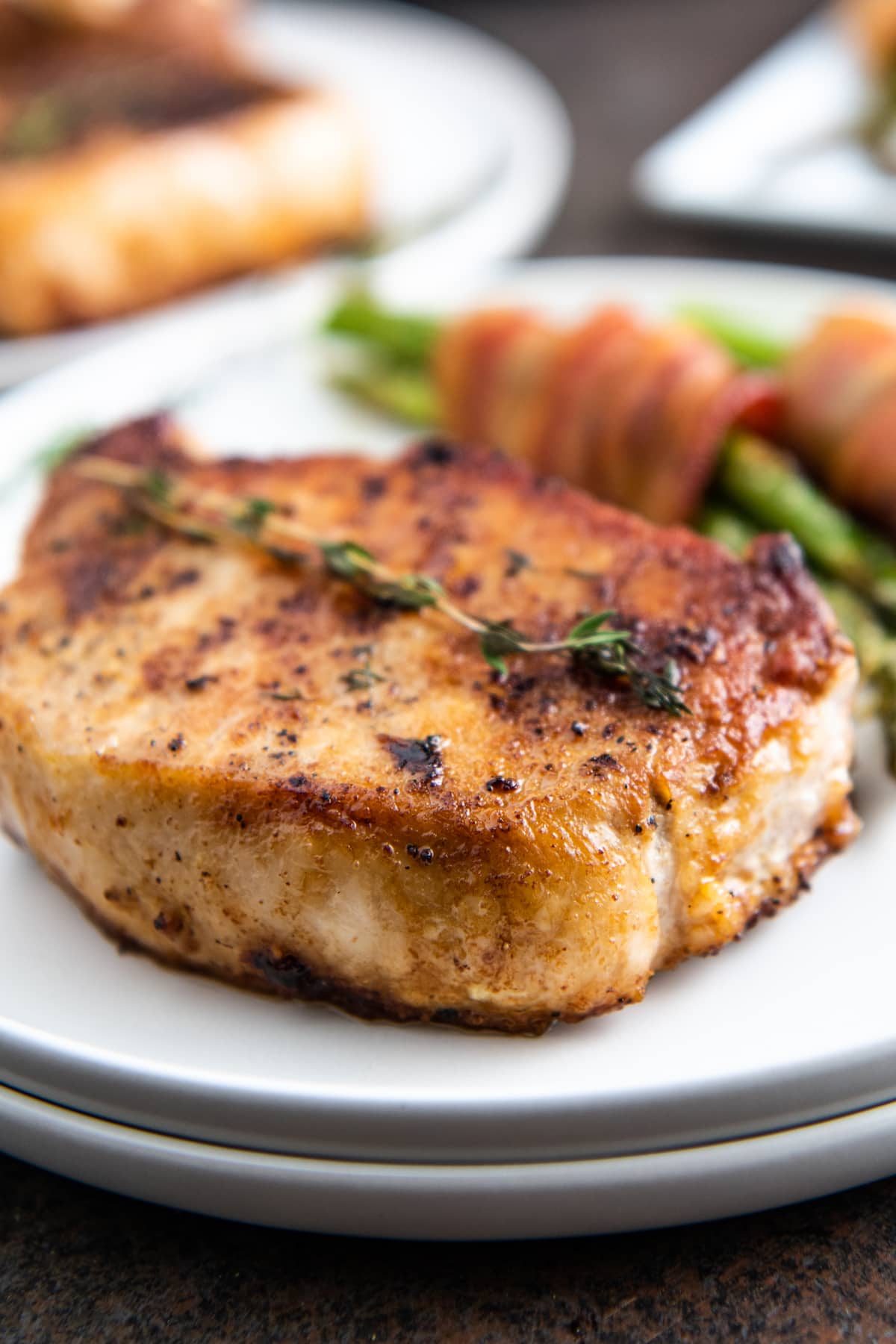 How long do you pan fry pork chops?
You will sear the pork chops first for 1-2 minutes per side and then continue to cook them in the pan until they reach an internal temperature of 145°F. I use a meat thermometer to verify when they are done cooking and have reached the correct temperature. That way you don't have to worry about over cooking, or over cooking, your pork chops.
The total cook time on these pork chops is about 15 minutes with a quick prep time of 5 minutes. This makes it a great dinner recipe for those busy weeknights!
How do you keep them moist?
The key to moist pork chops is all in the sear. When you sear the pork chops, or any meat, it allows the juices to stay inside the meat while cooking.
You will also want to let your pork chops rest after cooking. When you slice into a freshly cooked piece of meat, all the juice will come running out. Allowing any meat to rest after cooking allows for the meat itself to relax and soften and keeps the juices inside the meat.
So if you want tender and juicy pork chops, don't forget to let them rest on a plate after cooking for about 5 minutes. I like to place a piece of foil on top to keep them warm while they rest.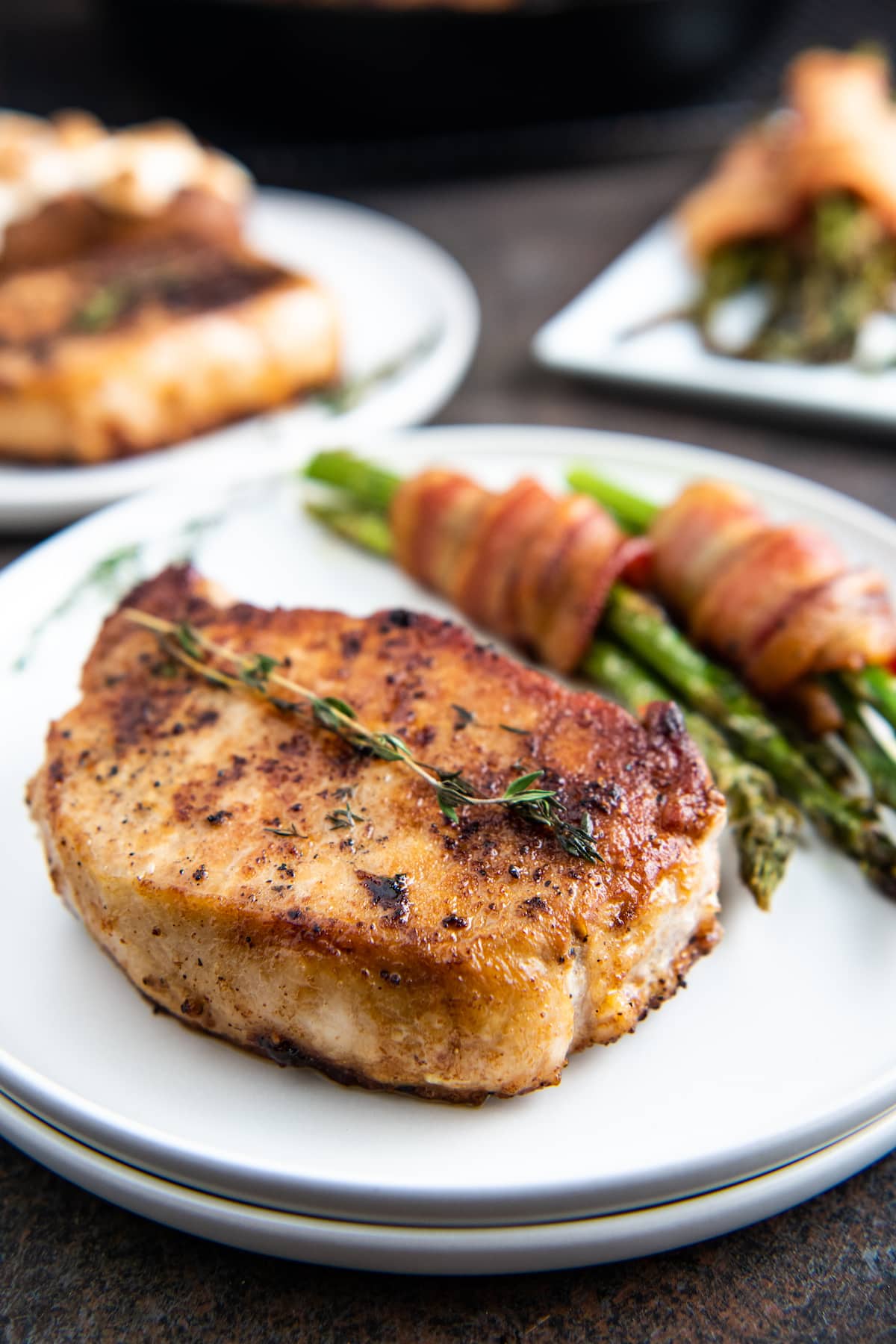 How to store leftover pork chops
Leftovers? These are so good you will almost never have leftovers! But if you do happen to have any leftovers, place the pork chops in an airtight container and store in the refrigerator.
The pork chops will stay fresh in the refrigerator for about 3 to 4 days. Reheat in the microwave, on the stove top or even in the Air Fryer!
Can I freeze pork chops?
You sure can! Follow the directions and allow your pork chops to cool. Wrap them in parchment or freezer paper and place them in a Ziplock bag.
Place the bag in the freezer until ready to eat again. They will stay fresh in the freezer for up to 3 months. Allow them to thaw in the refrigerator before heating again.
Yield: 4 servings
Pan Fried Pork Chops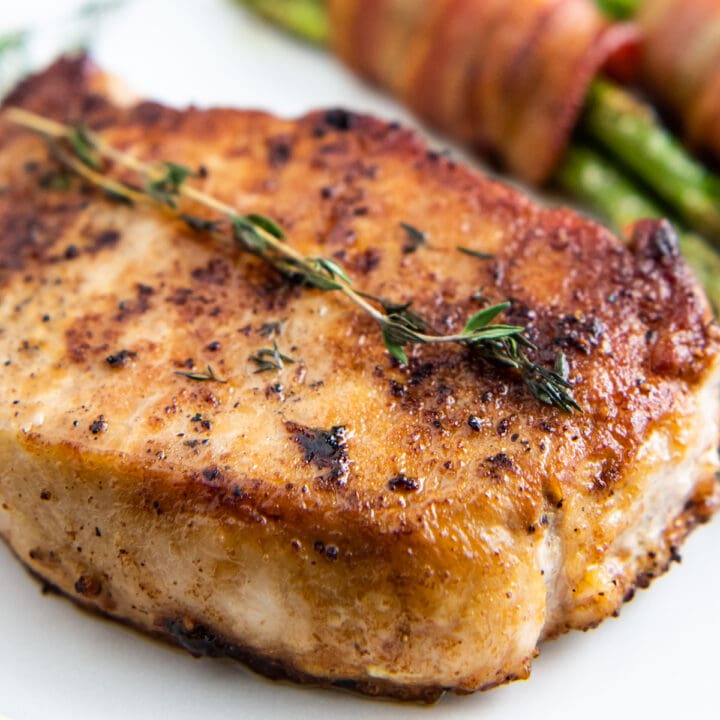 These Pan Fried Pork Chops are extra juicy, perfectly seared and are ready in minutes! Pan frying your pork chops in butter and fresh herbs is always the way to go!
Additional Time
5 minutes
Ingredients
2 lbs lean boneless pork chops, about 1.5 inches thick
1 teaspoon garlic powder
1/2 teaspoon salt
1/2 teaspoon pepper
2 tablespoons olive oil
2 tablespoons salted butter
1/2 teaspoon minced fresh thyme or rosemary
Instructions
Rinse pork chops, pat dry and season both sides evenly with garlic powder, salt and pepper.
Heat oil in a large skillet over medium-high heat. Cook pork chops until bottom side is golden brown and seared about 1-2 minutes.
Turn and cook on other side about 1-2 minutes before turning again. Repeat flipping the chops until they are deep golden brown and an instant-read thermometer inserted into the thickest part registers 145°, 8–10 minutes (cooking time will depend on thickness of chops).
Once pork chops reach desired temperature, add butter and thyme and continue to cook for 2-3 minutes, spooning the butter on top of the pork chops as they continue to cook.
Spoon the butter-sauce from the pan over the pork chops one last time and place on a serving plate.
Let pork chops rest for 5 minutes on a plate tented with foil, then serve. (Letting them rest allows them to become fully tender and juicy!)

Notes
Have oil nice and hot before you add the pork chops to the skillet so that you get a good sear. Searing keeps the pork chops juicy.
Fresh thyme is optional, but adds an amazing flavor. Or you can also use 1/2 teaspoon dried thyme in place of fresh time.
For the garlic lovers, you can also add a couple of cloves of fresh minced garlic to the butter and thyme that you baste the pork chops with.
Nutrition Information:
Yield:
4 servings
Serving Size:
1
Amount Per Serving:
Calories:

634
Total Fat:

43g
Saturated Fat:

16g
Trans Fat:

0g
Unsaturated Fat:

26g
Cholesterol:

185mg
Sodium:

506mg
Carbohydrates:

1g
Fiber:

0g
Sugar:

0g
Protein:

61g
Filed Under:
More Delicious Pork Recipes To Try
Pork is such a versatile meat and can be enjoyed in a variety of ways. Some of our other reader favorite pork recipes are: