This Roasted Green Beans recipe is so quick and simple to put together because it has just 3 basic ingredients. Plus, you can easily make this healthy side dish in just 20 minutes!
Quick & Easy Green Bean Recipe
Roasted vegetables are easily one of our favorite healthy sides to make when we are short on time and creativity. Sometimes we just don't have the time or energy to whip up Mashed Potatoes or Cheesy Scalloped Potatoes. So, today we have one of our favorite (and one of the easiest!) side dish recipes for you – Roasted Green Beans.
There aren't any fancy tricks or tips to this recipe. It's basic, fast, and really delicious. Oftentimes all you need is a fresh vegetable, garlic, and some salt and pepper to put together a tasty side dish.
There is another perk to this recipe, too! You can easily add some other ingredients to dress them up. We like to add red chili flakes when the kids are around or even a drizzle of our Bang Bang Sauce. So when you feel like it, have fun with this recipe, or just keep it simple.
If you love green beans, make sure to also try our favorite recipe for Southern Green Beans with Bacon!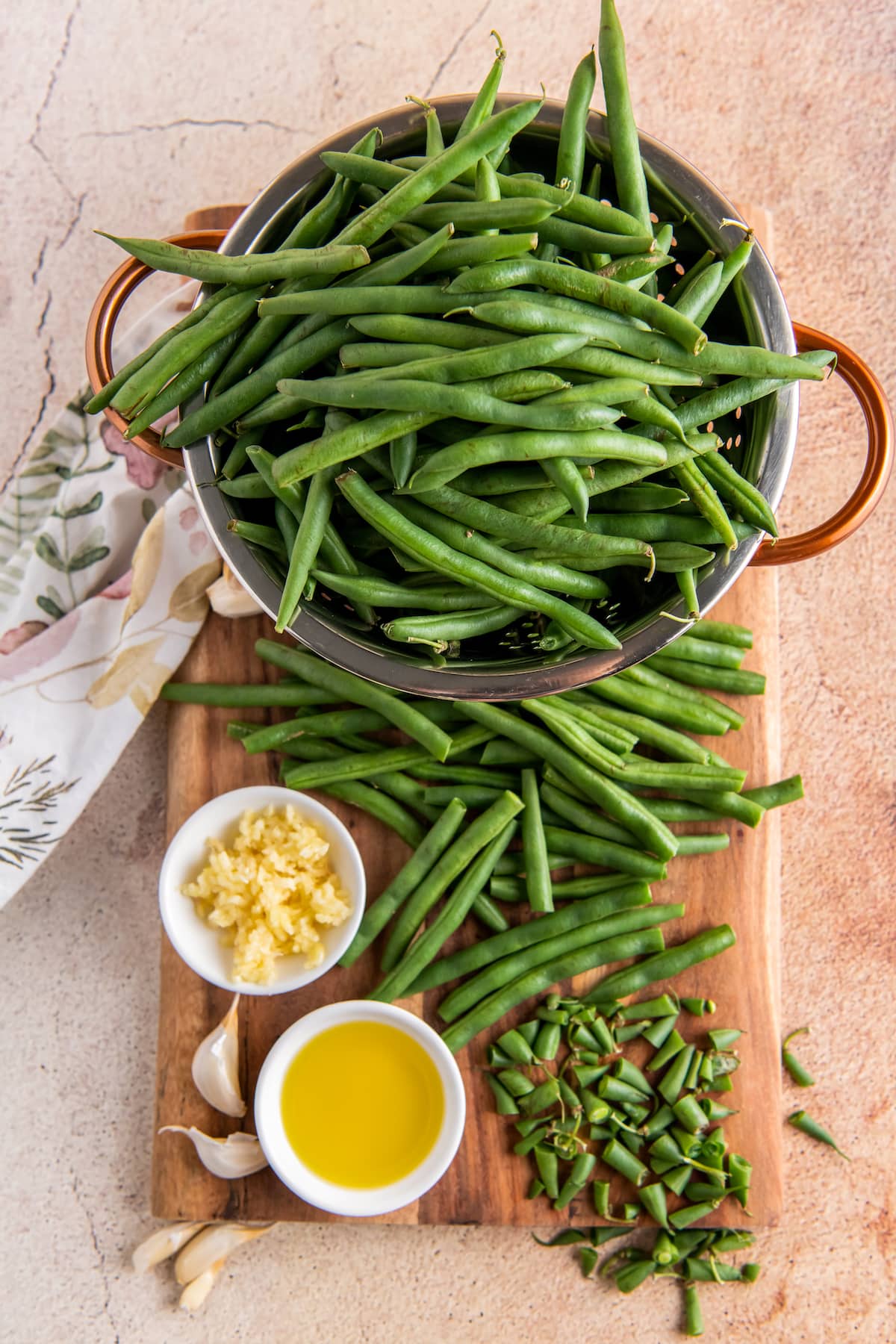 What You'll Need
This list is short and sweet! Just add some fresh green beans to your shopping list and you're good to go.
Green Beans: Buy trimmed green beans to make things even easier because the work is already done for you.
Olive Oil: Or use the cooking oil of your choice.
Garlic: You could also use a few sprinkles of granulated garlic or garlic powder instead if you do not have fresh garlic. Just remember to use less when using dried spices because they are dense in flavor.
Salt and Pepper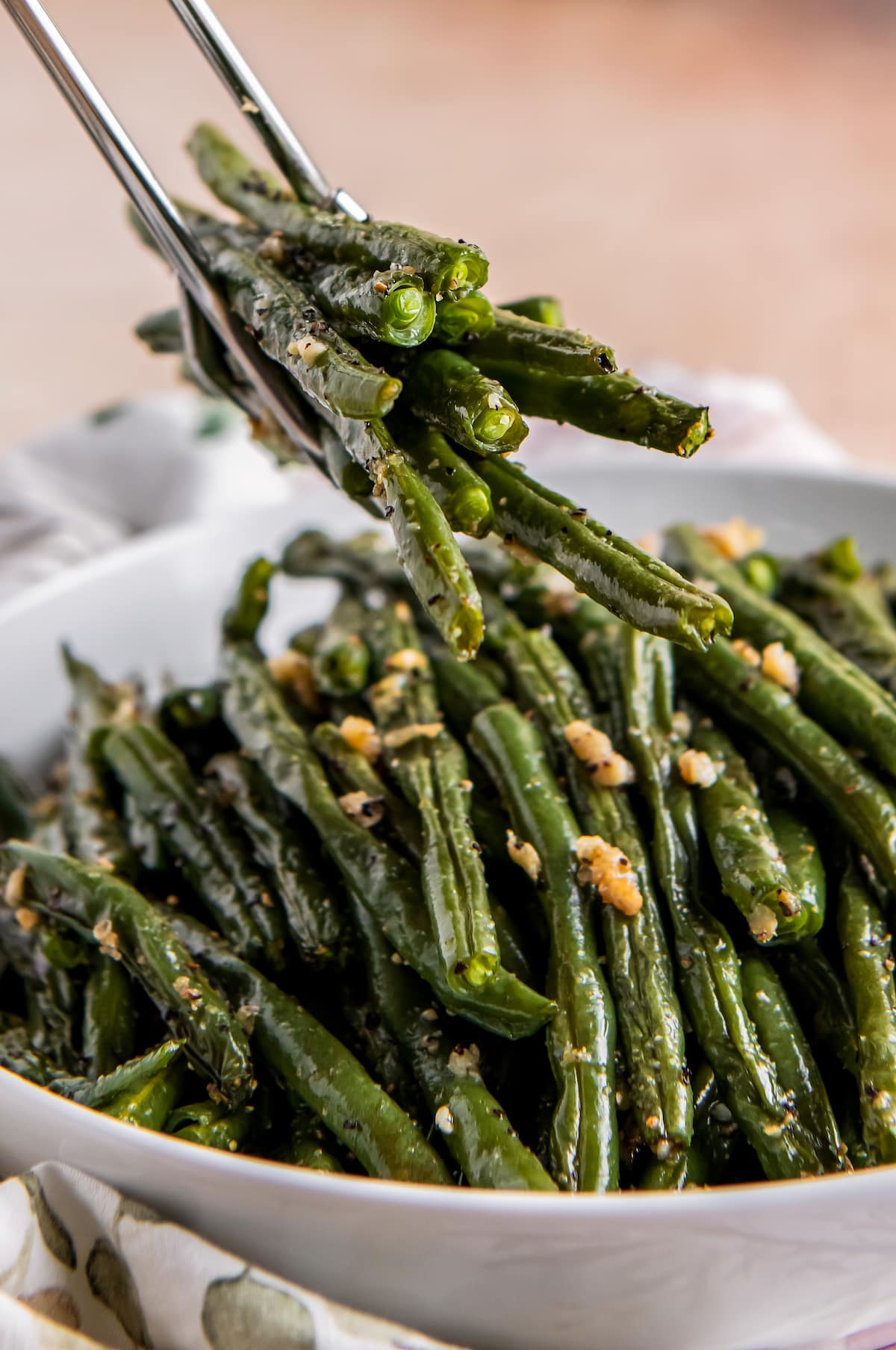 Recipe Variations
Here are a few different ways to mix up this Roasted Green Beans recipe.
Use different beans or another green vegetable. This recipe also works with wax beans (yellow beans) or other green veggies like broccoli.
Add some heat. You can add a sprinkle, or two, of red pepper flakes to make them spicy. Or you can also swap out the salt/pepper for our favorite Cajun Seasoning.
Use different spices. Try out some different spices like paprika or cumin for bursts of flavor.
Use the air fryer. If you don't want to bother with heating up your oven, you can use this recipe for Air Fryer Green Beans!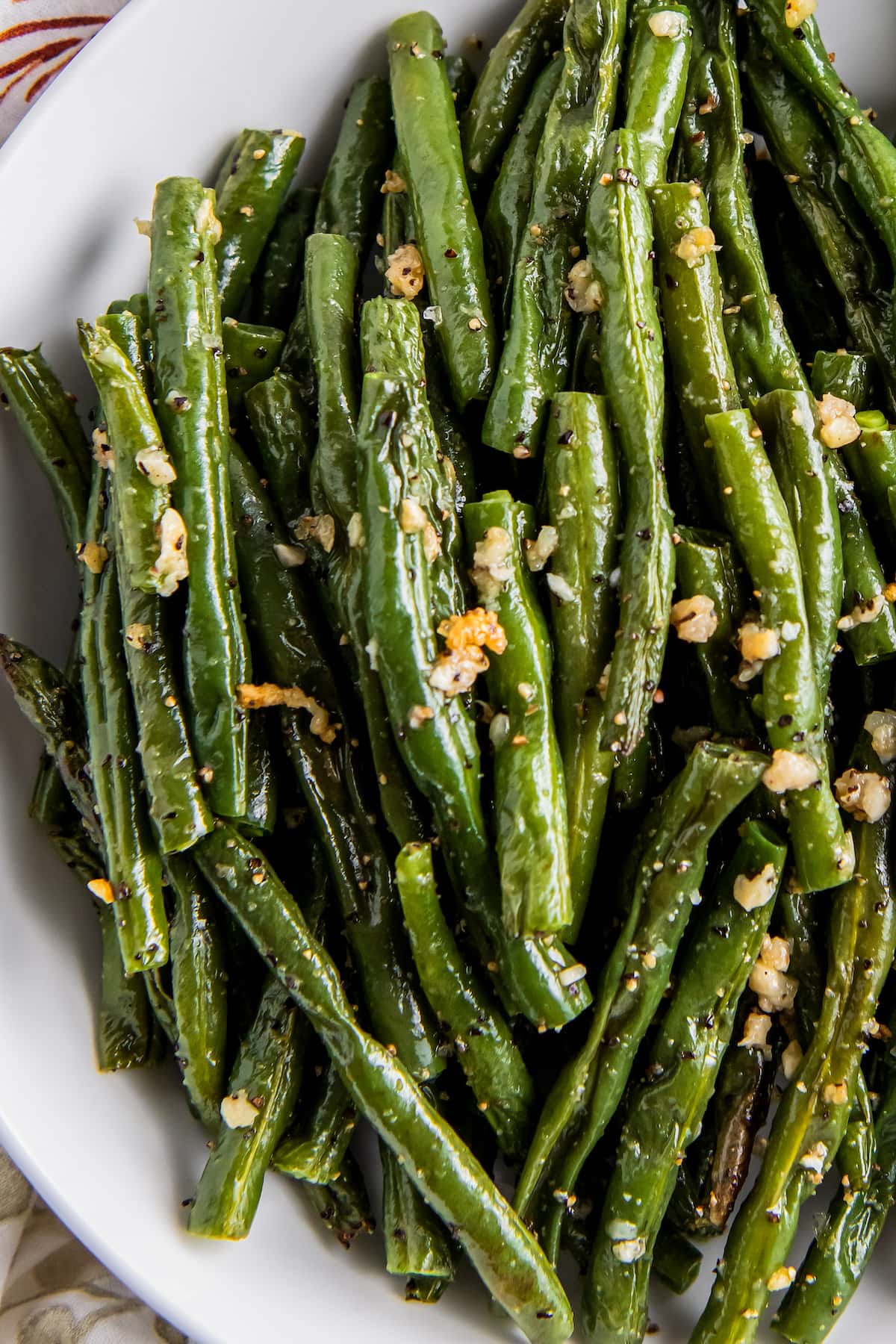 How to Make Roasted Green Beans
The steps are very straightforward and your green beans will be ready in no time at all.
First, preheat the oven and prepare a sheet tray. You'll want to line a sheet tray with parchment paper or foil for easy cleanup.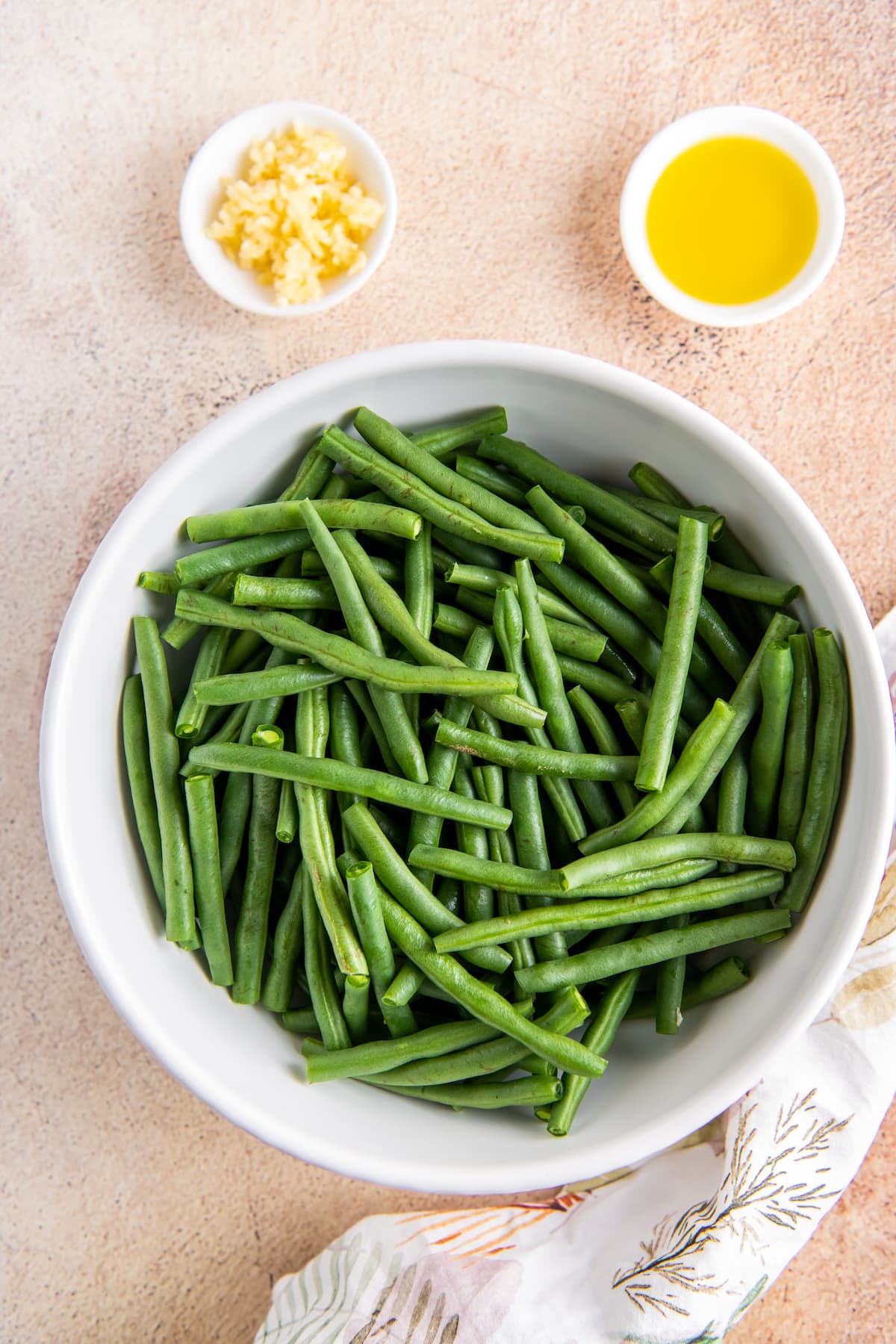 Then toss everything together. Add the green beans, oil, and seasonings to a large bowl and toss.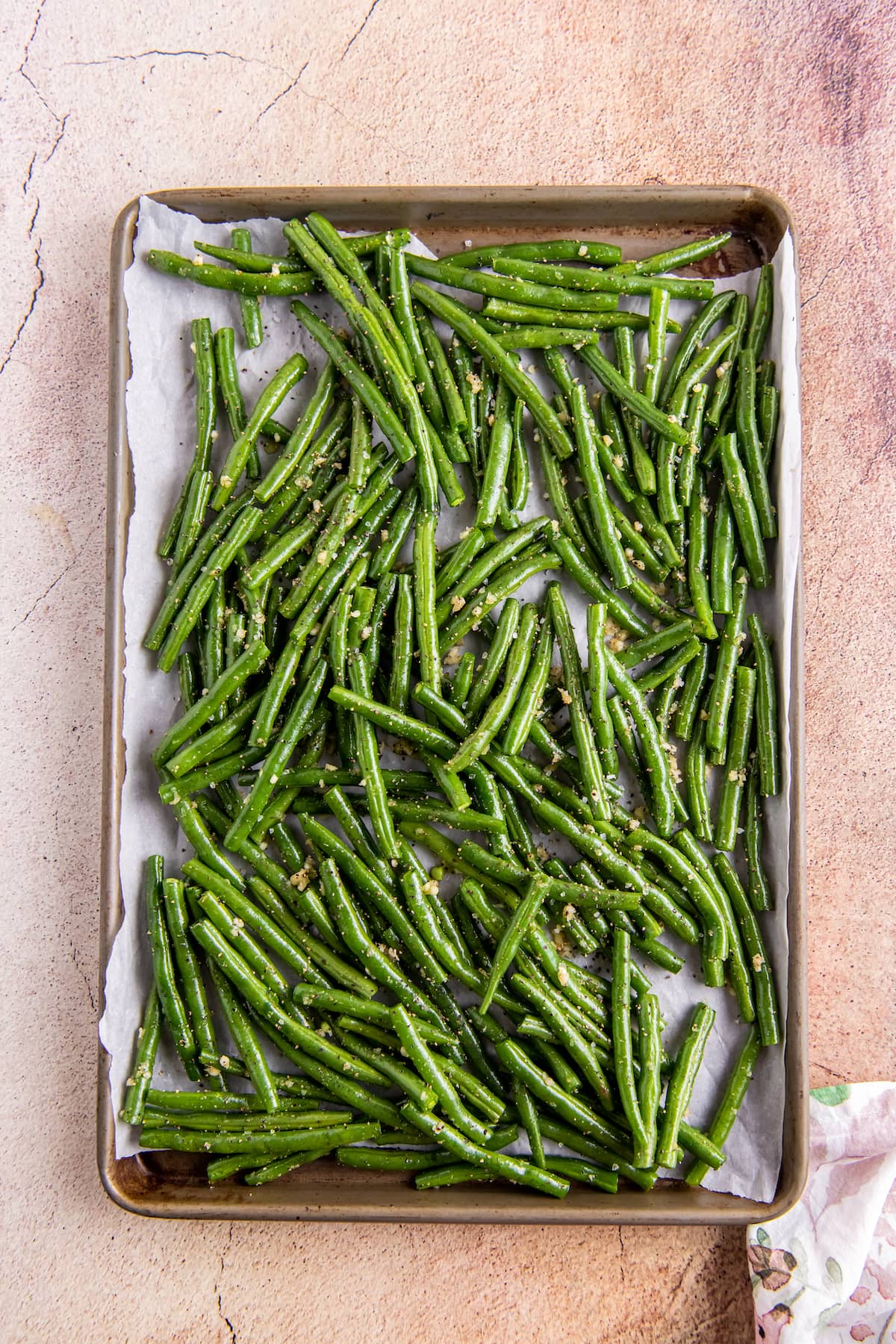 Spread the beans out on the sheet tray. And please make sure that they are spread evenly and not in large piles or they will not cook evenly.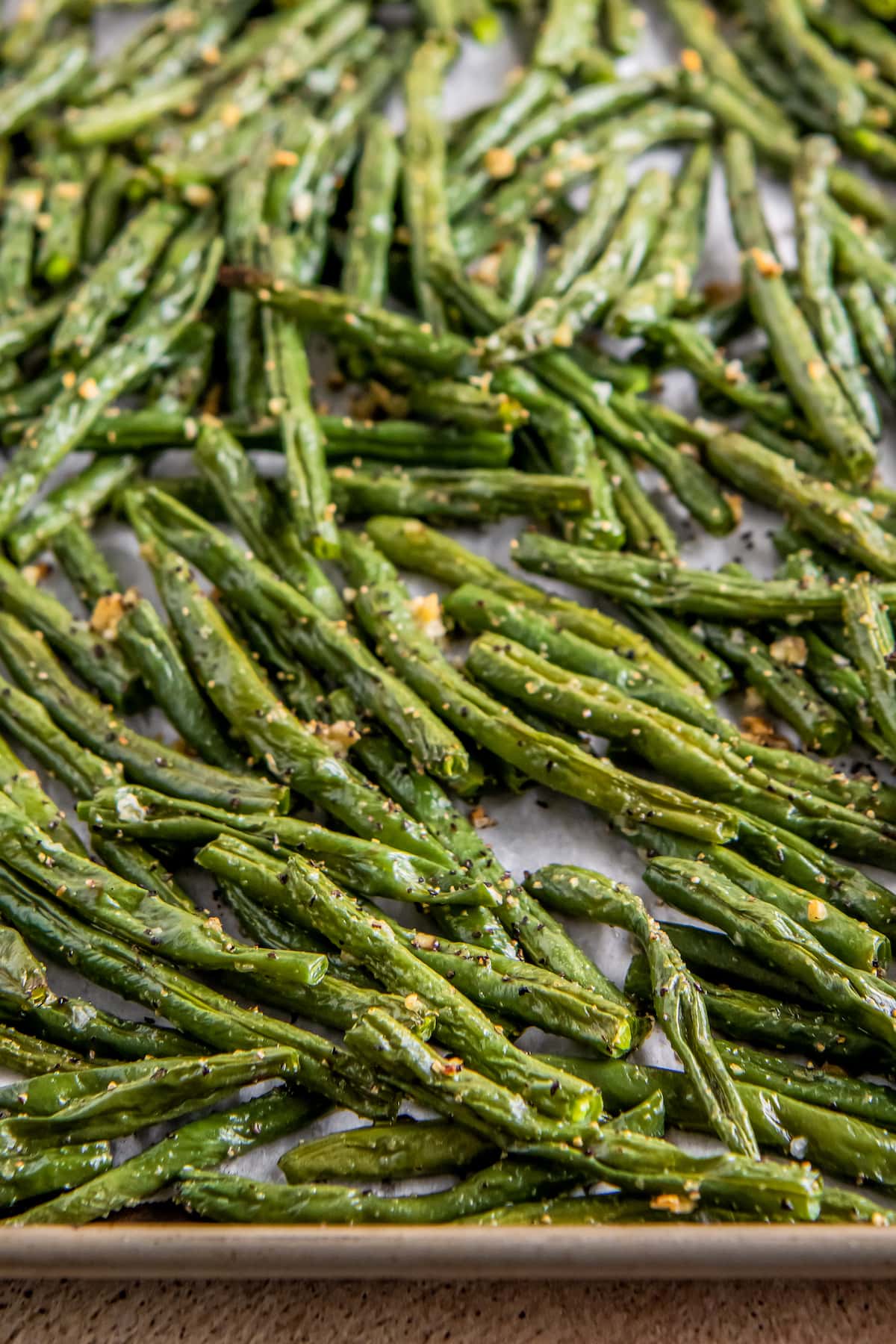 Next, bake the green beans. You'll roast them in the oven for about 20 minutes (or until they are tender). Then serve them immediately after coming out of the oven.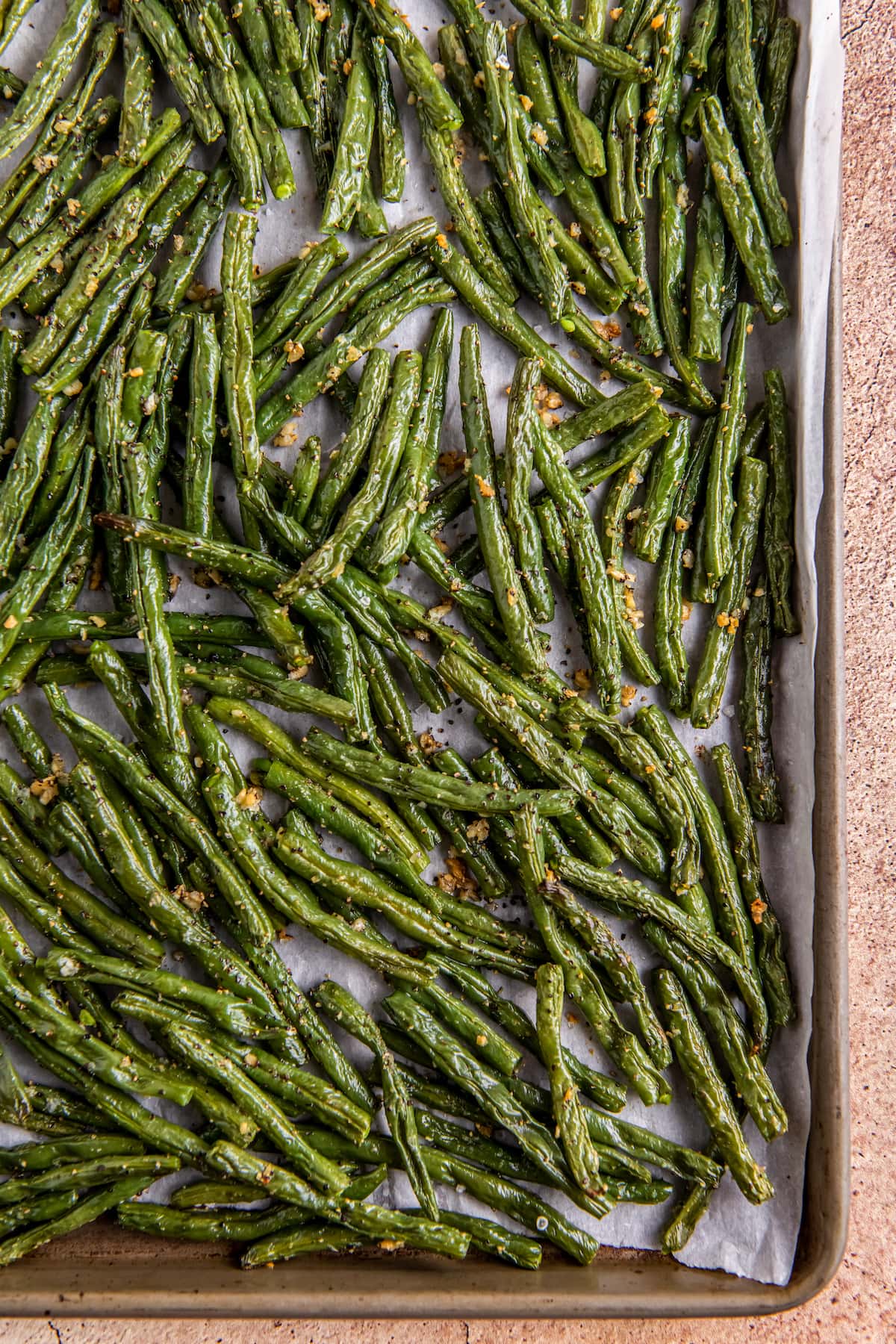 Tips for Success
Below are some helpful tips to follow when making this recipe.
Buy green beans that have been trimmed already. This eliminates the step of having to trim them yourself and can save you some time.
Make sure that the green beans are dry. If you try to roast vegetables that are still wet (from cleaning or rinsing) they will not get crispy when roasted.
The garlic needs to be minced fine. If you have large chunks of garlic it will not spread out evenly when tossed with the green beans and the flavor won't be as good!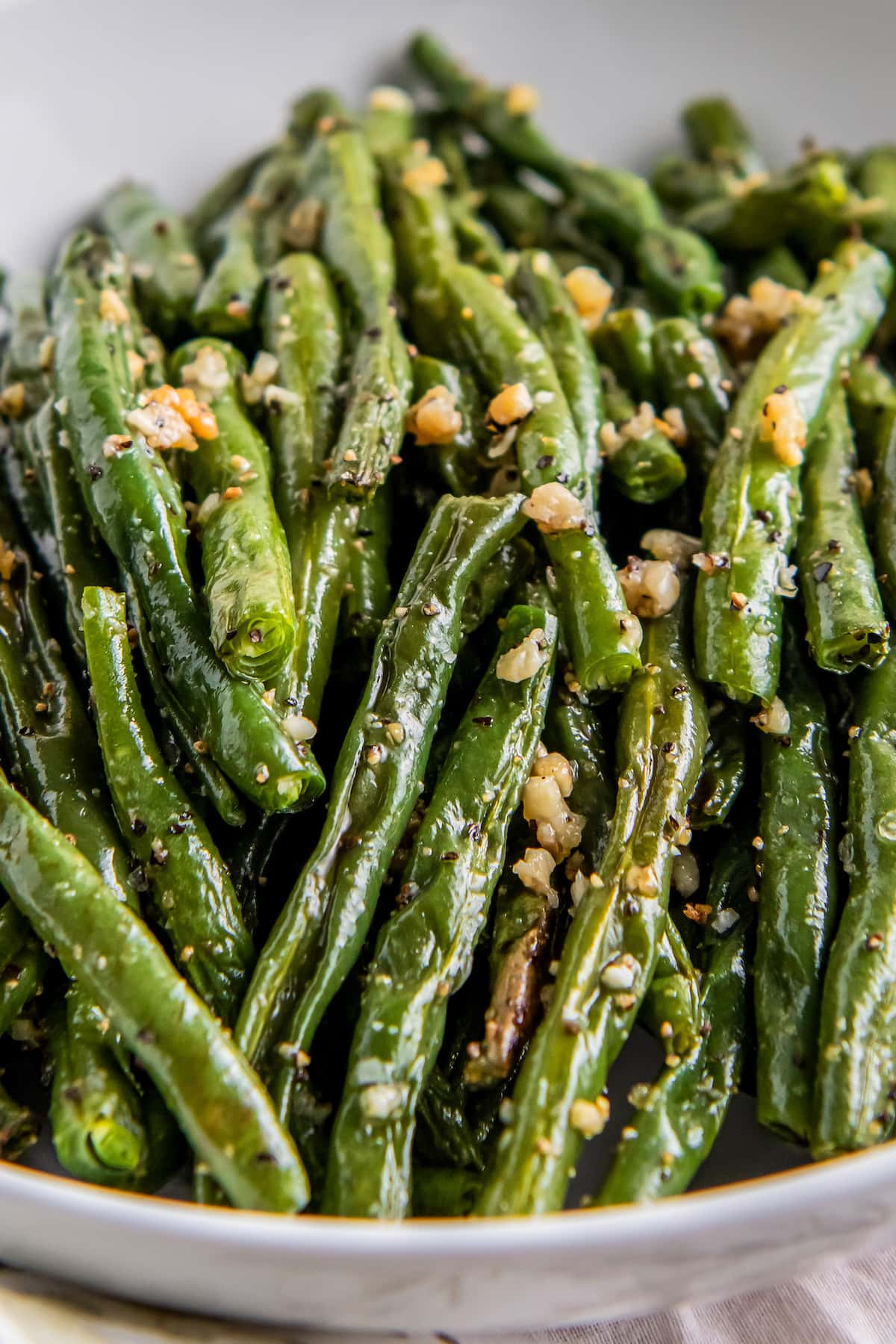 What to Serve With Oven Roasted Green Beans
Here are some of our favorite ways to serve this delicious green bean recipe.
Steaks: Green beans pair perfectly with a good steak! And our Air Fryer London Broil is a great recipe to try.
Chicken Dishes: Keep it simple with our Crockpot Chicken and Stuffing recipe. The chicken cooks all day and you only need to prep the green beans before eating!
Seafood: These beans pair great with grilled fish or Garlic Butter Shrimp. You can add a side of rice or pasta and you have a balanced meal!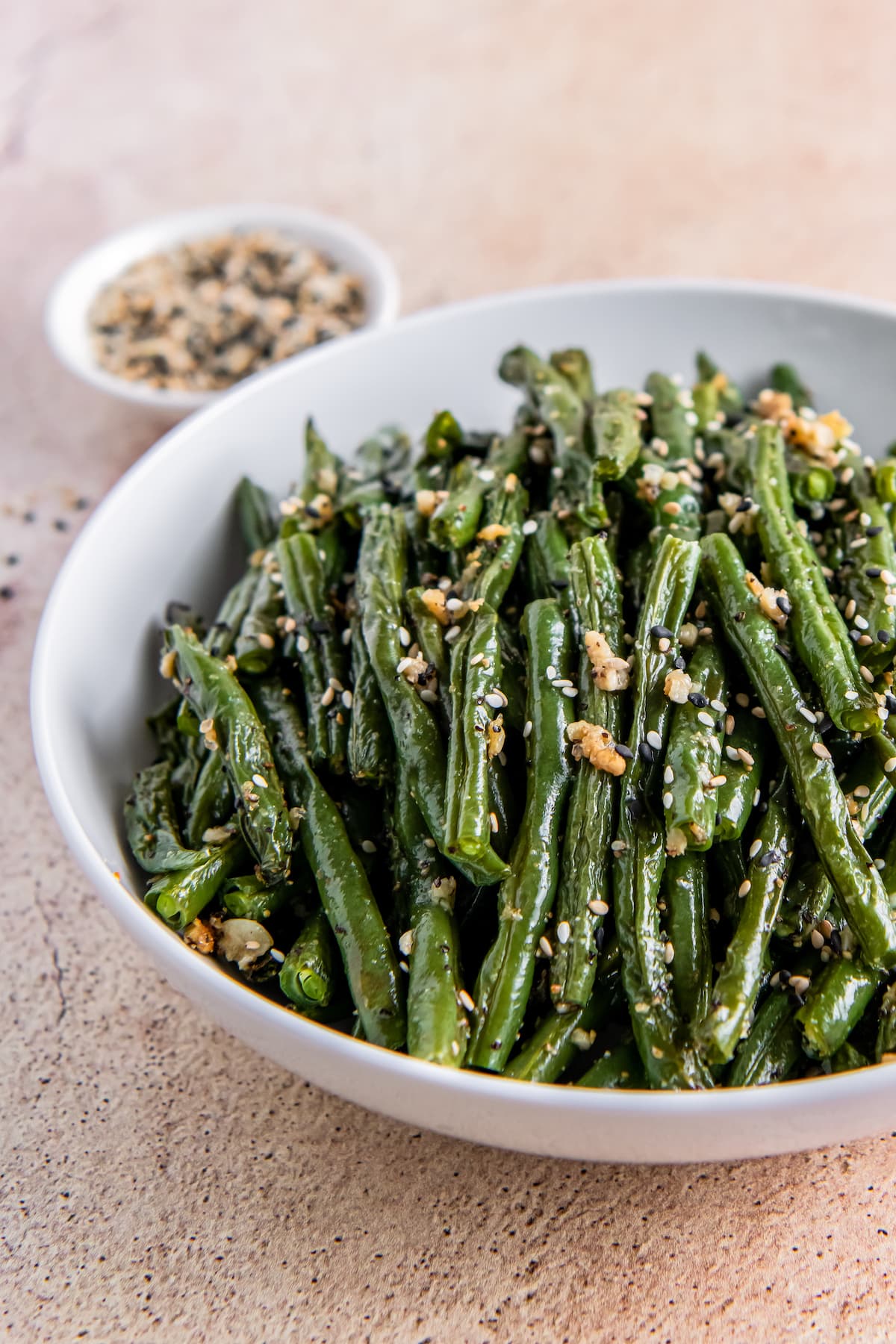 How to Store & Reheat Leftovers
Store leftover Roasted Green Beans in an airtight container, in the fridge, for up to 5 days.
Then you can reheat them in a saute pan on the stovetop, in the oven, or the air fryer.
Can I Freeze These?
Yes, you can freeze these Roasted Green Beans but keep in mind they won't be as tender and crispy after freezing. It's best to reheat them in the oven at 400°F or in an air fryer.
Roasted Green Beans
3 Ingredient Roasted Green Beans are a quick, simple, and healthy side dish! They're ready in under 30 minutes.
Ingredients
2

tablespoons

olive oil

2

pounds

green beans

,

rinsed and trimmed

1

tablespoon

minced garlic

Salt and pepper

,

to taste
Instructions
Preheat the oven to 400°F. Line a large baking sheet with parchment paper. Set aside.

In a large bowl, toss to combine the green beans, olive oil, garlic, salt and pepper. Transfer green beans to prepared baking sheet and spread the green beans into an even layer.

Bake for 20-25 minutes, until tender. Serve immediately.
Notes
Storage: Store leftover Roasted Green Beans in an airtight container, in the fridge, for up to 5 days.
Variations:
Cajun Seasoning: Swap out the salt/pepper for our favorite Cajun Seasoning to add more flavor.
Add Heat: You can add some crushed red pepper flakes or a tablespoon (or two) of sriracha to the green beans before roasting.
Toppings: Sprinkling on sesame seeds right before serving is always delicious and add a fun crunch. Or add a little cheese, like grated fresh Parmesan or crumbled goat cheese.
Nutrition
Serving:
1
,
Calories:
142
kcal
,
Carbohydrates:
19
g
,
Protein:
4
g
,
Fat:
7
g
,
Saturated Fat:
1
g
,
Polyunsaturated Fat:
6
g
,
Sodium:
77
mg
,
Fiber:
7
g
,
Sugar:
8
g
More Easy Vegetable Sides