Cooking fish is easy when you use this Air Fryer Mahi Mahi recipe. It only takes 10 minutes and then you have a delicious and healthy meal to serve family and friends. The fish turns out perfect every time!
10 Min Mahi Mahi Fish Fillets In The Air Fryer
When you think of using the air fryer you might not think to cook fish in it. But let us tell you, it's one of the best ways to cook fish! And a great place to start is this Air Fryer Mahi Mahi recipe.
The air fryer does an incredible job of circulating heat around whatever it's cooking in a way that doesn't burn it and so that it cooks evenly. That's exactly what you need when you cook delicate fish filets. You don't want to cook it too much on one side and run the risk of it drying out.
The Mahi Mahi comes out cooked perfectly and the flavor is incredible. The fish is smothered with a dried seasoning blend of granulated garlic, paprika, salt, and pepper. And then once it's done it's topped with some of our Homemade Garlic Butter and fresh lemon. It's just as good (if not better) than if you got it at a restaurant!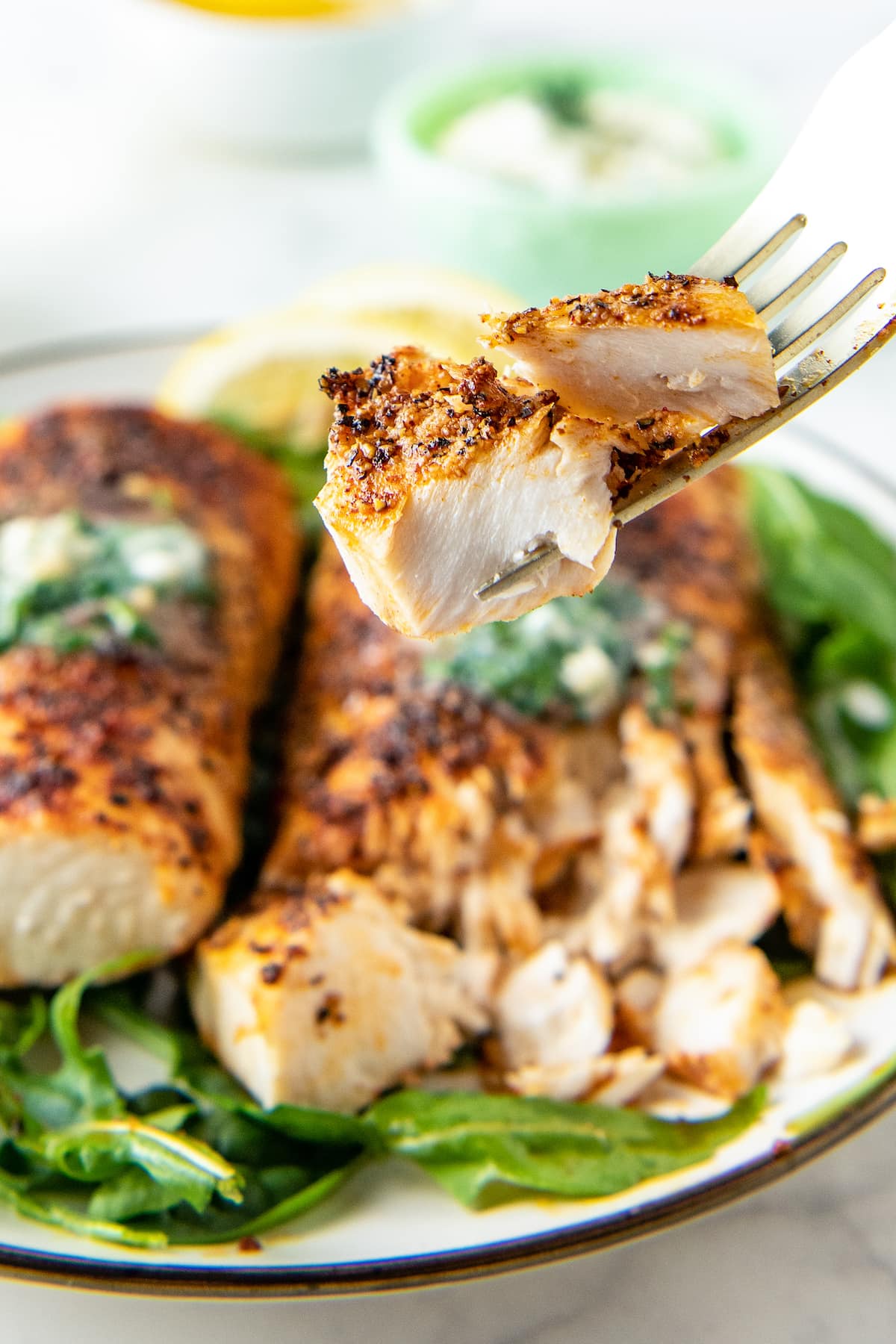 Why You'll Love This Easy Mahi Mahi Recipe
This is one of our favorite fish recipes and here's why:
It's an easy recipe for any occasion. You can make it as a simple weeknight meal or make it when you plan on having company. It has all of the fancy flavors that you expect from fine dining but it's so easy to make.
This recipe is fast! Dinner can be in on the table in about 10 minutes with this fish recipe.
Clean-up is a breeze. There is minimal clean-up when you cook with the air fryer. No pans and no grease splattered all over the stovetop!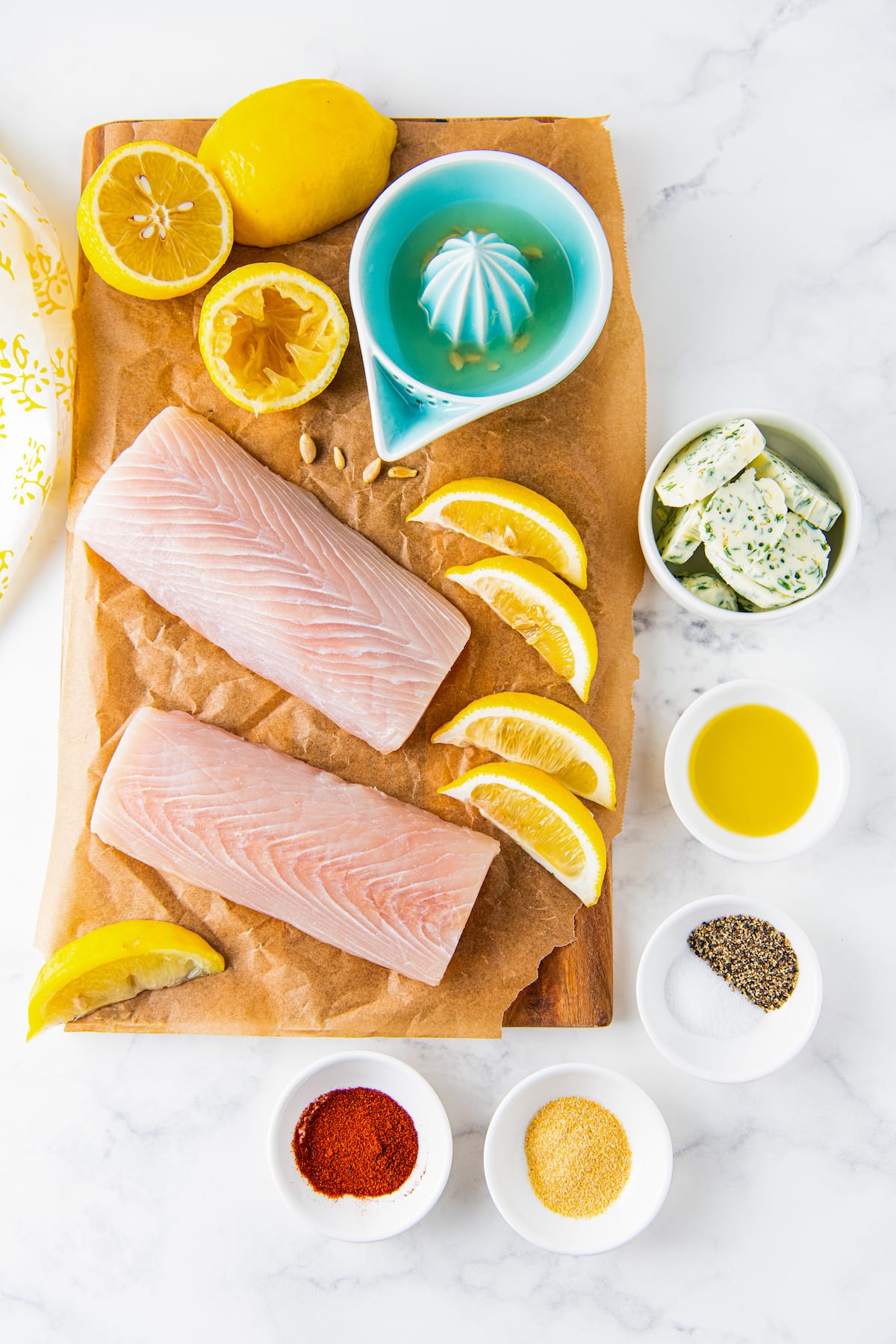 Recipe Ingredients
These are the ingredients you need to make Air Fryer Mahi Mahi:
Mahi Mahi: We prefer to buy wild-caught and you'll need about one pound. Also, make sure the filets are about the same size so that they require the same amount of cooking time.
Olive Oil: Or you can use avocado oil.
Paprika: The paprika provides a little earthy sweetness to the spice rub.
Granulated Garlic: You could also use garlic powder.
Salt and Pepper
Lemon Juice: Always use fresh lemons and not bottled lemon juice for the best flavor.
Homemade Herb Garlic Butter: You can also use regular butter if you don't have time to make the herb butter.
Can This Recipe Be Made With Other Types of Fish?
One of the best things about this recipe is that you can easily swap out another fish. You could also use this recipe with cod, salmon, haddock, or any other fish filets that you like. Just keep in mind that the cooking times may vary depending on the size and type of fish.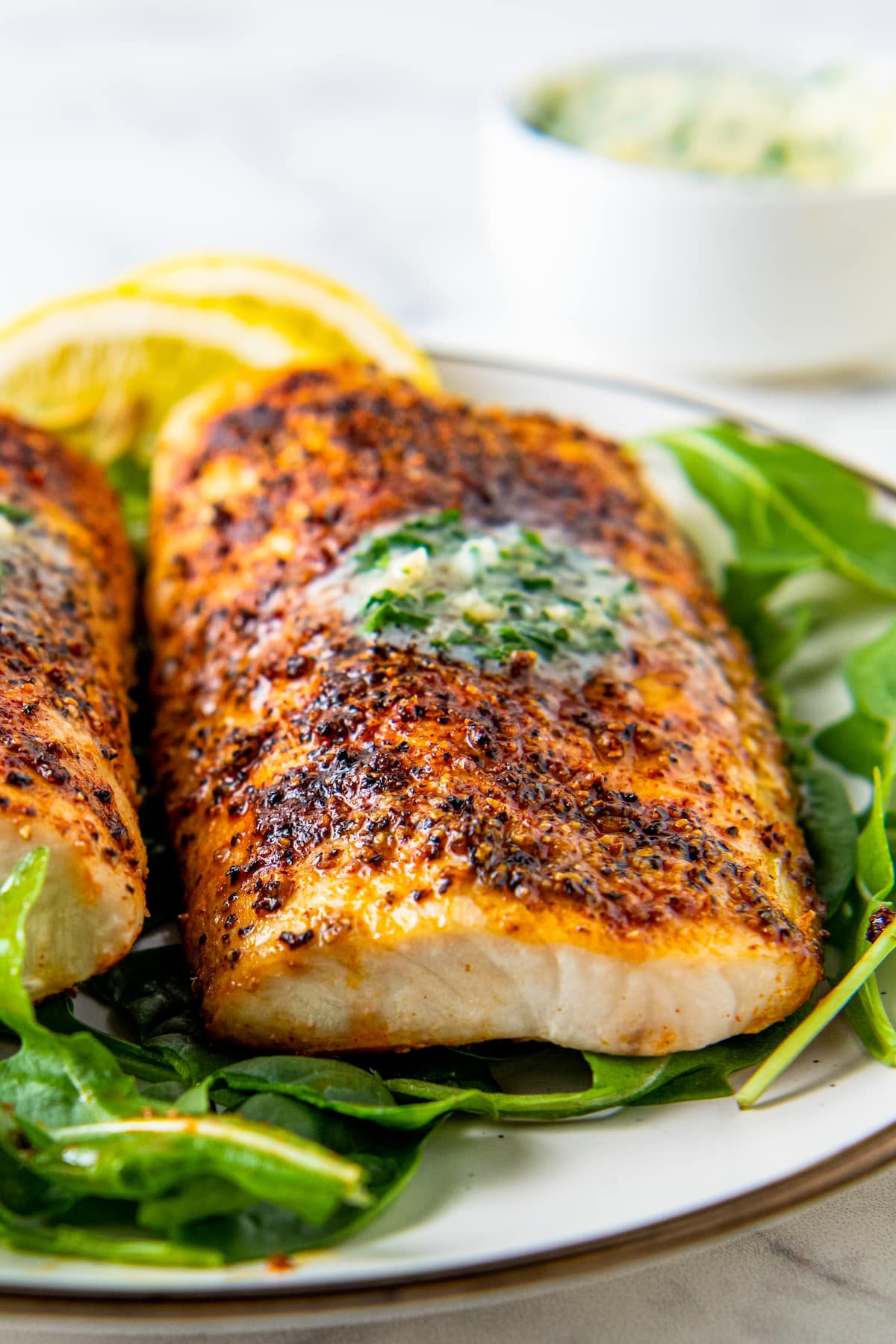 How to Make Air Fryer Mahi Mahi
This recipe is quite simple! Here are the basic steps to follow.
First, always preheat the air fryer. This helps the fish cook evenly and not dry out.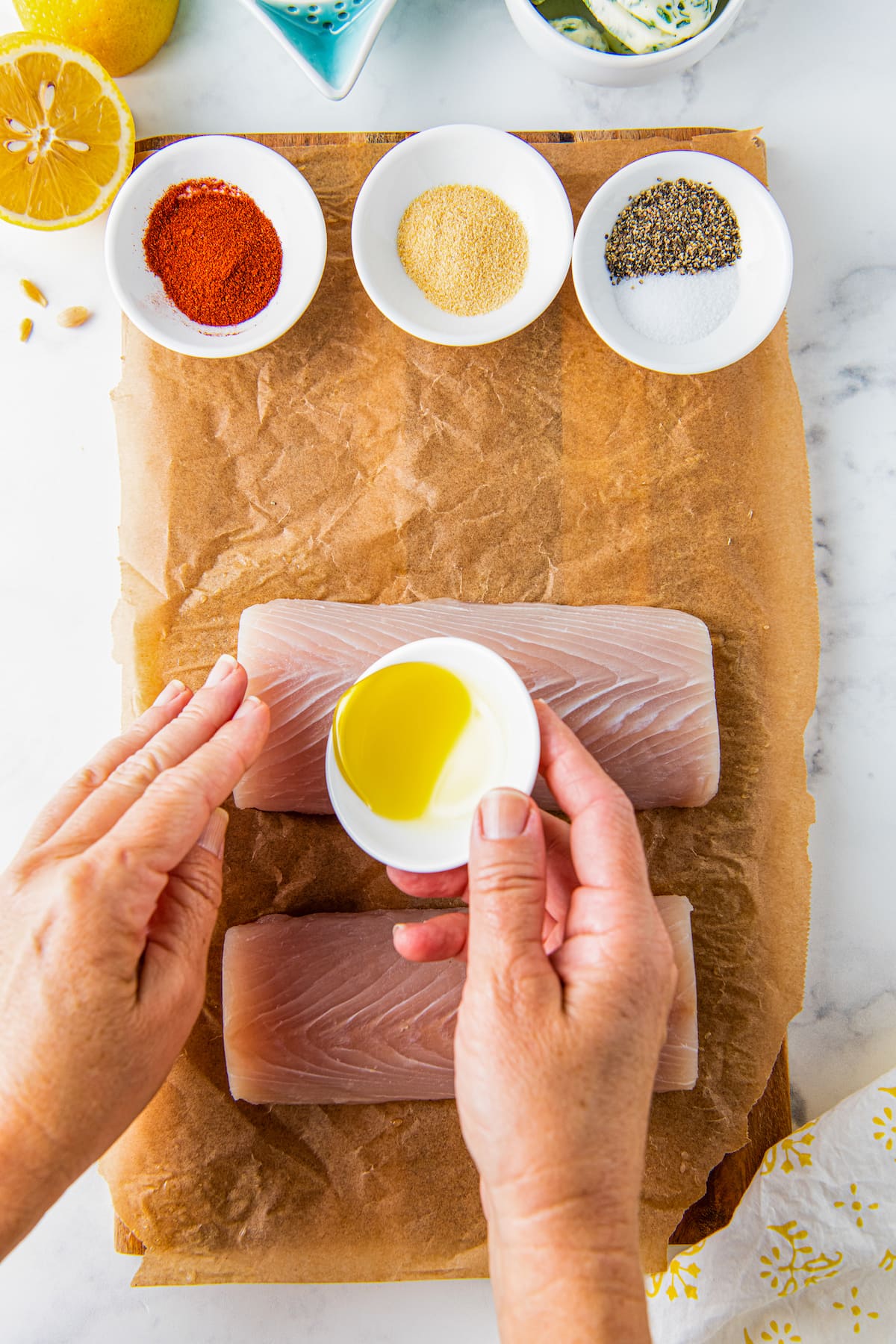 Then prepare the fish. You'll want to make sure the fish is rinsed and patted dry before you begin to season the filets.
Coat the filets with olive oil. And then cover the entire filet with the dried seasonings.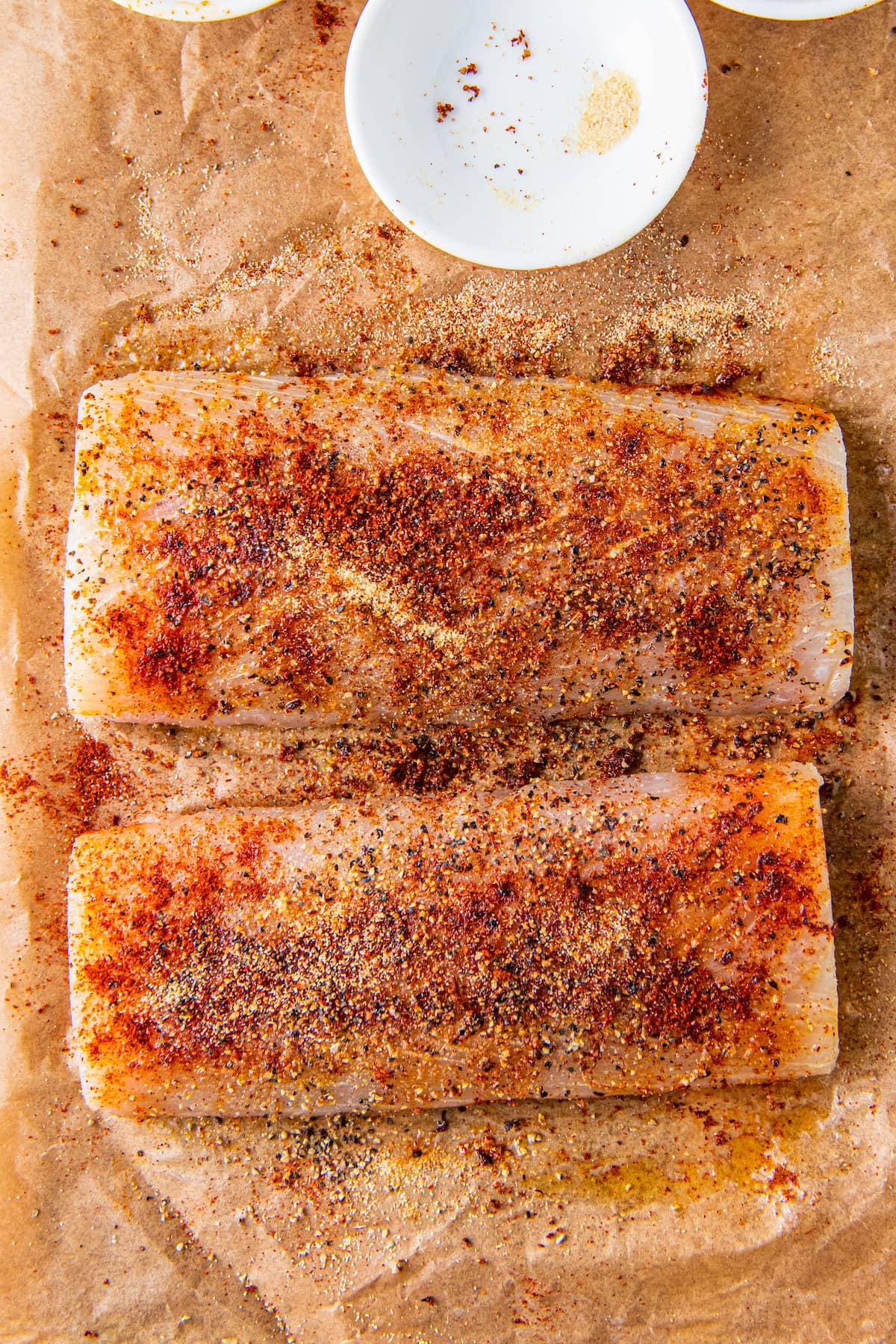 Next, place them in the air fryer. Then let them cook for 8-10 minutes. It's best to flip the filets halfway through the cooking process.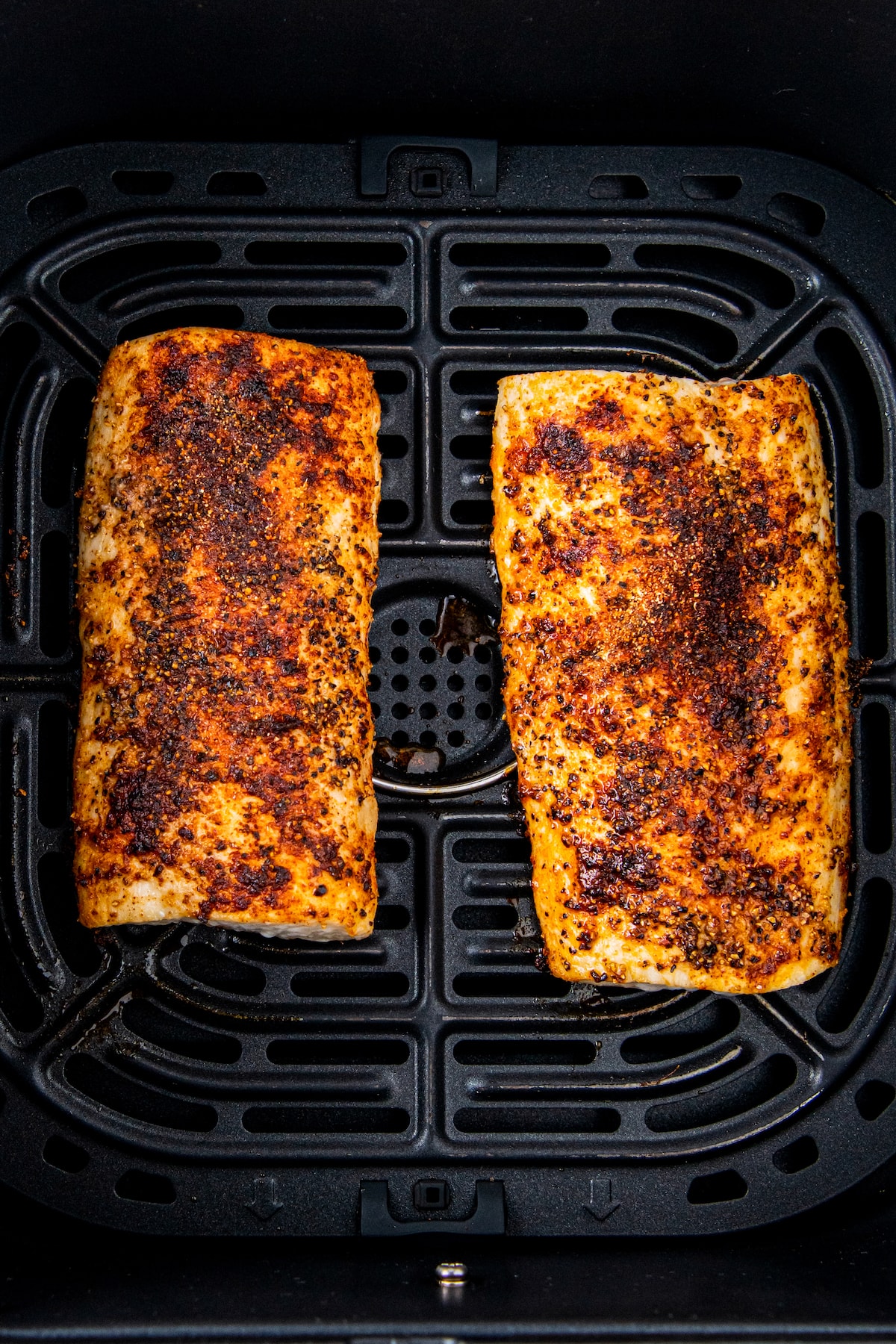 Now your fish is ready to be plated! And don't forget to add some Homemade Garlic Herb Butter [LINK] and fresh lemon juice.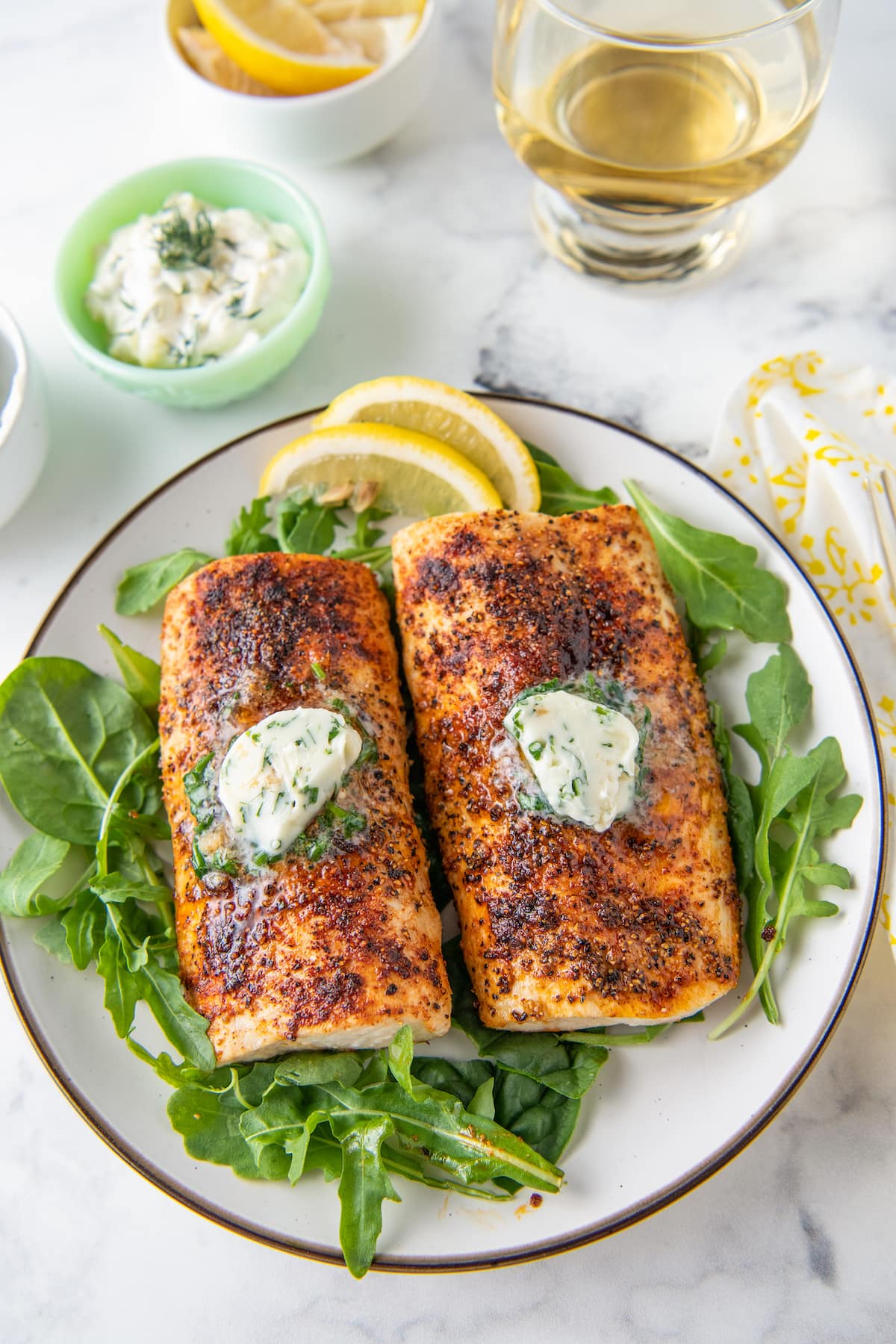 Tips for Success
Here are some helpful tips to follow when making this Mahi Mahi recipe.
Cooking time will depend on the size of the fish. Our fish was cooked in 8 minutes. So depending on the thickness of the fish, it is best to check at 8 minutes for doneness. Or use an instant-read thermometer to make sure the internal temp is 137 degrees.
Use Blackening Seasoning instead. If you have blackening seasoning, you can substitute it for the paprika, garlic, salt, and pepper.
Make sure the fish filets are not touching in the air fryer. There should be space between them in the air fryer basket to ensure all sides are cooked evenly.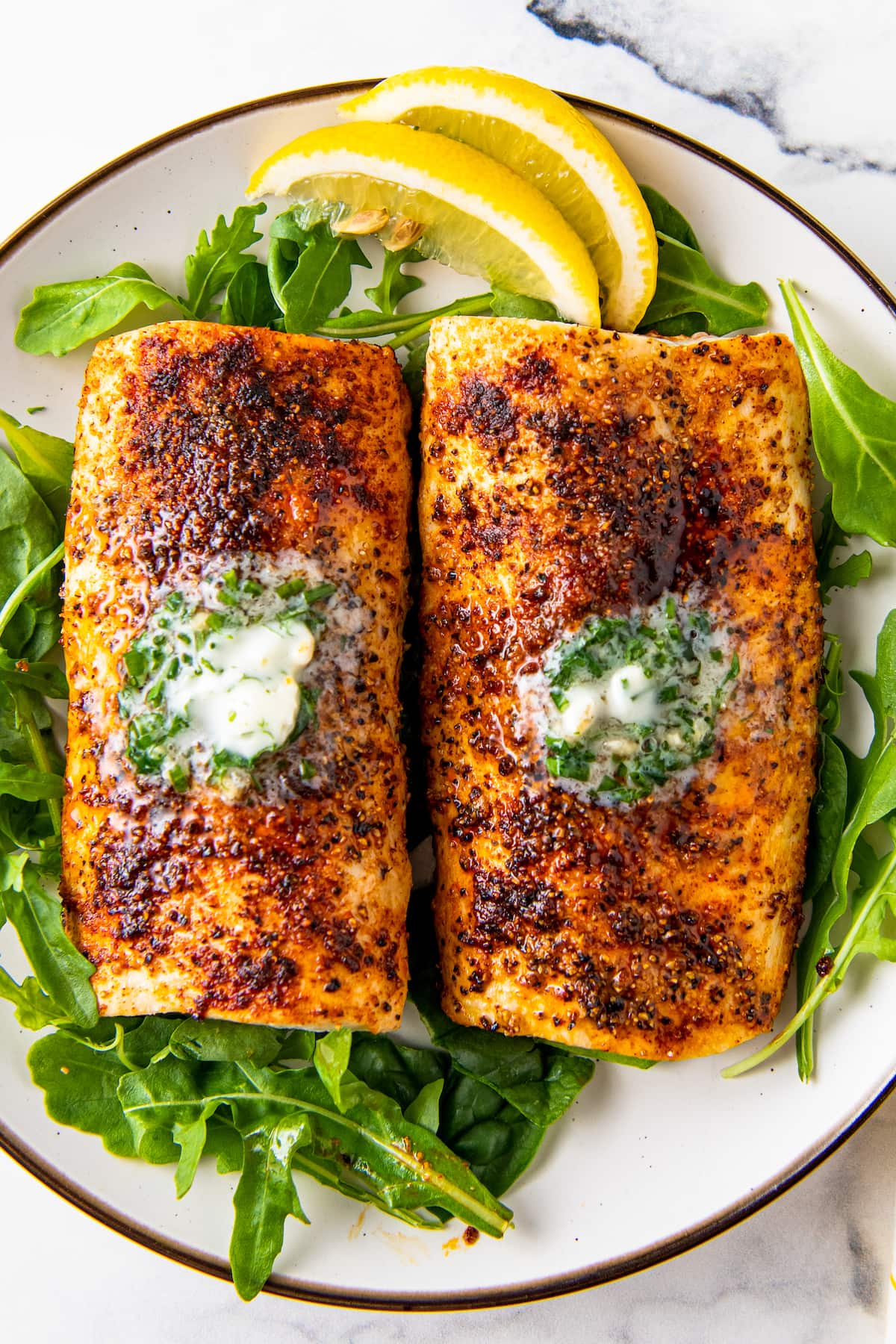 What to Serve with Garlic Butter Fish
Below are some of our favorite things we like to serve with this Air Fryer Mahi Mahi.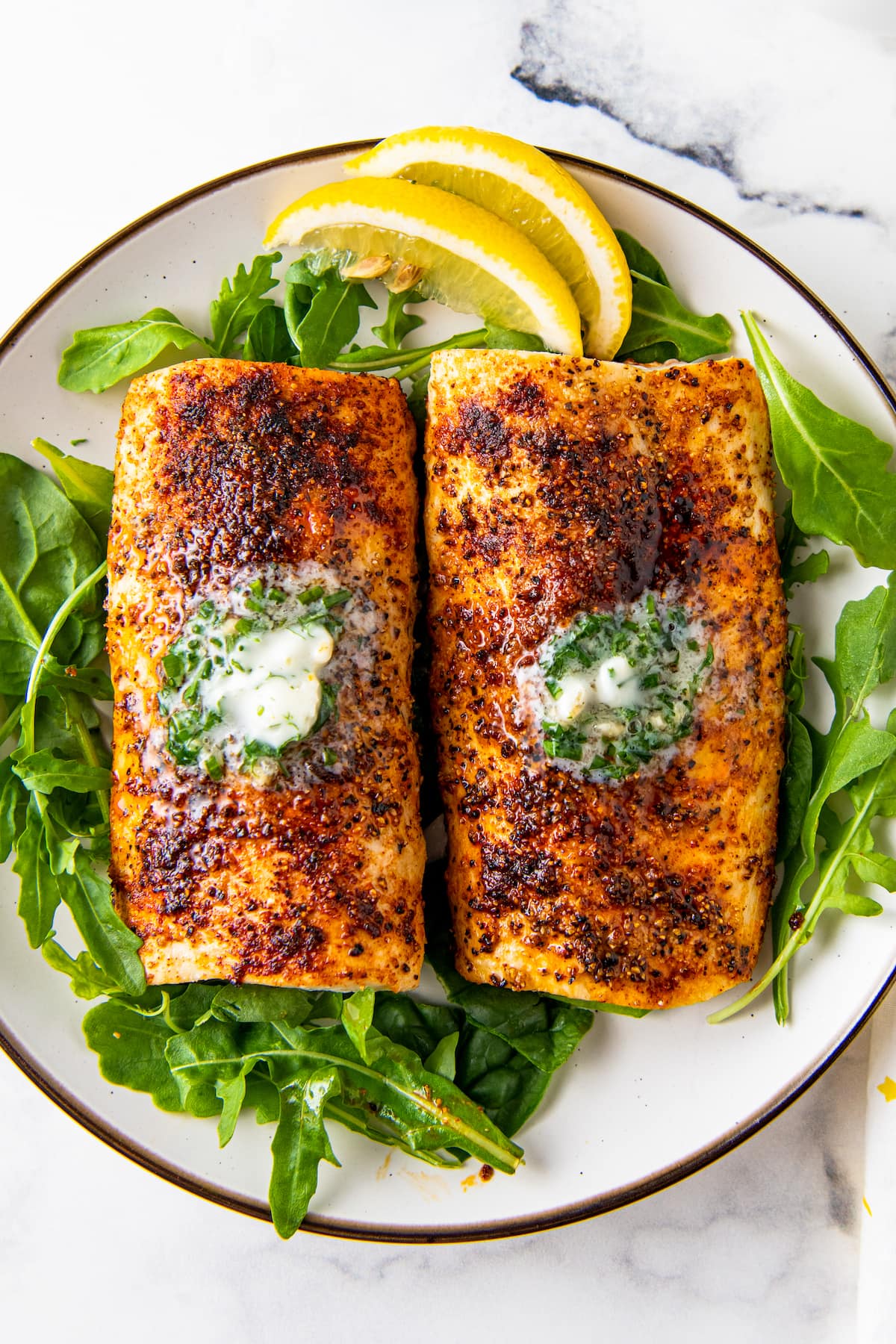 How to Store Leftovers
This Mahi Mahi dish is best eaten immediately but you can store any leftovers for a few days. It's best to store them in an airtight container in the fridge for up to 3 days.
Yield: 2 servings
Air Fryer Mahi Mahi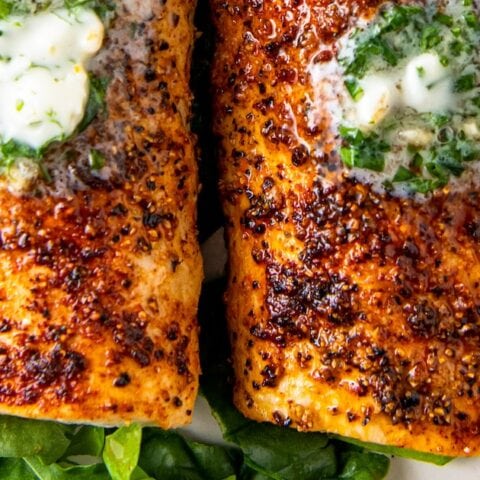 This quick and easy Air Fryer Mahi Mahi only takes 10 minutes to make. The fish is seasoned with garlic, paprika, homemade herb butter, and lemon.
Ingredients
2 wild caught mahi mahi filets (about 1 pound)
1 teaspoon olive oil or avocado oil
1 teaspoon paprika
1 teaspoon granulated garlic
1 teaspoon black pepper
½ teaspoon salt
2 teaspoons lemon juice
2 tablespoons garlic herb butter, divided
Instructions
Preheat air fryer to 375°F.
While air fryer is preheating, rinse and pat dry fish.
Coat filets with olive oil. Cover filets (front and back) with seasonings and place in the air fryer basket.
Cook for 8 to 10 minutes, flipping halfway through, until cooked through and an internal temperature reaches 137°F.
Remove cooked fish from the air fryer basket and place on a plate. Drizzle fresh lemon juice over the fish and top each piece with a tablespoon of butter. Serve immediately!
Notes
Storage: This Mahi Mahi dish is best eaten immediately but you can store any leftovers for a few days. It's best to store them in an airtight container in the fridge for up to 3 days.
Nutrition Information:
Yield:
2
Serving Size:
1
Amount Per Serving:
Calories:

320
Total Fat:

16g
Saturated Fat:

5g
Trans Fat:

0g
Unsaturated Fat:

10g
Cholesterol:

164mg
Sodium:

780mg
Carbohydrates:

4g
Fiber:

1g
Sugar:

0g
Protein:

39g
More Easy Air Fryer Recipes