This homemade blackened seasoning recipe is a spice blend that you can quickly and easily make at home! It's the perfect balance of spicy, smoky, and herby for seasoning almost any kind of meat or seafood.
Why You'll Love This Homemade Blackened Seasoning
We always keep a jar of blackening seasoning on our spice racks. Here's why we know you'll love this smoky spice rub:
Easy to make. One of the best things about homemade spice blends is that they're so easy to make. This recipe only takes 5 minutes, max. All you have to do is mix together the different spices and seasonings!
Better than store-bought. You can buy blackened seasoning at most grocery stores. But this homemade blackening seasoning recipe is so much better. Homemade spice mixes are also free of preservatives or additives. Once you try this recipe, you'll never go back to buying pre-made blackened seasoning!
Save money. Not only is this recipe better than store-bought blackened spice mixes, but it's a lot cheaper, too. Spice blends usually cost a lot more money than plain spices do, and it's much more affordable to just make them yourself. You probably already have all the ingredients needed in your spice cabinet, so this might not cost you a trip to the store!
Adjustable. My favorite thing about making homemade spice blends is that you can adjust the recipe to fit your taste. You can easily change how spicy, smoky, salty, or herby this seasoning mixture is so that it tastes exactly like you want it to.
What Is Blackened Seasoning?
Blackened seasoning is a common spice blend that's made out of herbs and spices. It's not actually black, but it has a lot of dark brown spices in it. The result is that if you season a piece of meat with this spice rub, the sear on the meat will be a very dark color as the spices cook. Blackened seasoning is very commonly used on chicken, shrimp, and fish, and is known for being a little spicy, salty and with a slightly smoky undertone.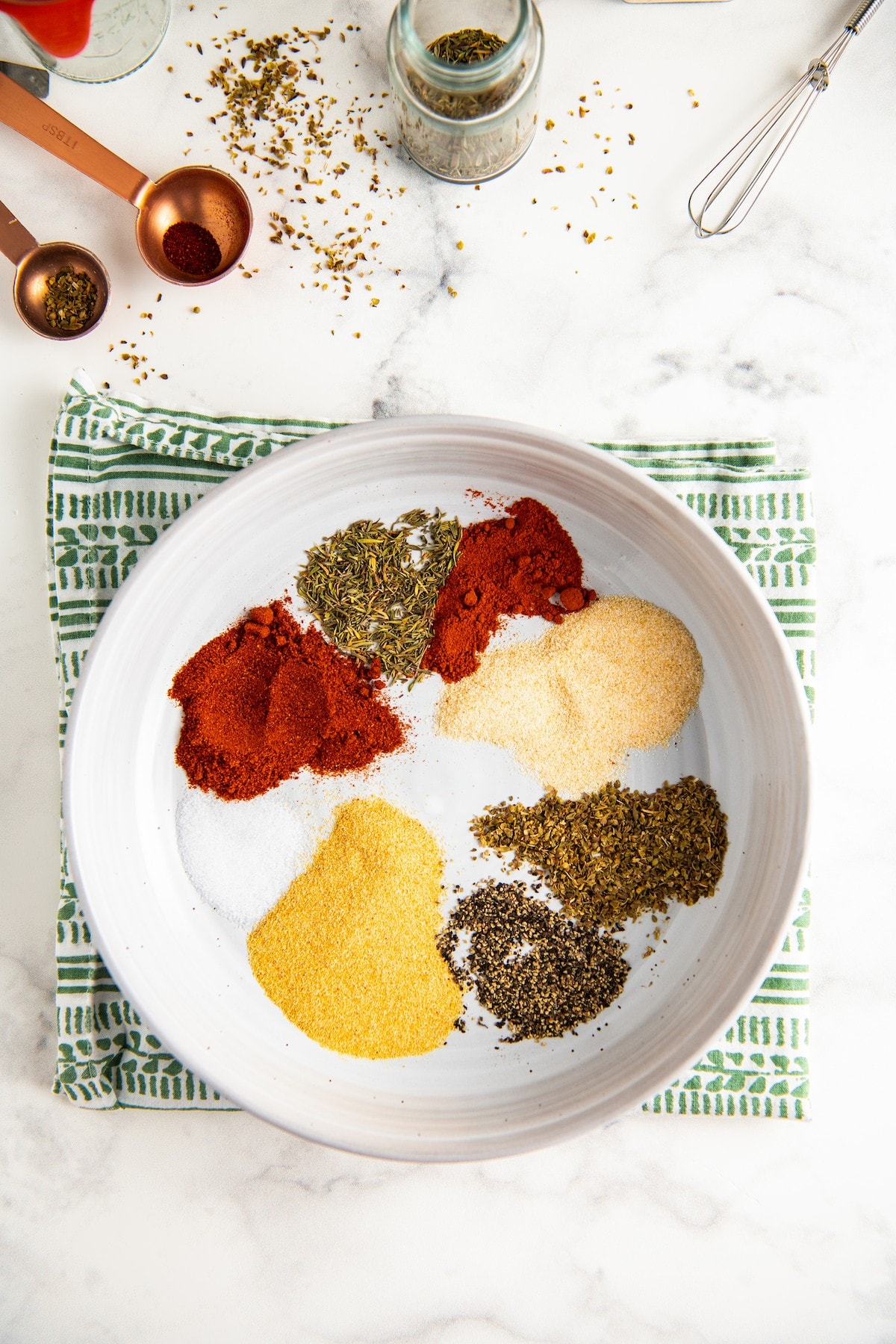 Recipe Ingredients
Here are the ingredients that you'll need to make this delicious blackening spice blend at home. Make sure to scroll to the recipe card at the bottom of the page to see the exact quantity for each ingredient.
Smoked Paprika: If you don't have smoked paprika you can use sweet or hot paprika instead, but the spice rub won't be as smoky.
Onion Powder
Garlic Powder
Cayenne Pepper: You can also add crushed red pepper flakes if you like larger bites of pepper.
Dried Oregano
Dried Thyme
Salt
Black Pepper
How to Make Blackened Seasoning
Here's how to make this smoky spice rub in just a few minutes. It really couldn't be an easier recipe.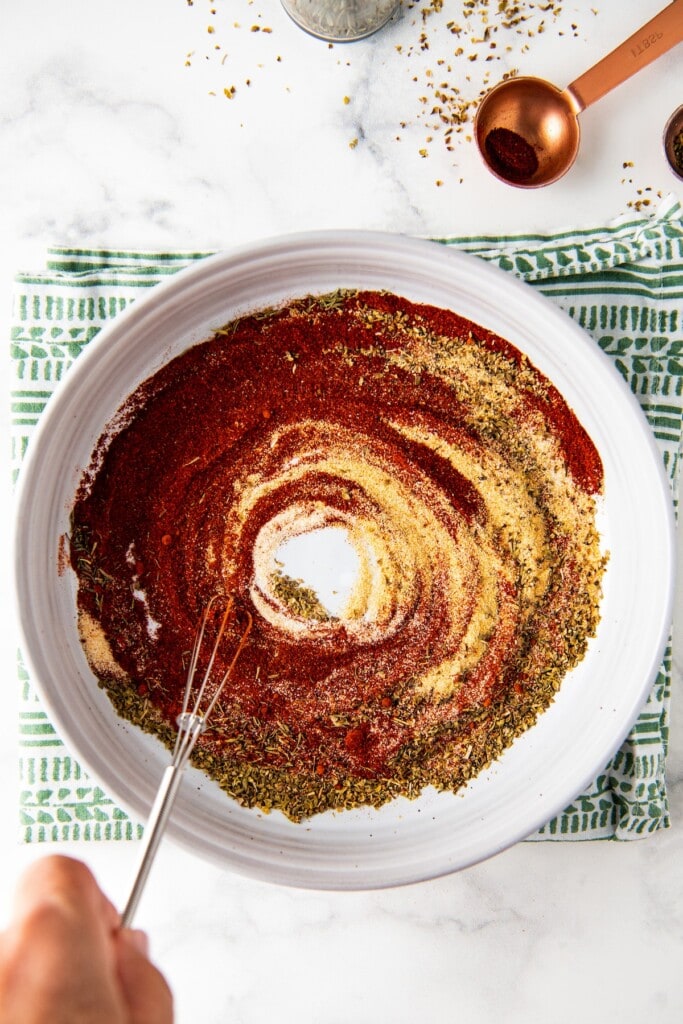 Add the ingredients. Place all of the ingredients in a small bowl. You can also add them directly to a jar if you prefer.
Mix. Use a spoon or whisk to mix all of the spices and herbs together. If you're making the seasoning in a jar, put the lid on and shake it until everything is well mixed.
Store. Put the blackened seasoning in an airtight container and you're all done!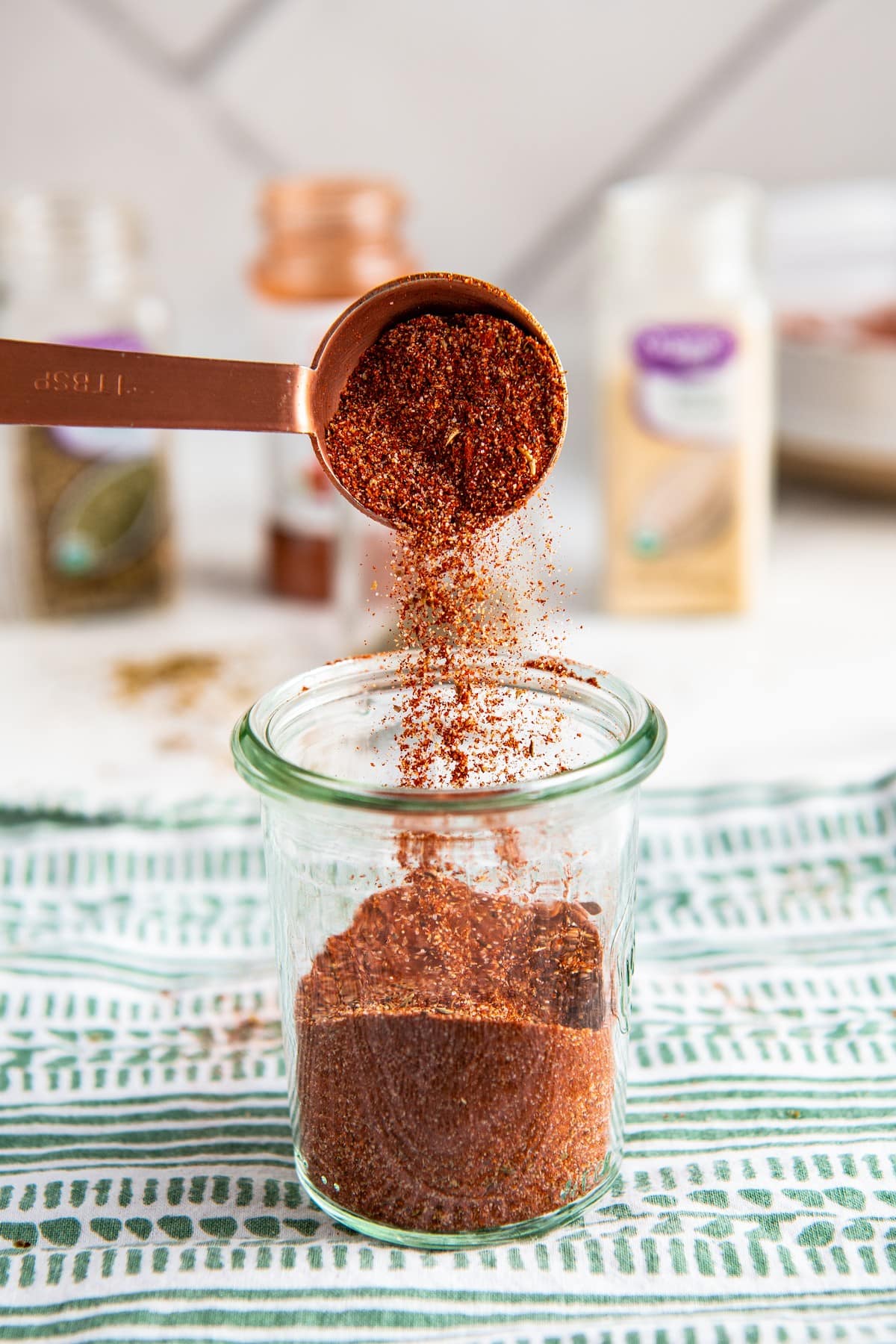 Tips For Success
Here are a few tricks and tips that will help you make the best possible blackened seasoning.
Use fresh ingredients. Dried herbs and spices don't ever expire, but they lose a lot of flavor the older they get. So it's really important to use herbs and spices that have been purchased pretty recently, as they'll make the blackened seasoning much more flavorful.
Adjust the heat. Blackened seasoning isn't supposed to be super spicy, but it is supposed to have a bit of a kick. If you don't have much of a spice tolerance, you can cut back on the cayenne and the black pepper. But make sure to still add at least a little bit of those ingredients, because their flavor is important for the recipe. If you're a fan of spice rubs that have a lot of heat, you can easily bump up the amount of cayenne in the recipe to suit your tastes.
Use freshly-cracked pepper. I always use freshly-cracked black pepper in my recipes. It might seem like it's unimportant when you're making a spice rub since the pepper is going to sit for a while before you eat it. But pepper that you crack at home still has tons more flavor than the kind that comes pre-ground.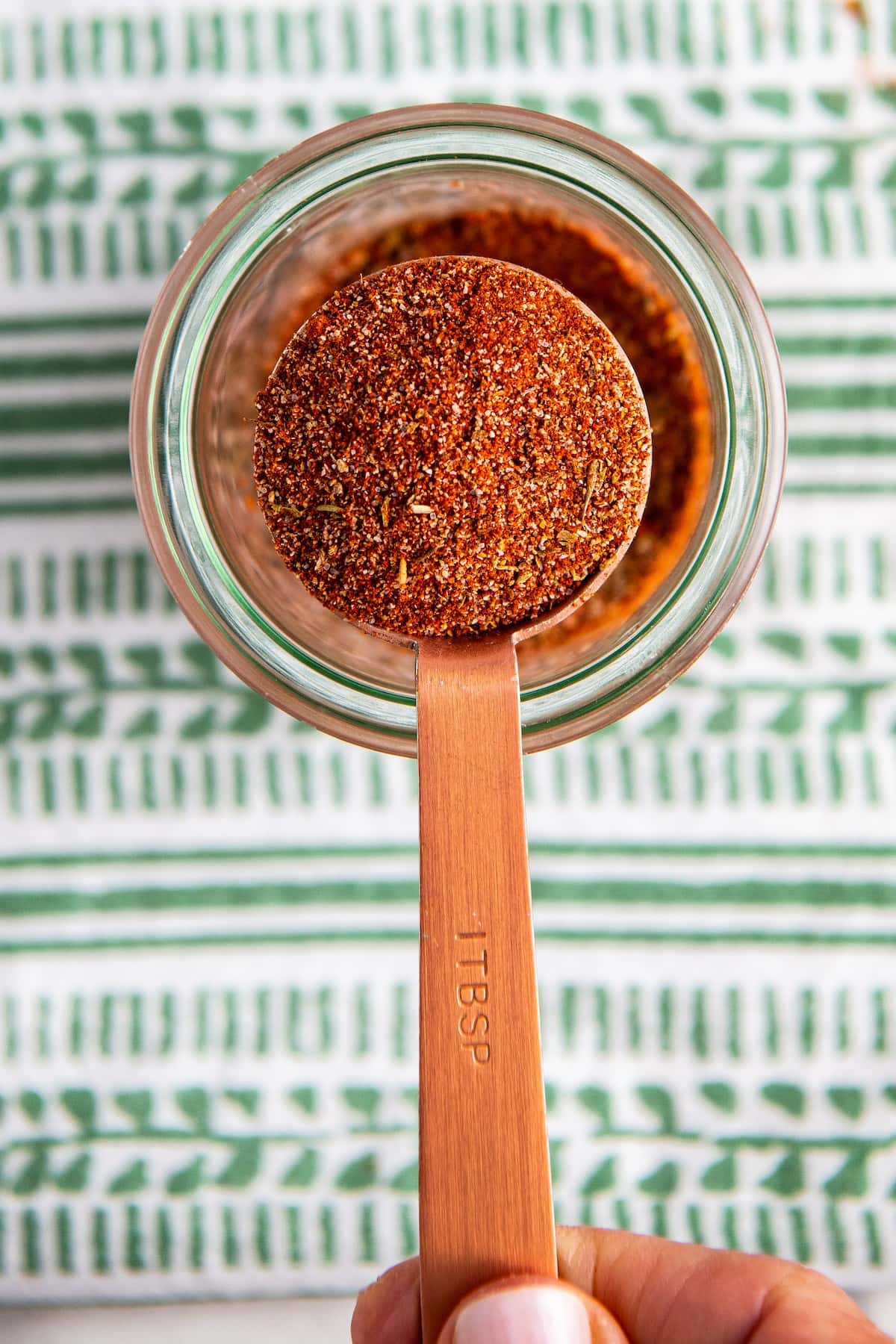 Serving Suggestions
This spice rub is so good on fish, shrimp, chicken, pork, steak, and even potatoes. We put it on pretty much everything! We use it in place of the spice mixture in a lot of my favorite recipes. Here are a few entrees that we love to put blackened seasoning on.
How to Store Homemade Spice Mixes
Store it in an airtight container, out of direct sunlight, and it will last for a year.
More Easy Spice Blends to Make
Blackened Seasoning
Blackened seasoning is smoky, spicy, and the perfect spice rub for chicken, fish, or shrimp. It only takes a few minutes to make, and is so much better than what you'll find at the store.
Ingredients
3

tablespoons

smoked paprika

1

tablespoon

onion powder

1

tablespoon

garlic powder

1

teaspoon

cayenne pepper

1

teaspoon

dried oregano

1

teaspoon

dried thyme

½

teaspoon

salt

½

teaspoon

black pepper
Instructions
Add all of the ingredients to a small bowl.

Stir until the mixture is well combined.

Transfer the blackened seasoning to an airtight jar to store.
Notes
Storage: Store blackened seasoning in an airtight container, out of direct sunlight, for up to a year. Heat: Feel free to adjust the amount of cayenne pepper to make the spice blend less spicy, but don't omit it entirely. It adds a lot of flavor. Fresh: For best results, use herbs and spices that you purchased recently, as they'll lose their flavor the older they get.
Nutrition
Serving:
1
tablespoon
,
Calories:
25
kcal
,
Carbohydrates:
5
g
,
Protein:
1
g
,
Fat:
1
g
,
Saturated Fat:
0.1
g
,
Polyunsaturated Fat:
0.4
g
,
Monounsaturated Fat:
0.1
g
,
Sodium:
238
mg
,
Potassium:
146
mg
,
Fiber:
2
g
,
Sugar:
1
g
,
Vitamin A:
2251
IU
,
Vitamin C:
1
mg
,
Calcium:
28
mg
,
Iron:
1
mg