Our Pork Chop Seasoning is made with simple ingredients, but it's full of tremendous flavor! Smoked paprika blended with garlic, onion powder, and a little thyme makes this pork rub a keeper. It's our go-to for seasoning chops with the perfect blend of spice.
Homemade Seasoning For Pork Chops
This easy homemade Pork Chop Seasoning is the secret to cooking the best pork ribs, pork tenderloin, and of course, pork chops. It'll take you about 2 seconds to make, and then you'll have a flavor-packed spice rub ready to go for any time that you're craving a pork dinner!
There aren't too many ingredients that go into this pork seasoning, but don't let that fool you. The combination of spices and seasonings is PACKED with sweet, savory, spicy, and salty flavor. Smoky paprika combines with woodsy dried thyme and pungent granulated garlic to create a mouthwatering rub that you'll use over and over again.
So, whether you're in the mood for a plate of juicy baked pork chops or tender pork ribs, this pork chop seasoning is here to help! Prepare to be amazed, and to never buy store-bought seasoning blends again!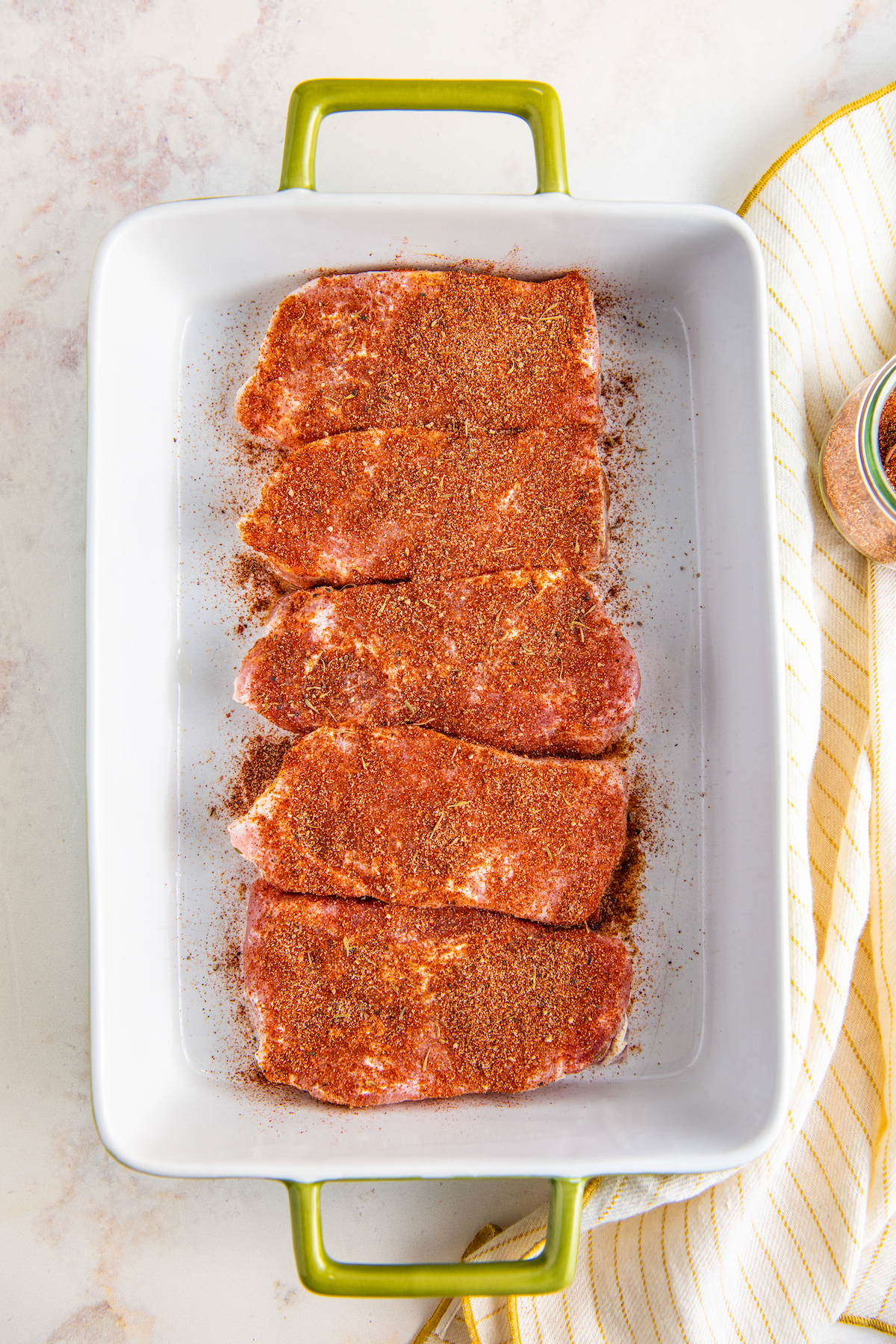 Why You'll Love This Pork Chop Rub
It doesn't matter if it's grilling season, or the middle of winter – this pork dry rub can be used all year long! Here's why we're so obsessed with it:
Fantastic Flavor: Smoked paprika lends the perfect amount of smoky flavor to the rub, while dried thyme brings an herby, sweet flavor. All of this combines with the unique savory blend of onion powder, granulated garlic, and celery salt. You've just got to taste the final product to understand how delicious it is!
Healthy: When you make a seasoning yourself, you know exactly what goes into it. In other words, there's no need to worry about unnatural ingredients, preservatives, MSG, super high sodium content, etc. You get to taste as you go, and tailor the blend to fit your preferences exactly.
Timesaver: Making this pork rub ahead can save you a lot of time later on! Double this recipe to keep extra seasoning on hand in case you're ever in need of a quick but ultra-flavorful pork dinner on a busy weeknight.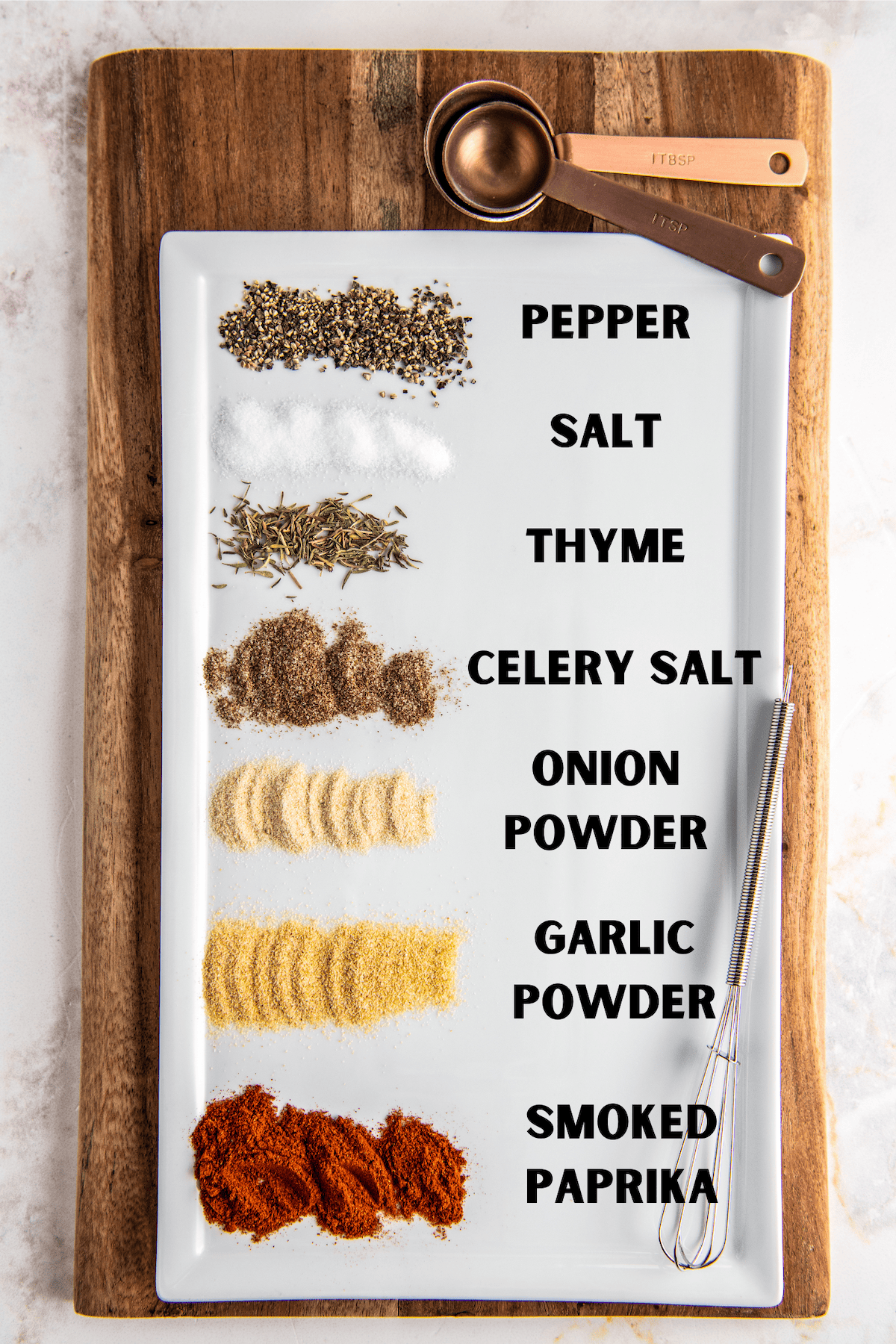 What You'll Need
Short and simple is the name of the game when it comes to the ingredients list for this pork rub. Here's what you'll need to round up. (If you're looking for specific amounts, scroll on down to the recipe card below.)
Smoked Paprika: Regular or sweet paprika can be used as a substitute, but you won't get the same deep, smoky flavor.
Onion Powder: Granulated onion can also be used here. Note, though, that you'll want to use a slightly larger amount because the flavor is more concentrated in onion powder, which is more finely ground.
Granulated Garlic: The same logic from above applies if you want to use garlic powder instead of granulated garlic, just in reverse. (I.e. you would want to use less this time because the flavor is more concentrated, etc.)
Celery Salt: This seasoned salt is kind of peppery, adding a unique savory element to the rub. If you don't have celery salt on hand, you can use garlic salt in it's place.
Dried Thyme: This adds an earthy, somewhat sweet flavor to the seasoning.
Salt and Pepper: You can use sea salt, kosher salt, table salt – whatever you have on hand is fine! We also recommend using freshly ground black pepper if possible.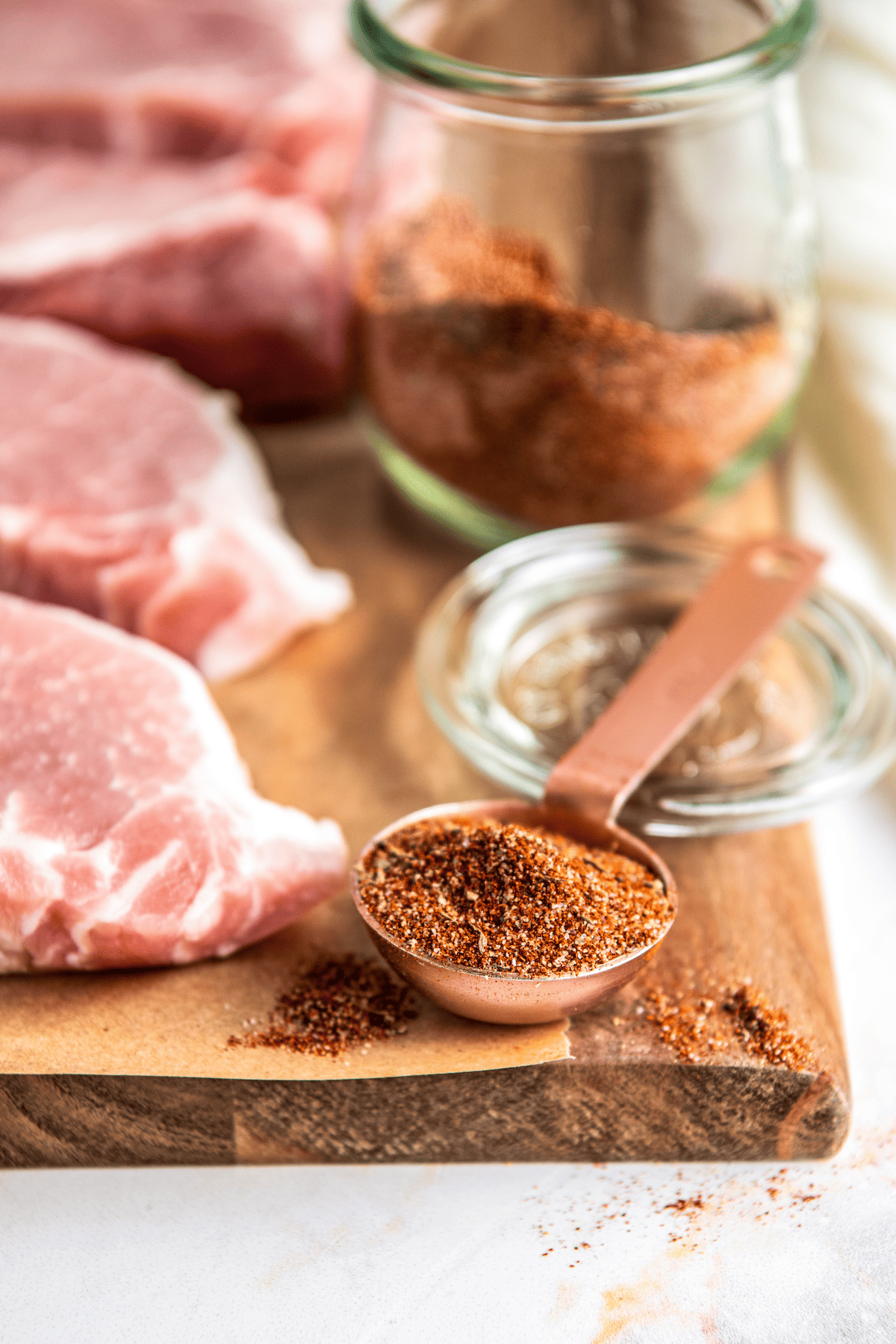 How to Make Pork Chop Seasoning
This might just be the easiest step-by-step guide to making a recipe, ever. All you're going to need today to prepare this pork chop seasoning is something to mix with!
Combine the Ingredients: Add all of the ingredients into a small bowl or mason jar and mix well.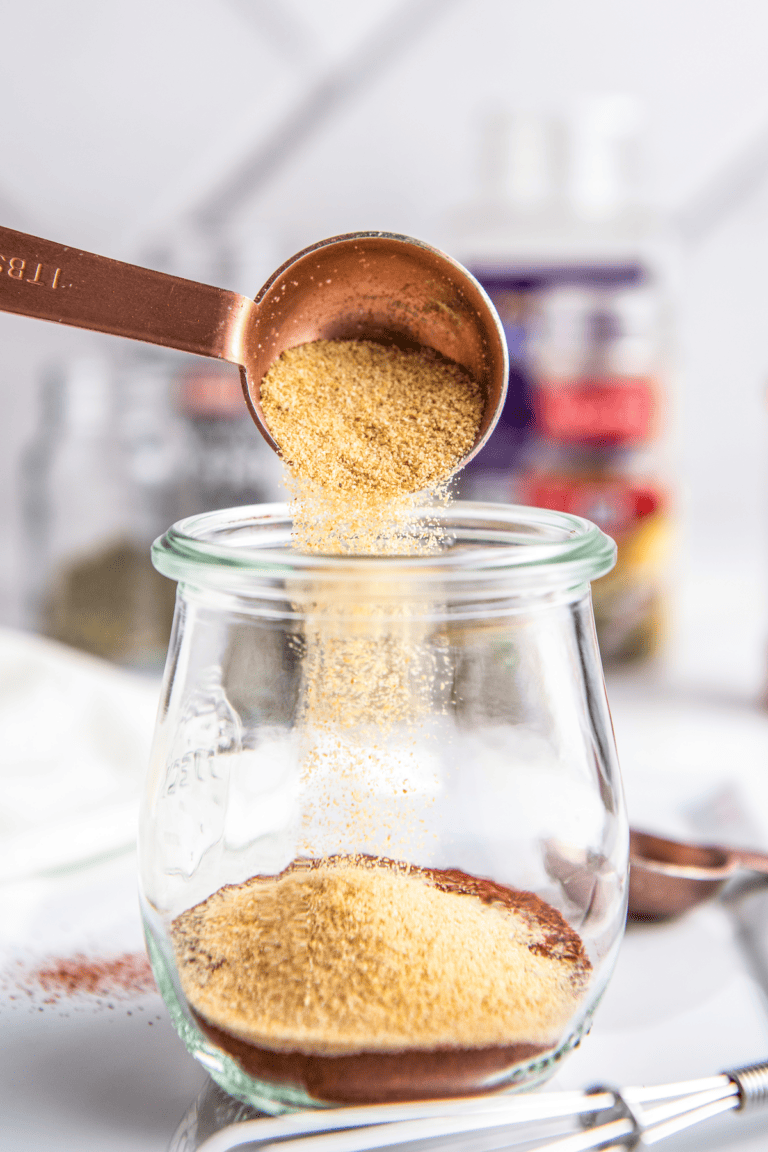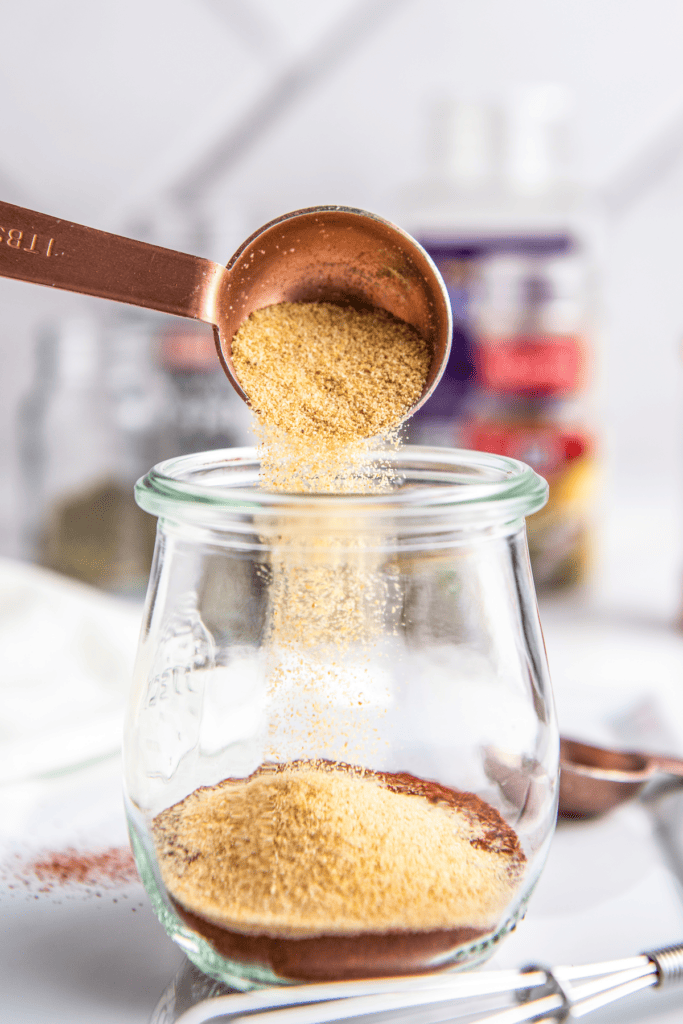 Tips & Recipe Variations
If you'd like to play around with the flavors in this pork chop rub, we have a couple of suggestions for you! Here are some tips and possible substitutions:
To Add Extra Spice: Sprinkle in a little cayenne pepper for a bit of heat…or a lot for an extra spicy rub. For a milder bite of heat, you can also add a hearty pinch of crushed red pepper flakes.
Substitutes For Thyme: Feel free to switch out the dried thyme for dried rosemary or dried sage. If you have fresh thyme on hand and will be using your pork chop seasoning blend immediately, feel free to use it instead. You will need 3x the amount of fresh thyme that the recipe calls for as dried thyme is much more potent.
For a No Sodium or Low Sodium Diet: You can omit the salt completely or use a salt substitute, either way works.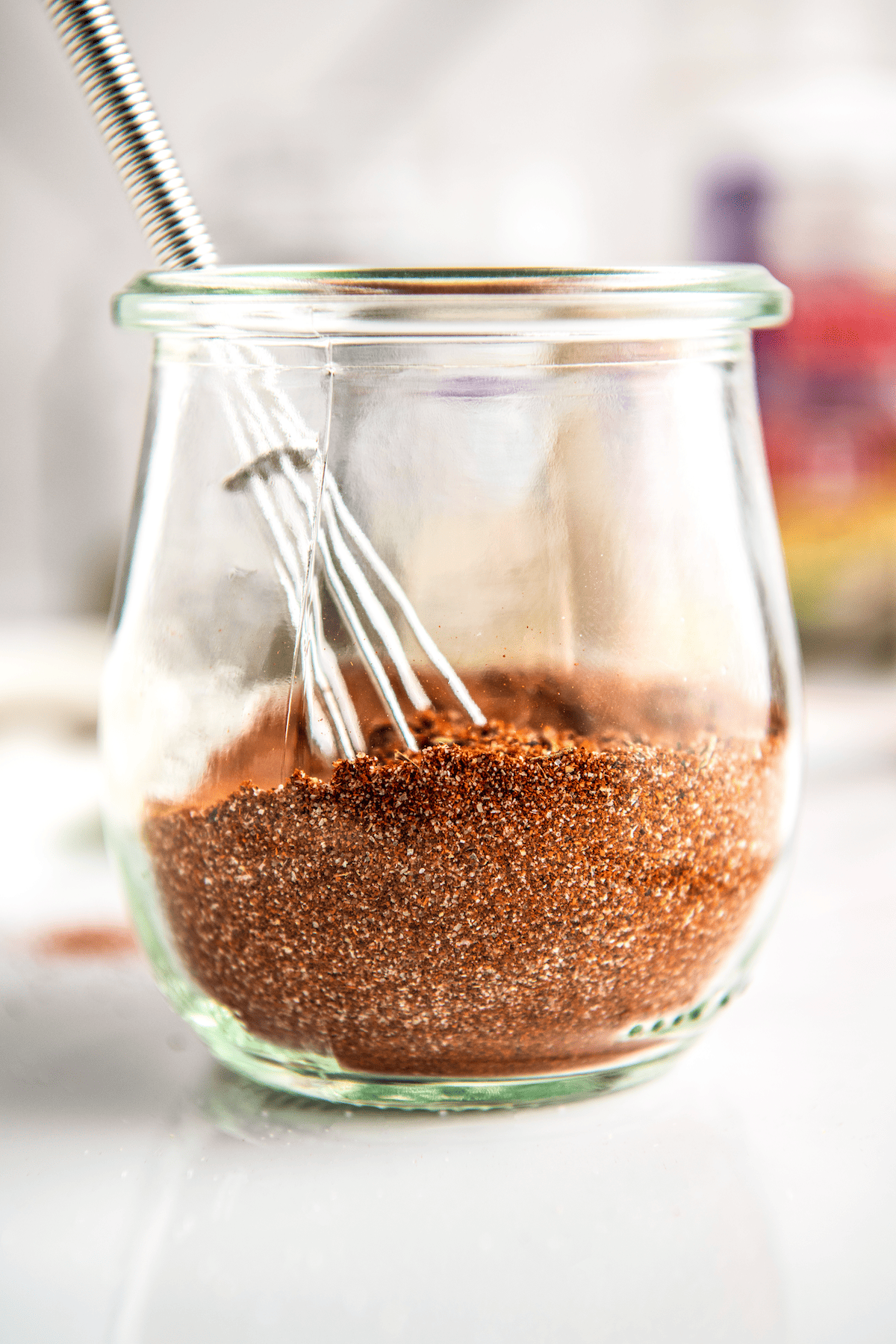 Frequently Asked Questions
What seasonings go best with pork?
There are so many choices! Smoked paprika, for example, is often used on pork because it lends a mild smokiness to the meat without being overwhelming. Other popular choices include cumin, garlic powder, thyme, chili powder, brown sugar, salt, and pepper.
How do I apply a pork rub?
All you need to do is gently but firmly rub the seasoning onto both sides of each piece of pork. Let the pork sit for about 20 minutes after that so it can absorb the seasoning, and then you should be all set to start cooking.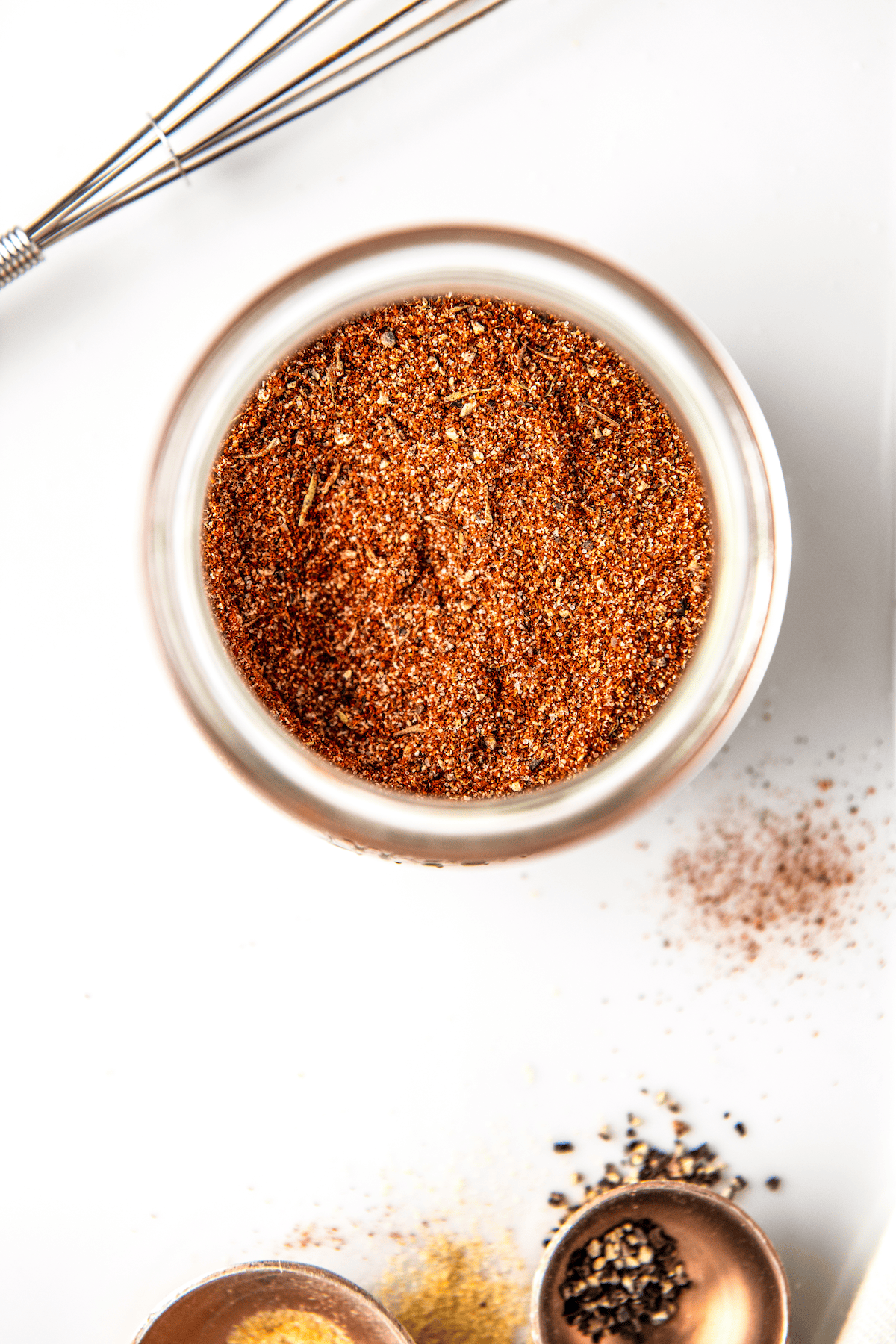 How to Use Pork Chop Seasoning
Other than the obvious, what's the best way to use this pork chop seasoning? A great question! Here are some quick thoughts:
On Pork Chops: Baked pork chops (or these Air Fryer Pork Chops!) are a quick, easy weeknight dinner that the whole family will love! They're a great choice for this seasoning.
On Other Pork Dinners: You can use this blend on pork tenderloin, pork ribs (like our favorite easy Crockpot Country Style Ribs), pork shoulder, pork roast, Pan Fried Pork Chops… just pick your favorite pork dinner!
On Other Meat: If you want, you could experiment with this seasoning on chicken. These Air Fryer Chicken Thighs would be a great recipe to test it out on.
How to Store
The best way to preserve your spice rub is to store it in a sealed airtight container on the pantry shelf, or in a place where sunlight does not reach it. It should keep well for up to 3 months, after which point the boldness of the flavors may diminish.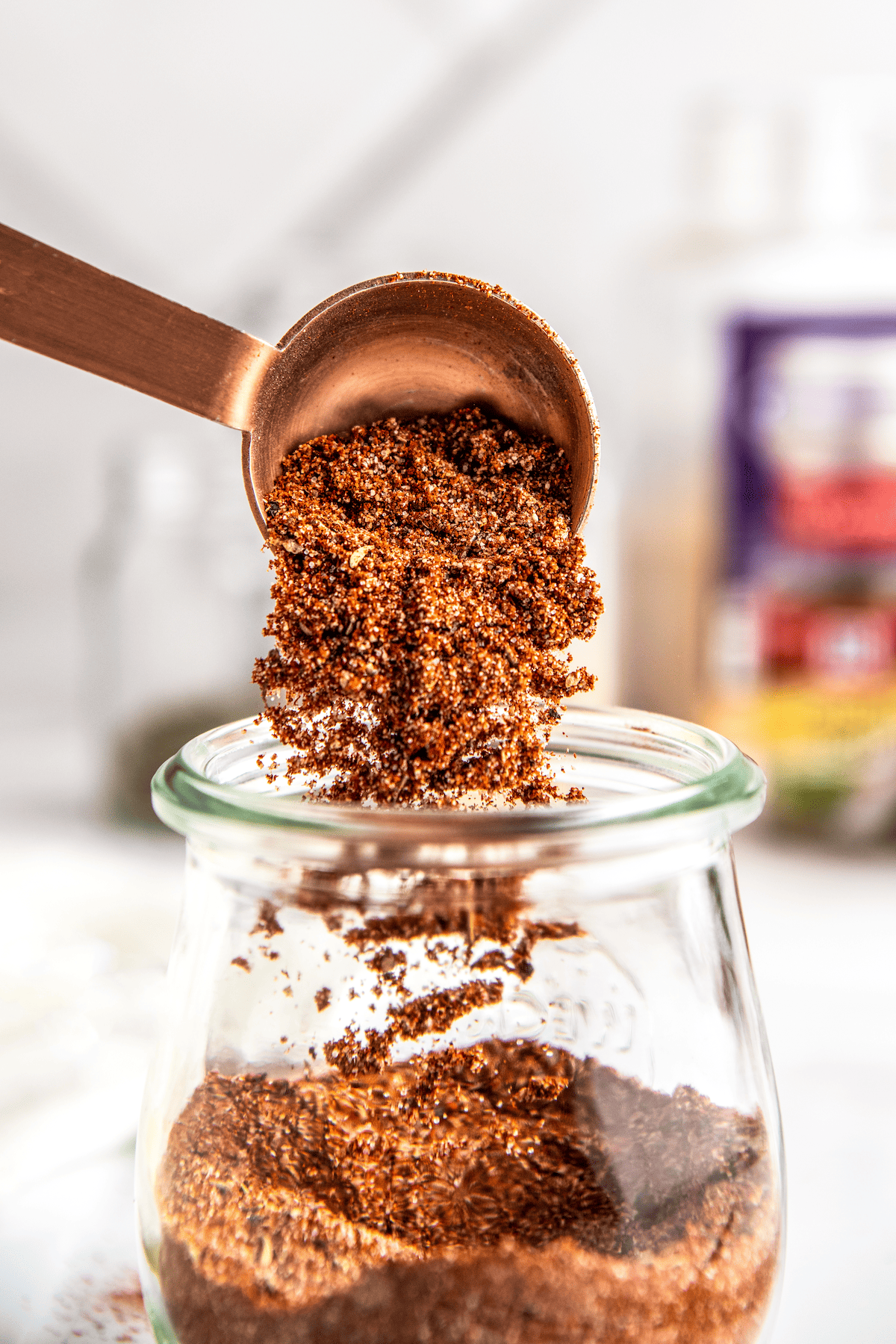 More Homemade Seasoning Recipes
Ready to make some more easy homemade seasonings and spice rubs from the comfort of your own kitchen? Try these ones!
Pork Chop Seasoning Recipe
This homemade pork chop seasoning can be used on pork chops, pork tenderloin, pork ribs, and more! It's made with spicy paprika, sweet thyme, garlic, onion powder, and more.
Ingredients
3

tablespoons

smoked paprika

1

tablespoon

granulated garlic

1

tablespoon

onion powder

1

teaspoon

celery salt

1

teaspoon

dried thyme

1

teaspoon

salt

1

teaspoon

pepper
Instructions
Add all the ingredients into a small bowl or mason jar and mix well.
Notes
To Store: The best way to preserve your spice rub is to store it in a sealed airtight container on the pantry shelf, or in a place where sunlight does not reach it. It should keep well for up to 3 months, after which point the boldness of the flavors may diminish.
Nutrition
Serving:
1
,
Calories:
21
kcal
,
Carbohydrates:
4
g
,
Protein:
1
g
,
Fat:
1
g
,
Sodium:
561
mg
,
Fiber:
2
g