This Cajun-inspired Shrimp and Grits recipe is cheesy, rich, and full of flavor from seasoned shrimp, crispy bacon, and cooked vegetables. It's the ultimate Southern comfort food ready in 30 minutes!
The Best Shrimp and Grits Recipe
This Shrimp and Grits recipe is one of those recipes that you're going to dream about. Every bite is perfect. And when we say perfect, we mean that every bite has it all – cheese, creaminess, bacon, sweet bell peppers, tender onions, and, of course, delicious shrimp!
It's a recipe that we have been making in our kitchens for years and we never get sick of it. Every time we make it brings back memories and warms our hearts (and our bellies!). It's a recipe that will easily earn its way to the top of your favorite Cajun recipes list.
Another perk about this recipe is that it's so easy to make. The depth of flavor is incredible but that doesn't mean that the dish took hours to prepare. This recipe is ready in just 30 minutes. So grab your shopping list, because you're going to want to make this tonight!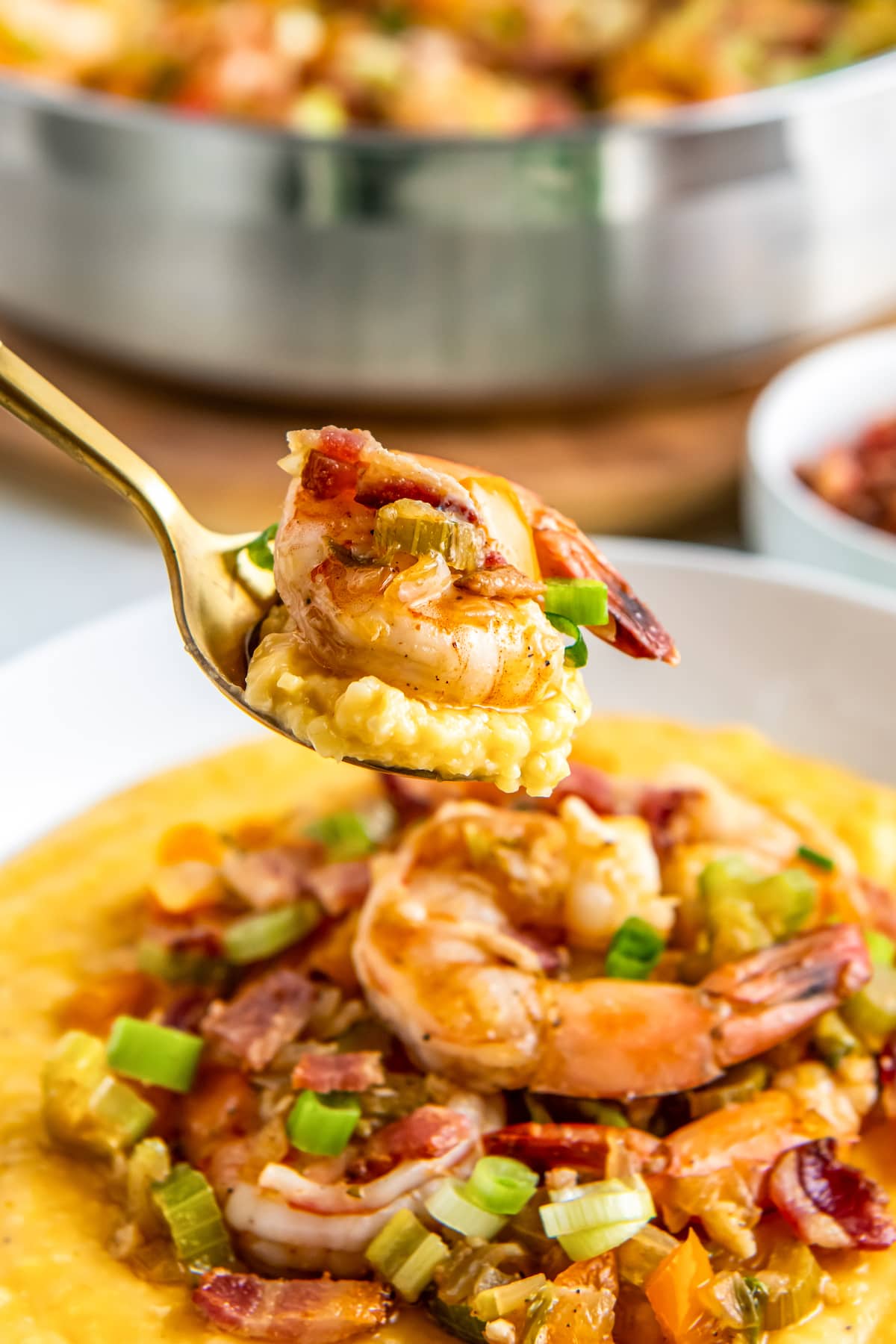 Why You'll Love This Recipe
There are many reasons why you're going to rave about this recipe. Here are just a few!
It's something different! Sometimes we want something a little different for dinner, but we don't want it to be too hard to make. This is the perfect recipe to make when you're craving tons of flavor, and a little decadence, and when you don't have a lot of time to spare.
Affordable restaurant-quality entree. Shrimp is a fairly affordable seafood and all you need is 1 pound for this recipe. The rest of the ingredients are also cheap and easy to find at the grocery store.
It's kid-friendly. Our kids love shrimp and they really love this dish. This Shrimp and Grits recipe will win over any kid who has a taste for seafood.
Quick Recipe! Shrimp and grits sounds, tastes and looks like you put in a lot of time and effort, but this recipe only takes 30 minutes!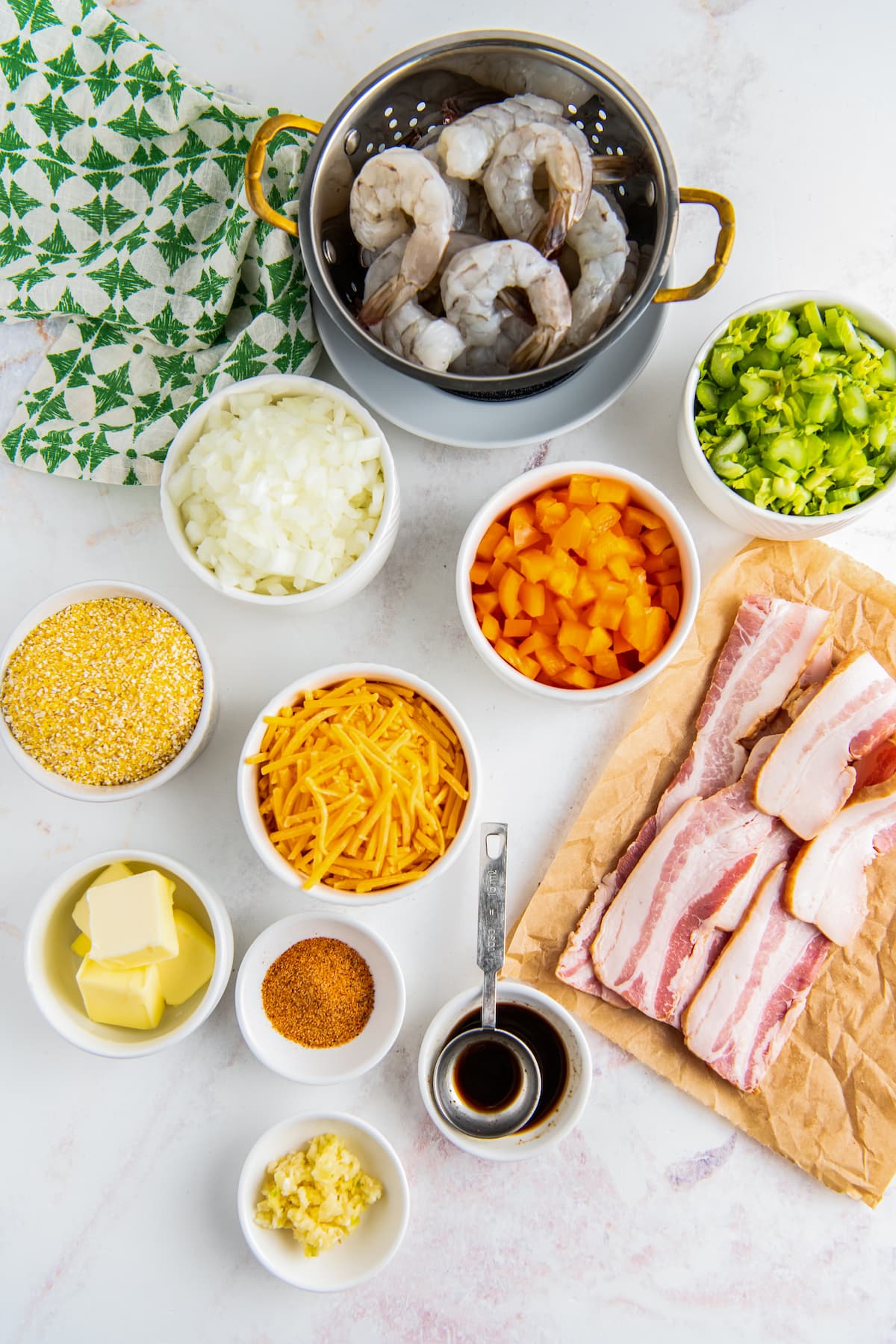 Recipe Ingredients
Here's what you need to make this recipe for Shrimp and Grits. You'll be making the recipe in two different components.
Grits
Water: For cooking the grits.
Grits: We like to use white or yellow stone ground grits, but any type of grits will work. You can even use quick-cooking grits if you prefer.
Butter: If using salted butter, cut back on the salt when you season. Always taste test to be sure it's to your liking!
Cheddar Cheese: We love the sharp flavor that cheddar brings to the grits!
Salt and Pepper
Shrimp
Bacon: Thick-cut strips work great, but you can use whatever you have.
Yellow Onion: You can also use a white onion or sweet onion.
Bell Pepper: Sweet bell peppers like red and orange work great for this recipe, but you can also use the classic green bell pepper for a more pungent flavor.
Celery: We love this diced veggie in the shrimp in grits because it adds some texture and mellow flavor to balance the intensity of the rest of the ingredients. Celery is also part of the "Holy Trinity" (onion, celery and bell pepper), an important flavor component of most Cajun recipes.
Large Shrimp: Peeled and deveined. You can leave the tail on or off, it's up to you.
Garlic: Fresh garlic is best for this recipe.
Worcestershire Sauce: This adds some smokey salt flavor to the dish, with a tiny bit of sweetness.
Cajun Seasoning: We have a great Homemade Cajun Seasoning recipe that you can use!
Green Onion: An optional garnish (we highly recommend it because it adds color and a last bit of fresh flavor!)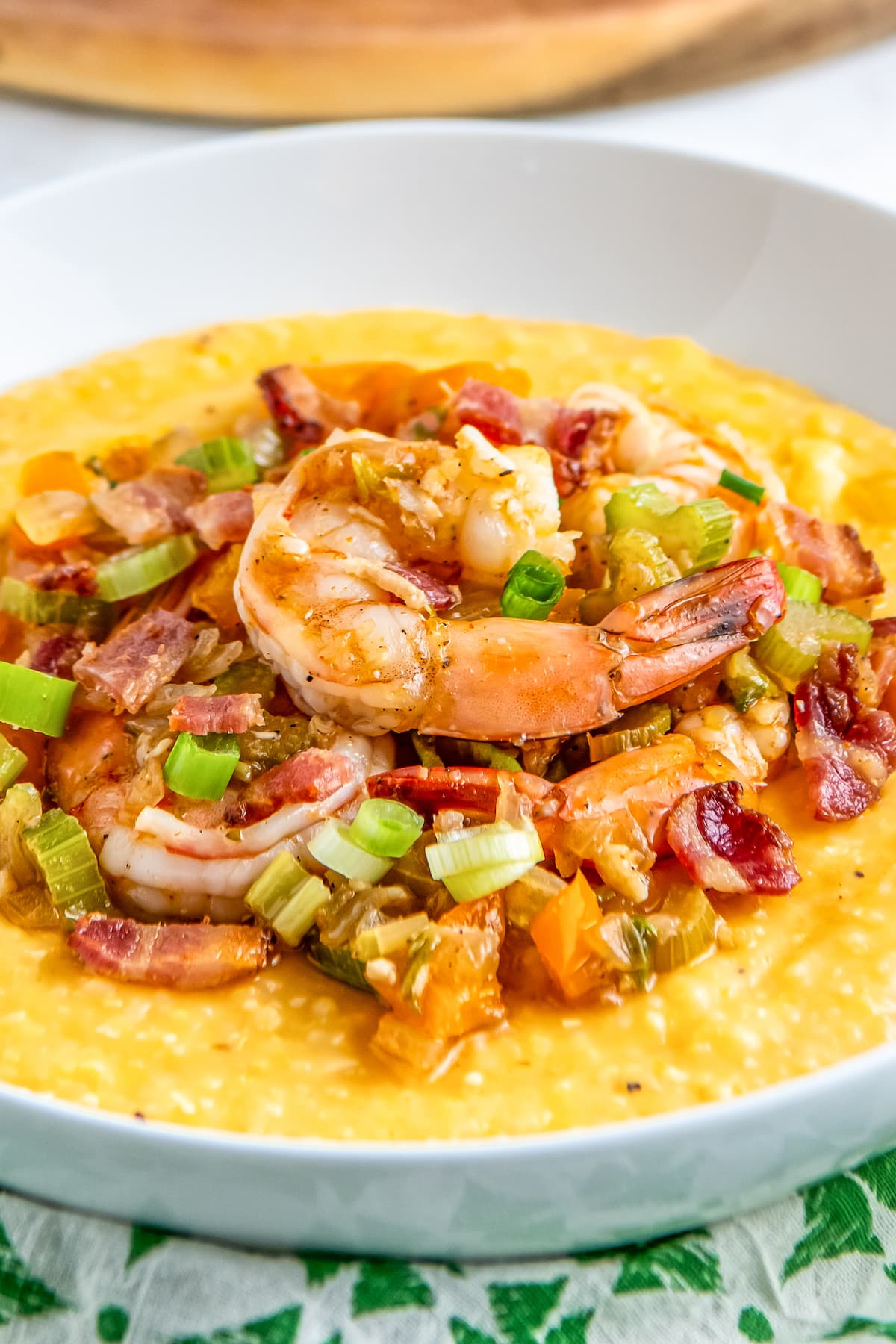 How to Make Cajun Shrimp and Grits
You'll be enjoying one of the most delicious plates ever in no time at all! Here's how to make our Shrimp and Grits recipe.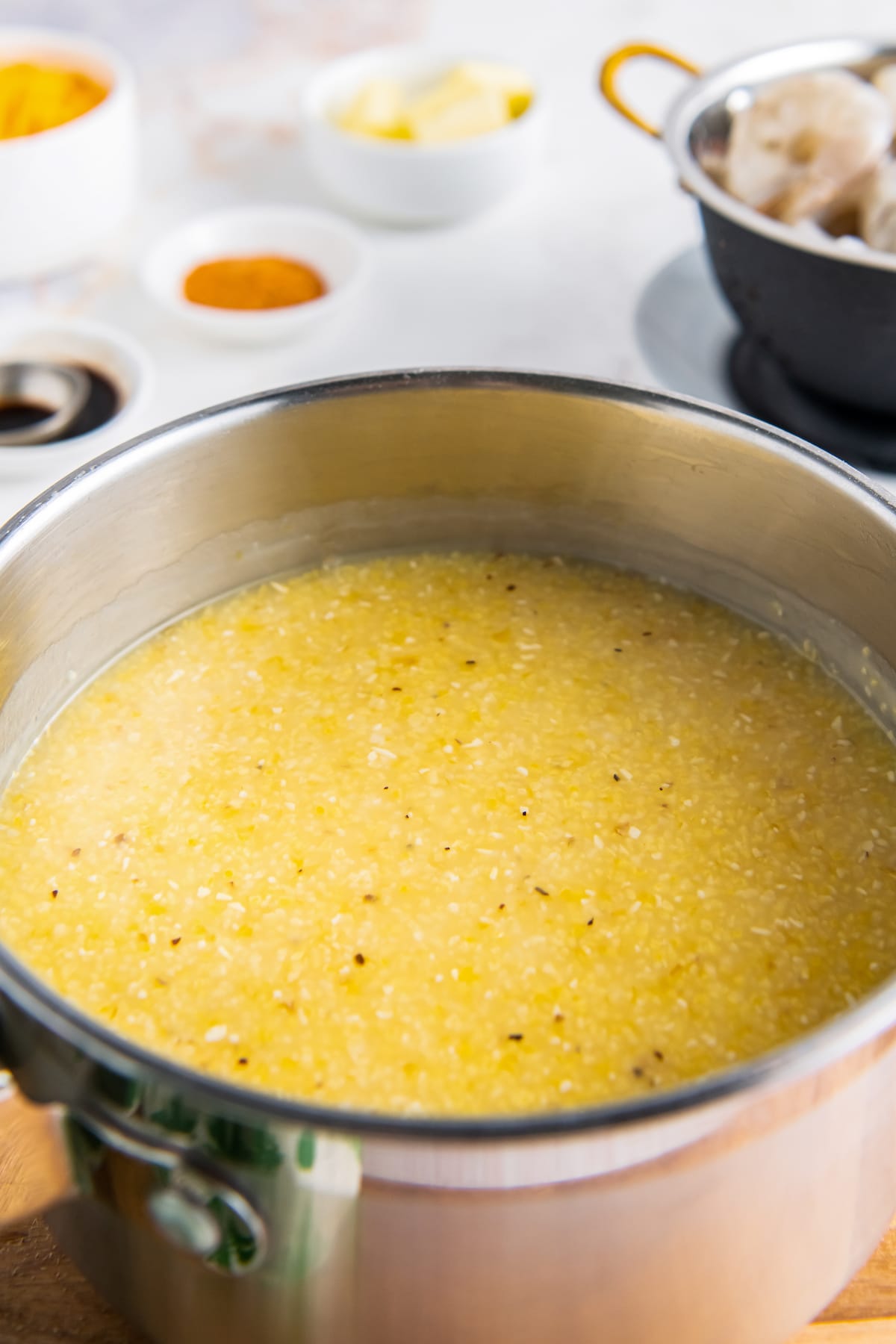 First, start to make the grits. Bring the water to a boil in a sauce pot. Add the grits and butter and then stir until the water boils again.
Cover and let the grits cook. You can stir it often until it reaches your desired consistency. If you feel like too much water has been absorbed, you can add more until the grits are cooked.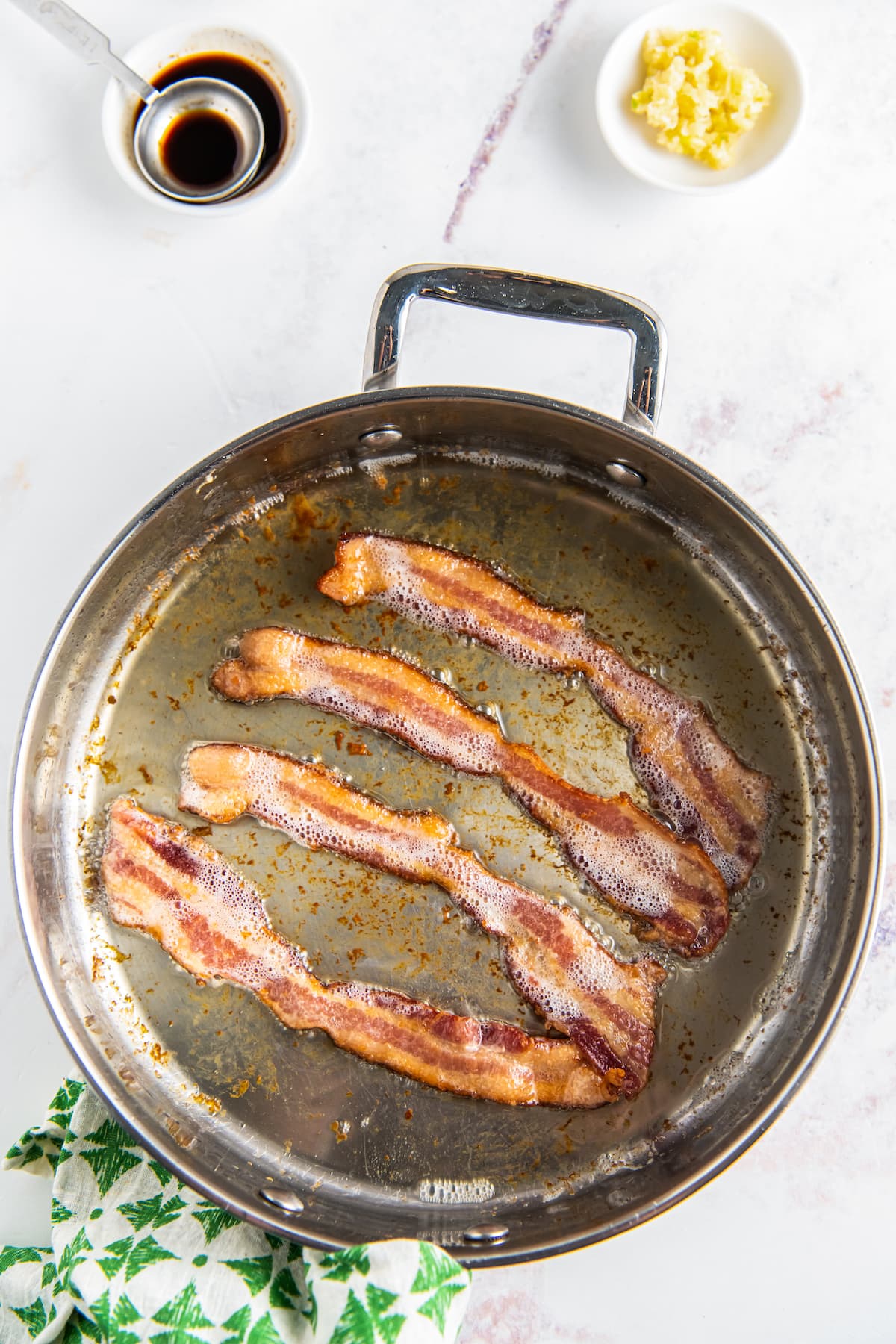 While the grits are cooking you can start to cook the bacon. Once it's cooked, remove it from the pan and chop it up. Be sure to reserve some of the bacon fat for cooking the vegetables.
Then add the onions, peppers, and celery. Cook the vegetables until they are softened (about 5 minutes).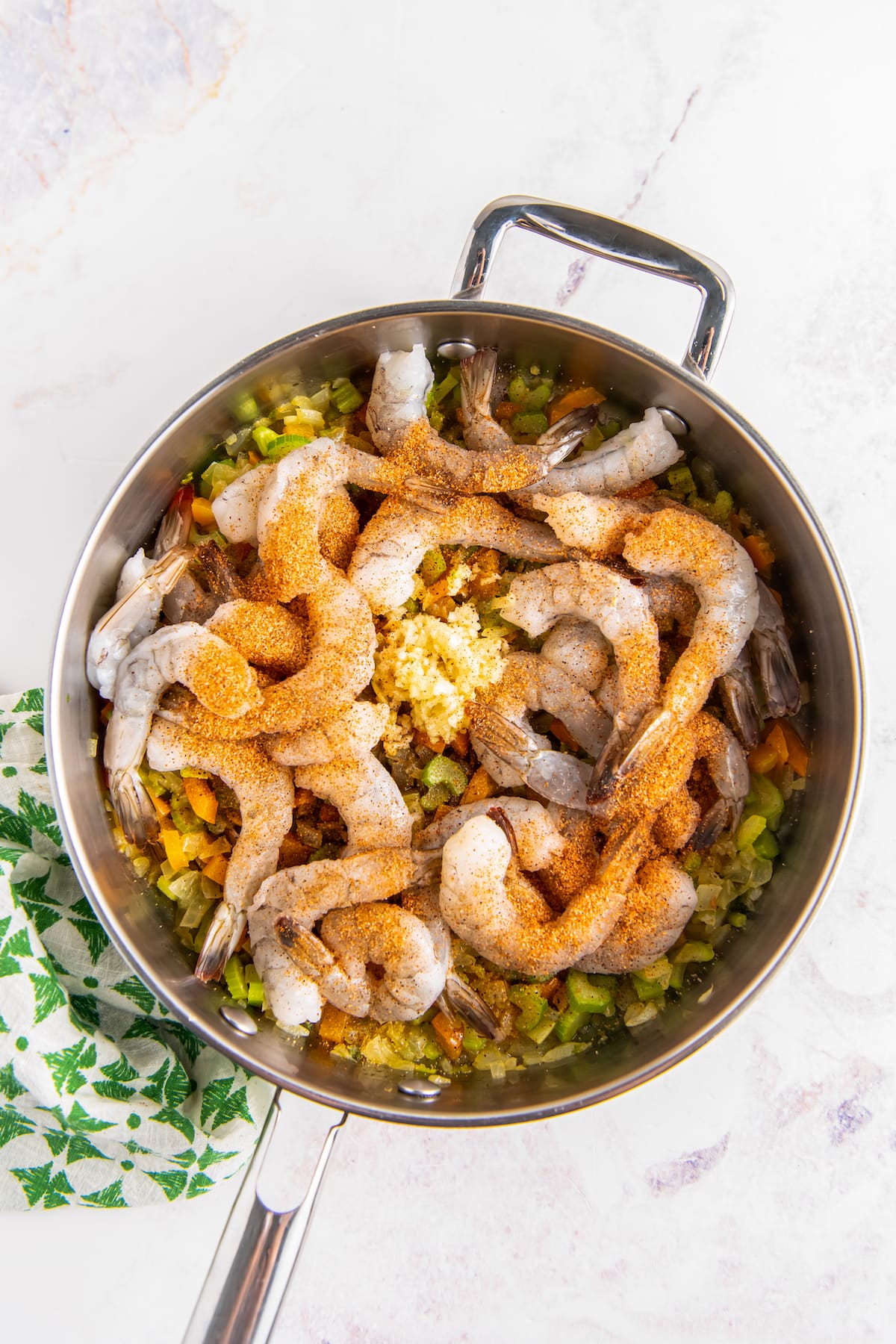 When the grits are almost done, you can add the shrimp to the vegetables. Add the shrimp, Worcestershire sauce, Cajun seasoning, and garlic. Stir together and cook the shrimp until it's pink and starts to curl into a "C" shape.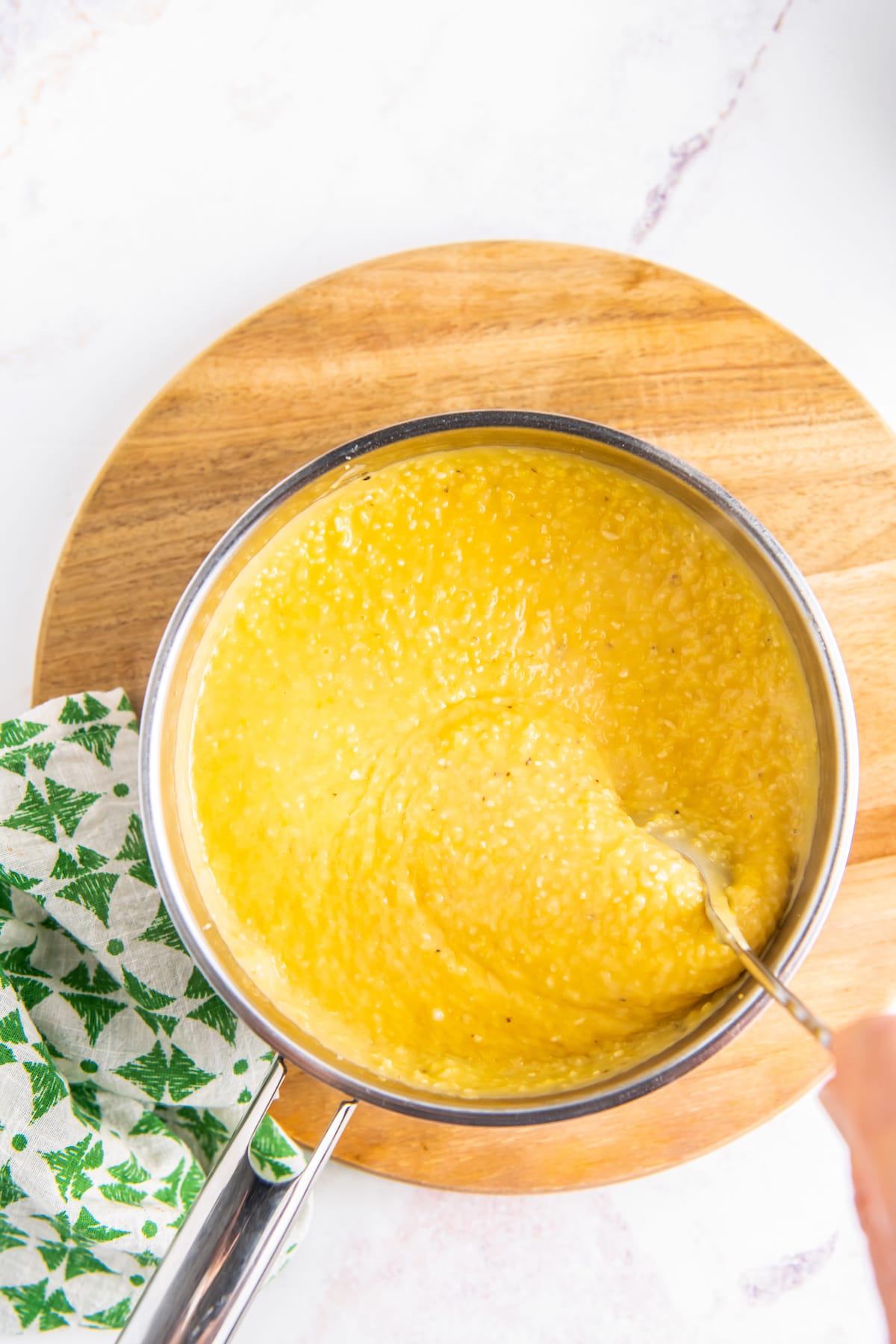 Then check on the grits. When they are ready, add more butter and cheese. Stir and then check for seasoning. You can then add more salt and pepper if you'd like.
Plate a small portion of the grits. And then add the shrimp mixture on top. Now your Shrimp and Grits is ready to be served! Garnish with sliced green onions for extra color and flavor.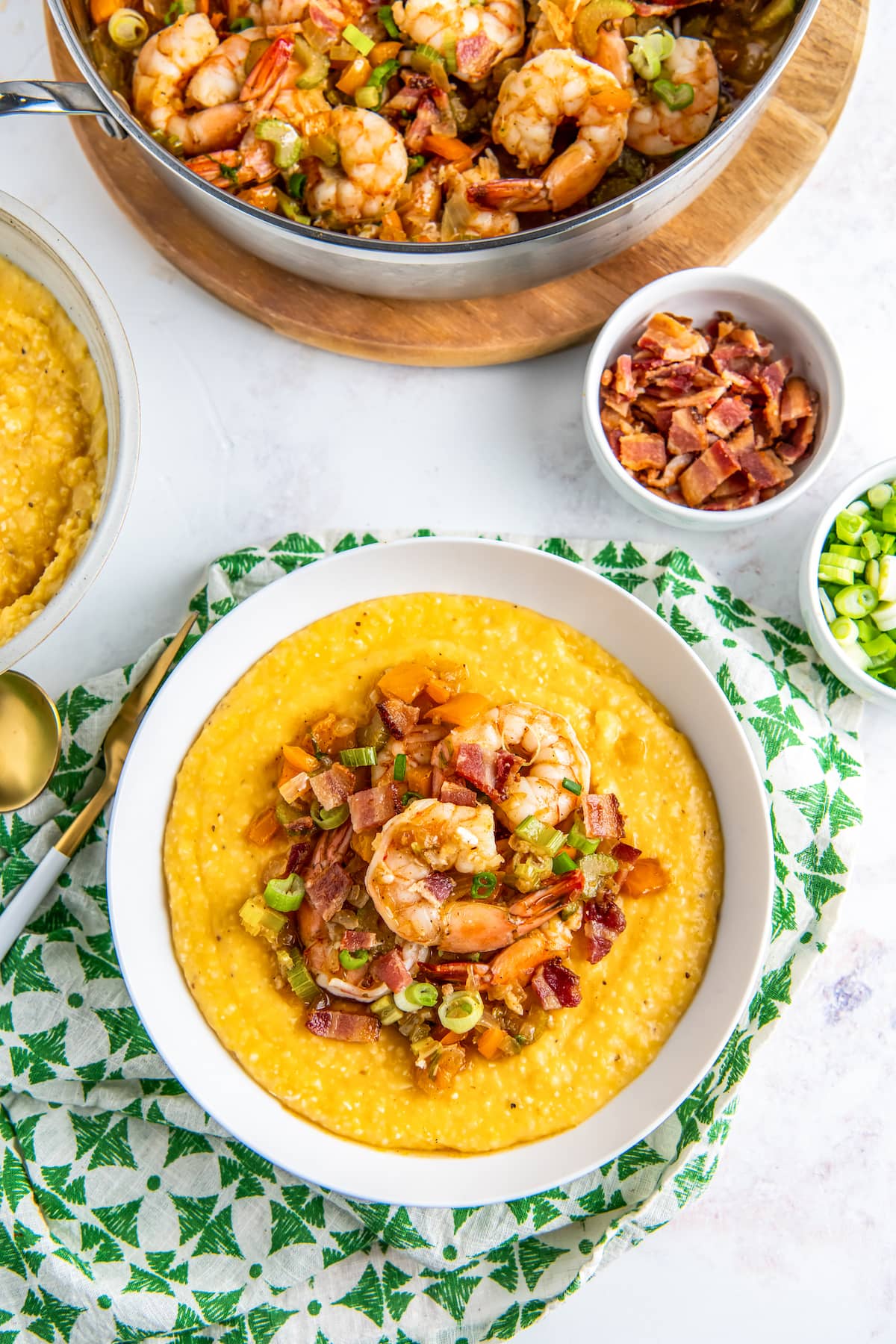 Helpful Tips
You can easily become a pro at making Shrimp and Grits at home if you follow these helpful tips.
Bacon is optional. Bacon is optional, but the bacon grease gives the shrimp an extra depth of flavor. If you want to skip the bacon, you can use 2 to 3 tablespoons of olive oil or butter in place of the bacon grease.
Don't overcook your shrimp. It's super easy to overcook shrimp and they will become rubbery quickly. Watch your shrimp closely and remove them from the heat as soon as they curl and are no longer translucent.
Want to make your grits EXTRA creamy? For a delicious creamy twist on classic cheese grits, try mixing in 4 oz goat cheese into your grits! It's delicious! You can skip the cheddar cheese or add a little cheddar cheese as well. Most people will have no clue you used goat cheese, it will just make your grits extra creamy.
When reheating grits: Add a little milk or water and a pat of butter when reheating leftover grits. Or you can keep them dry and form into a little grit cake, lightly air fry it or pan fry it and serve the shrimp over a grit cake.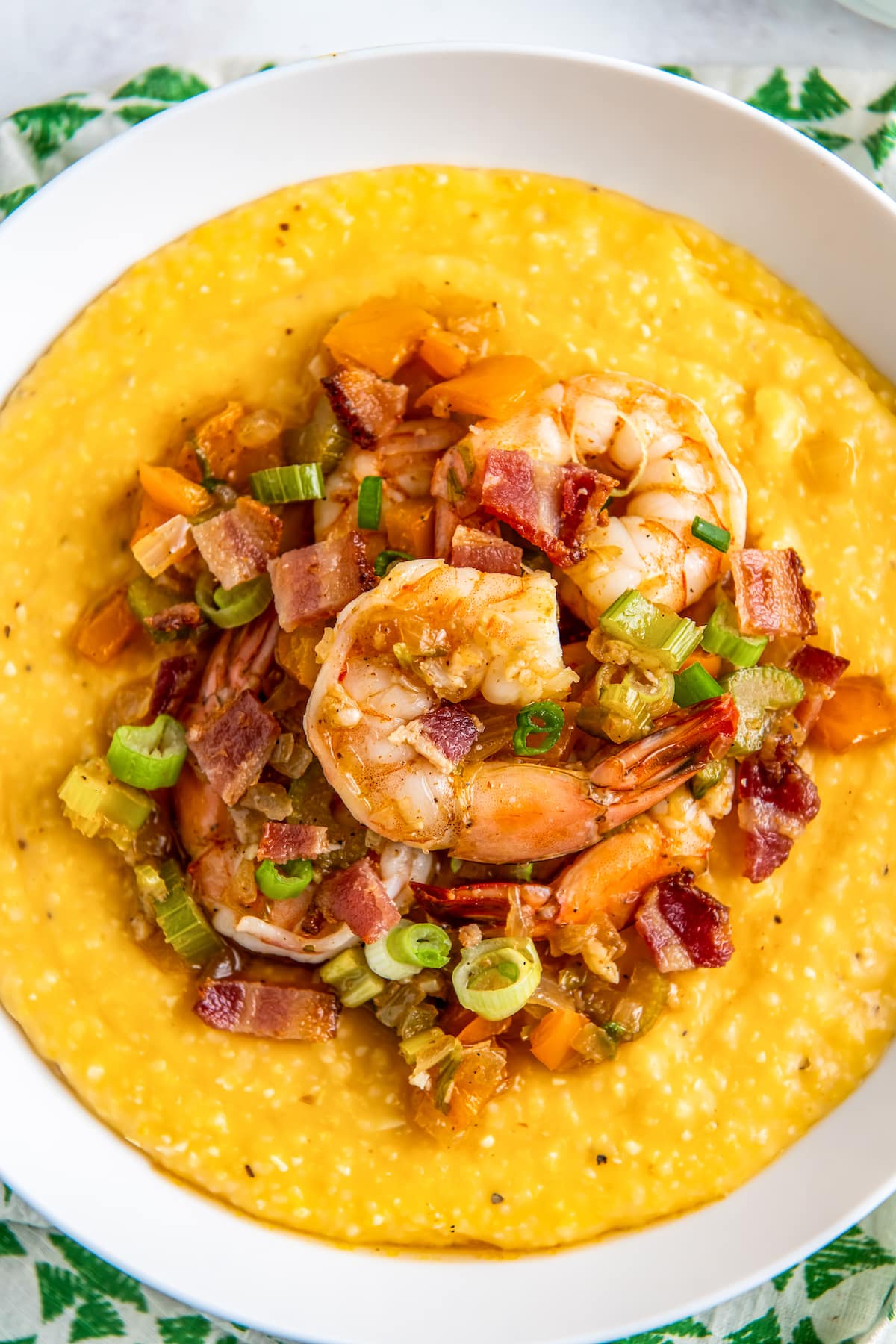 What to Serve with Shrimp and Grits
Shrimp and Grits a well-rounded meal all in itself! But sometimes we can't help but make some of our favorite side dishes to go along!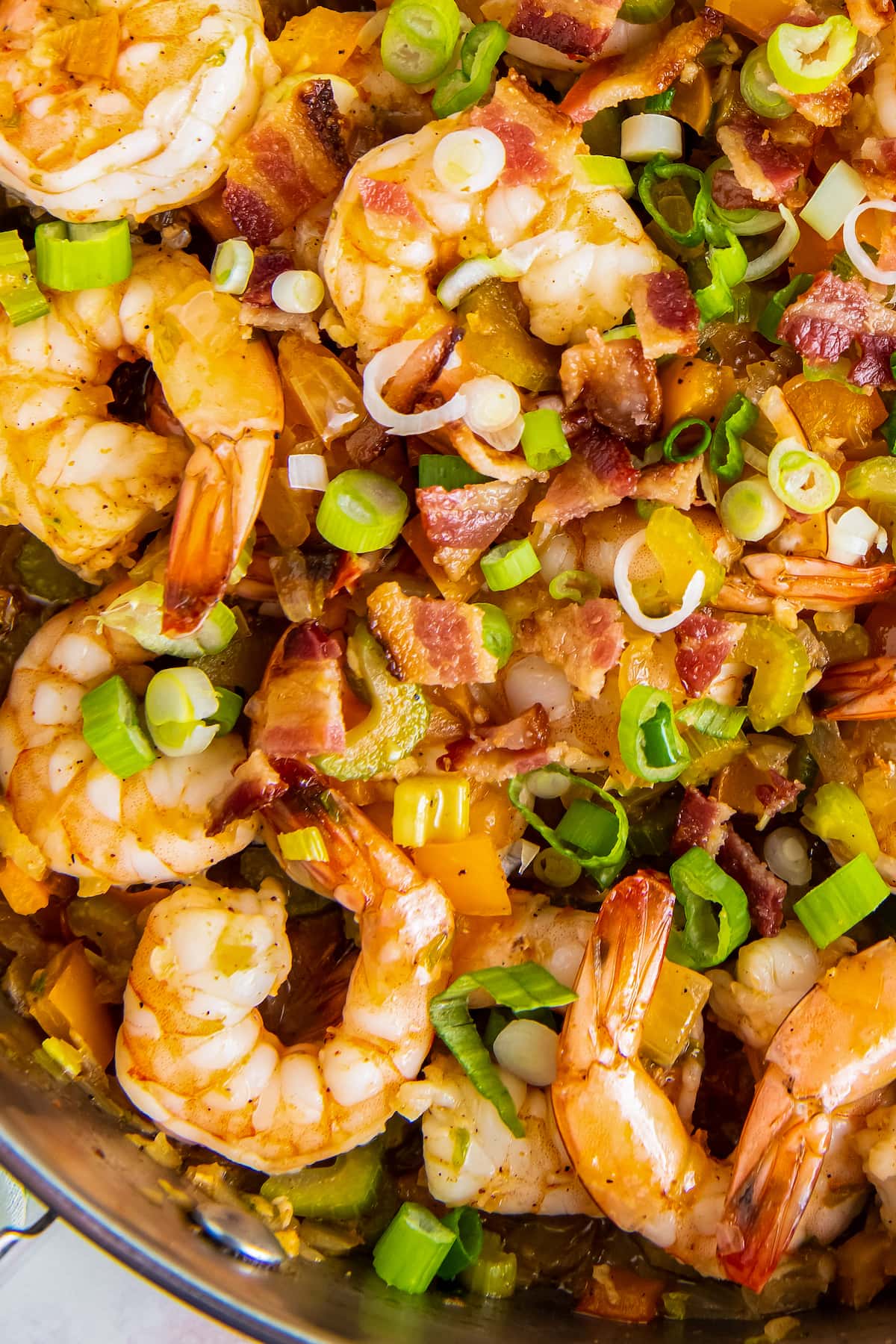 How to Store and Reheat Leftovers
You can store the leftovers in the refrigerator up to 3 days. When reheating shrimp, it is best to not expose them to high heat as they will continue to cook and become tough.
We recommend reheating on the stovetop or the microwave. And if you choose to microwave the leftover shrimp, do it in 30 second increments.
When reheating the grits, add a little milk or water and a pat of butter so they become smooth and creamy again. It's best to do this on the stovetop.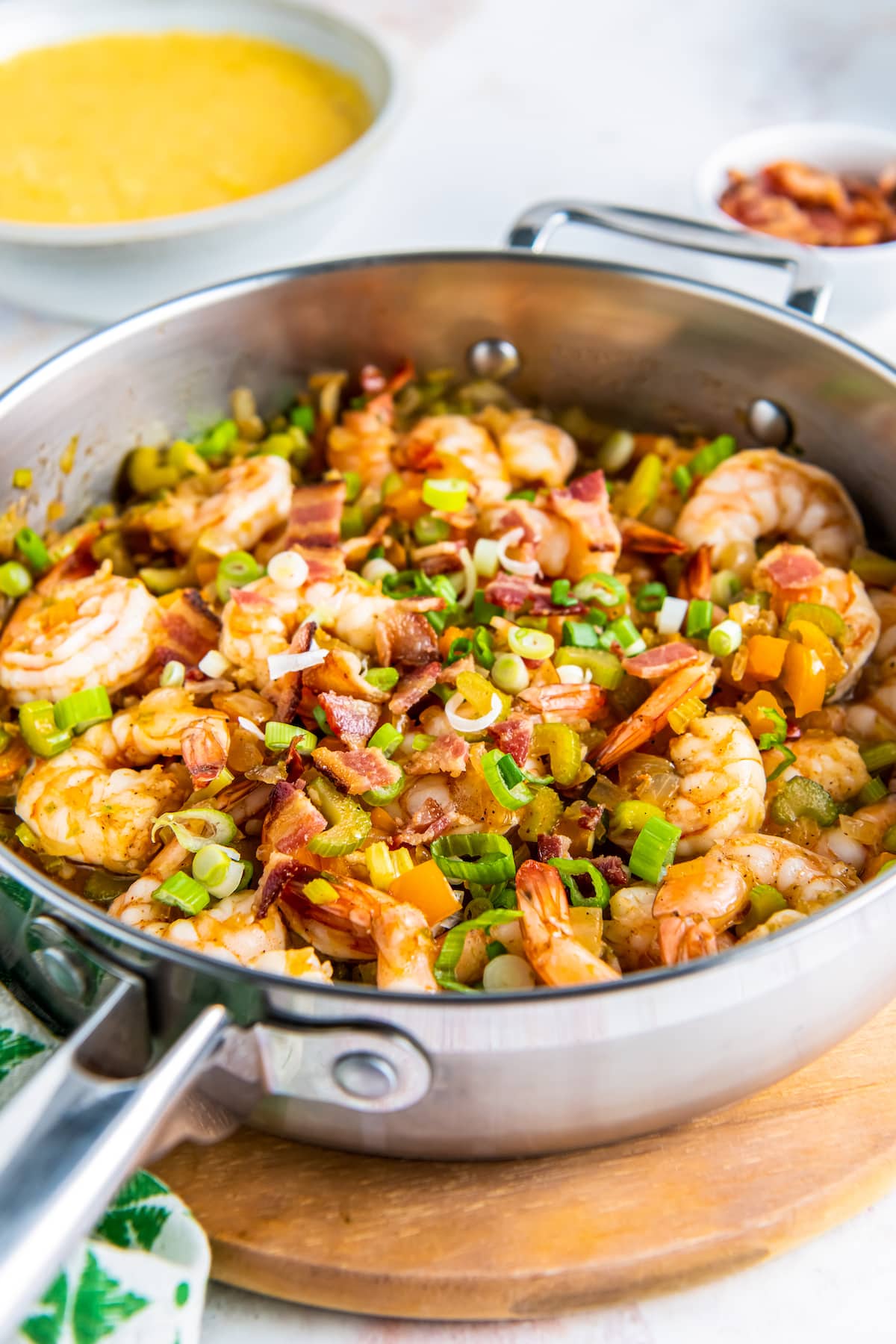 Can I Freeze This?
We don't recommend freezing this dish. But that's ok, because we don't think there will be any leftovers anyways!
More Easy Shrimp Recipes
Yield: 4 servings
Shrimp and Grits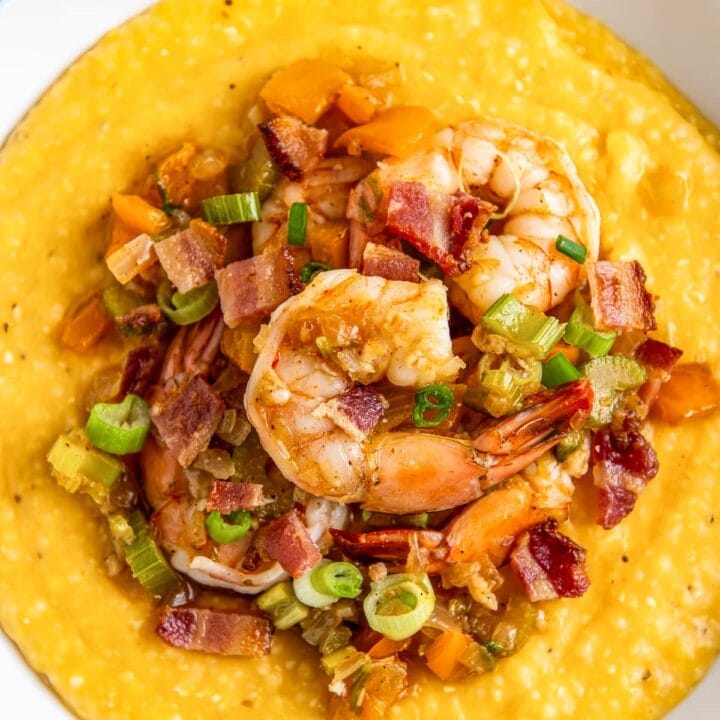 Shrimp and Grits is comfort food at its best! Cheesy grits are topped with well seasoned, tender shrimp that are smothered with onions. Ready in a little over 30 minutes!
Ingredients
Grits:
4 cups water
1 cup stone ground grits
4 tablespoons butter
2 cups shredded cheddar cheese
Salt and freshly cracked pepper, to taste
Shrimp:
4 thick cut bacon strips
1 yellow onion, diced
1 bell pepper, seeded and diced
1 cup diced celery
1 pound large shrimp, peeled and deveined, tail on or off
2 cloves garlic, minced
1 teaspoon Worcestershire sauce
2 teaspoons cajun seasoning
Green onion, sliced, optional garnish
Instructions
In a medium sized sauce pot, bring water to a boil. Add grits and 1 tablespoon butter, stirring until the water boils again. Reduce the heat to a simmer, cover the pot with lid, and cook, stirring often, until desired consistency. I cooked my grits for 20 minutes, until thick and creamy. (If the water cooks off and the grits are not ready, add a little hot water as needed until cooked.)
While the grits are cooking, cook bacon in a large heavy skillet over medium high heat until crispy. Remove the cooked bacon, chop or crumble it and set aside.
Keep 4 tablespoons of the bacon grease in the skillet (remove any extra grease) and turn the heat to medium. Add the onion, bell pepper and celery until onions are softened about 5 minutes.
Check if your grits are getting close to being finished. Once the grits look close to being done, continue cooking. Turn the heat off, or to very low, while waiting for the grits to get close to being done.
Once the grits are almost done, add the shrimp, garlic, cajun seasoning and Worcestershire sauce to the skillet over medium heat, stirring until well combined. Cook uncovered, for about 3 to 4 minutes, until the shrimp turn pink and start to curl. Remove the pan from the heat.
Once the grits reach your preferred texture, add the remaining 3 tablespoons of butter and cheese. Stir to combine and season to taste with a little salt and pepper. (I recommend you go light on the salt since we will be adding salty shrimp with bacon on top.)
Add a half a cup of cheesy grits to a bowl and top with the shrimp and vegetable mixture. Garnish with a little green onion and crumbled bacon and serve immediately.
Nutrition Information:
Yield:
4
Serving Size:
1
Amount Per Serving:
Calories:

589
Total Fat:

37g
Saturated Fat:

20g
Trans Fat:

1g
Unsaturated Fat:

13g
Cholesterol:

338mg
Sodium:

2470mg
Carbohydrates:

19g
Fiber:

2g
Sugar:

3g
Protein:

45g
Filed Under: