Coconut Shrimp is one of our favorite ways of enjoying shrimp! The shrimp are perfectly golden brown and crispy with breading that's just slightly sweetened with coconut flakes. It's a quick and easy appetizer everyone will love!
Easy Coconut Shrimp Recipe
Are you also one of those people who always orders Coconut Shrimp when you see it on a restaurant menu? We simply cannot pass it up! Coconut Shrimp are perfectly crispy and we just love the slightly sweet and caramelized breading. We just had to learn how to make them ourselves.
Little did we know that making coconut shrimp at home took no time at all! We found that as long as you set yourself up correctly, the recipe moves fast and it's quite easy.
The key here is to make sure everything is ready to go so you can cook the shrimp all at once. You'll clean the shrimp and then set up the breading station. Once all of the shrimp are breaded, it's best to fry them in batches so the pan isn't crowded. But we promise, that won't take long and you'll be enjoying Coconut Shrimp in no time!
Looking for more traditional fried shrimp? Try out our favorite classic Best Fried Shrimp or these epic Air Fryer Bang Bang Shrimp!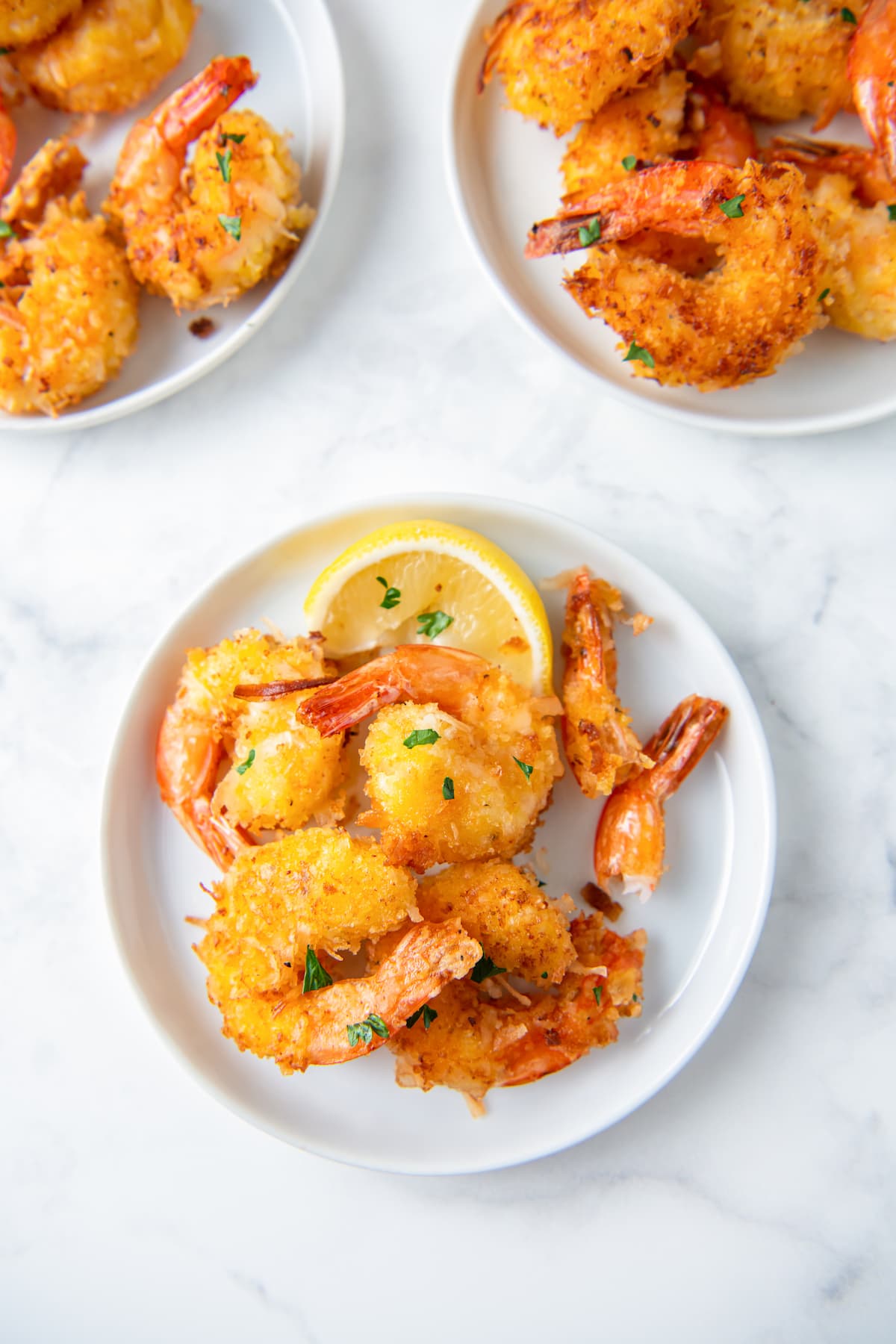 Why You'll Love This Fried Shrimp
There are lots of reasons to love this homemade fried coconut shrimp recipe.
It's a really fun and easy appetizer to serve. You'll definitely wow your guests when you make them this recipe. You don't have to tell them how easy and quick it is!
The recipe takes less than a half hour. Once you're set up, this recipe moves really quickly.
A different take on shrimp. We love to serve this instead of shrimp cocktail. It's fun, crunchy, and flavorful!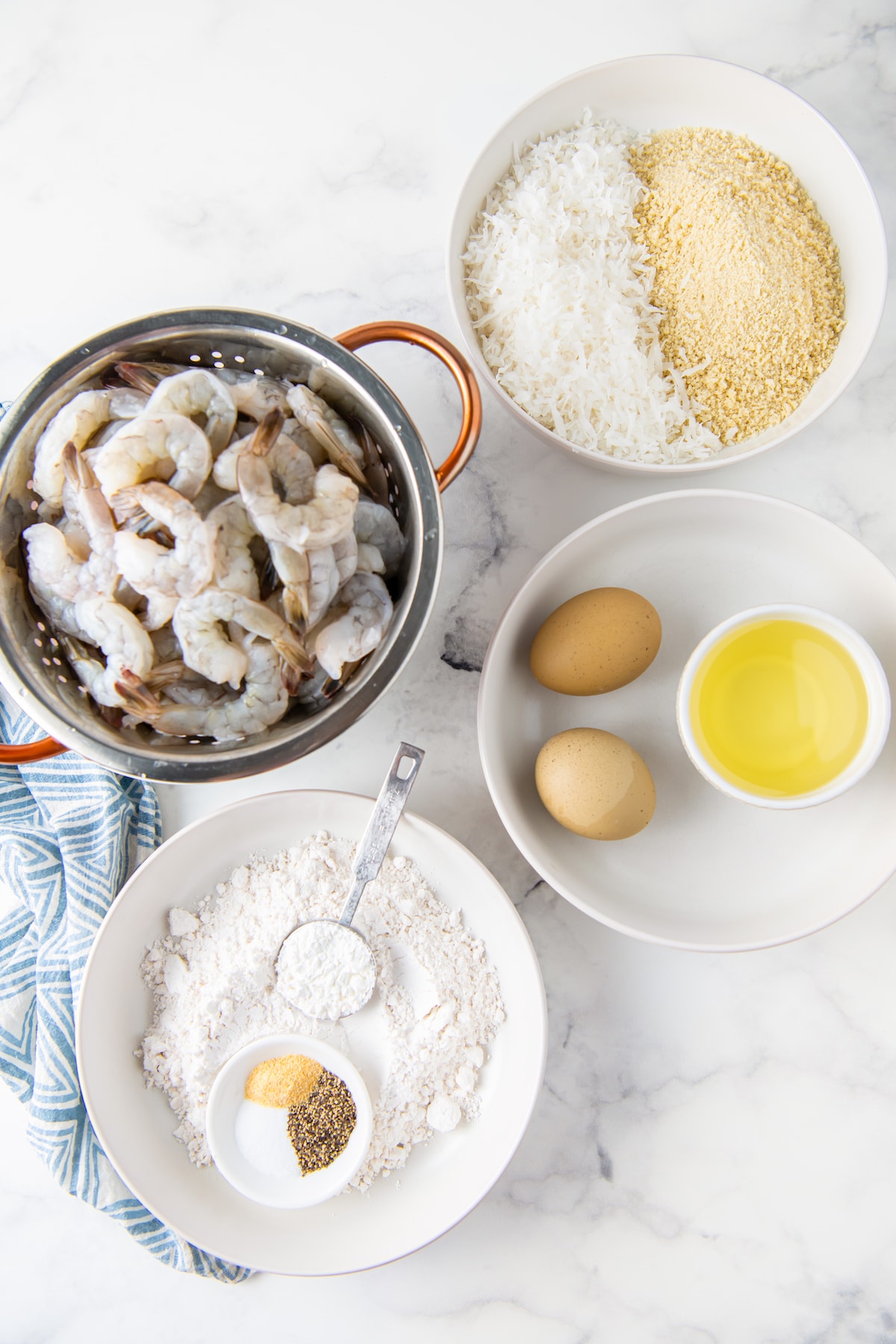 What You'll Need
Here's what you need to make Coconut Shrimp at home.
All Purpose Flour: We have found that this flour is the best to use for deep frying the shrimp. We don't recommend using a substitute.
Cornstarch: This helps create the crispy breading on the shrimp when paired with the flour.
Salt and Pepper: For seasoning the dry mixture for the breading.
Garlic Powder: You can also use granulated garlic.
Eggs: For the wet mixture that will help the breading stick to the shrimp.
Sweetened Coconut Flakes: You can use sweetened coconut or unsweetened. The sugar in sweetened coconut does add a tiny caramelize to the breading and it is delicious. The flakes also add a little extra crunch.
Panko Breadcrumbs: Panko breadcrumbs are light and fluffy which makes them perfect for this recipe.
Shrimp: Make sure to clean the shrimp (peel and devein them). You can leave the tails on or take them off, it's your choice.
Frying Oil: Use a high-heat oil like avocado oil, vegetable oil, or corn oil.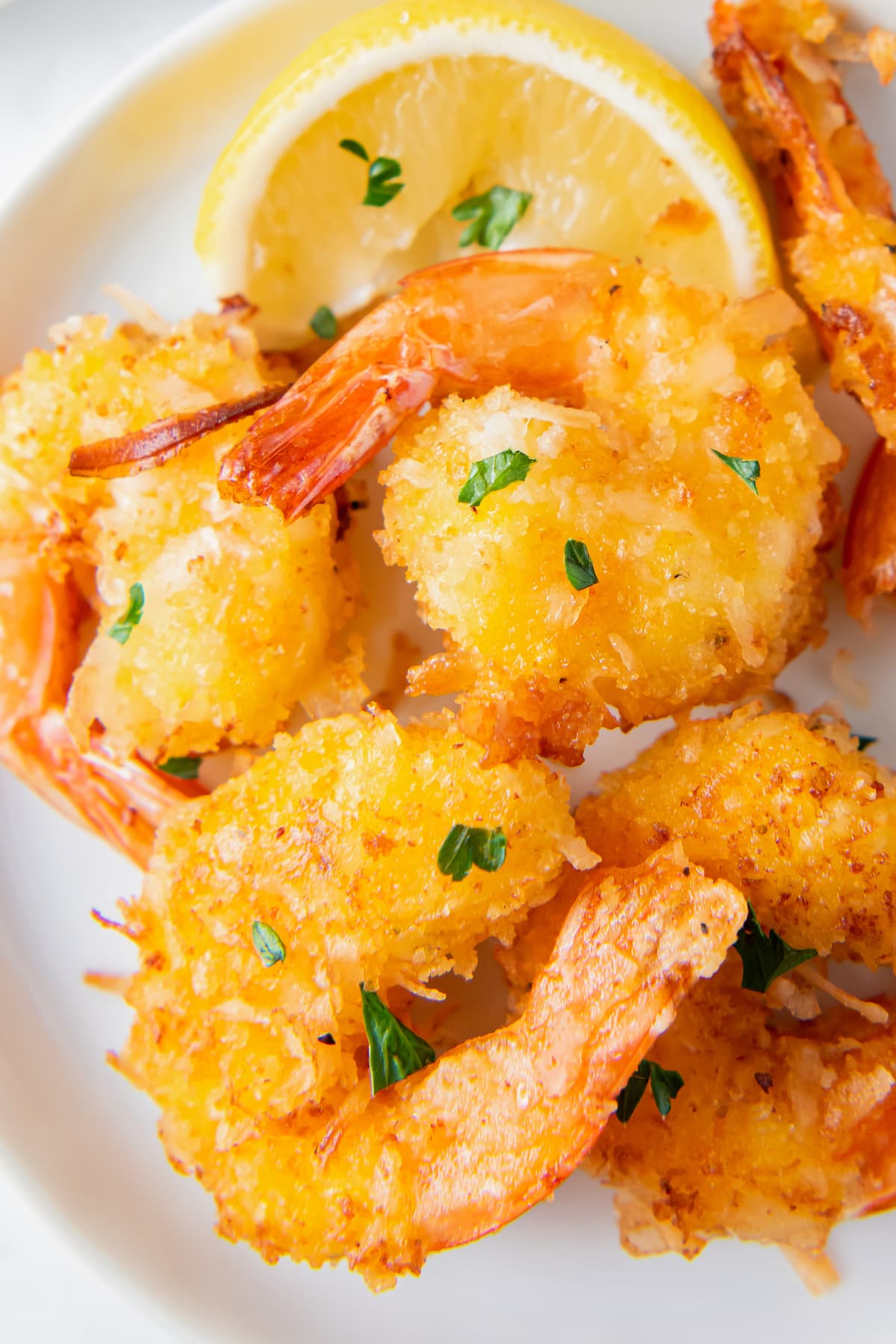 Can I Use Frozen Shrimp?
Yes, you can use frozen shrimp for this recipe. However, it's very important that you thaw them first. And it would be a good idea to pat them dry and remove any extra moisture before you begin the breading process.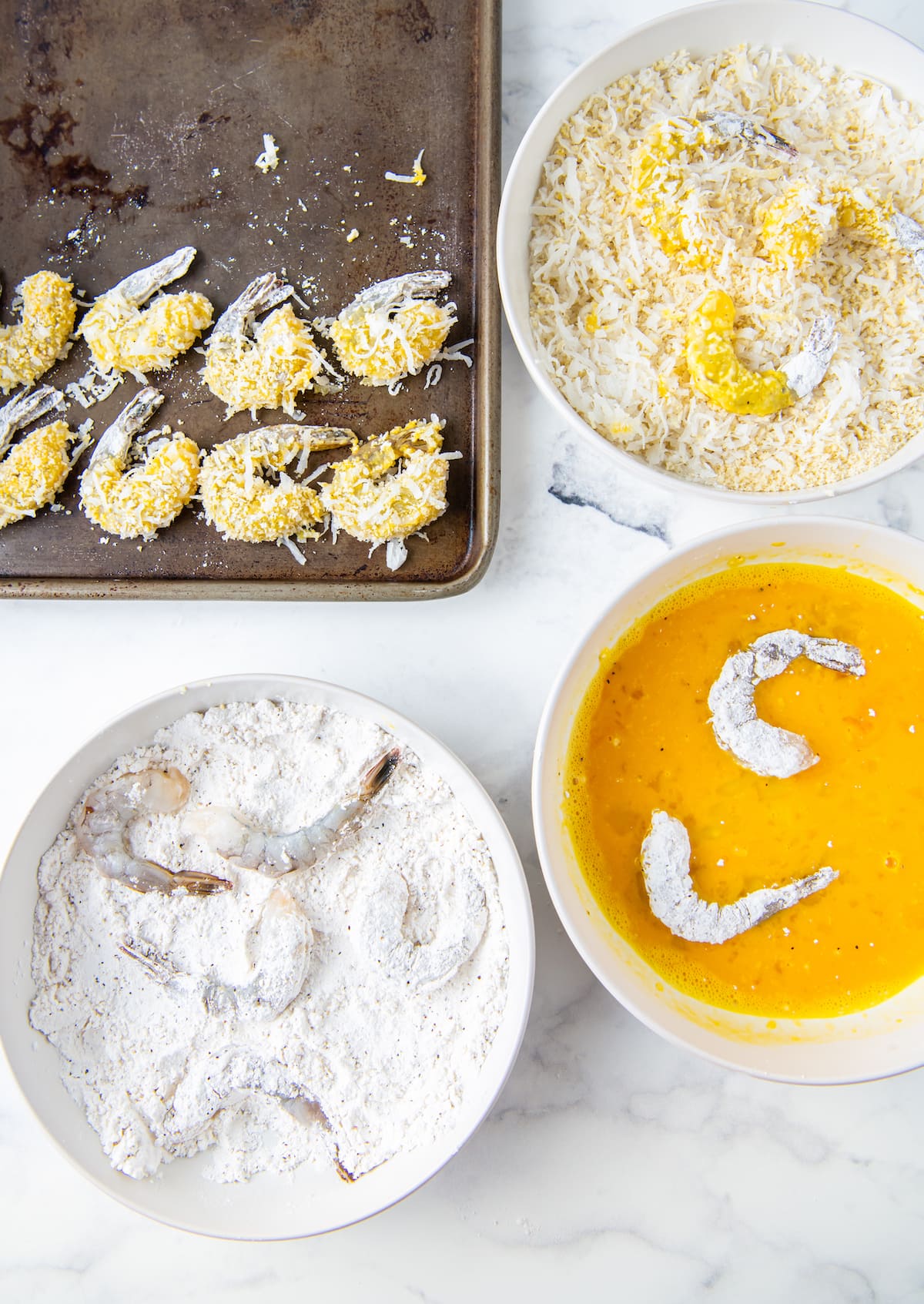 How to Make Coconut Shrimp
Give yourself about a half hour to prepare and cook this recipe. Here are the simple steps that you need to take: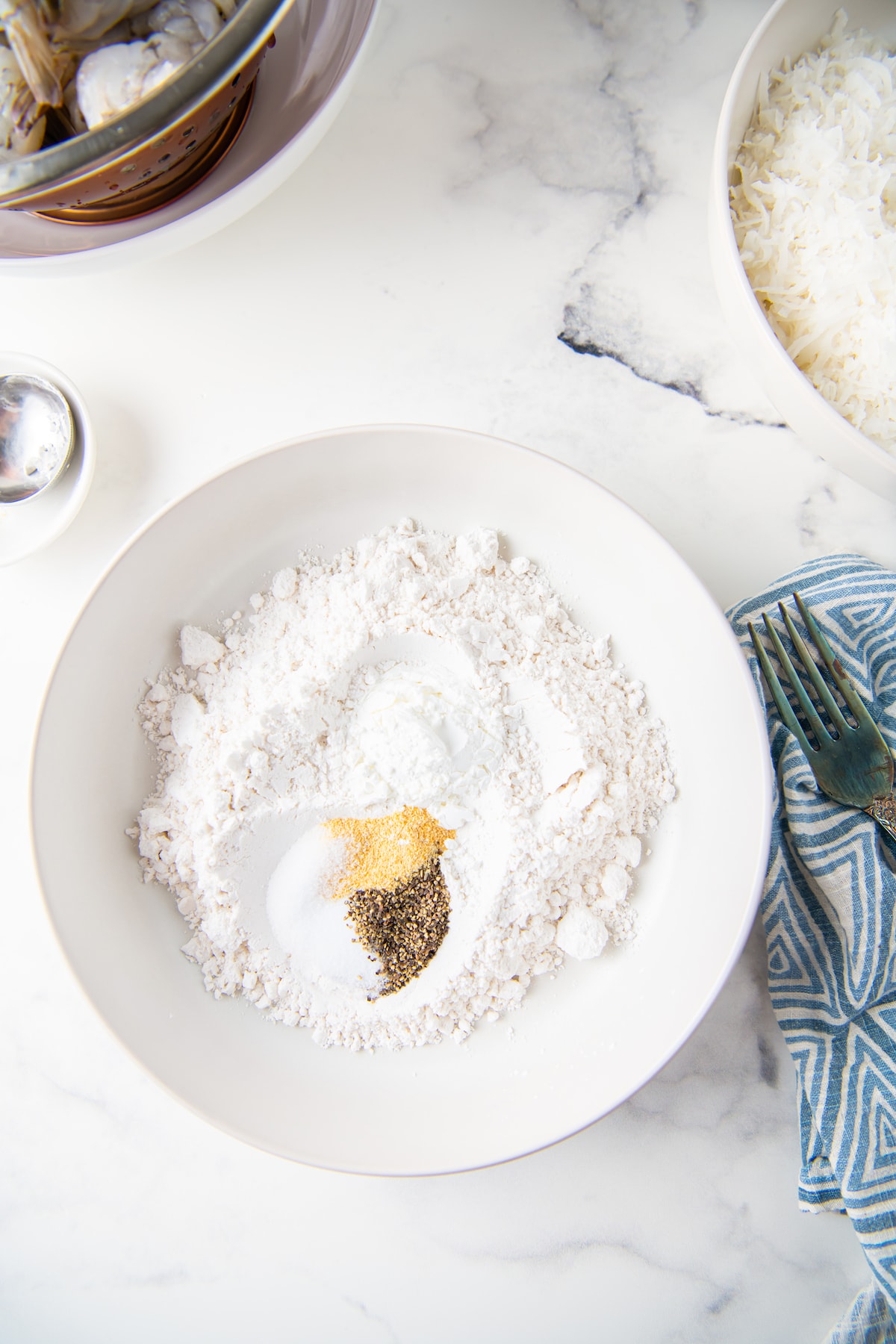 First, prepare your breading station. And you do this by mixing the flour, cornstarch, and seasonings in one bowl.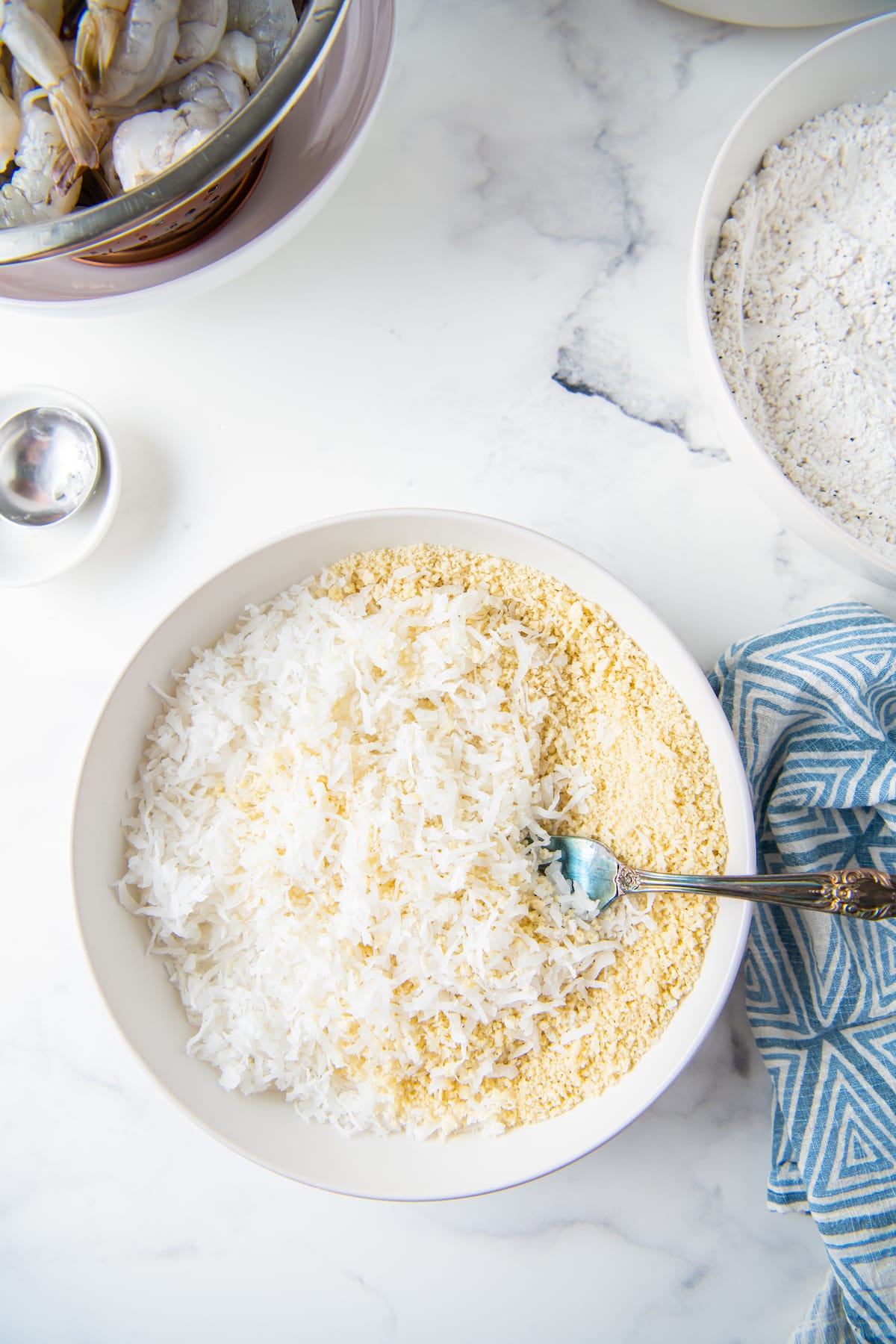 Then prepare the second bowl. Add the beaten eggs to separate bowl. And finally you need a third for the panko breadcrumbs and coconut flakes.
Next, begin to bread the shrimp. Start by dipping one shrimp in the flour mixture, then the egg wash, and lastly the panko and coconut flakes. Place the breaded shrimp to the side while you finish them all.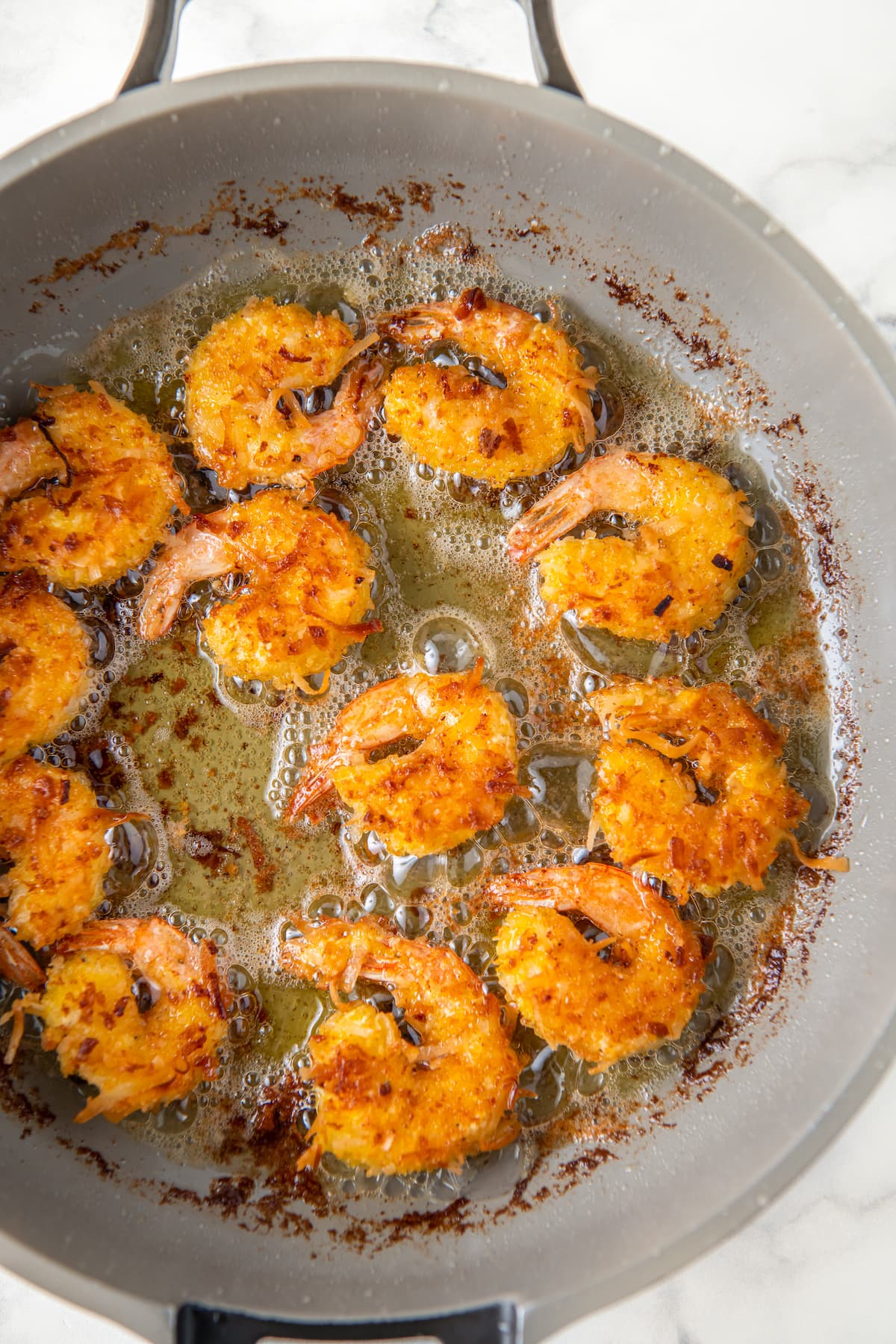 Then fry the shrimp in a skillet. The oil should be about 375F. A key tip is that it's best to fry the shrimp in batches so that you don't overcrowd the skillet.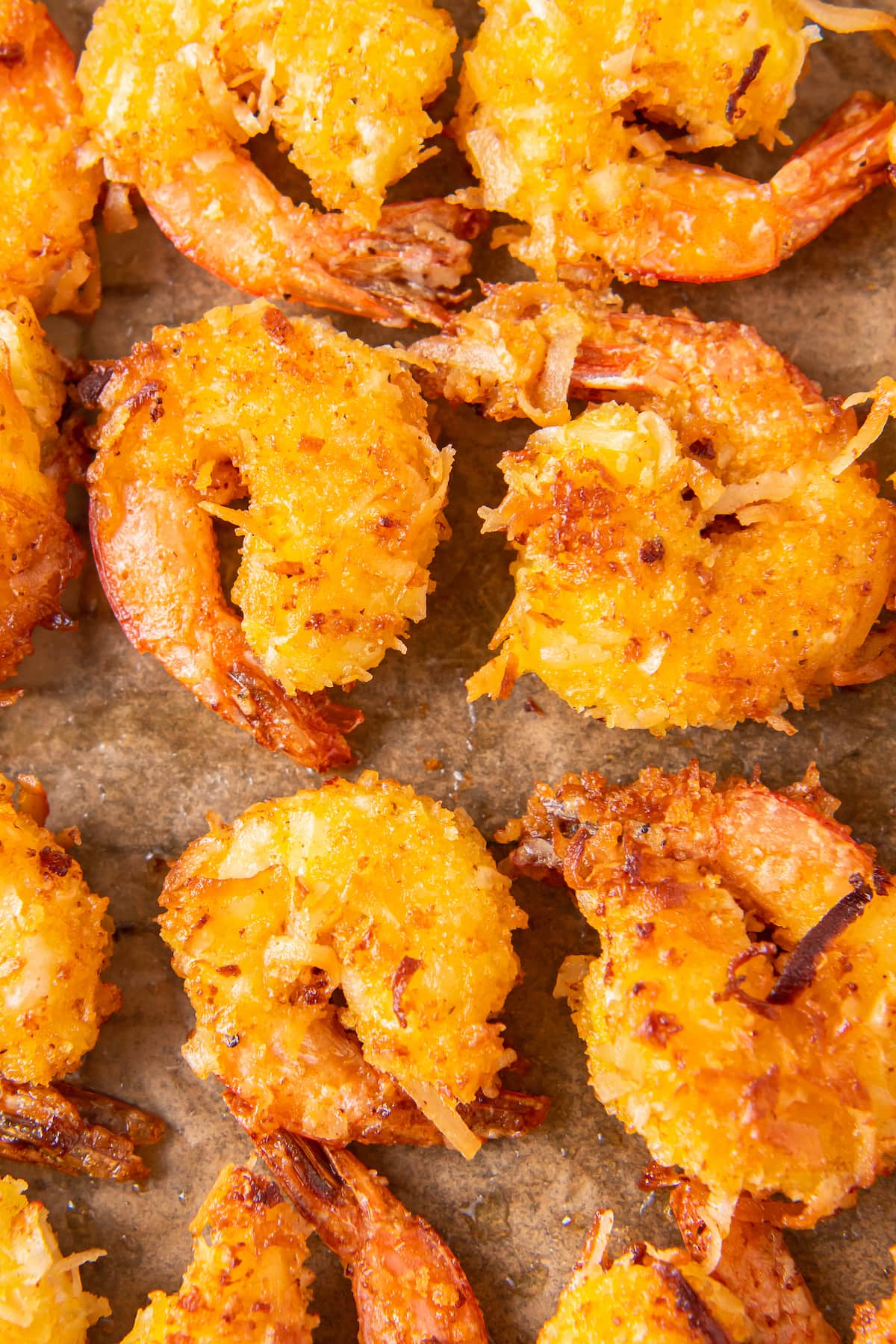 Drain the shrimp on a towel-lined plate. This removes any excess oil. Then serve the shrimp immediately however you'd like!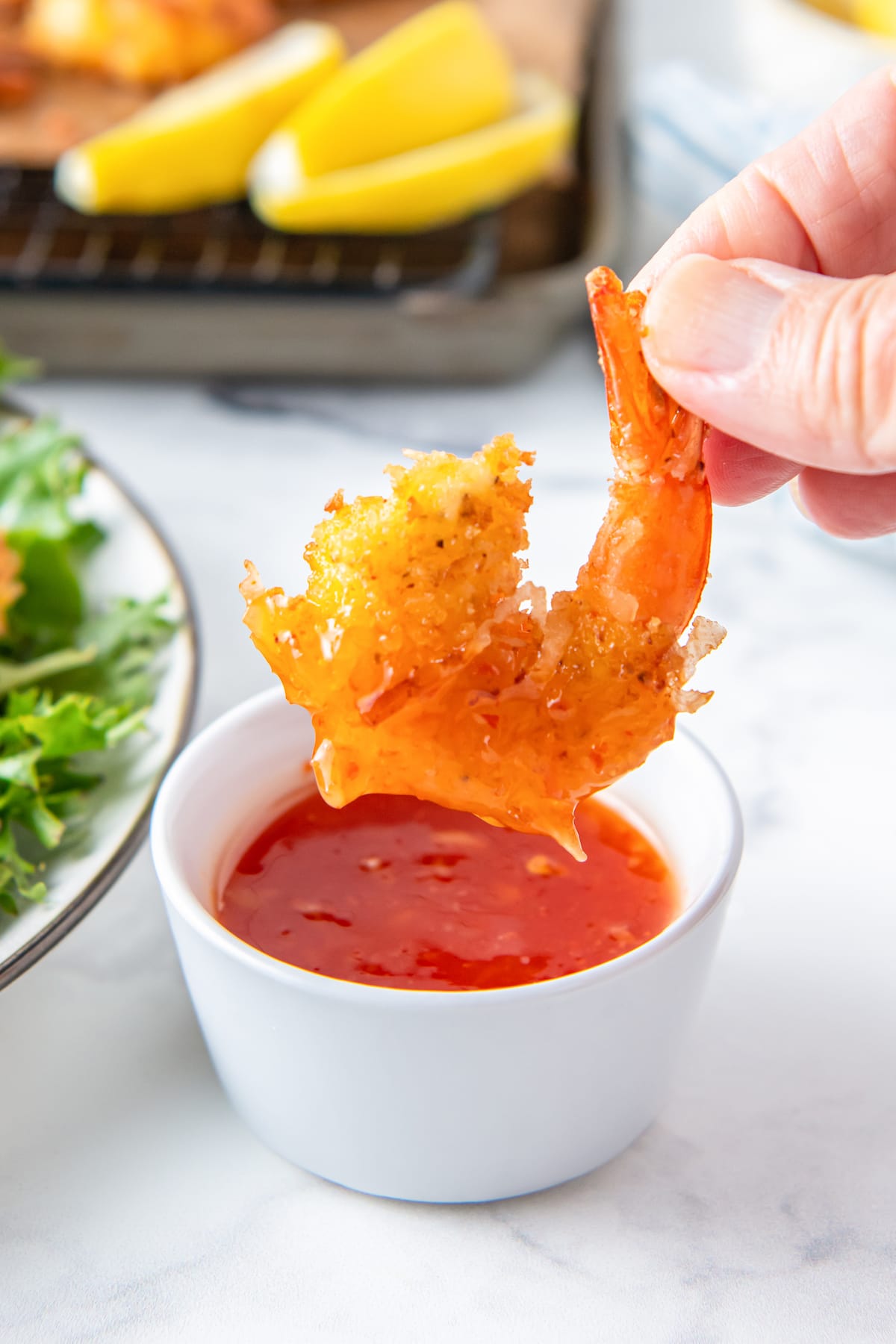 Tips for Success
Follow these helpful tips to ensure that you're recipe turns out perfectly.
Time saving tip: You can buy already cleaned shrimp to save time.
Pat the shrimp dry before breading. This will help the shrimp fry up nice and crispy.
Use a wet hand and a dry hand. When breading, use one hand to do all of the handling in the wet ingredients and the other hand to do the handling in the dry ingredients. This will save you from a big mess.
The size of the pan will determine how much oil you need. If you use a larger skillet you will need a little more oil to fry the shrimp in. You don't need a lot of oil, but just enough to cover the bottom and come up about an inch on the sides.
Don't overcrowd the frying pan. This is because the shrimp will not cook evenly if you put too many shrimp in the frying pan.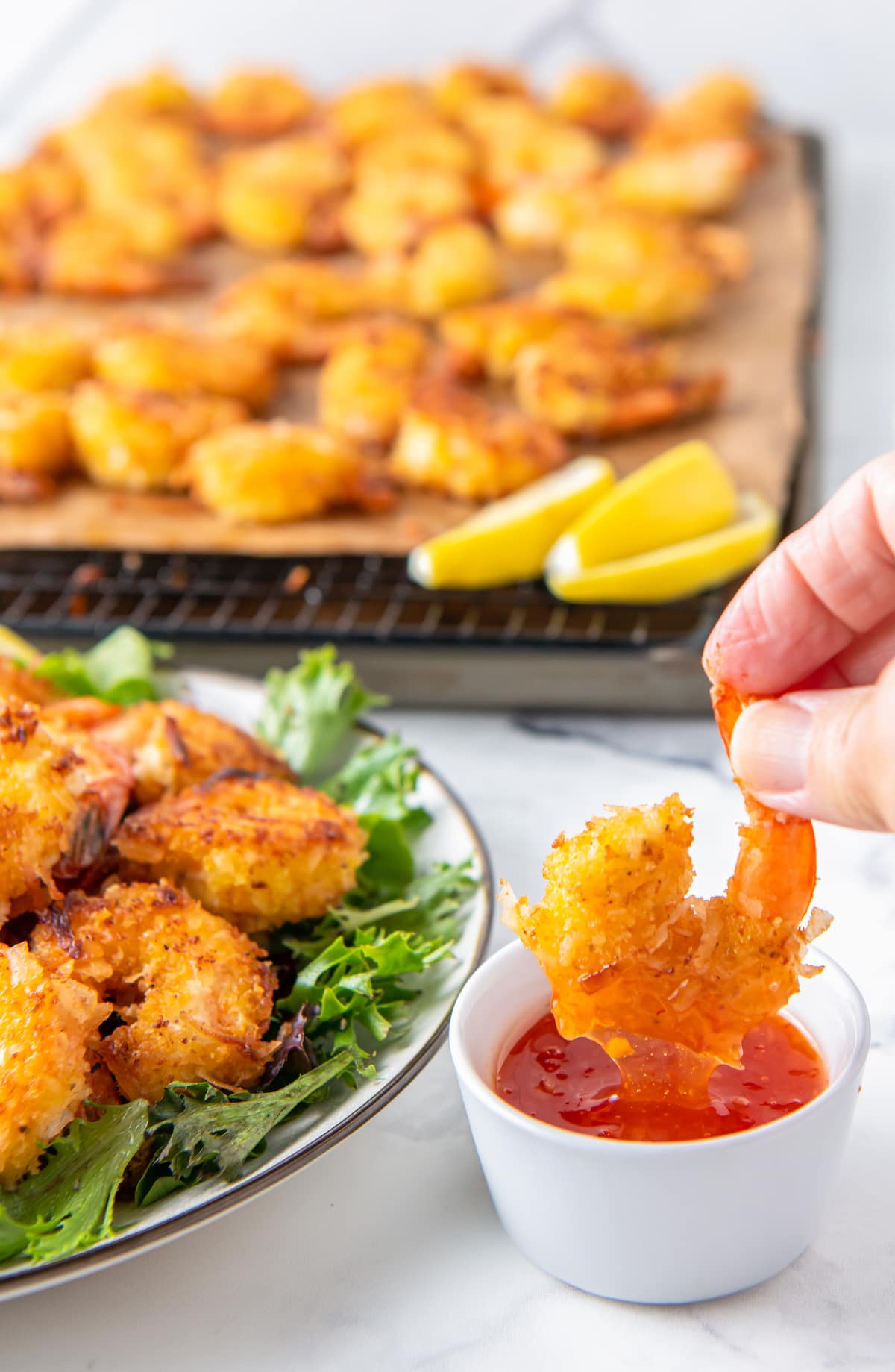 What to Serve with Fried Coconut Shrimp
Here are some of our favorite ways to serve this recipe.
Dipping sauces: We like to dip the Coconut Shrimp into our finger-licking good Bang Bang Sauce. Thai Chili Sauce is also a really good option. Or go with some classic Homemade Tartar Sauce!
On top of a salad: These Coconut Shrimp would go great on top of your favorite salad. It's a fun option when you want to swap out proteins.
Use them in tacos: You can use Coconut Shrimp as a protein option in any sort of taco. Here's our Shrimp Taco recipe to try out!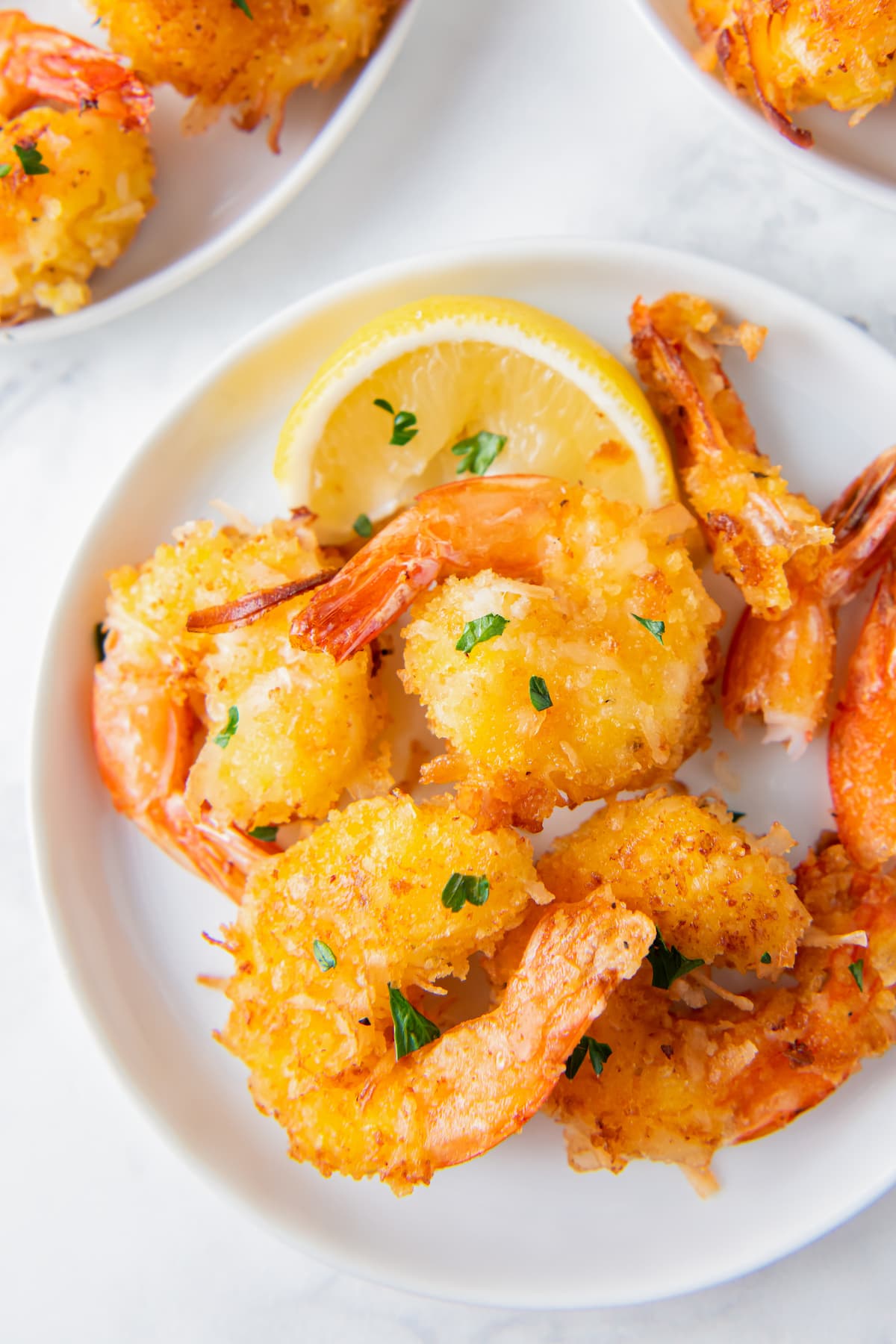 How to Store & Reheat Leftovers
Fried shrimp are best served fresh, but you can store leftovers for up 3 days in an airtight container in the fridge. If you reheat them in the air fryer at 400°F for about 2 minutes they will crisp up again!
Yield: 2 servings
Coconut Shrimp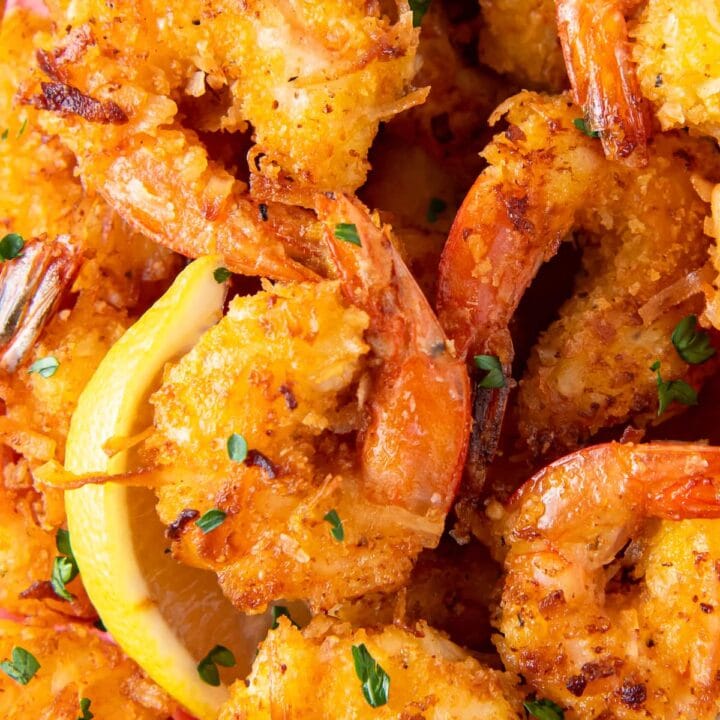 These Coconut Shrimp have a delicious crispy coconut coating with a slight sweetness from the coconut that adds extra flavor to fried shrimp. It's a bonus that this recipe is ready in under 30 minutes!
Ingredients
1 cup all-purpose flour
1 tablespoon corn starch
1 teaspoon pepper
1 teaspoon salt
½ teaspoon garlic powder
2 large eggs, beaten
1 cup sweetened coconut flakes
1 cup panko breadcrumbs
1 pound shrimp, peeled and deveined, tail or no tail
1 cup vegetable oil
Instructions
In a medium sized bowl, whisk to combine the flour, corn starch, salt, pepper and garlic powder. Set aside.
Place beaten eggs in a separate shallow bowl. Then in a third shallow bowl, combine the coconut flakes and panko bread crumbs.
Dredge one shrimp through the seasoned flour on all sides. Then place the floured shrimp into the egg and then coat the shrimp in the coconut flakes. Repeat until all shrimp are breaded.
In a medium size heavy pot, heat oil over medium-high heat, until it reaches 375°F. (You can also check if your oil is ready by dropping in a few breadcrumbs. If they sizzle, your oil is ready.)
Fry shrimp in batches, making sure not to crowd the shrimp, for about 2 minutes, until golden brown. Remove shrimp from oil and transfer to a paper towel lined plate or tray to drain. Repeat with remaining shrimp.
Serve immediately, as desired!
Notes
Storage: Fried shrimp are best served fresh, but you can store leftovers for up 3 days in an airtight container in the fridge. If you reheat them in the air fryer at 400°F for about 2 minutes they will crisp up again!
Nutrition Information:
Yield:
2
Serving Size:
1
Amount Per Serving:
Calories:

1960
Total Fat:

133g
Saturated Fat:

23g
Trans Fat:

3g
Unsaturated Fat:

103g
Cholesterol:

665mg
Sodium:

3795mg
Carbohydrates:

117g
Fiber:

9g
Sugar:

19g
Protein:

73g
Filed Under:
More Easy Shrimp Recipes