This homemade ranch dip is so much tastier than the kind you buy in the store. It's super easy to make, only uses a few ingredients, and is perfect for wings, veggies, or salads.
Why This Homemade Ranch Dip Recipe Is the Best
We have never met anyone who doesn't love ranch dip. It's a perfect sauce that can be used for everything from salads to pizzas! But what if I told you that you could make a homemade ranch dip that's even better than the kind you buy at the store? And what if I told you it was also really quick and easy to make? The next time you find yourself out of ranch dressing, don't go to the store…make some! We always have a jar of homemade ranch dip around the house. Here's why we love it so much:
Quick and Easy: This recipe couldn't be any easier. All you have to do is mix the ingredients in a bowl and then let it sit in the fridge. That's it! Plus, this ranch dip only has 4 ingredients in it.
Better than Store-Bought: Don't get me wrong, we love store-bought ranch dressing as much as the next person. But homemade ranch dip is even better. It has all the classic ranch flavors you love, but they're taken to the next level with an extra flavorful punch from the homemade ranch seasoning mix.
Adjustable: One of my favorite things about making sauces and dips at home is that you can adjust the flavors so that they fit your taste. You can easily make this recipe more or less creamy, more or less flavorful, or more or less acidic. Feel free to play with it to make it perfect for your tastebuds!
It Lasts: This ranch dip will last in the fridge for a week, so you can make a big batch and eat it over the course of a few days. Instead of having to make a new batch of ranch whenever you're craving it, you can always have some in the fridge.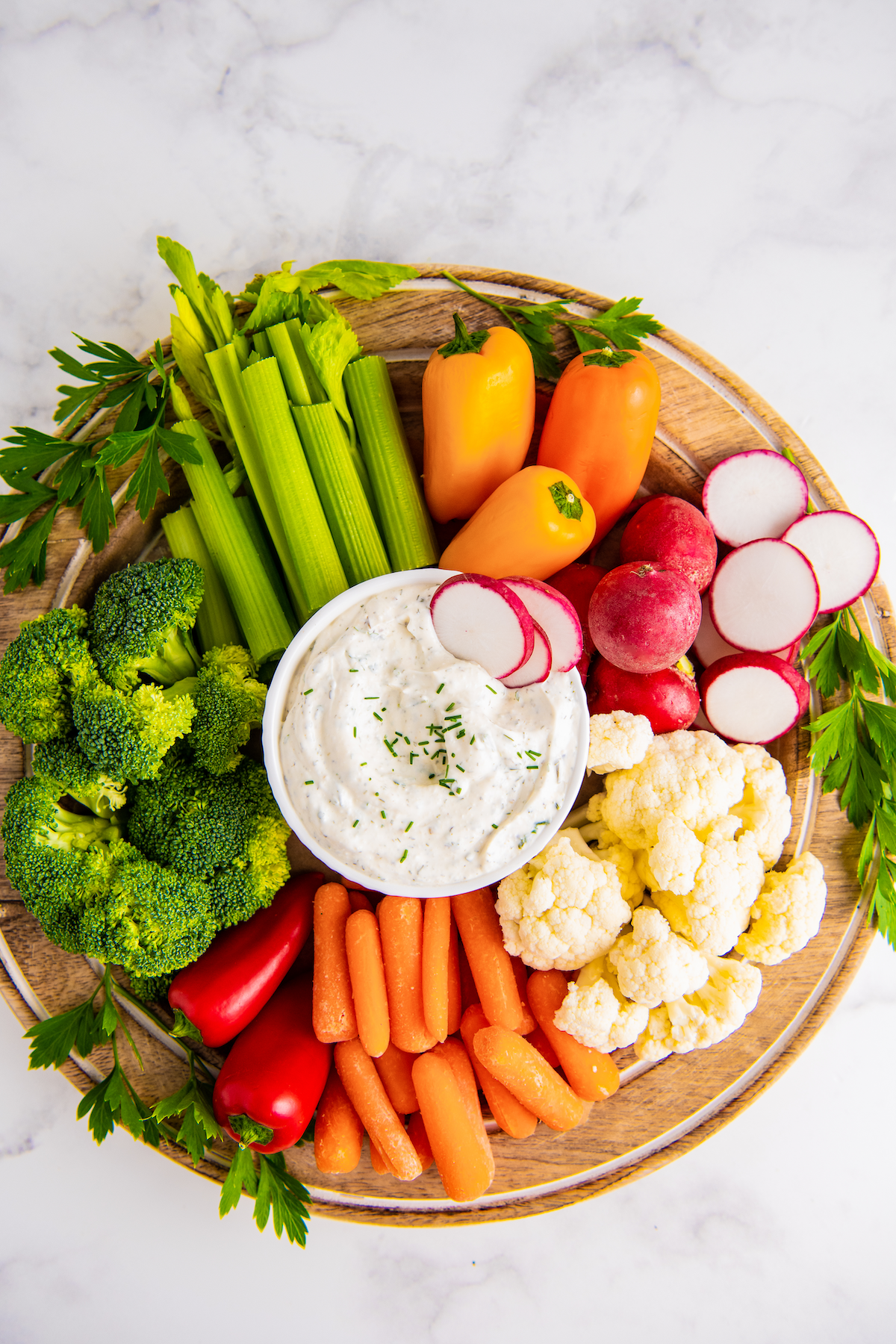 Ranch dressing was not created until 1949. While working as a contract plumber in Alaska, Steve Henson started cooking for his coworkers and perfecting his buttermilk dressing recipe. Five years later he moved to California with his wife Gayle and bought a ranch – and Hidden Valley Ranch was born!
A packaged seasoning mix to make the dressing at home was sold in the grocery stores starting in 1957, however it wasn't until 1983 that people could buy a premixed bottle of ranch dressing. Then in 1992, it became the most popular salad dressing in the United States.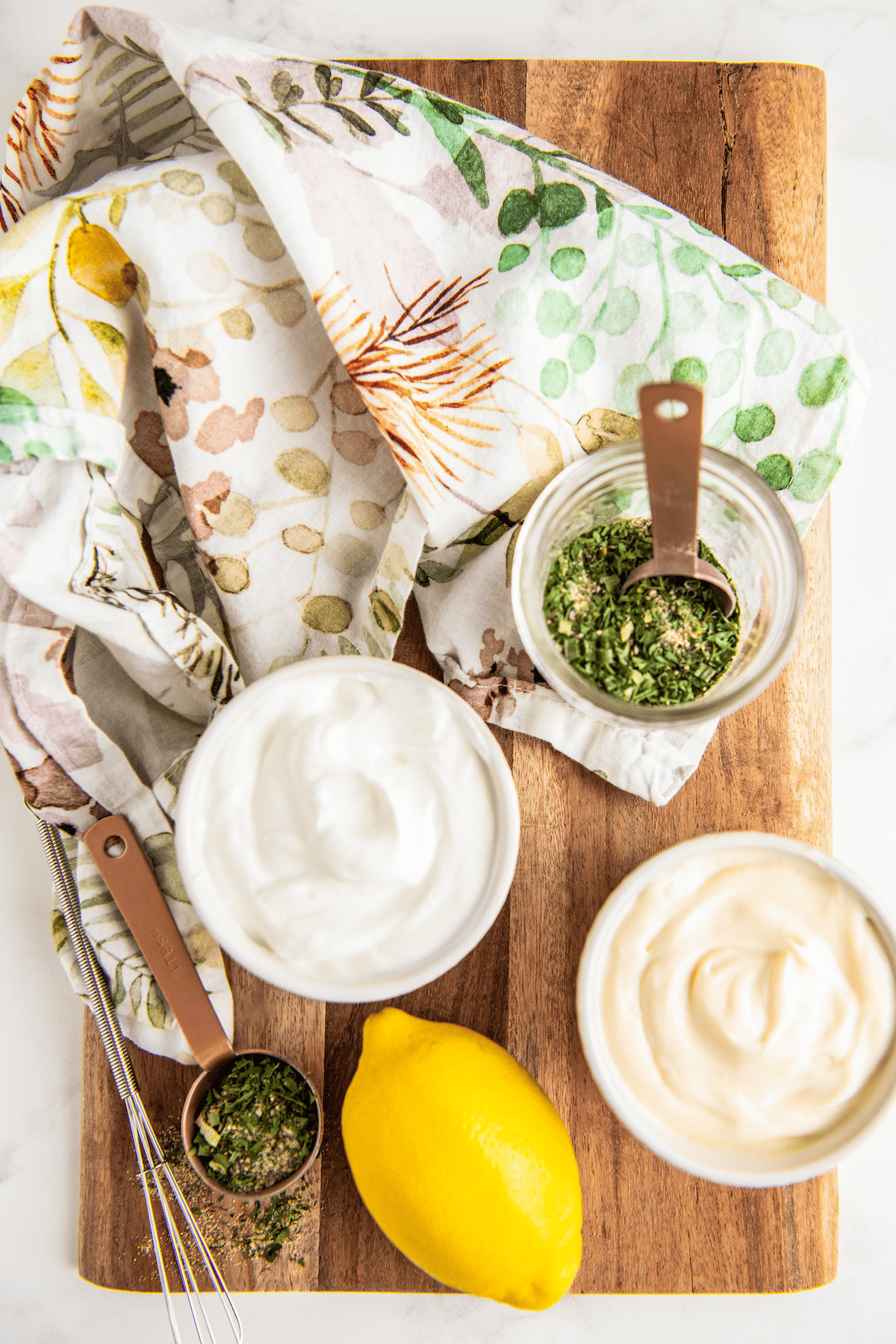 What You'll Need
Here are all of the ingredients that you'll need to make this easy homemade ranch dressing. Scroll to the printable recipe card at the bottom of the page to find the specific quantities for each ingredient.
How to Make Ranch Dip
Here's how to make this tangy, creamy ranch dip. It's so easy!
Add the ingredients. Place all of the ingredients together in a bowl.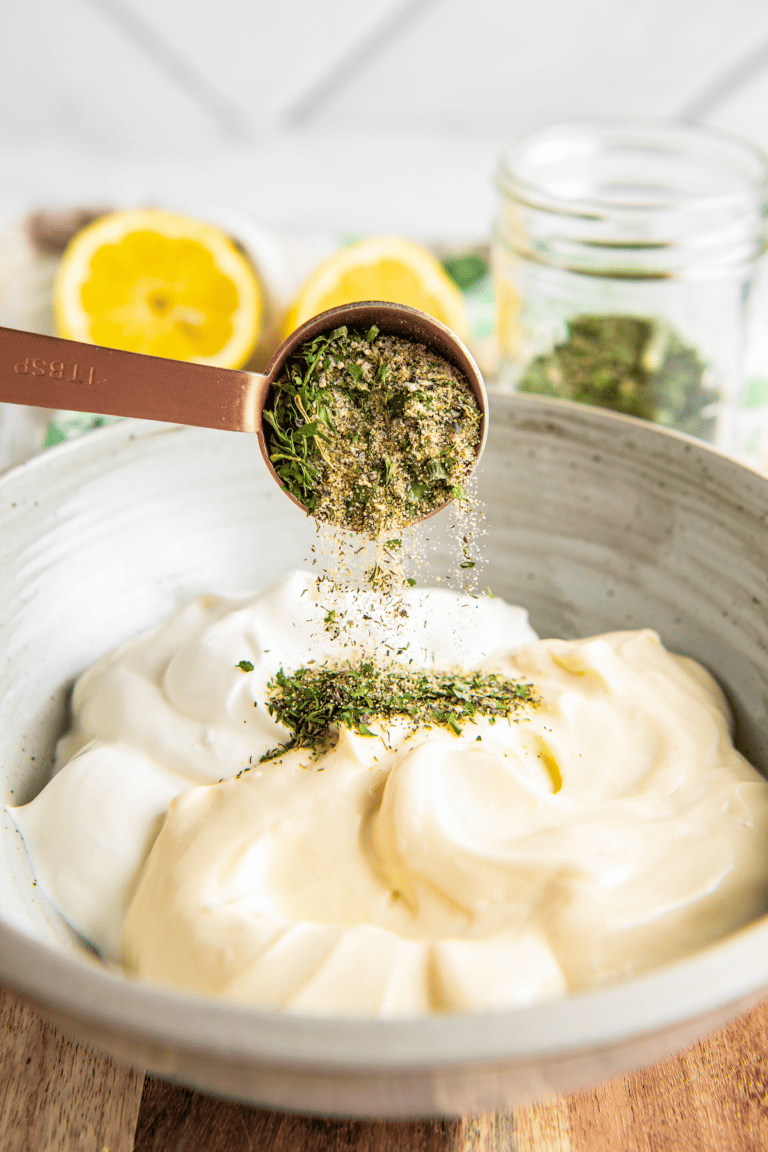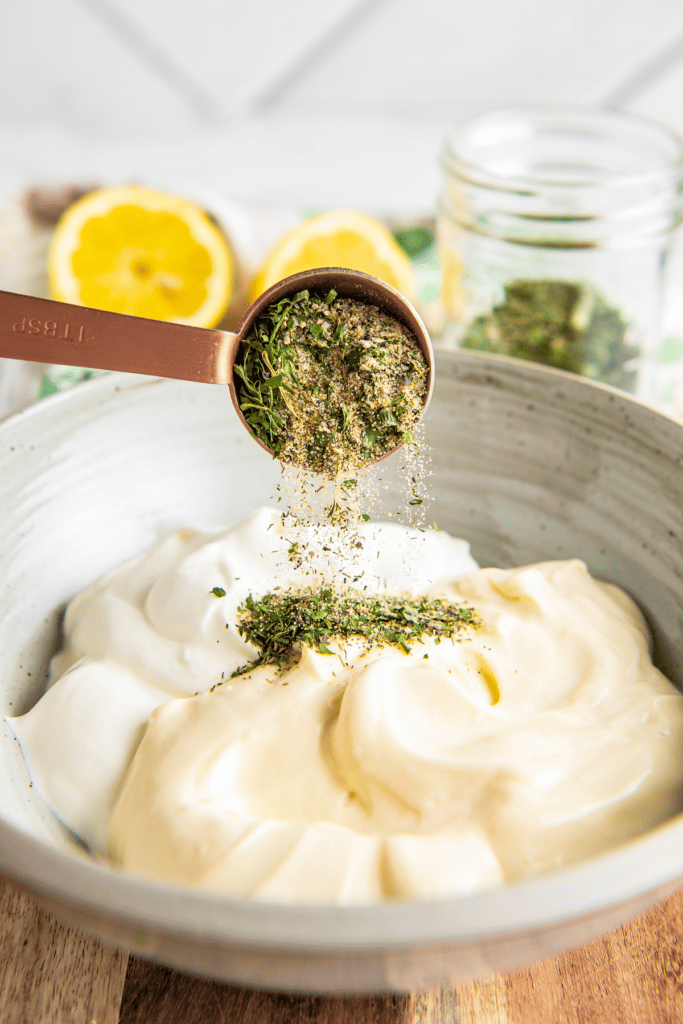 Mix. Use a whisk to combine all of the ingredients.
Chill. Cover the bowl, and place it in the fridge for 15 minutes. Remove when you're ready to serve the ranch.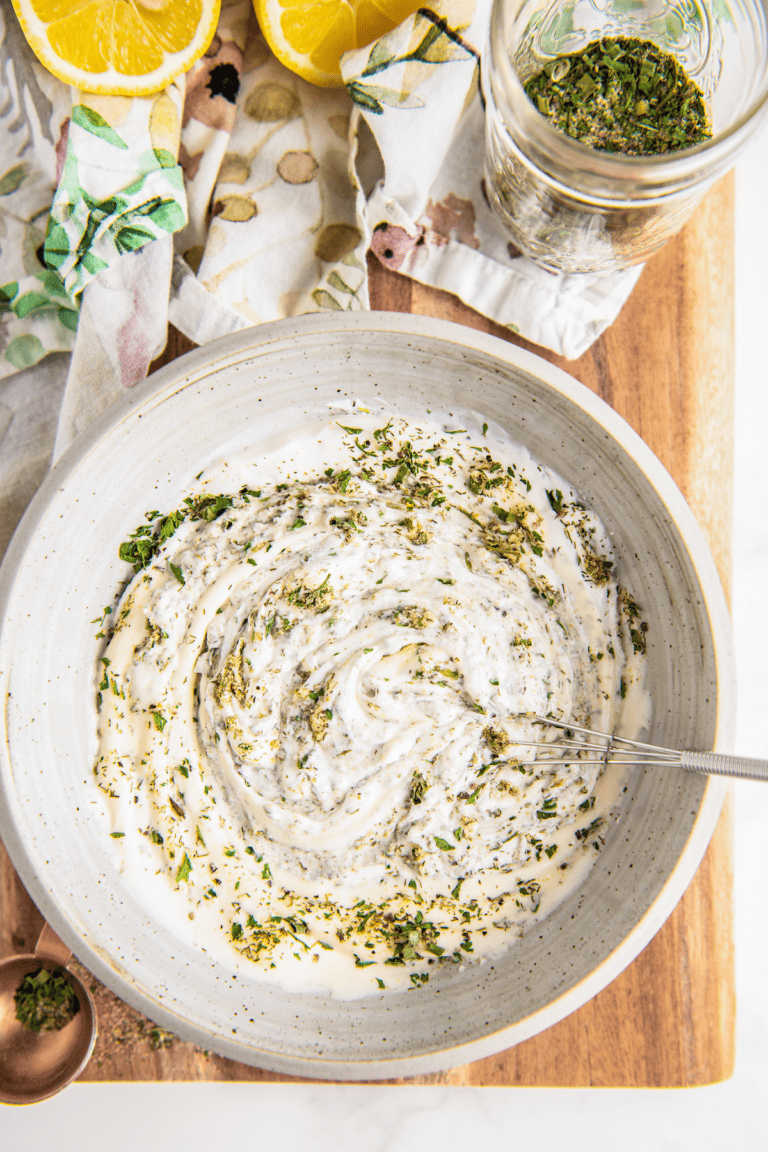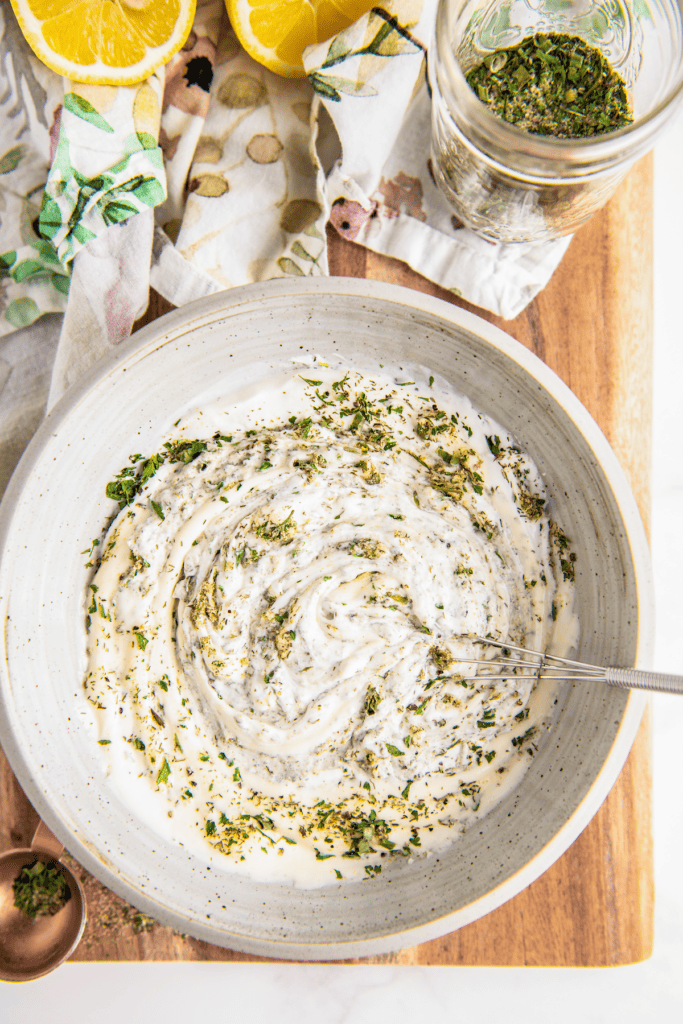 Tips and Variations
Here are some of my favorite tricks and variations that you can try when making homemade ranch dip.
Fresh Lemon Juice: There's a huge difference in flavor between fresh lemon juice and bottled lemon juice. Since this dip is so bright and fresh tasting, and since the lemon juice is a prominent flavor, I strongly recommend using freshly-squeezed juice.
Make in Advance: This recipe calls for you to let the ranch dressing sit in the fridge for 15 minutes. But if you let it sit longer, the flavors will only get better and stronger. For best results, I suggest making the ranch dip a few hours before you plan on using it.
Add Chives: Chives are a very traditional ranch flavor. You can add a few minced chives mixed into your ranch or on top of the dressing to increase the flavor and also make the dip more colorful.
Make it Healthier: If you want to make your homemade ranch dip a little healthier, you can easily do that. All you have to do is replace the mayonnaise with plain Greek yogurt.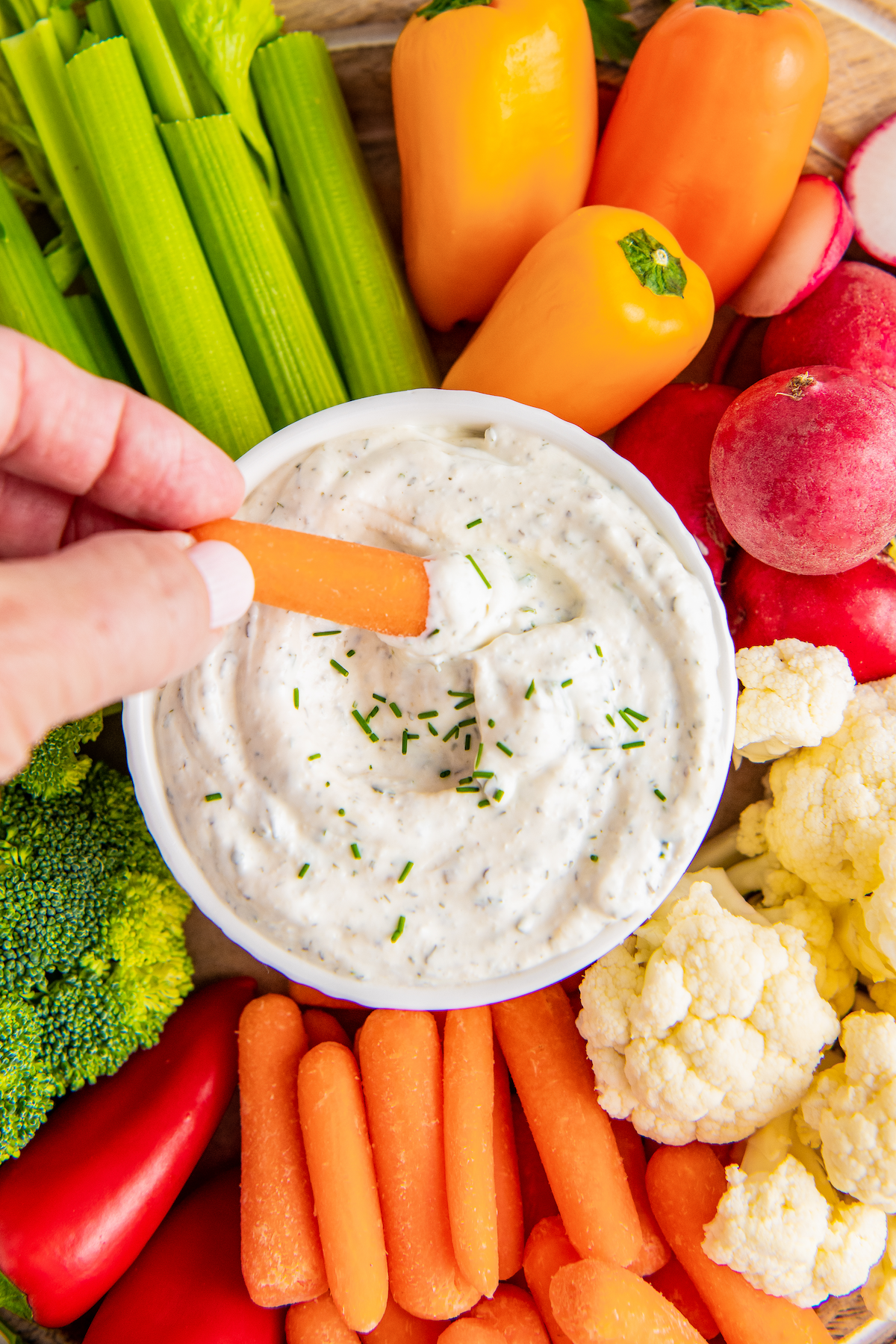 What to Serve it With
We like to keep it classic with homemade ranch dip. A lot of times I use it to to dip veggies and chips in. And of course, we always dip my Air Fryer Chicken Wings and Lemon Pepper Chicken Wings in it. And who doesn't love dipping pizza in ranch? We also always bring out some ranch dip when we are eating Cast Iron Pizza or Pepperoni Pizza Bombs.
How to Store Leftover Homemade Ranch Dip
This ranch dip will last in your fridge for a full week. It will honestly last even longer, depending on the expiration date on your sour cream. Make sure to always store the dip in an airtight container, and never leave it out at room temperature for very long.
Can Ranch Be Frozen?
We do not recommend freezing ranch dressing. It will become a funny texture if you freeze it and then thaw it.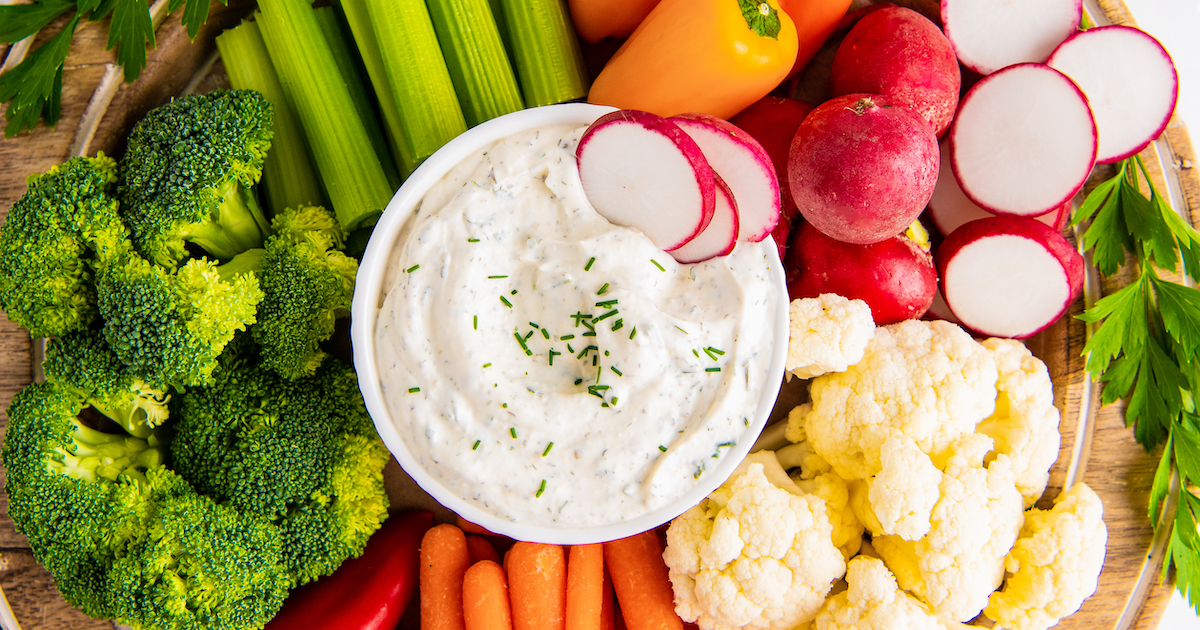 More Easy Sauce and Dip Recipes
We love dips and sauces! They're such a great thing to have around for snacking, parties, or just taking a meal to the next level. Here are some of my other favorite dips you can easily make at home:
Ranch Dip
This homemade ranch dip is rich, creamy, tangy, and so much better than what you buy at the store. Plus, it only uses 4 ingredients, and it's so easy to make.
Instructions
Add all of the ingredients to a medium-sized bowl, and whisk until smooth.

Cover the bowl, or transfer the ranch to an airtight container.

Place the ranch in the fridge, and let it chill for at least 15 minutes, then serve.
Notes
Storage: Store in an airtight container in the fridge for up to 7 days. It will honestly last even longer, depending on the expiration date on your sour cream. Make in Advance: This recipe calls for you to let the ranch dressing sit in the fridge for 15 minutes. But if you let it sit longer, the flavors will only get better and stronger. For best results, I suggest making the ranch dip a few hours before you plan on using it. Fresh Lemon Juice: There's a huge difference in flavor between fresh lemon juice and bottled lemon juice. Since this dip is so bright and fresh tasting, and since the lemon juice is a prominent flavor, I strongly recommend using freshly-squeezed juice. Add Chives: Chives are a very traditional ranch flavor. You can add a few minced chives mixed into your ranch or on top of the dressing to increase the flavor and also make the dip more colorful. Make it Healthier: If you want to make your homemade ranch dip a little healthier, you can easily do that. All you have to do is replace the mayonnaise with plain Greek yogurt
Nutrition
Serving:
2
tablespoons
,
Calories:
129
kcal
,
Carbohydrates:
2
g
,
Protein:
0.5
g
,
Fat:
13
g
,
Saturated Fat:
3
g
,
Polyunsaturated Fat:
6
g
,
Monounsaturated Fat:
3
g
,
Trans Fat:
0.03
g
,
Cholesterol:
14
mg
,
Sodium:
234
mg
,
Potassium:
21
mg
,
Fiber:
0.001
g
,
Sugar:
1
g
,
Vitamin A:
99
IU
,
Vitamin C:
0.3
mg
,
Calcium:
16
mg
,
Iron:
0.04
mg