Ground beef is one of the most common ingredients in the world. You can find this savory and rich meat in any grocery store, and cook it up in a matter of minutes. With tons of protein and an intensely beefy flavor that can absorb endless amounts of seasoning, all for an affordable price, it's no surprise that ground beef is such a popular comfort food. So we wanted to share some of our favorite easy ground beef dinner ideas.
We always have ground beef around the house, and you probably do too. But while it's great for burgers, this cheap, rich, and umami-packed ingredient can be used for so much more. Here are some of our favorite easy ground beef recipes, and everything you need to know about this meaty and hearty kitchen staple.
What is Ground Beef?
Let's start with the basics. Ground beef is exactly what it sounds like: beef that has been ground up into a mince. Usually ground beef is a mixture of different cuts of meat, primarily sirloin, chuck, and round. You can buy ground beef with different amounts of fat, and, like with cuts of steak, you can get different grades of ground beef.
What Cuisines Use Ground Beef?
Hearty and protein-filled ground beef is used all over the world. Sometimes it's the star of the dish, while other times it's part of a sauce or a topping. It's especially common in Mexican, Caribbean, American, South American, Italian, British, and Middle Eastern cuisines.
Benefits of Cooking With Ground Beef
There are a lot of reasons why ground beef is so common for dinner recipes. One of the biggest reasons is that it's one of the most affordable types of meat. Because ground beef is often made out of tougher cuts of meat, or trimmings from steaks, it's quite cheap relative to other forms of beef.
Ground beef also cooks in just a few minutes, is loaded with protein, and freezes well. So it's a very practical ingredient to cook with. And since it can be used in almost any cuisine, it's versatile and easy to cook with.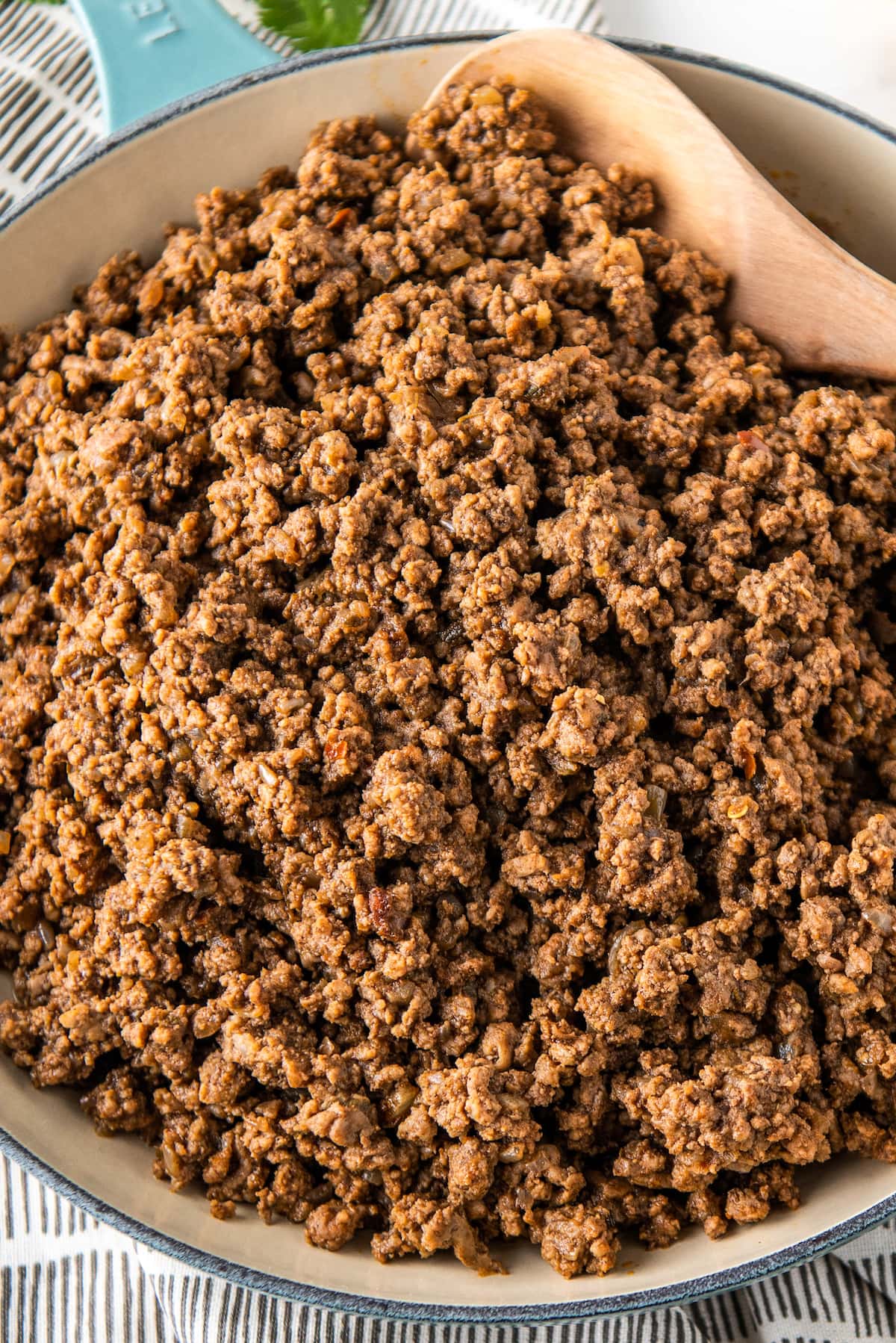 Tips for Cooking Ground Beef
Savory and rich ground beef is very easy to cook, but there are a few things you can do to maximize the flavor. Here are some quick tips for cooking minced beef.
Brown: The best way to get flavor when cooking any type of meat is to make sure you get a good sear on it. Browning meat brings out the most flavor, and that's especially true for ground beef. Make sure to cook ground beef at a high enough temperature that it begins to sear. You want it to turn a golden brown color, instead of being grey.
Drain: As ground beef cooks, it will release a lot of water and rendered fat. For best results, pour off this liquid, or soak it up with a paper towel. That will make the flavor of your beef stronger, and keep it from becoming greasy.
Season: Ground beef can really take a heavy dose of seasoning. Whenever you're cooking with ground beef, be aggressive with the spices. The result will be a hearty dish exploding with flavors, instead of a bland one.
How to Store Ground Beef
You can store raw ground beef in the fridge for 2 days or in the freezer for 4 months. Make sure to always store the meat in an airtight container, and never leave it at room temperature for very long. Cooked ground beef can be stored in an airtight container in the fridge for 4 days.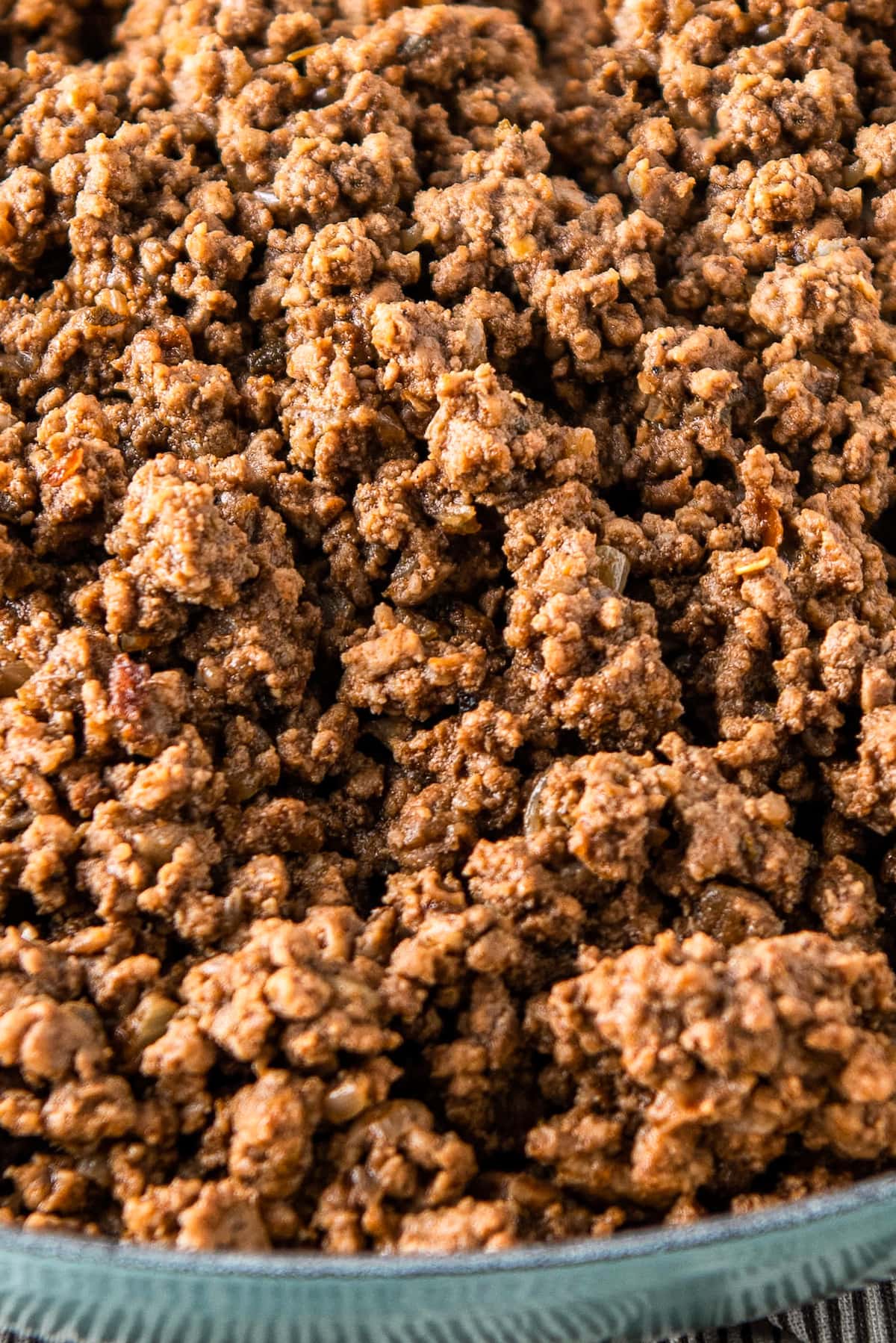 How to Easily Thaw Ground Beef
If you have the time, the best way to thaw frozen ground beef is to leave it in the fridge overnight. But if you need to thaw it quickly, here's an easy hack. Place the package of beef on top of a baking sheet, then put a stainless steel pot on top of the meat. Add a few inches of water to the pot, and let it sit at room temperature. The beef will be thawed in about an hour.
15 Easy Dinner Ideas With Ground Beef
Ground beef is hearty, rich, easy to cook with, packed with protein, and very affordable. So needless to say, we cook with it a lot! Here are some ground beef recipes that are as easy to make as they are delicious.
More Easy Dinner Ideas
If you're in need of more recipes to try making, then we've got you covered. Check out our Recipe Finder where you can hundreds of our favorite meals.