This Yum Yum Chicken is an easy baked chicken breast recipe that is exploding with flavor! Step up your regular weeknight chicken with this easy low carb chicken recipe (just 3 net carbs!) that only uses 6 ingredients.
What is Yum Yum Chicken?
Yum Yum Chicken got it's name because the first time my family took a bite, they all started saying YUMMMMMM over and over. The next time I made it, the kids started saying they loved the "Yum Yum Chicken" and the name stuck.
Yum Yum Chicken uses chicken breasts that we pound out into thin pieces making the chicken extra tender. The chicken also cooks quickly this way! Then we coat the chicken breasts in mayonnaise — don't run away, I promise you will not taste the mayo once cooked — and a very generous sprinkle or our secret blend of seasonings. Bake it in the oven for 20 minutes and sprinkle it with a little parmesan cheese!
The flavor is outrageously packed into each bite of this Yum Yum Chicken! And bonus, this recipe is also very low in carbs if you are tracking them — perfect keto chicken breast recipe! Each serving only has 3 net carbs!
I promise your whole family is going to love this Yum Yum Chicken and will want to know your secret to these flavor packed chicken breasts!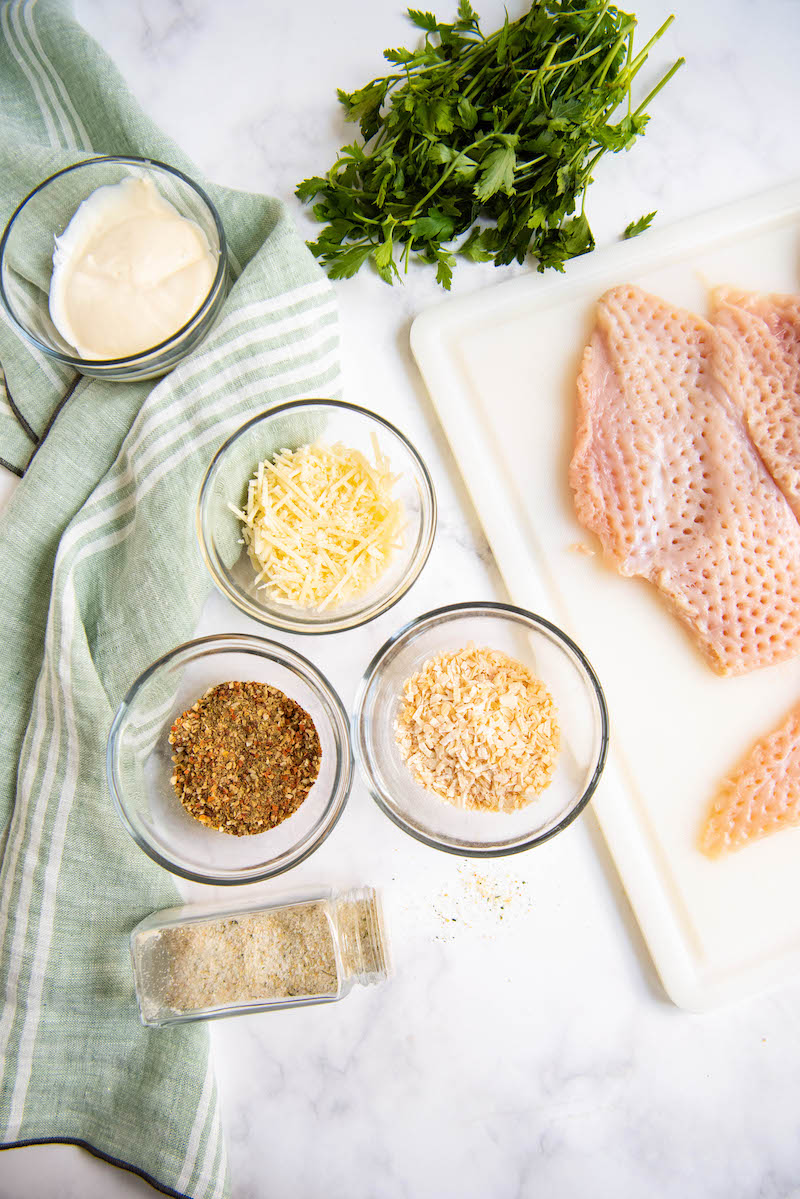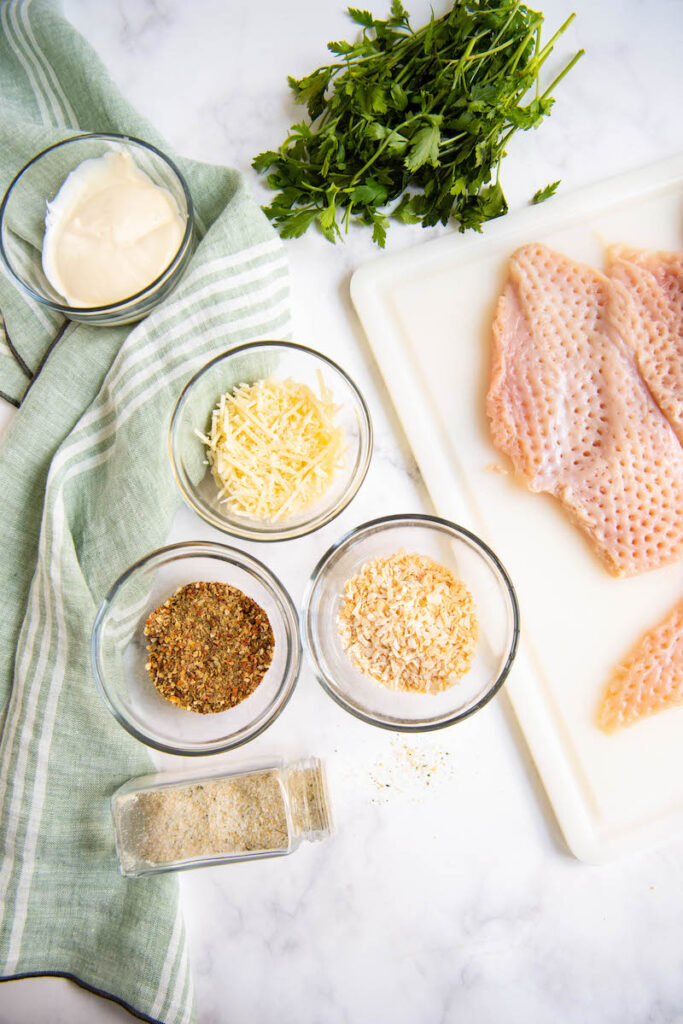 Just 6 ingredients! Plus the secret to all the flavor!
The big secret ingredient for this Yum Yum Chicken are the seasonings:
Chicken Breasts
Mayonnaise
21 Seasoning Salute
Dried Onion Flakes (also sometimes called Dried Minced Onion)
Garlic Salt
Parmesan Cheese
What is 21 Seasoning Salute?
21 Seasoning Salute is a seasoning blend with 21 different spices and herbs and zero salt. It was originally created and sold exclusively at Trader Joe's. You can buy it on amazon: 21 Seasoning Salute or in store at Trader Joe's for cheaper!
However, you can also now buy it in bulk at Costco. Costco has it named Kirkland Signature Organic No-Salt Seasoning and it is available online for purchase, but again is much cheaper in store if you can go in person.
Lastly, if you would prefer and already have all the spices on hand, you can also make your own 21 Seasoning Salute Copycat recipe by mixing all the ingredients together below in equal parts:
onion powder
black pepper
dried celery seed
ground cayenne pepper
dried parsley leaves
dried basil leaves
dried marjoram
dried bay leaf
dried oregano
dried thyme
dried savory
dried rosemary
cumin powder
mustard powder
ground coriander seed
garlic powder
dried carrot
dried orange peel
dried tomato
lemon juice
lemon oil
Secret blend of spices for Yum Yum Chicken
The combination of 21 Seasoning Salute, Garlic Salt and dried Minced Onion (again, much cheaper in store versus online) makes up our secret blend of spices. It brings an incredible amount of flavor with very minimal work on your part!
Why coat the chicken in Mayo?
I also am not a mayonnaise lover. It's not my choice condiment, but I can't deny that it keeps chicken moist and is a great way to bake chicken breasts! The mayo helps the seasonings to coat and stick to the chicken breast, but it also keeps the chicken breast moist. You will not be able to taste that this dish was made with mayo once it is baked!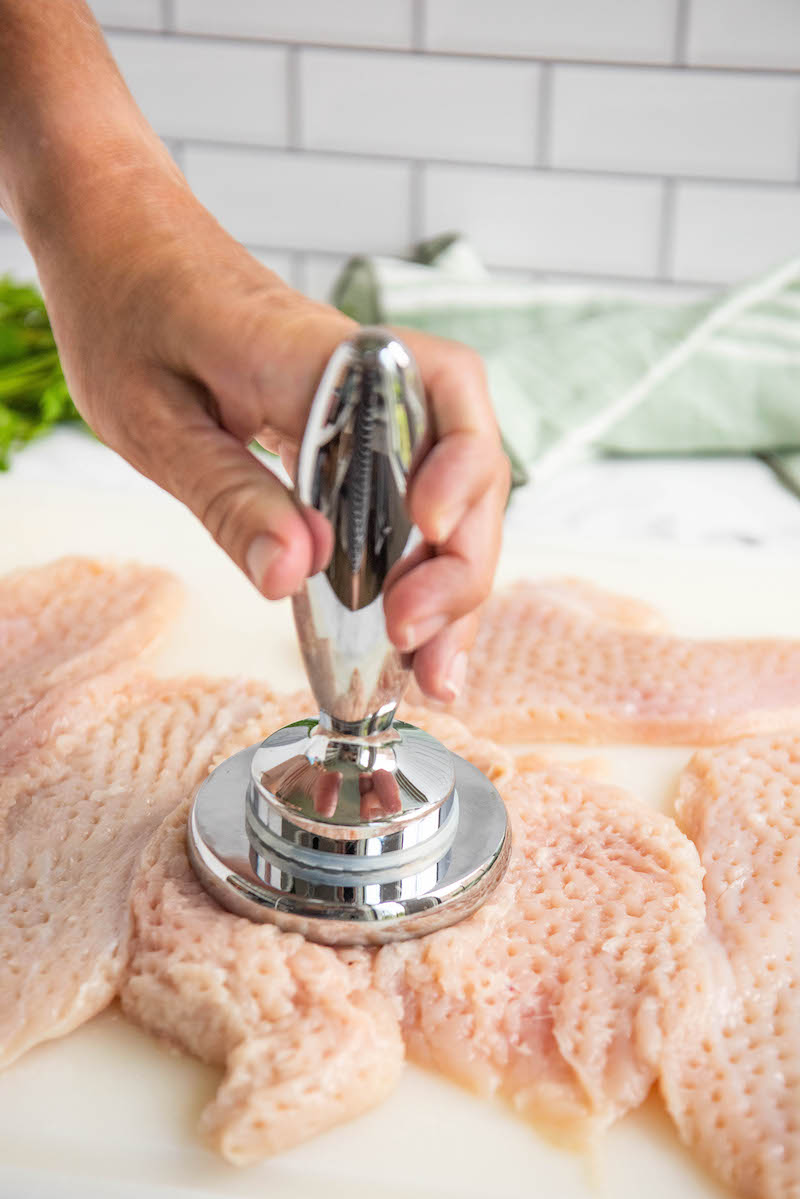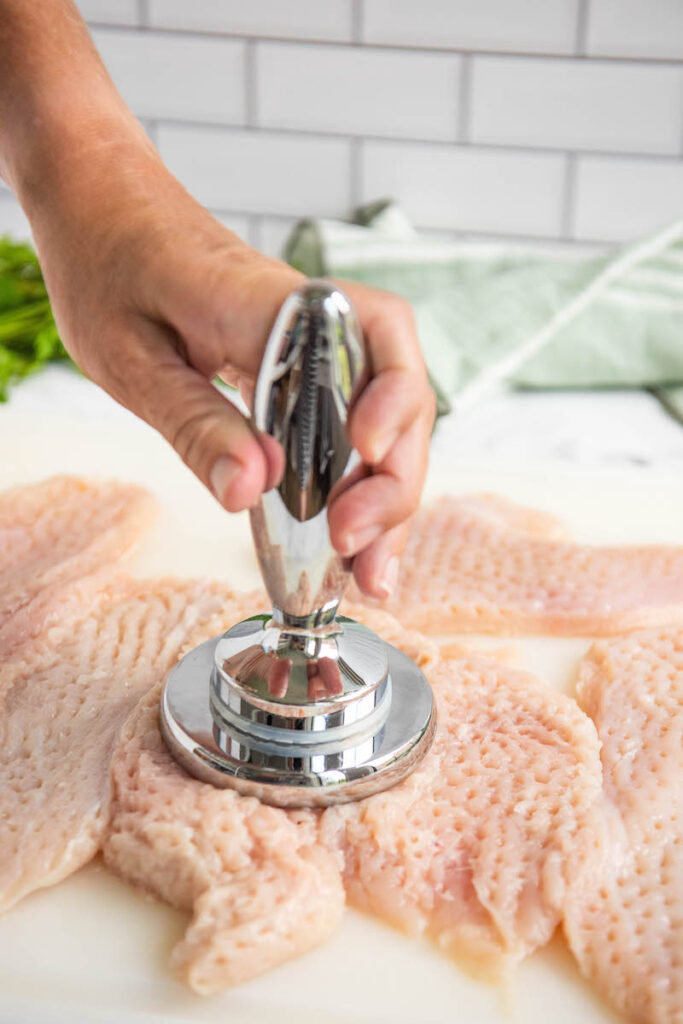 How to make Yum Yum Chicken
1. Pound out your thinly sliced chicken breasts until about an inch thick.
You can choose to buy regular chicken breasts and slice them into thin chicken breasts yourself or purchase the already cut thin chicken breasts. I like to pound out the chicken breasts with a meat tenderizer to ensure they are extra tender, but if you want to skip this step, you can, it is not necessary.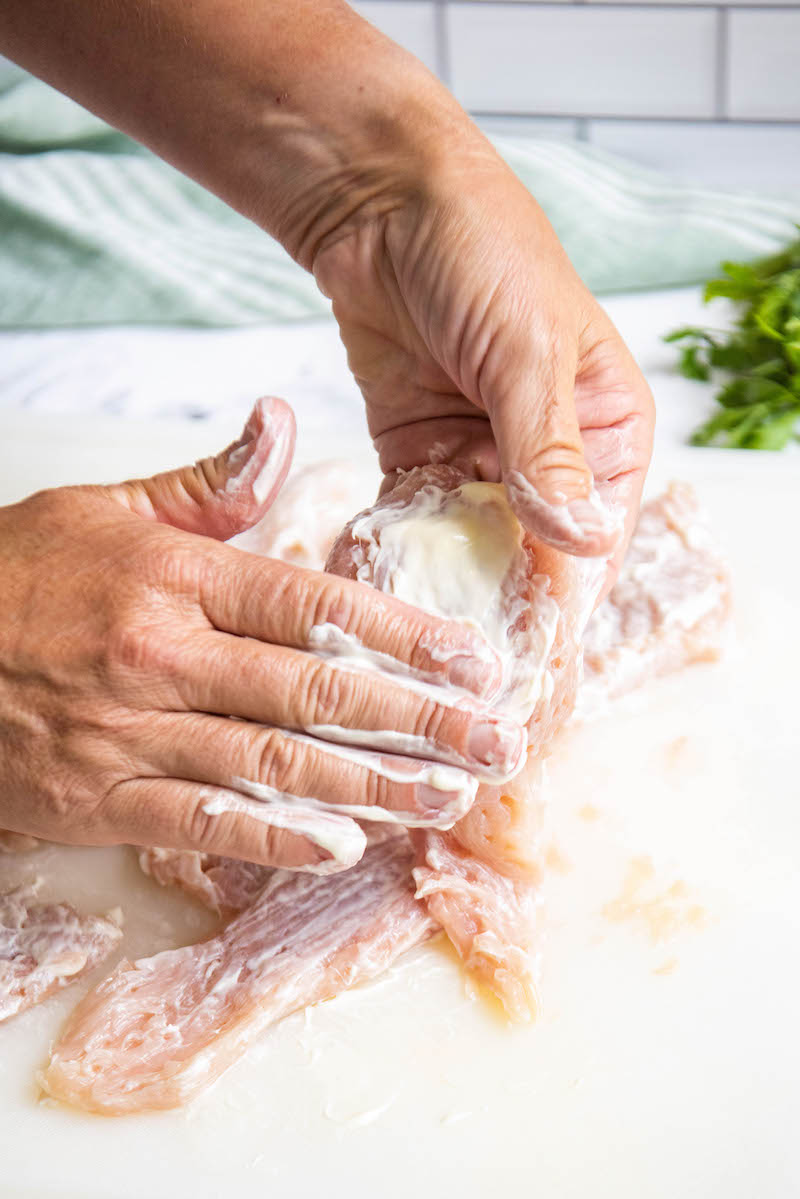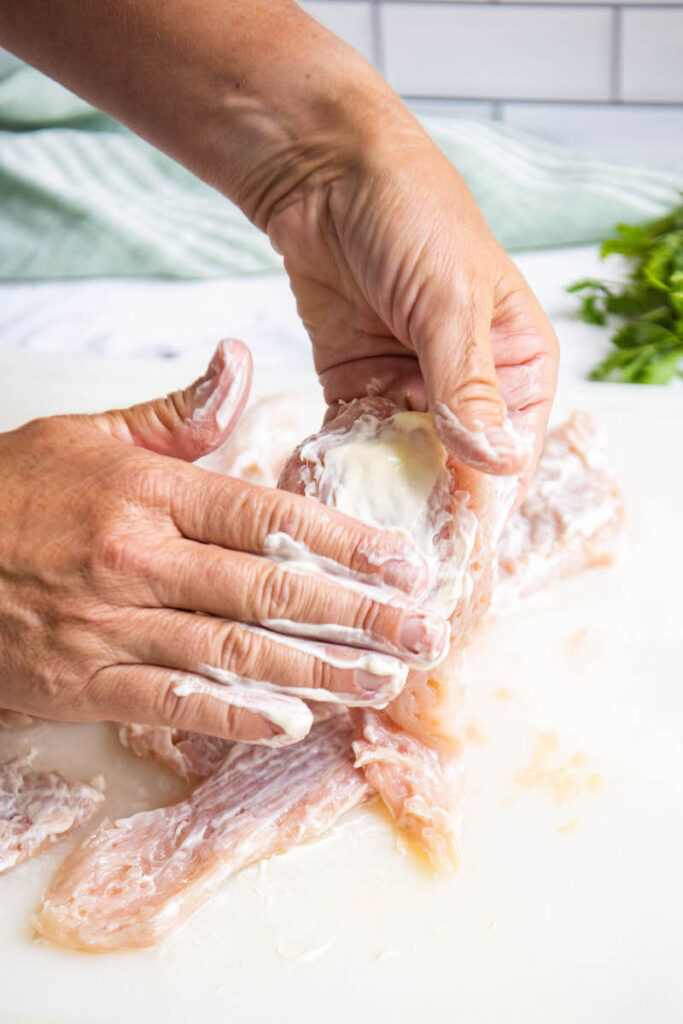 2. Lightly coat both sides of chicken breasts with mayonnaise.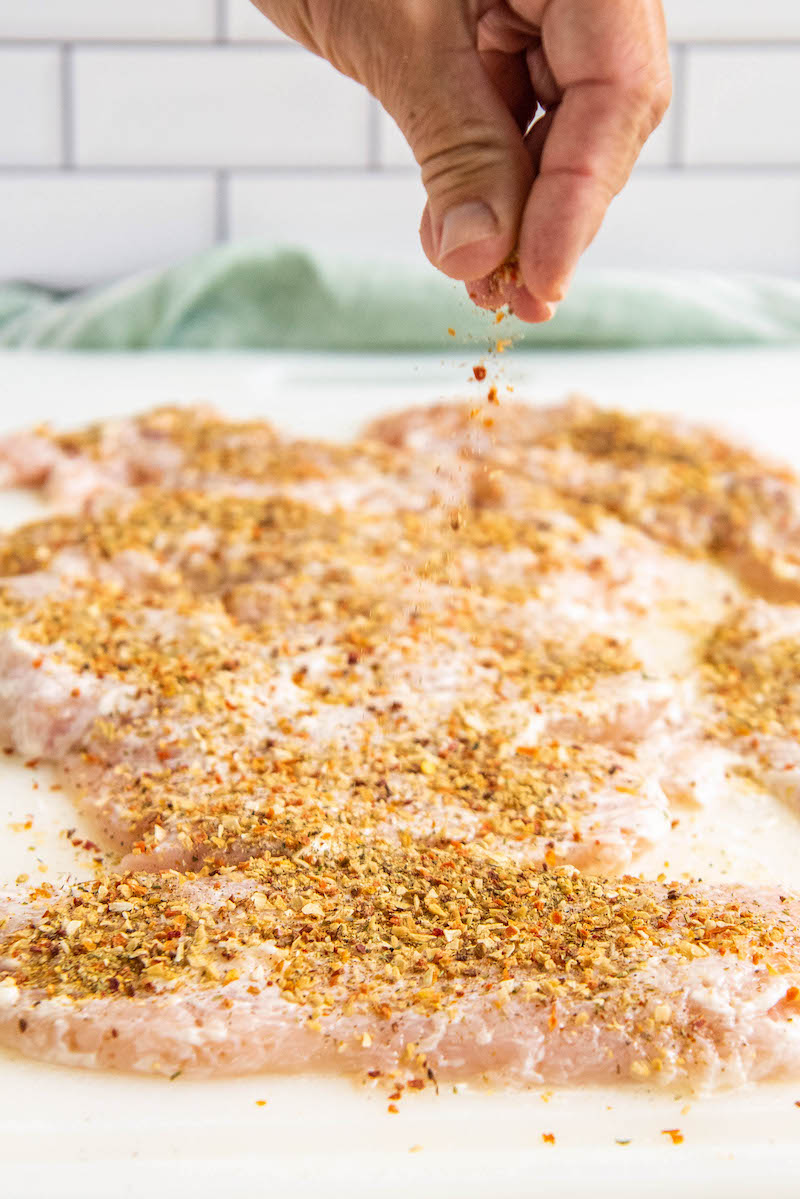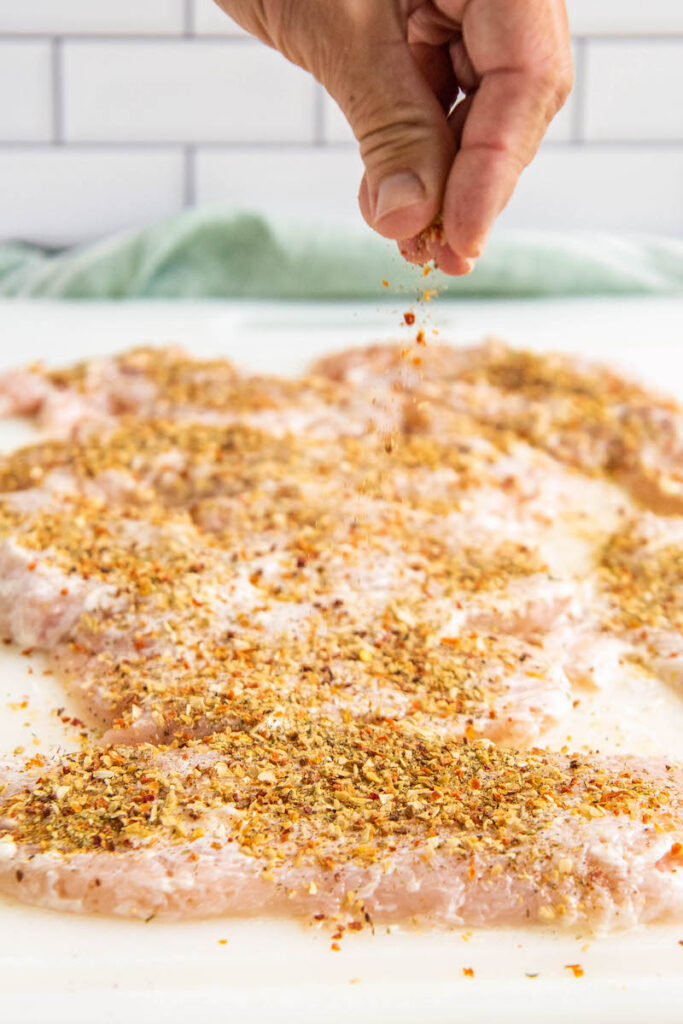 3. Very generously sprinkle chicken with seasoning blend: 21 seasoning, garlic salt and dried minced onion. Place chicken in a greased baking dish seasoning side down and then season the other side of the chicken breasts.
4. Bake in a preheated oven to 375°F for 20 to 25 minutes, until chicken is cooked through and an internal temperature is reached of 165°F.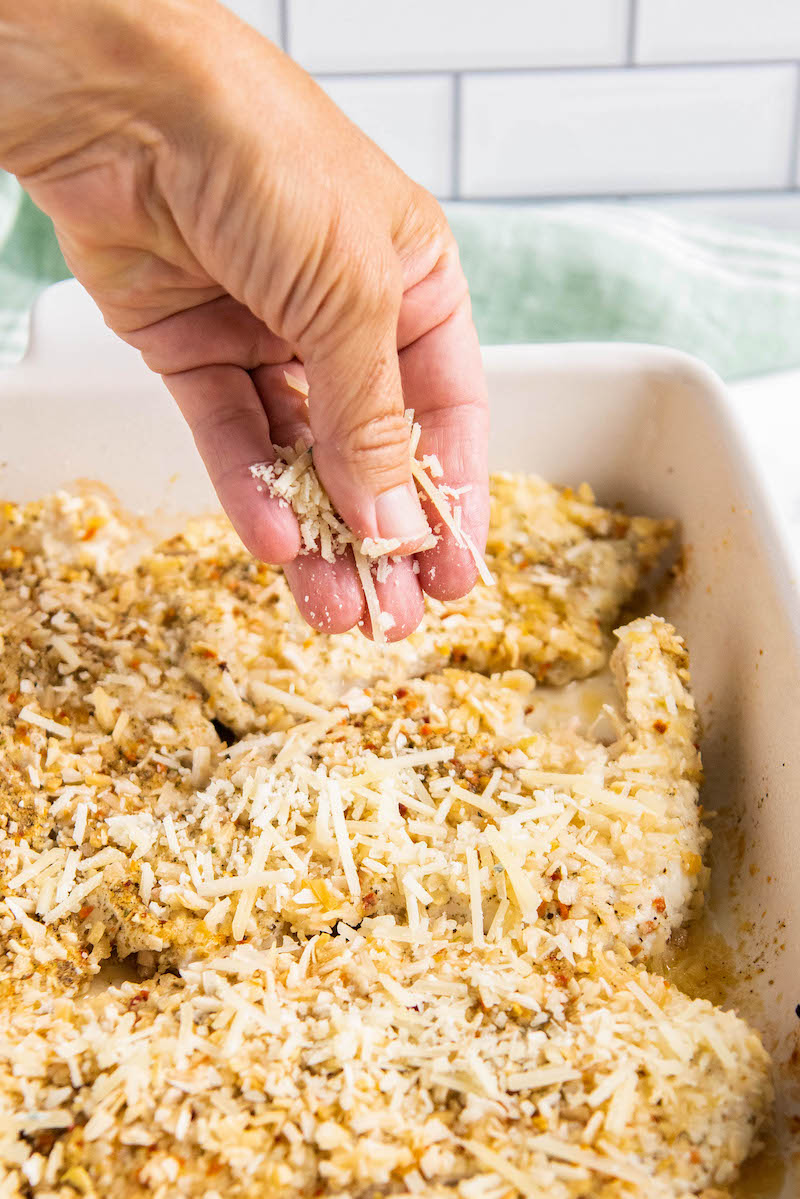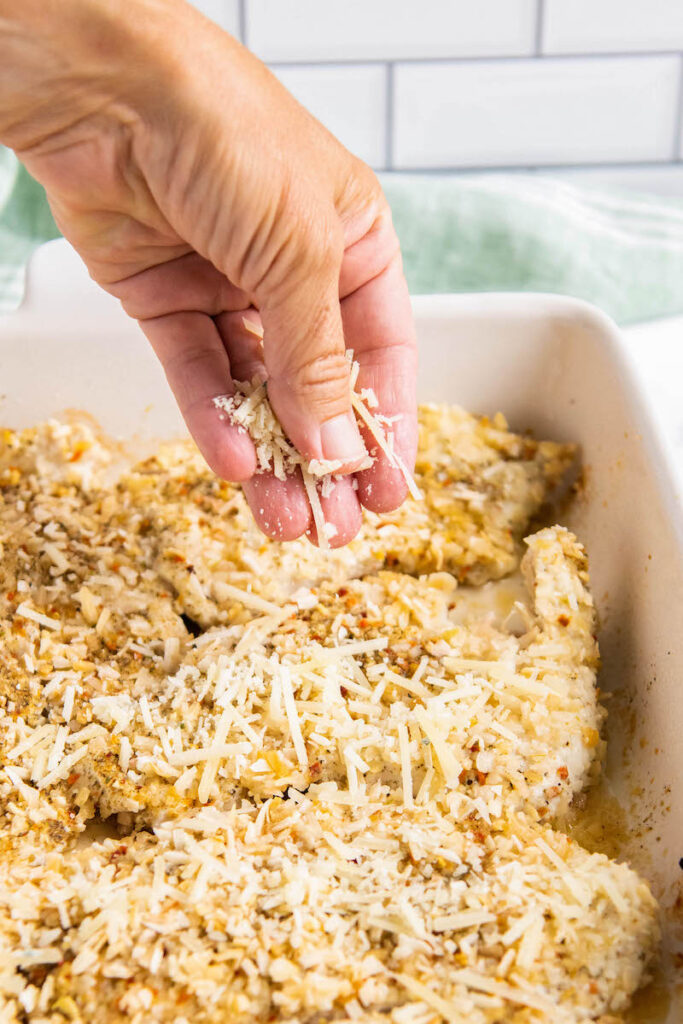 5. Remove chicken from oven once cooked, top with parmesan cheese and cook for 5 minutes more to melt parmesan. Serve immediately!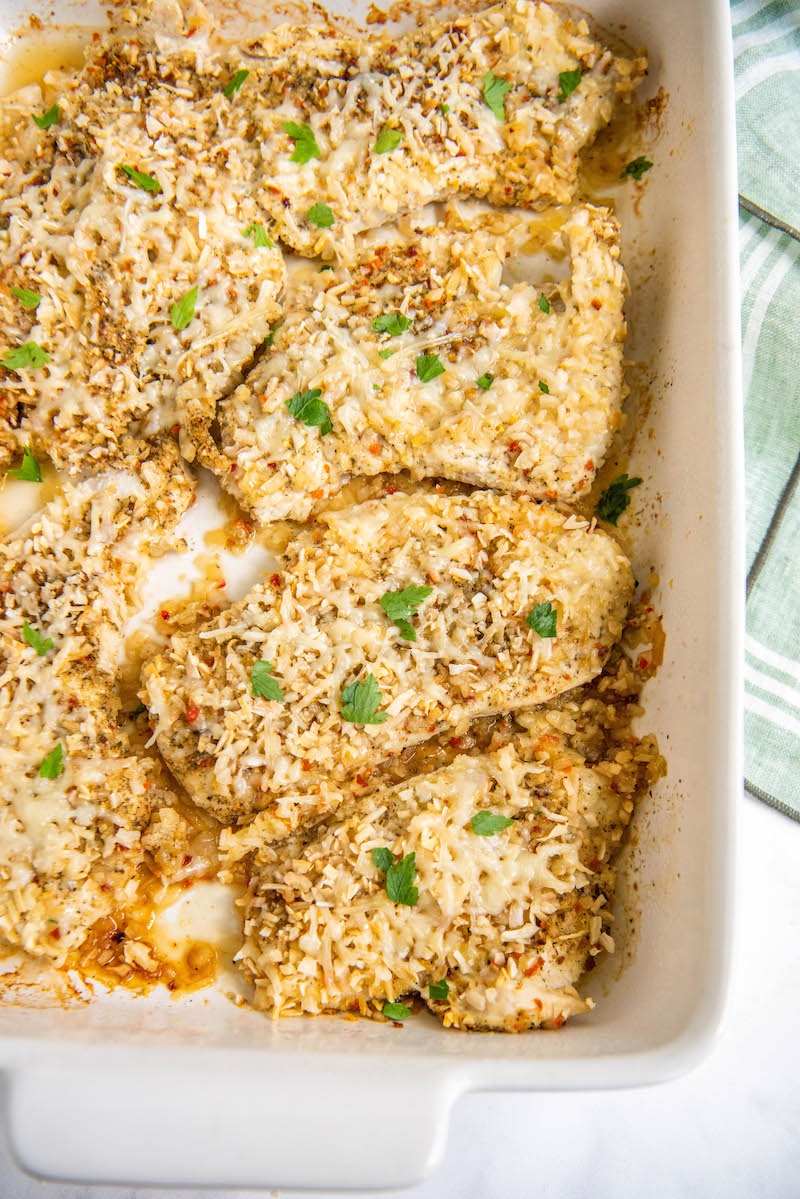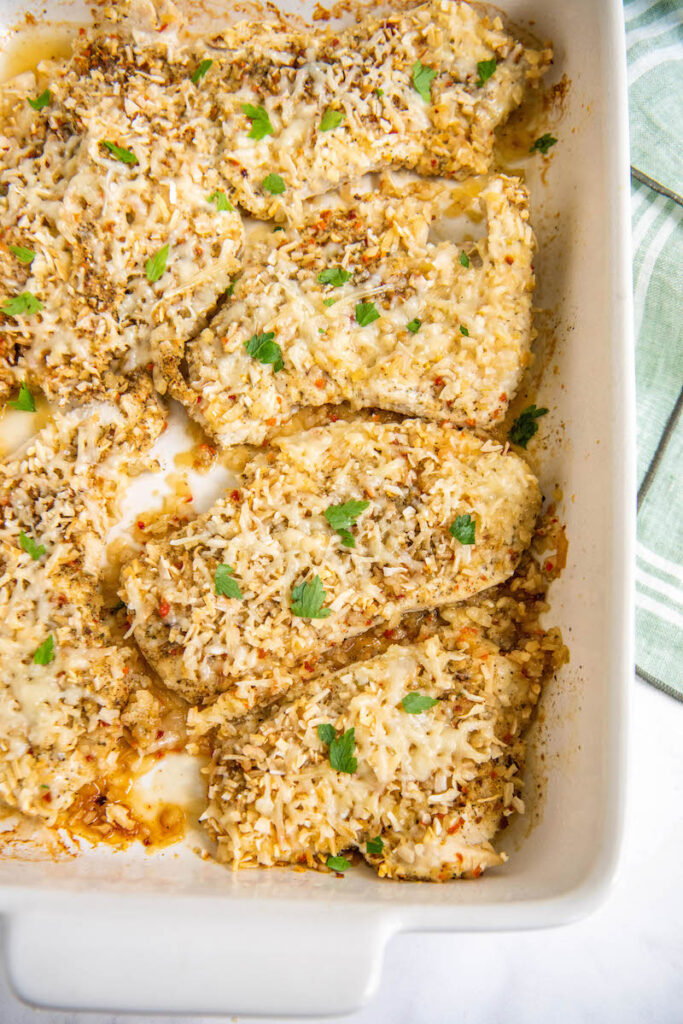 How to serve Yum Yum Chicken
Serve it up with whatever sides your family enjoys the most, it goes with just about everything. We often serve it with some green vegetables like broccoli, brussels sprouts or green beans and a side of mashed potatoes. It's also great served over a salad or with a side salad. For an extra decadent dinner, it's also delicious served over some creamy fettuccine alfredo.
Can I make it ahead?
I wouldn't recommend making this Yum Yum Chicken ahead and reheating it as it is best served fresh out of the oven.
However, you can prep it ahead of time by preparing the chicken and placing it in the baking dish and then covering it with foil and storing in the fridge for up to 24 hours. Then bake it as directed!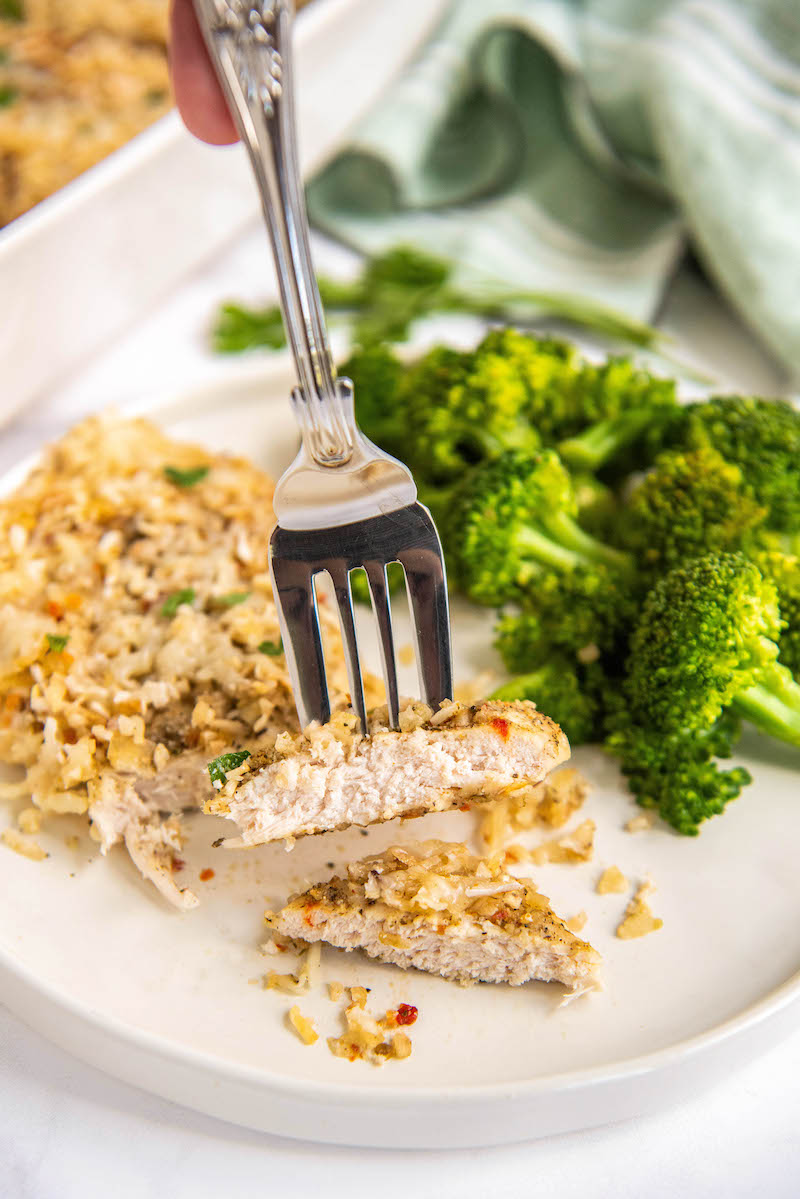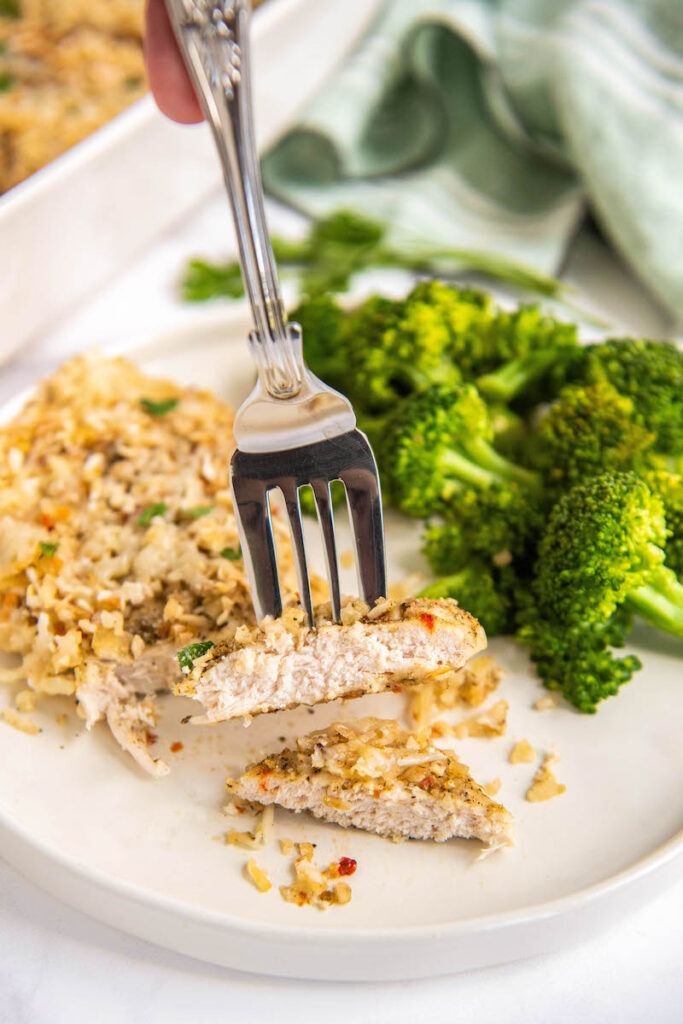 We know you are going to love this Yum Yum Chicken just as much as we do. I know that sounds confident, but it's impossible to not love something with this much flavor. Please leave a comment or review below letting us know how this recipe turns out for you!
Looking for another low carb easy chicken dinner? Try our favorite Crockpot French Onion Chicken recipe!
Yum Yum Chicken
This Yum Yum Chicken is an easy baked chicken breast recipe that is exploding with flavor! Step up your regular weeknight chicken with this easy low carb chicken recipe (just 3 net carbs!) that only uses 6 ingredients.
Ingredients
1

lb

thinly sliced chicken breasts

4

tablespoons

21 Seasoning Salute

2

tablespoons

dried minced onion

1

tablespoon

garlic salt

⅓

cup

mayonnaise

½

cup

grated Parmesan cheese
Instructions
Preheat oven to 375°F. Grease a large casserole dish (I used a 9×13 casserole dish) and set aside. In a small bowl, combine 21 seasoning salute, dried minced onion and garlic salt. Set aside.

Pound chicken with a meat tenderizer until chicken breast is about 3/4 inch thick.

Coat both sides of chicken with mayonnaise and then generously sprinkle both sides of chicken with prepared spice mix.

Place into prepared baking dish and bake until chicken is cooked through and chicken reaches an internal temperature of 165°F, about 20 minutes.

Sprinkle chicken with parmesean cheese and return to oven for 5 minutes more to melt cheese. Serve immediately!
Nutrition
Serving:
1
serving
,
Calories:
373
kcal
,
Carbohydrates:
4
g
,
Protein:
39
g
,
Fat:
21
g
,
Saturated Fat:
5
g
,
Polyunsaturated Fat:
15
g
,
Cholesterol:
115
mg
,
Sodium:
3608
mg
,
Fiber:
1
g
,
Sugar:
1
g