Bright, citrusy, and a little bit grassy, fresh cilantro is one of the most popular herbs in the world. This tart and refreshing herb is popular all over the globe, and a staple in Mexican, Chinese, Thai, and Vietnamese cooking. It's one of our favorite herbs to cook with or use as a garnish because it adds a bright, refreshing, and zesty flavor to every dish. Unfortunately, a lot of people don't know how to store cilantro. Here's everything you need to know about this lemony herb, including some of our favorite recipes.
How to Store Cilantro
Most people store cilantro in the plastic produce bag that it comes in when you buy it at the store. But if you do that, your cilantro will go bad in just a few days. We tested 5 different methods to find the best way to keep cilantro fresh. Three methods made the cut as our preferred methods.
The first method is to store your fresh cilantro wrapped in paper towels in a ziplock bag with all the excess air removed. This is good method to choose if you are going to use your cilantro in the next 5 days and are limited on space.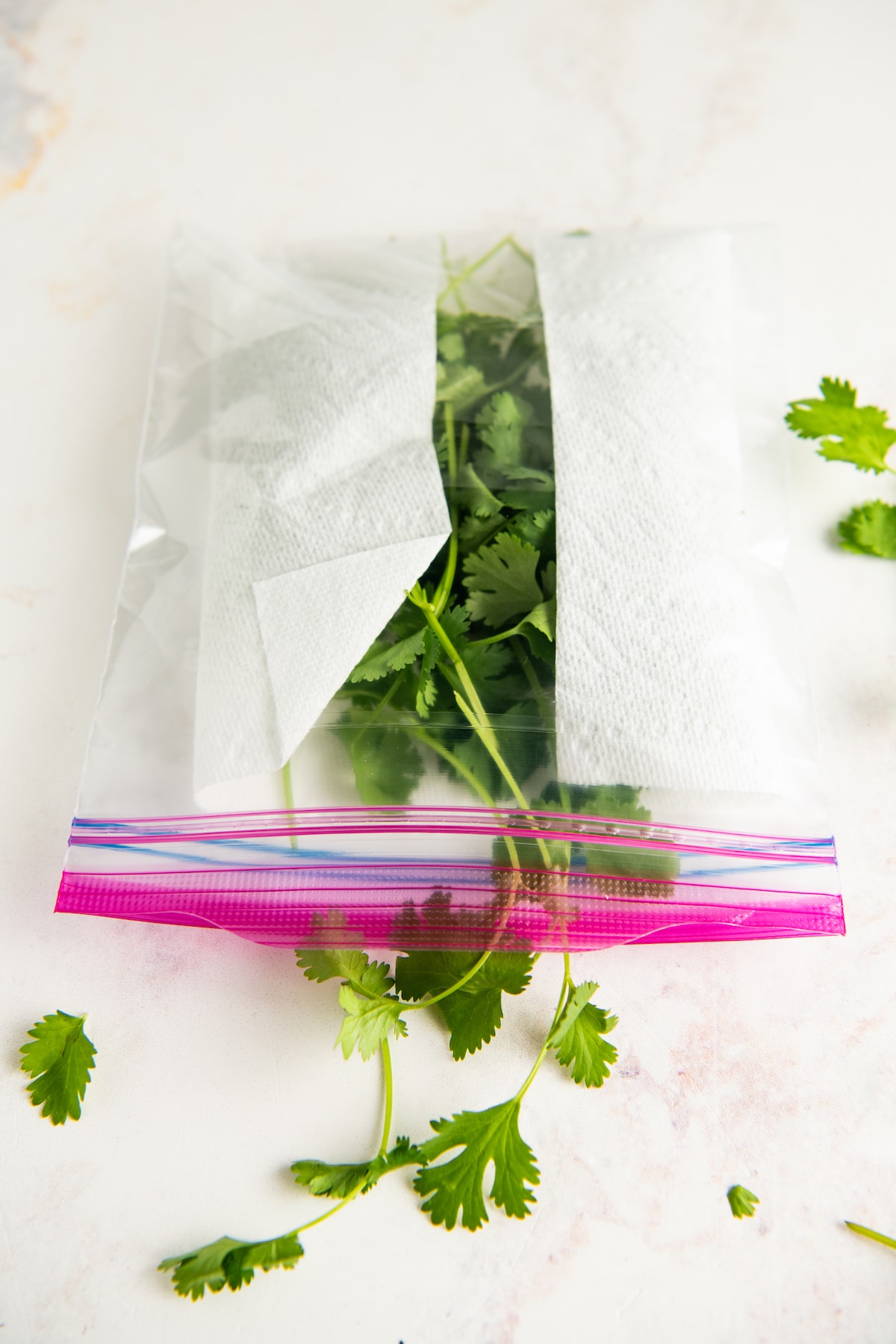 How To Keep Cilantro Fresh For Longer
With this method, pretend that your cilantro is a fresh bouquet of flowers. Trim the stems a little bit, then place the herbs in a glass of fresh water and lightly cover the cilantro with a plastic bag. Put the glass in the fridge, changing the water every 2 to 3 days, and your cilantro will last a little over a week, easy!
The third method, freezing the cilantro, is recommend for those needing to store the cilantro for well over a week, or up to a few months.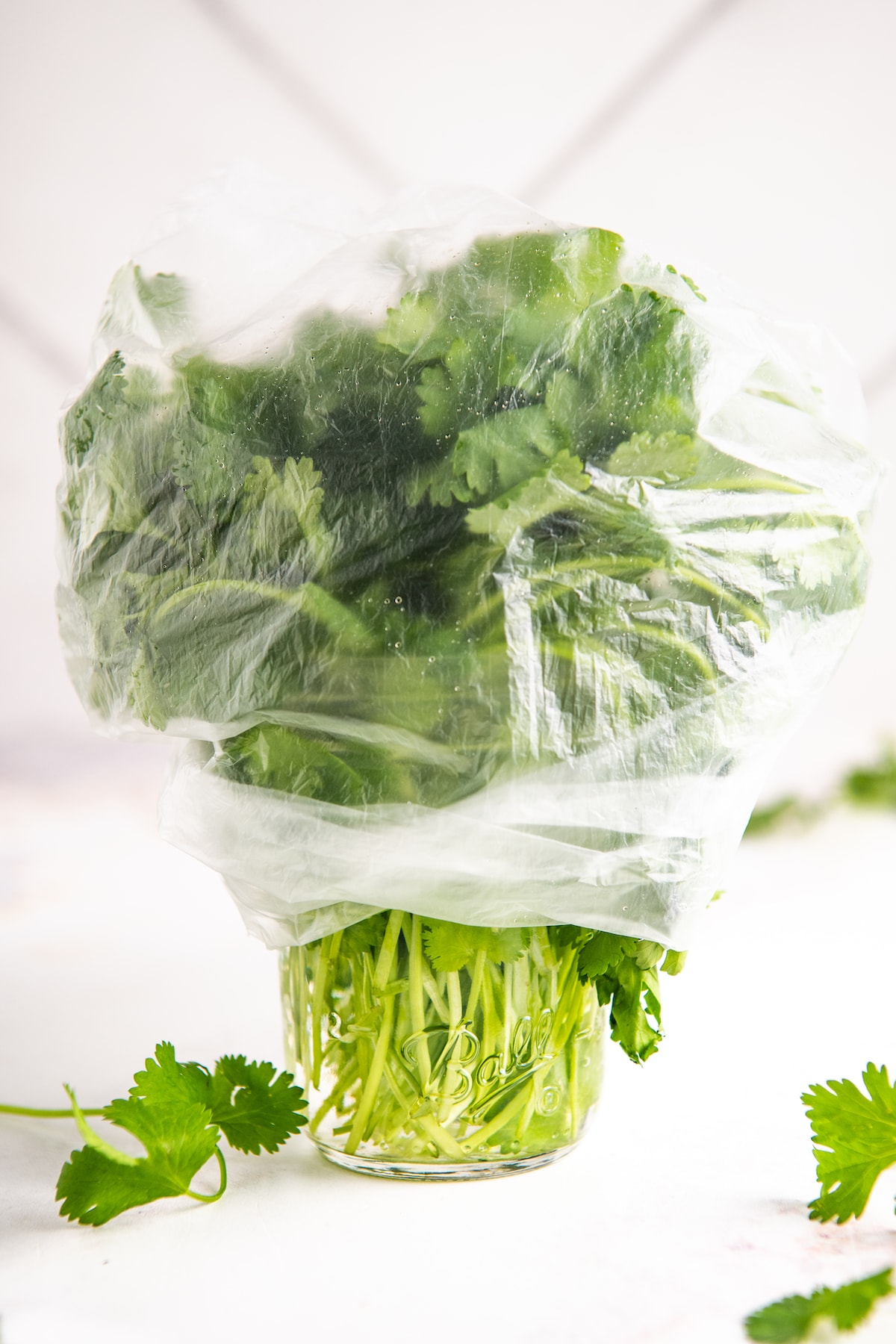 Can You Freeze Cilantro?
Cilantro is a great ingredient to freeze if you want to have fresh herbs all year long. All you have to do is remove the stems, chop the leaves to your desired size, and place them in an ice cub tray. Fill each tray with water or olive oil. Put the tray in the freezer until frozen, then remove the cubes and put them in an airtight bag. You can then use the frozen herbs at any time, or thaw them at room temperature for about 30 minutes.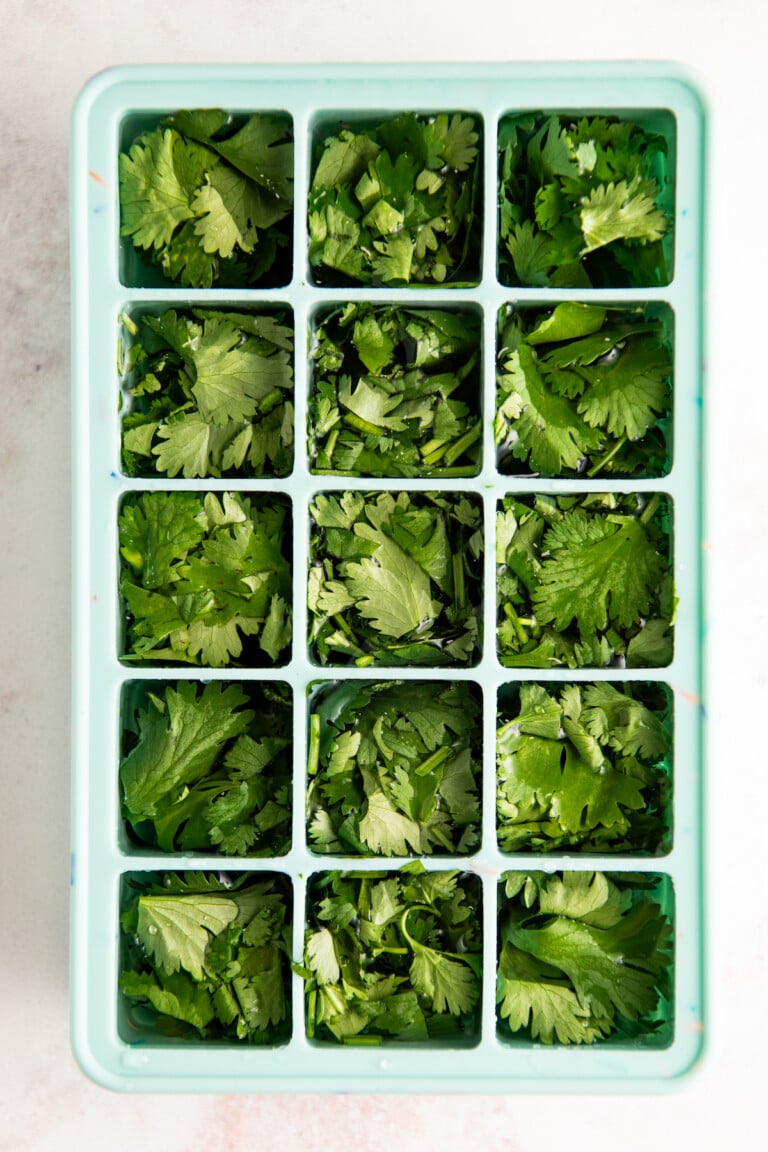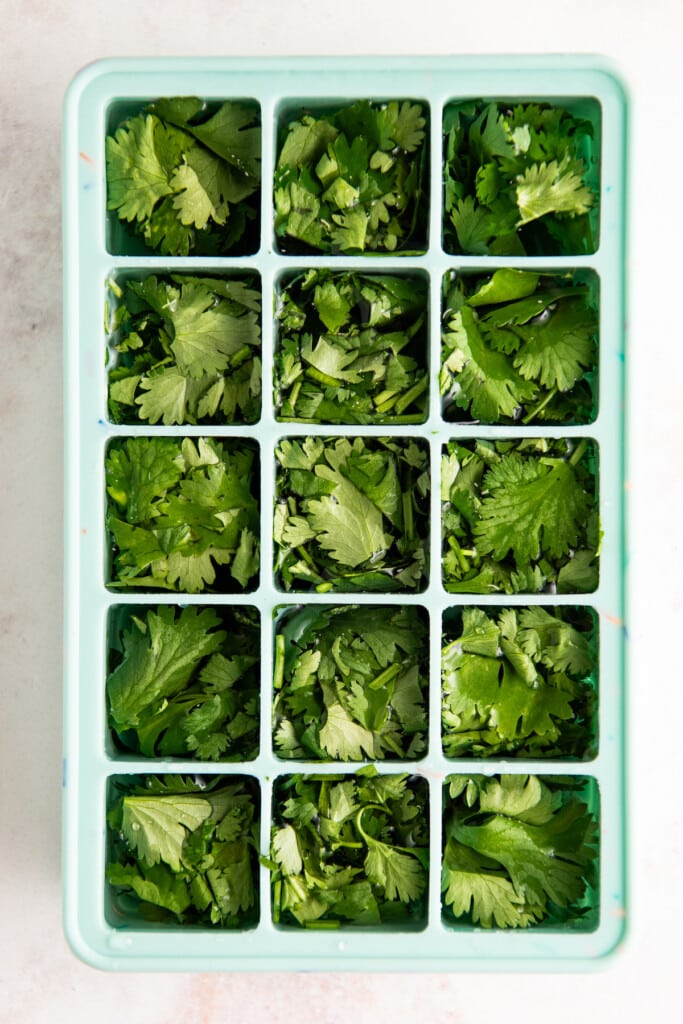 Once thawed, the cilantro will not be beautiful enough to use for a garnish, but it will still be light green in color and fresh. Frozen and then thawed cilantro is great in soups, sauces and dishes you would want to add fresh cilantro too. You can also put these refreshing, citrusy herb cubes directly in any recipe for a burst of herbaceous flavor.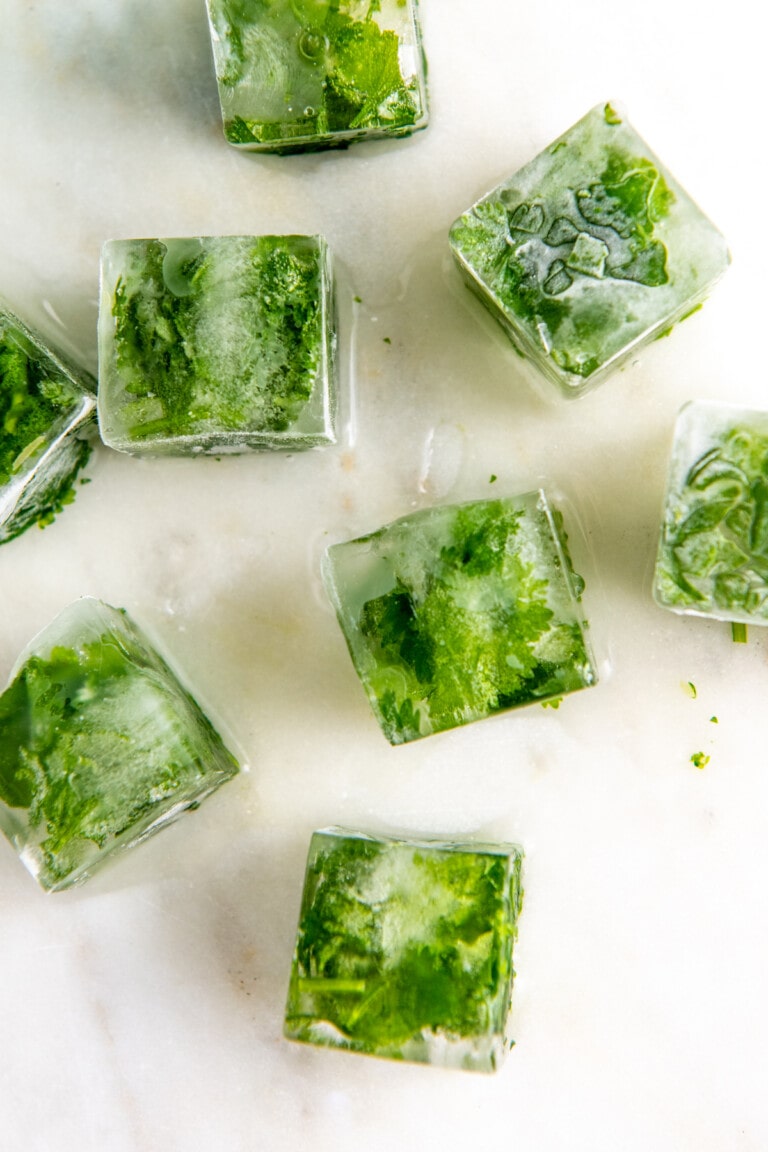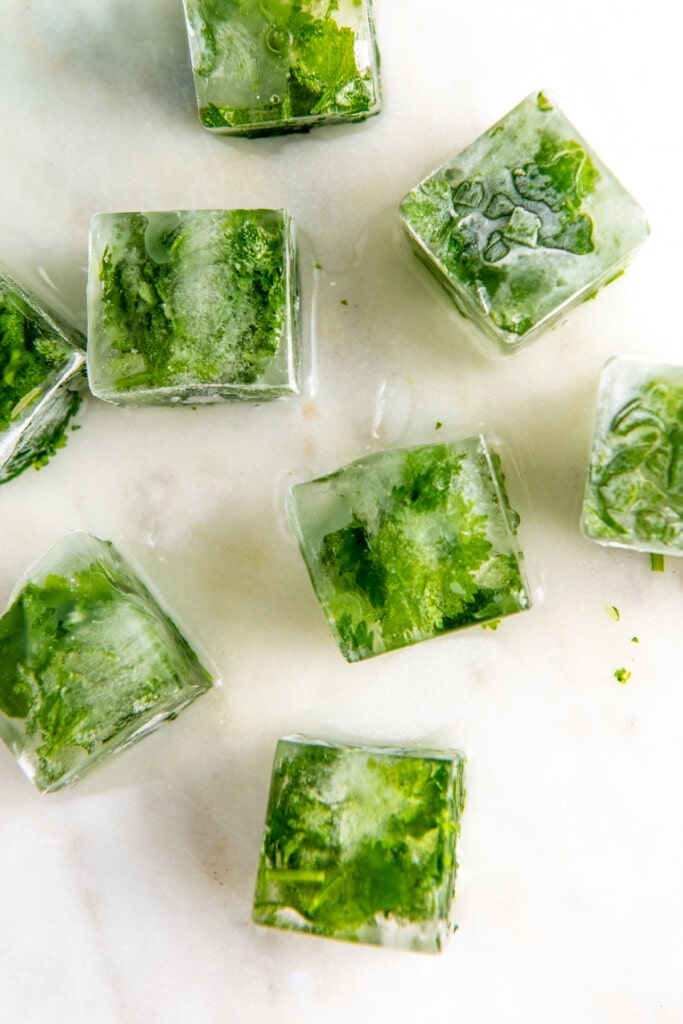 What Does Cilantro Taste Like?
Cilantro is very fresh tasting, a little grassy, and quite citrusy. It has a bright and refreshing flavor that's also a little bit earthy and has a slight lemon flavor to it. Cilantro also tastes a bit nutty, and people who dislike the herb say that it tastes like soap.
Is Cilantro Good For You?
Cilantro has a few important vitamins and minerals, including a decent amount of vitamins A, C, and K. There have also been some studies that suggest a link between cilantro and the prevention of Alzheimer's, Parkinson's, and other cognitive diseases.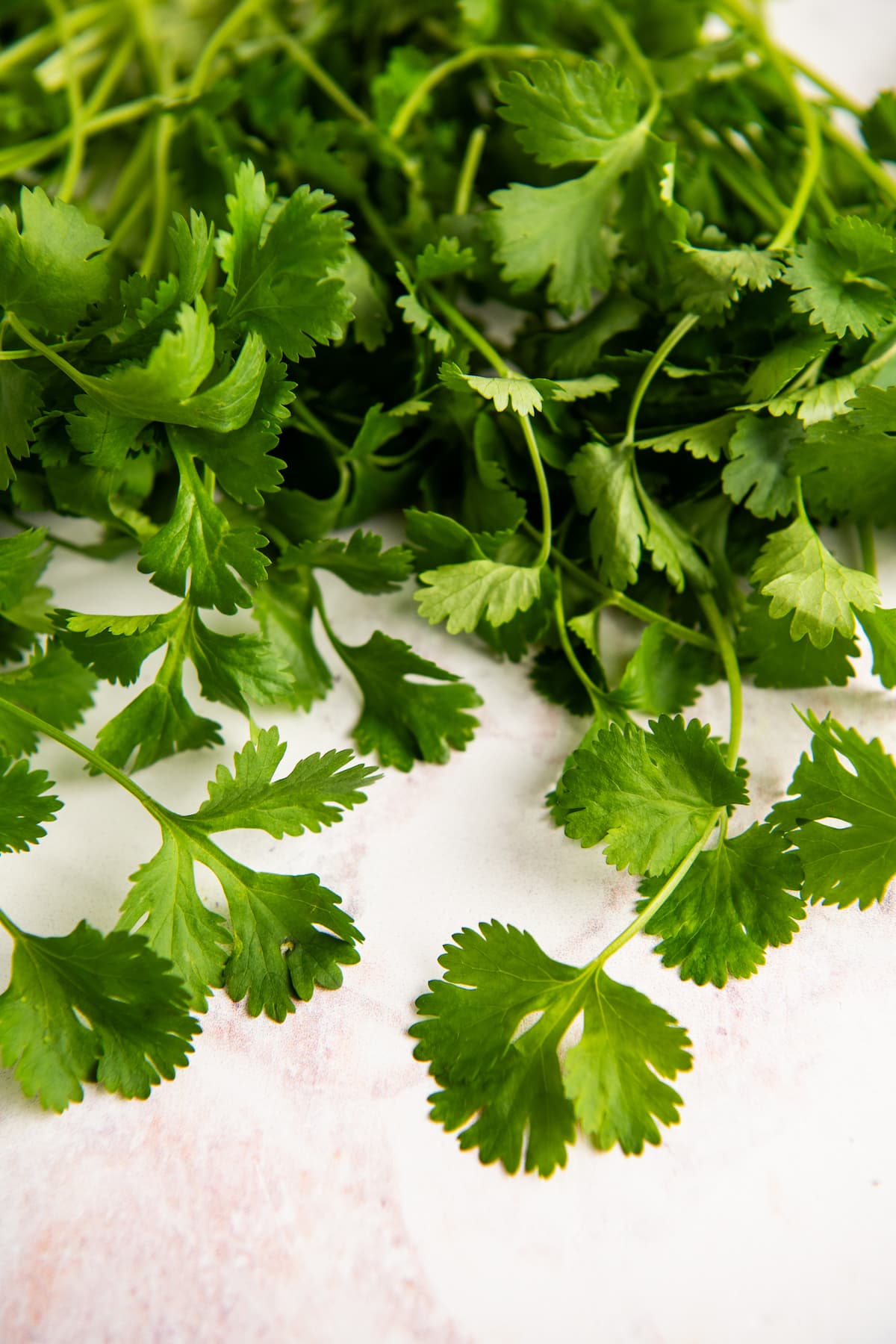 Are Cilantro and Parsley Different?
It's easy to confuse cilantro with parsley when you're at the grocery store, because they look very similar, and they are from the same family. But cilantro and parsley have very different flavors, with parsley being more earthy, peppery, and savory.
What's the Difference Between Cilantro and Coriander?
Cilantro and coriander are technically the same thing, but there's an important distinction if you live in America. At American grocery stores, cilantro refers to the fresh herb, while coriander refers to the dried seeds, which are sold whole or ground in the spice aisle. In Europe, however, they simply refer to fresh cilantro as coriander, and the dried seeds as coriander seeds.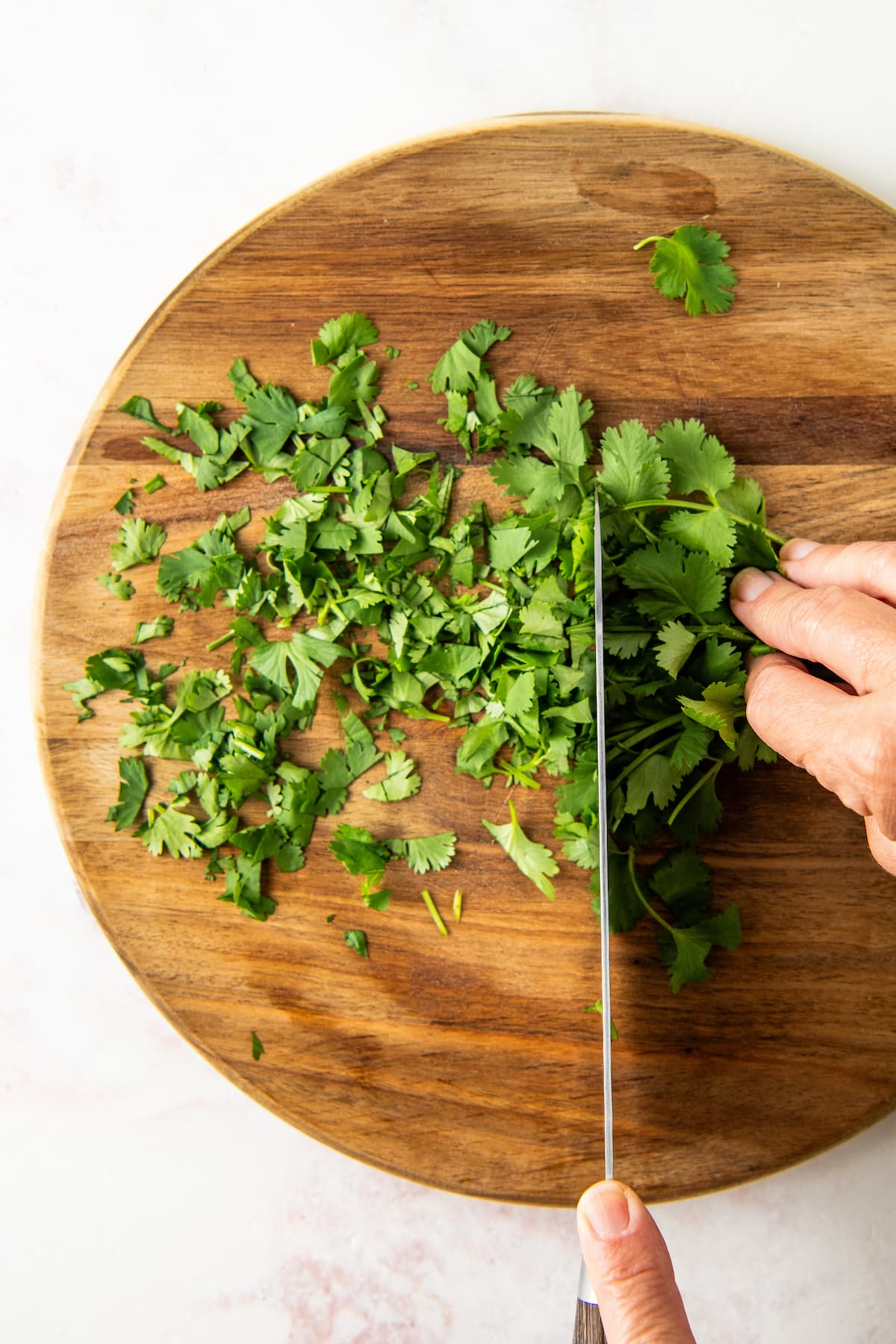 How to Chop Cilantro
It's very easy to chop cilantro. Unlike some herbs, cilantro isn't damaged by being cut. So you can simply chop it or mince it like it's any other ingredient, until it's the size that you want to use.
Can You Eat Cilantro Stems?
Cilantro stems are completely edible, and many people eat them. They have even more flavor than the leaves, but the texture is much harder. We like to use the stems when we're blending or pureeing cilantro, but not if we're using the herb as a garnish.
8 Easy Recipes With Cilantro in Them
A little bit of cilantro can add so much brightness and tangy flavor to a dish. Here are a few simple but delicious recipes that feature this popular, affordable, and citrusy herb.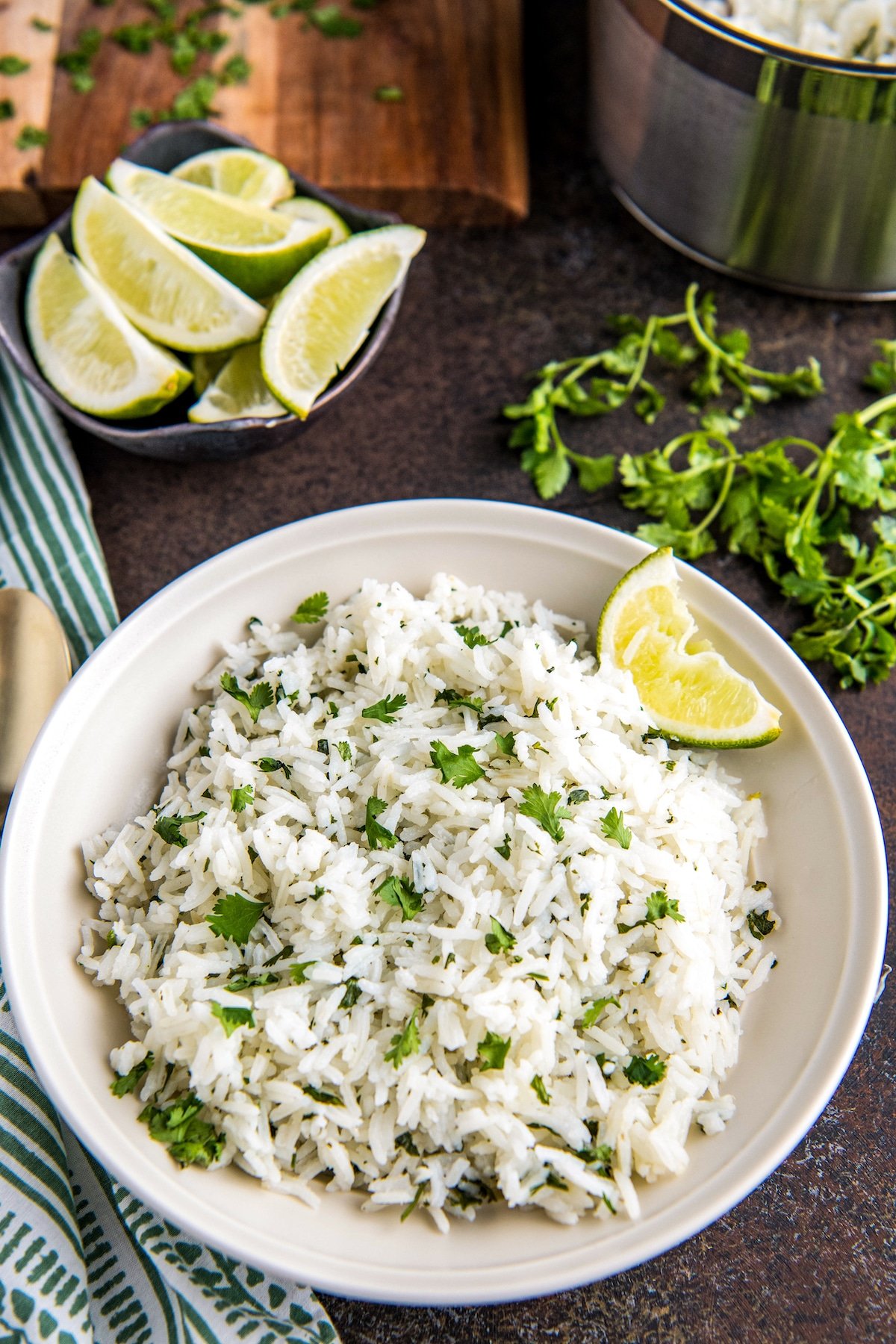 Cilantro Lime Rice
This simple recipe makes some of the most delicious rice you'll ever taste. White rice is fluffed with fresh cilantro and lime juice, making it aromatic, acidic, and so fresh tasting.
Get The Recipe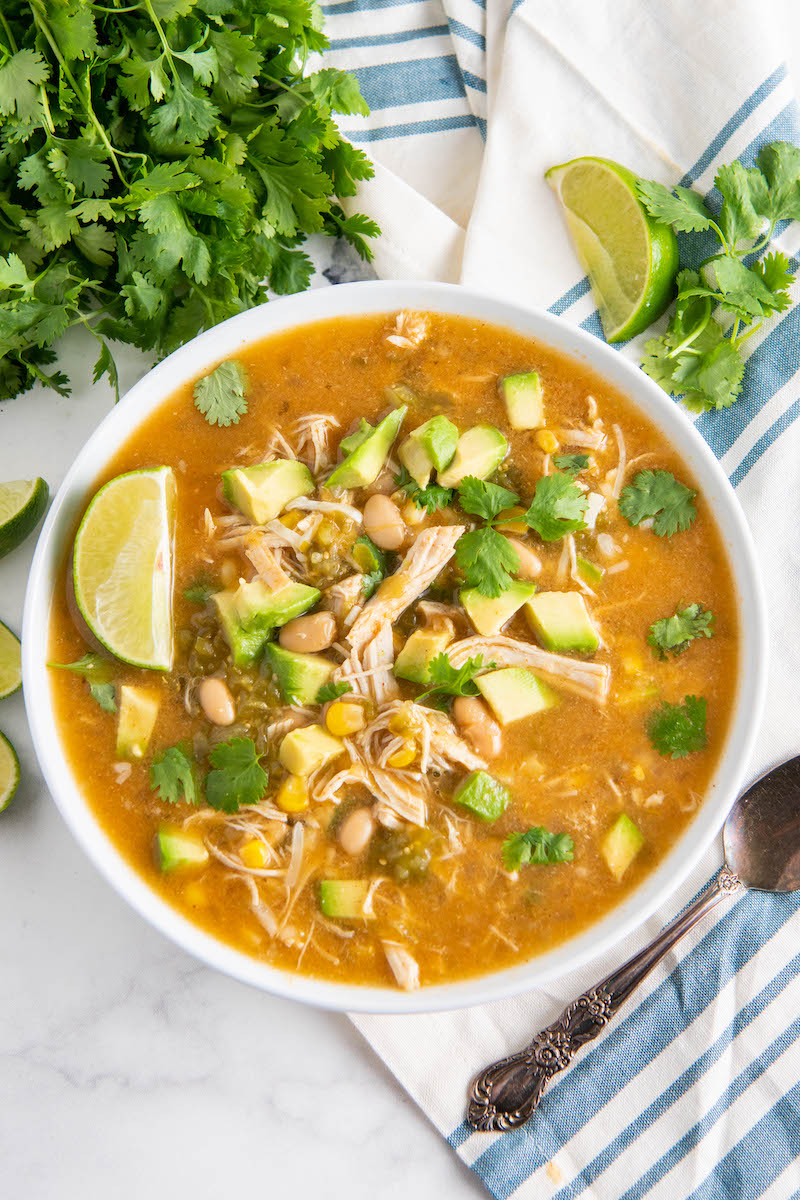 Salsa Verde Chicken Soup
This incredibly flavorful Salsa Verde Chicken Soup is an EASY crockpot (or instant pot) recipe that takes just a few minutes of work for an easy dinner. Tender bites of chicken, salsa verde, white beans and corn make this soup both filling and so tasty!
Get The Recipe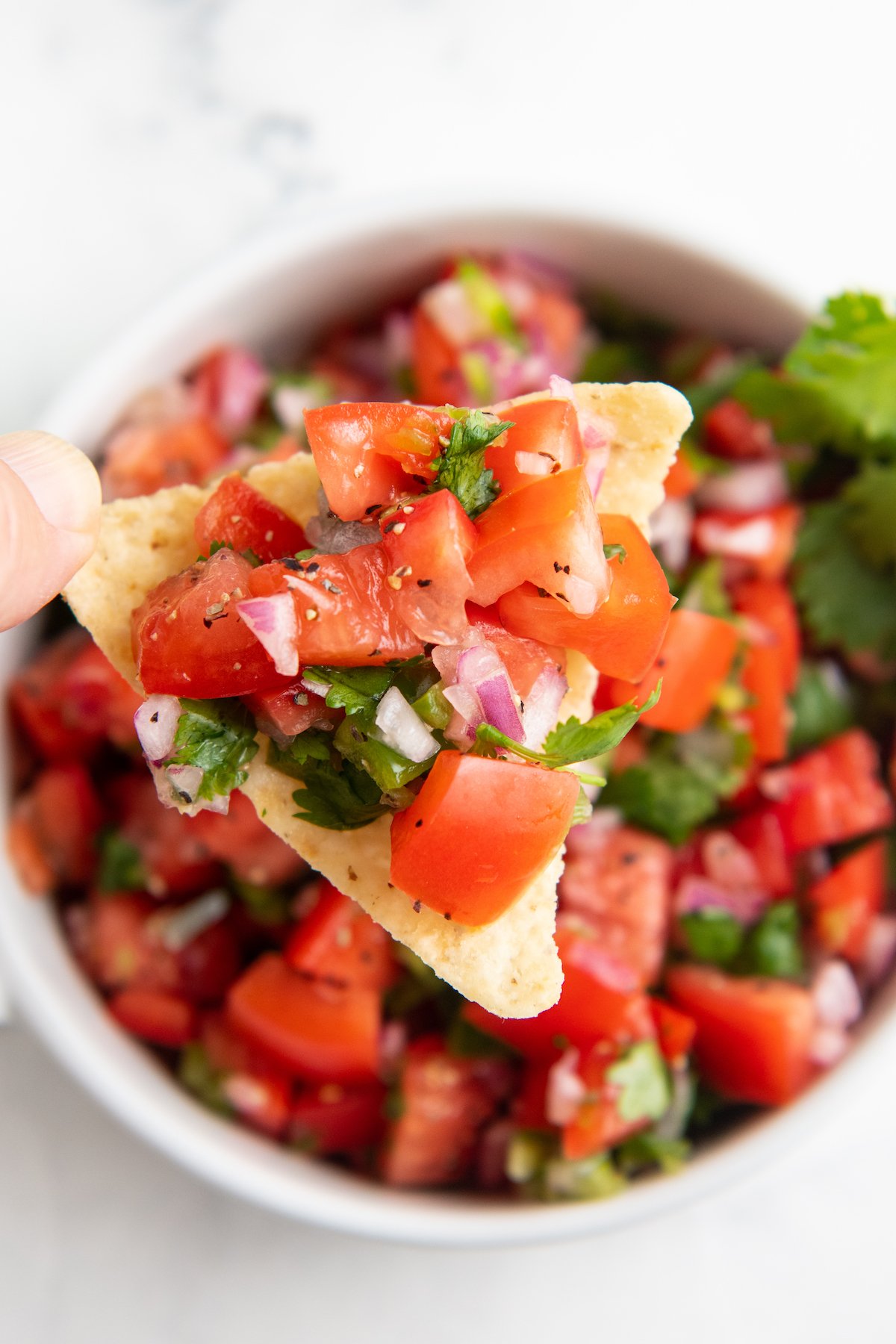 Pico De Gallo
This 10-minute pico de gallo tastes just like what you'd order with tortilla chips at your favorite Mexican restaurant. And one of the secrets? A half cup of cilantro mixed in with the tomatoes, onion, and jalapeño.
Get The Recipe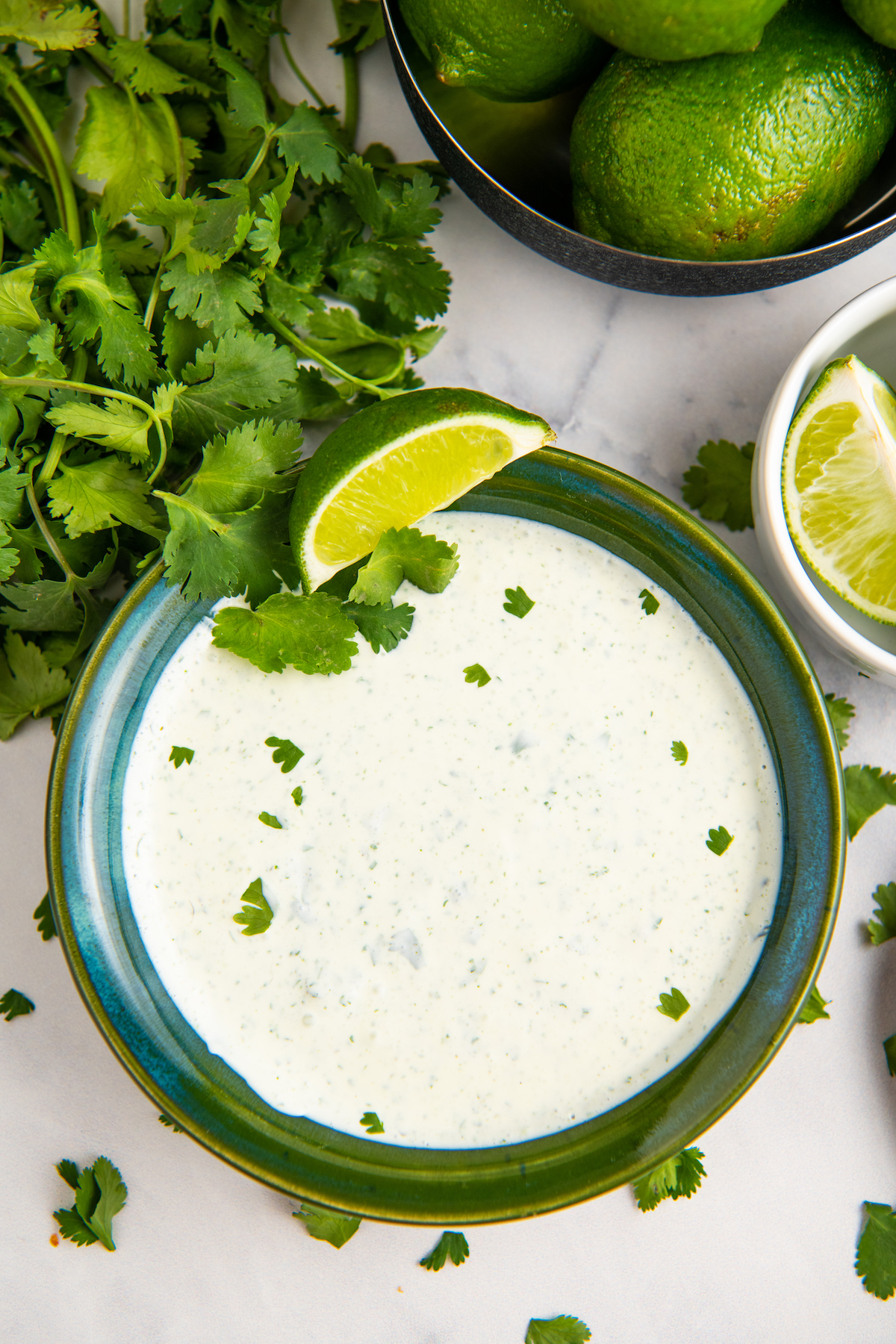 Cilantro Lime Crema
This is one of our go-to sauces for Mexican food. It's so simple, yet the flavors explode in your mouth. Sour cream and mayo are mixed together and seasoned with fresh cilantro, fresh lime juice, garlic, and salt. It's the perfect topping for tacos or nachos!
Get The Recipe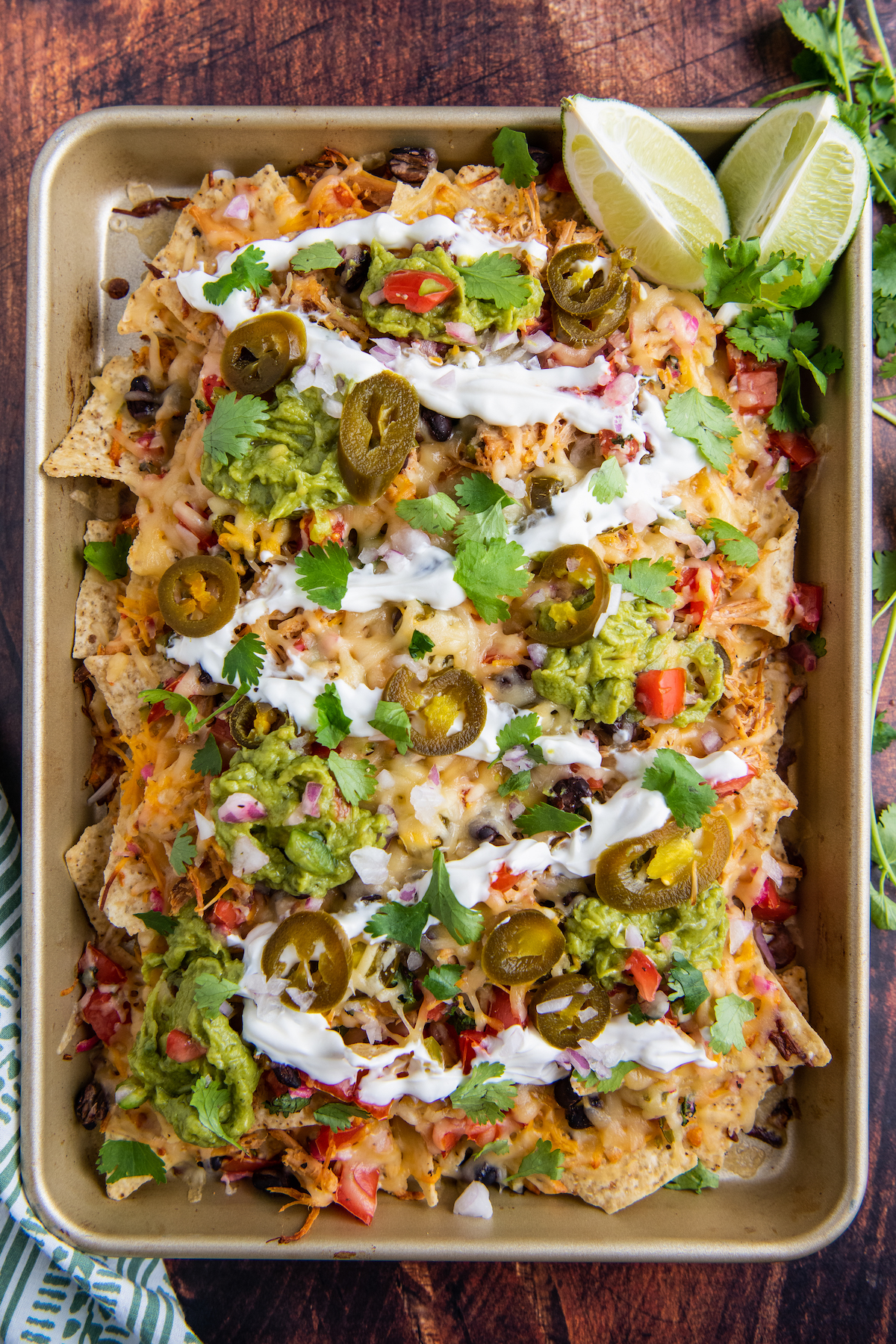 Pulled Pork Nachos
While cilantro is great to cook with, it's also perfect to just use as a garnish on your favorite Latin or Asian meals. These juicy and tender pork nachos are the perfect example. The more fresh cilantro you sprinkle over the top of this dish, the more all of the flavors pop.
Get The Recipe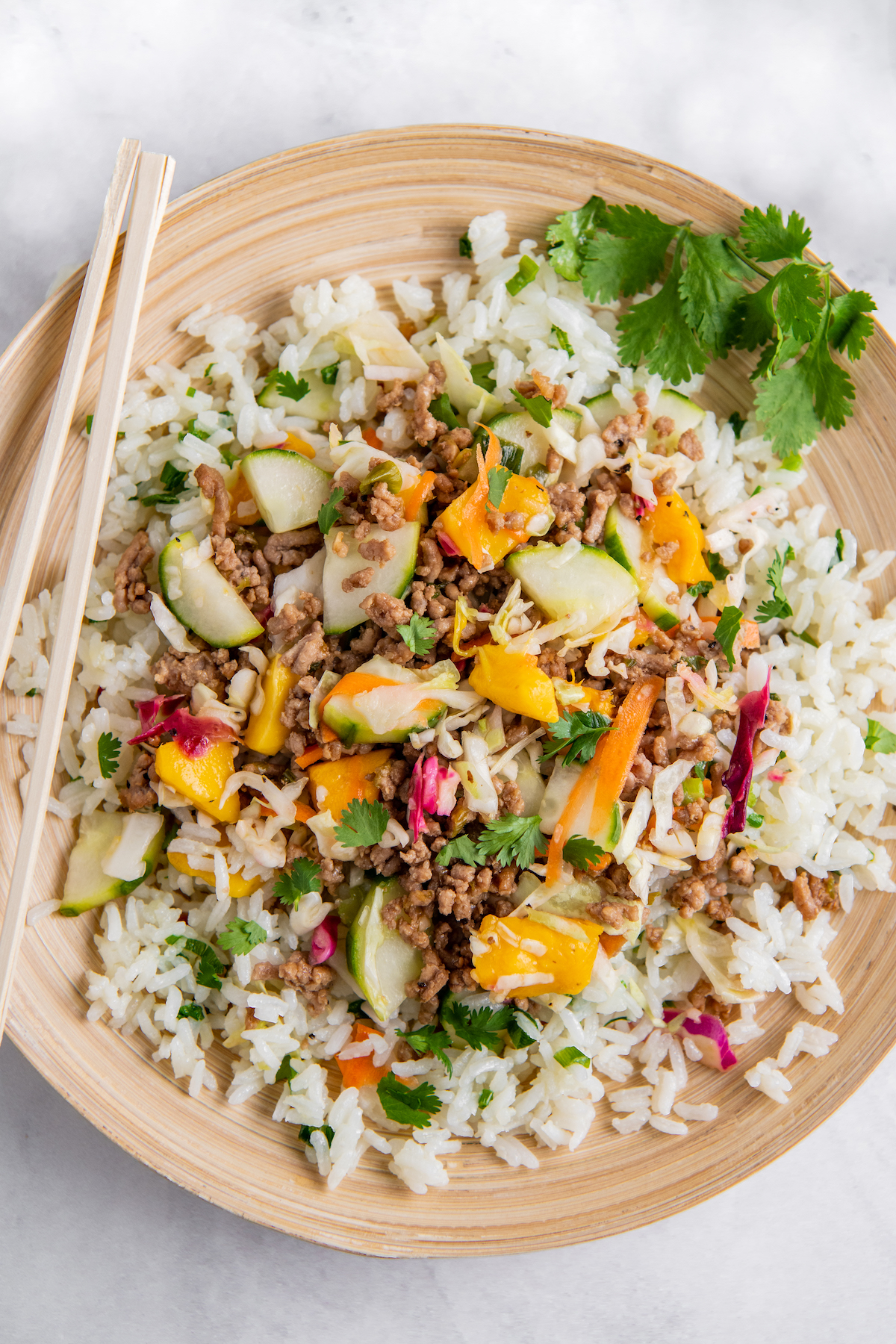 Korean Rice Bowls With Mango Slaw
We put cilantro in almost every Asian recipe that we make. The grassy herb flavors this mango, cabbage, and cucumber slaw, giving it such a strong flavor to pair with rich ground pork and rice.
Get The Recipe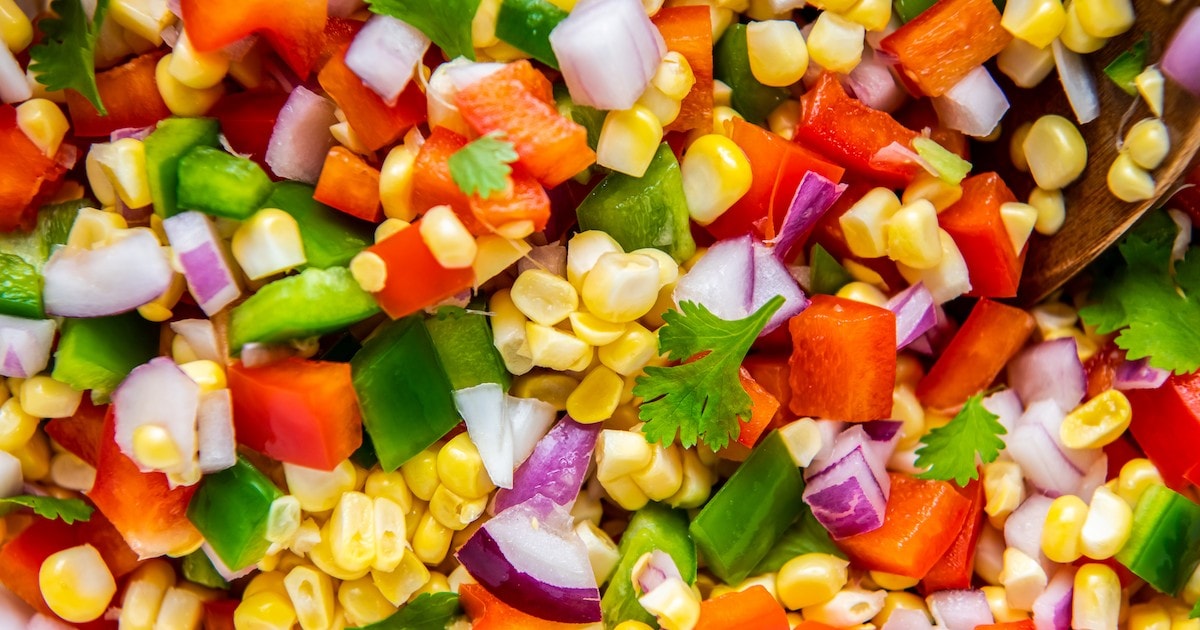 Fresh Corn Salsa
This is one of the easiest salsa recipes you'll find. It only takes 5 minutes to make, and then 5 more minutes to rest. With a kick of fresh onion and jalapeño and a fresh and acidic blast of lime juice and cilantro, this salsa is bursting with flavor.
Get The Recipe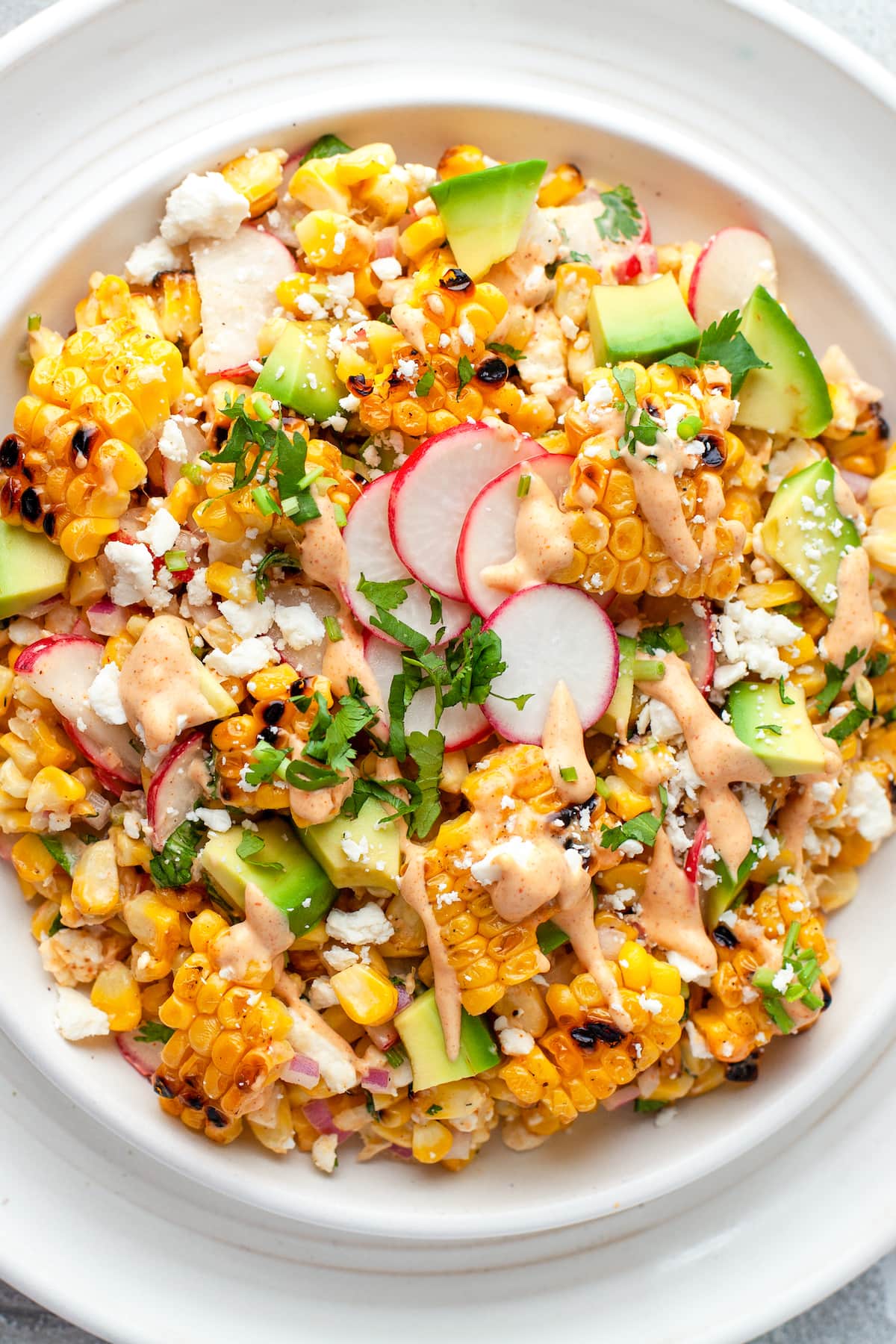 Mexican Corn Salad
This Mexican Corn Salad is sweet, creamy, and tangy, and has a little kick from homemade Chipotle dressing. It's bursting with fresh flavor and makes the perfect side dish!
Get The Recipe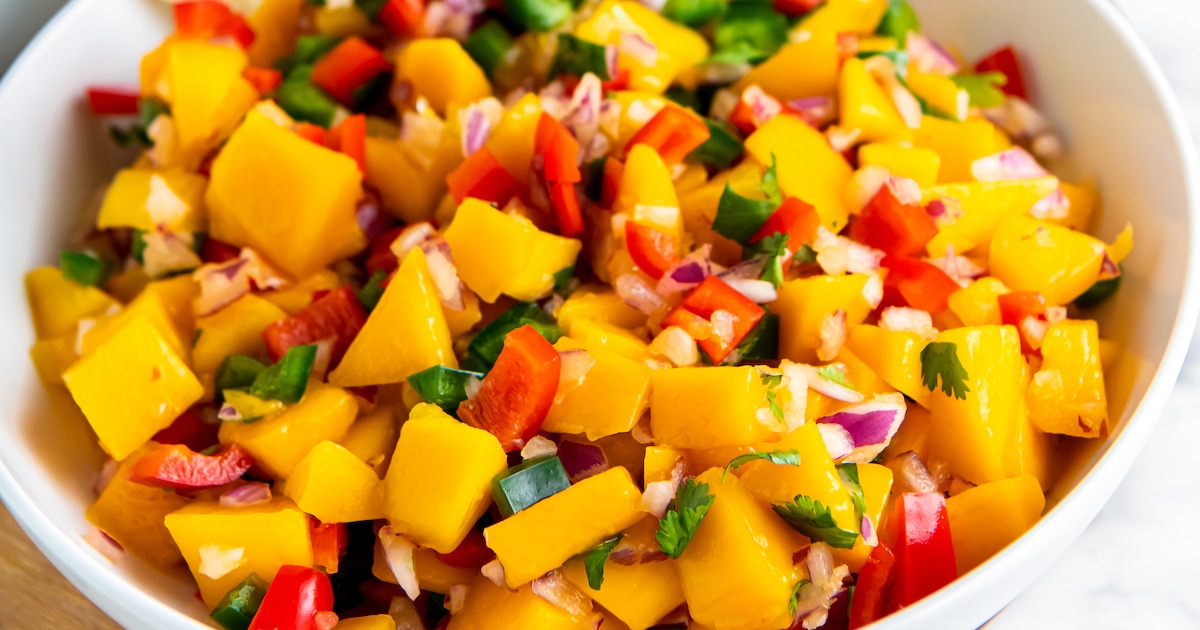 Mango Salsa
If it wasn't already obvious, we put cilantro in all of our salsas. It's such an essential ingredient in Mexican cuisine and adds a new level of flavor to every salsa. In this recipe the cilantro pairs wonderfully with the sweet mango and the spicy jalapeño, bringing out the best flavors of each.
Get The Recipe
More Recipes to Try
If you want more easy, tasty, and healthy recipes that are packed with herbs, then we've got you covered. Check out our recipe finder for more amazing meals.