This quick and easy Chickpea Salad is a great protein-packed lunch idea loaded with cherry tomatoes, bell peppers, cucumbers, and parsley. You can make it in less than 10 minutes!
Healthy & Easy Chickpea Salad
This Chickpea Salad recipe is one that you'll begin to know by heart because it's very quick and easy, and you'll want to keep coming back for more. It's so delicious and it's hard to believe that you can pack that much flavor into a 10-minute salad.
Our pantry is always stocked with cans of chickpeas (also known as garbanzo beans). It's one of those ingredients that you can do lots of things with and you'll always be satisfied with the results. Sometimes, we add them as an ingredient to a salad (like our Mediterranean Quinoa Salad) or we use them as the main ingredient in a recipe.
Chickpeas come in handy when we need an ingredient that's healthy, easy to prepare, and something that's going to fill us up. It's one of the best vegetarian protein options out there! And when you pair chickpeas with fresh vegetables like cherry tomatoes, bell peppers, red onions, and cucumber, you really can't go wrong.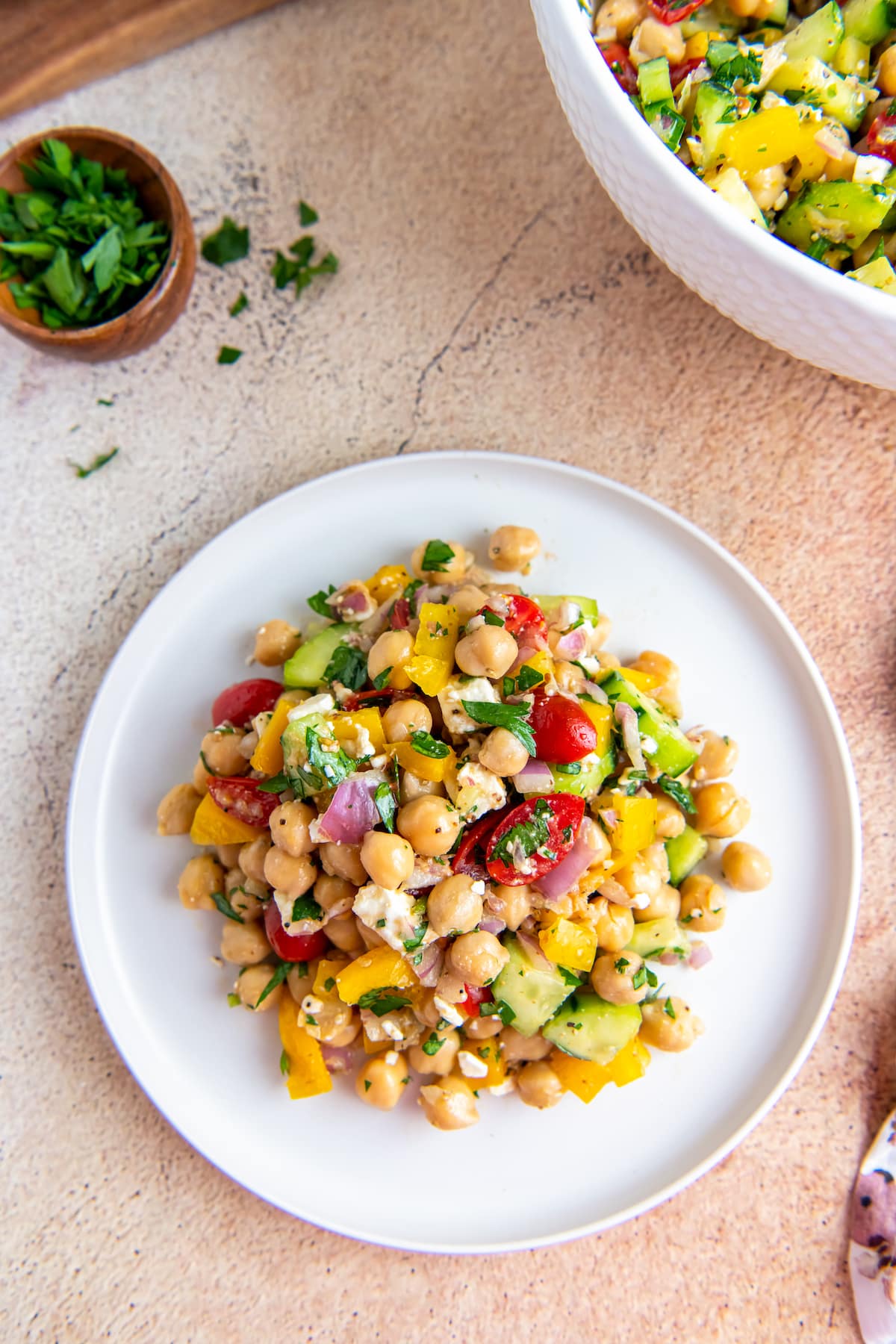 Why You'll Love This Chickpea Salad Recipe
This is one of our favorite quick and easy salad recipes, and here's why:
It takes less than 10 minutes. The recipe calls for canned chickpeas, so there's no need to soak or cook them. And you'll be able to prep the rest of the ingredients in just a matter of minutes.
It's a very versatile recipe. We'll enjoy this recipe "as is" when we're really in a time crunch and need something quick and healthy. But there are so many ways that you can add to this salad. Adding protein, like leftover Roasted Chicken or Instant Pot Shredded Chicken, is just one of many ideas.
You can make it ahead of time. This salad will stay fresh for up to 3 days in the fridge as long as you don't put the dressing on ahead of time. Which makes it a great meal prep option when you have a busy week ahead.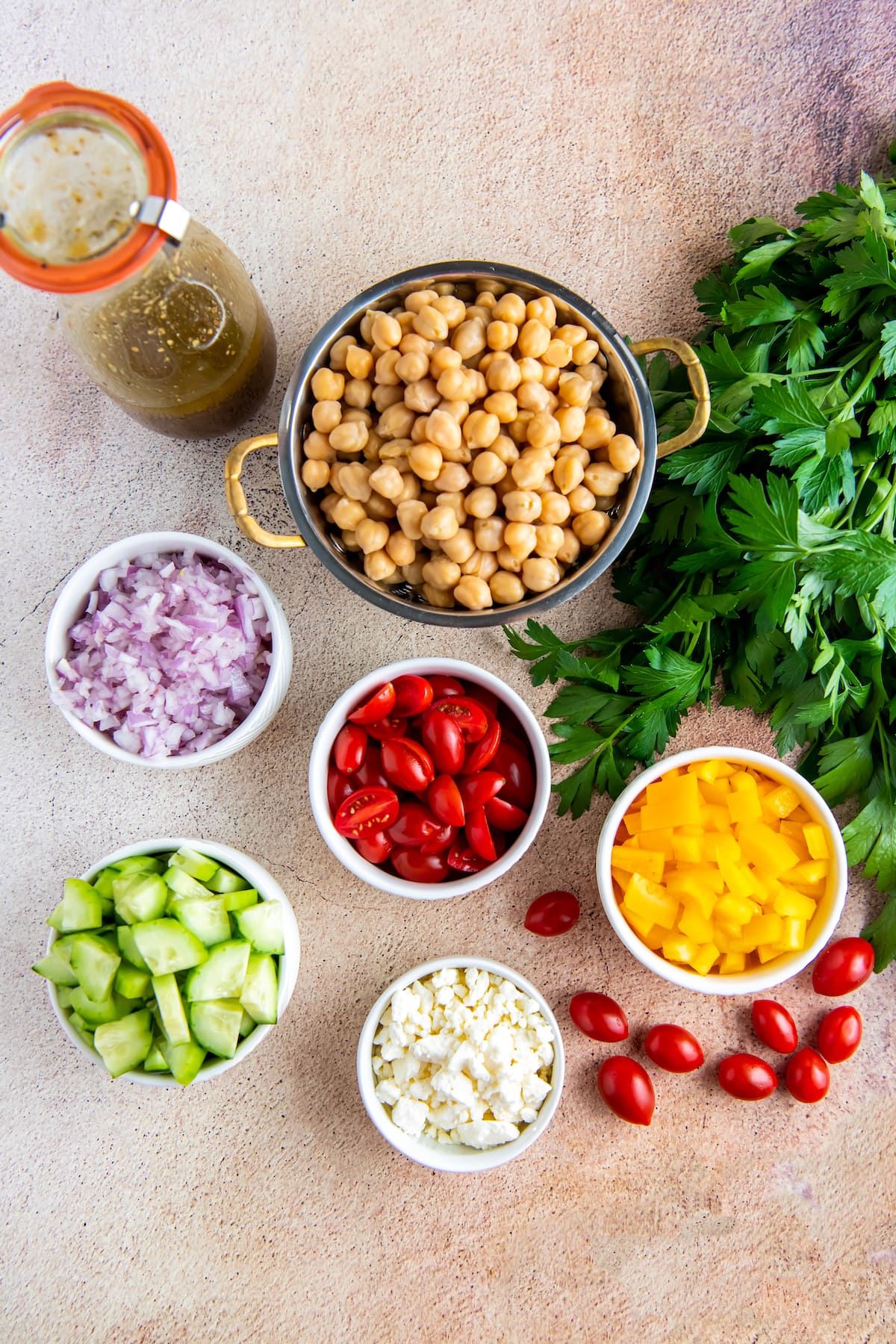 What You'll Need
Here are the ingredients that you need to make Chickpea Salad.
Chickpeas: Used canned chickpeas and be sure to rinse and drain them ahead of time.
Bell Pepper: You can use any color of bell pepper you like best. A green bell pepper has the strongest flavor, while red, yellow, and orange bell peppers are milder and sweeter.
Cherry Tomatoes: Or grape tomatoes will also work.
Cucumber: You don't even need to peel it! We like to leave the skin on for added fiber and flavor.
Parsley: This is a key ingredient. The fresh parsley makes a big difference in the final flavor and we highly recommend using it.
Red Onion: Red onions taste best in this recipe, you can use white or sweet onions, too.
Dressing: We like to use our Orange Salad Dressing, but you can use your favorite vinaigrette that you have on hand. Our favorite Greek Salad Dressing would also be a delicious option!
Salt and Pepper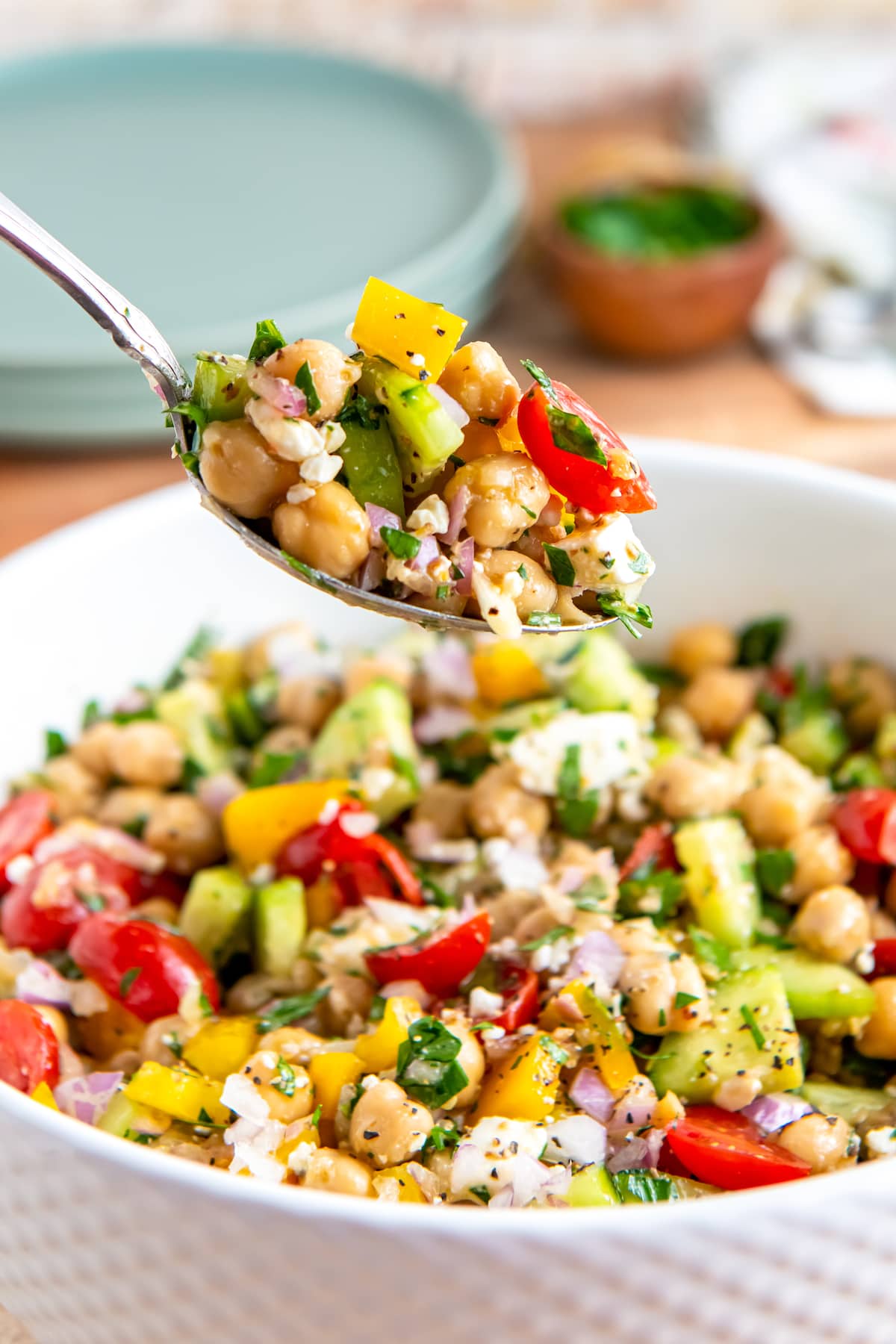 Recipe Variations
As we mentioned before, this recipe is very versatile and you can mix it up in many different ways! Here are some ingredients that you can add or swap out depending on what you have in your kitchen.
Dressing Options: To make the salad have more Mediterranean flavor, you can use our Greek Salad Dressing. Alternatively, you can use a squeeze of fresh lemon juice and it works great! Just make sure to add some salt and pepper to taste.
Add Other Vegetables: Some other vegetables that would work in this salad are roasted red peppers, scallions/green onions, diced summer squash, and minced kale.
Parsley Substitute: We highly recommend using fresh parsley. But if you don't have any you can use arugula instead.
Tomato Swaps: We like to use cherry or grape tomatoes for this recipe because of their low water content and sweetness. If you use another type of tomato make sure that you remove most of the flesh and seeds to prevent the salad from having too much moisture.
Feta Substitute: You can use crumbled goat cheese instead of feta. You can also omit the cheese if you want it to be vegan.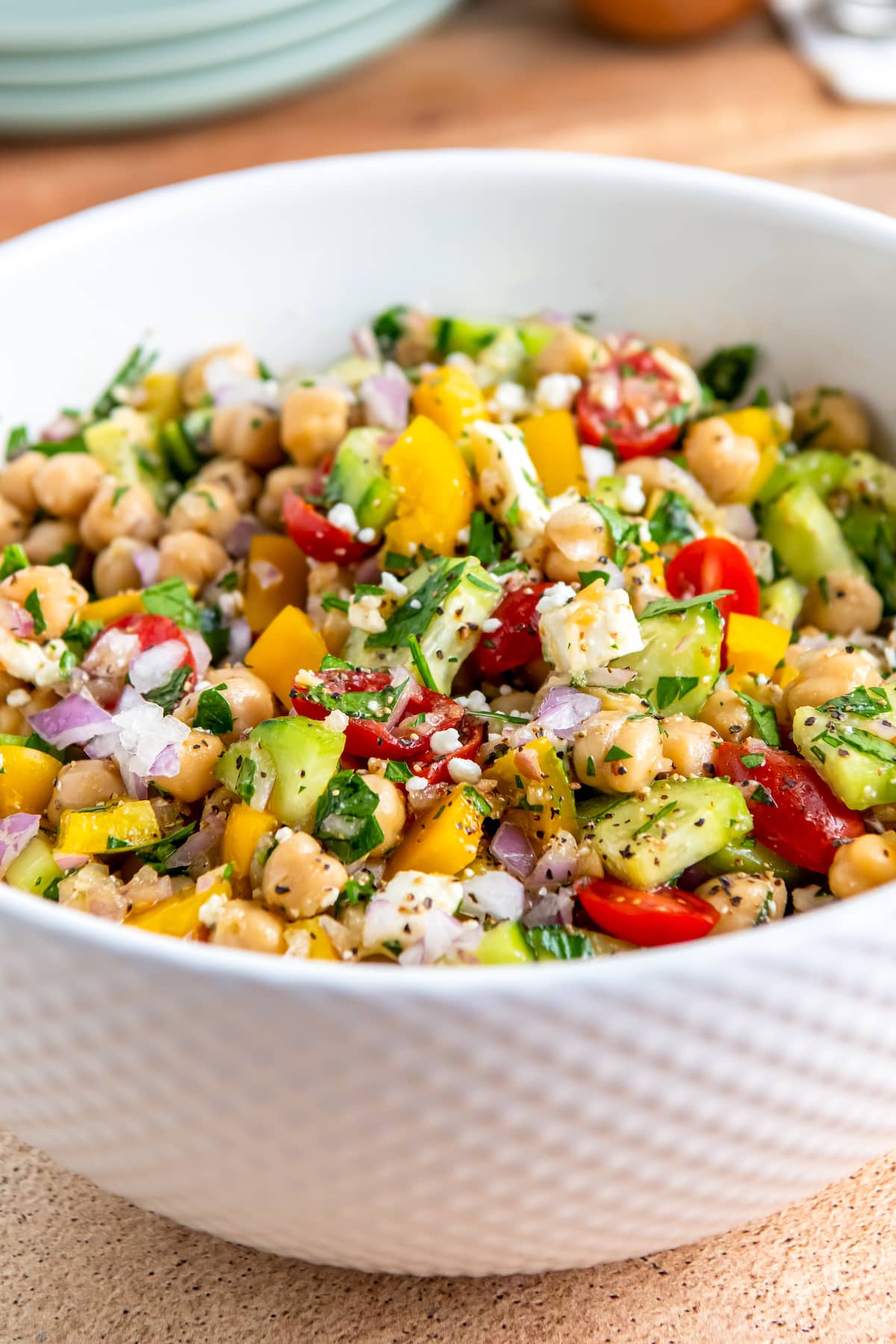 How to Make Chickpea Salad
The steps are below for how to make this protein-packed salad recipe. It's so simple and only takes a few minutes!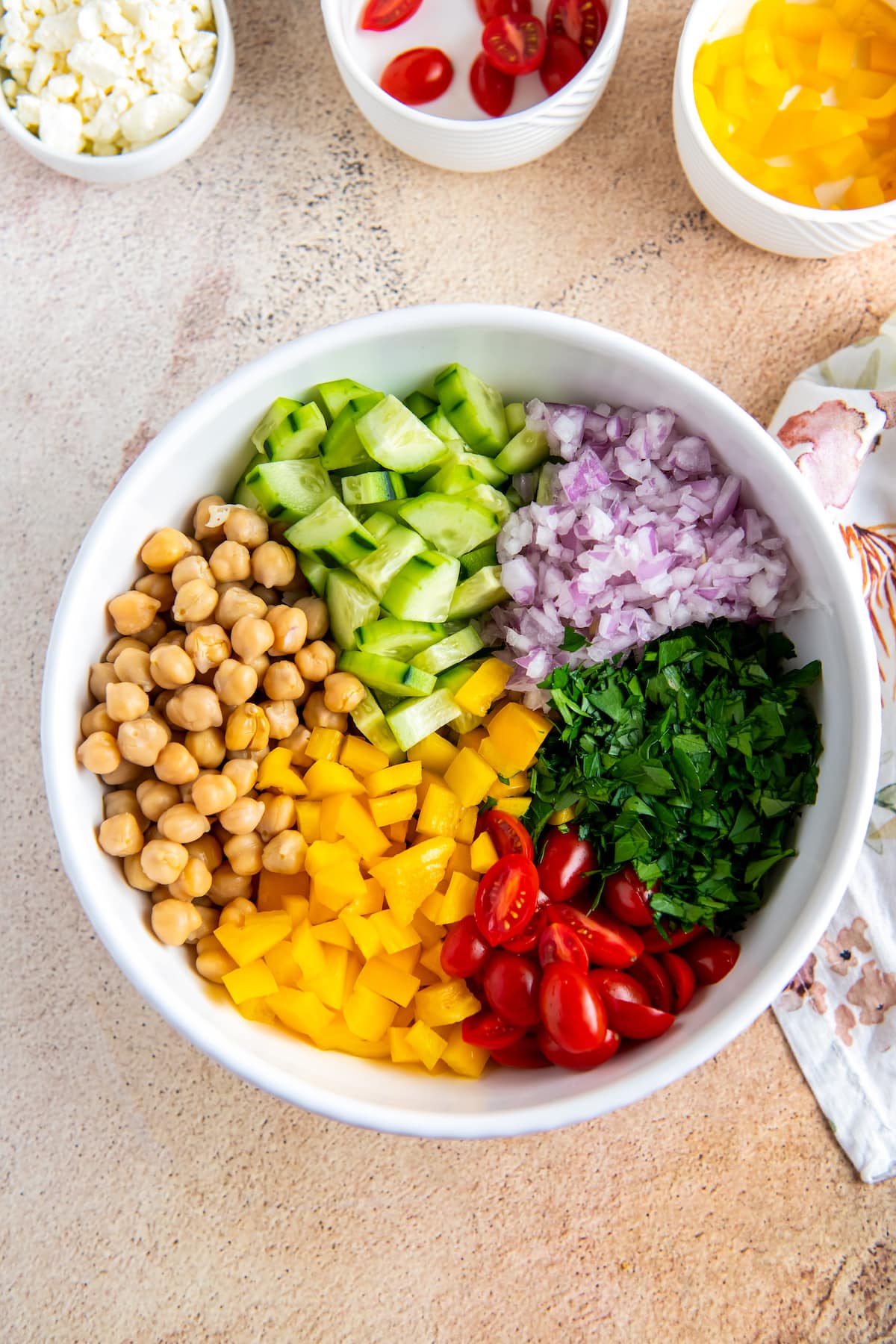 First, combine all of the ingredients in a large bowl. Except for the salad dressing as you'll add that right before you want to serve the salad.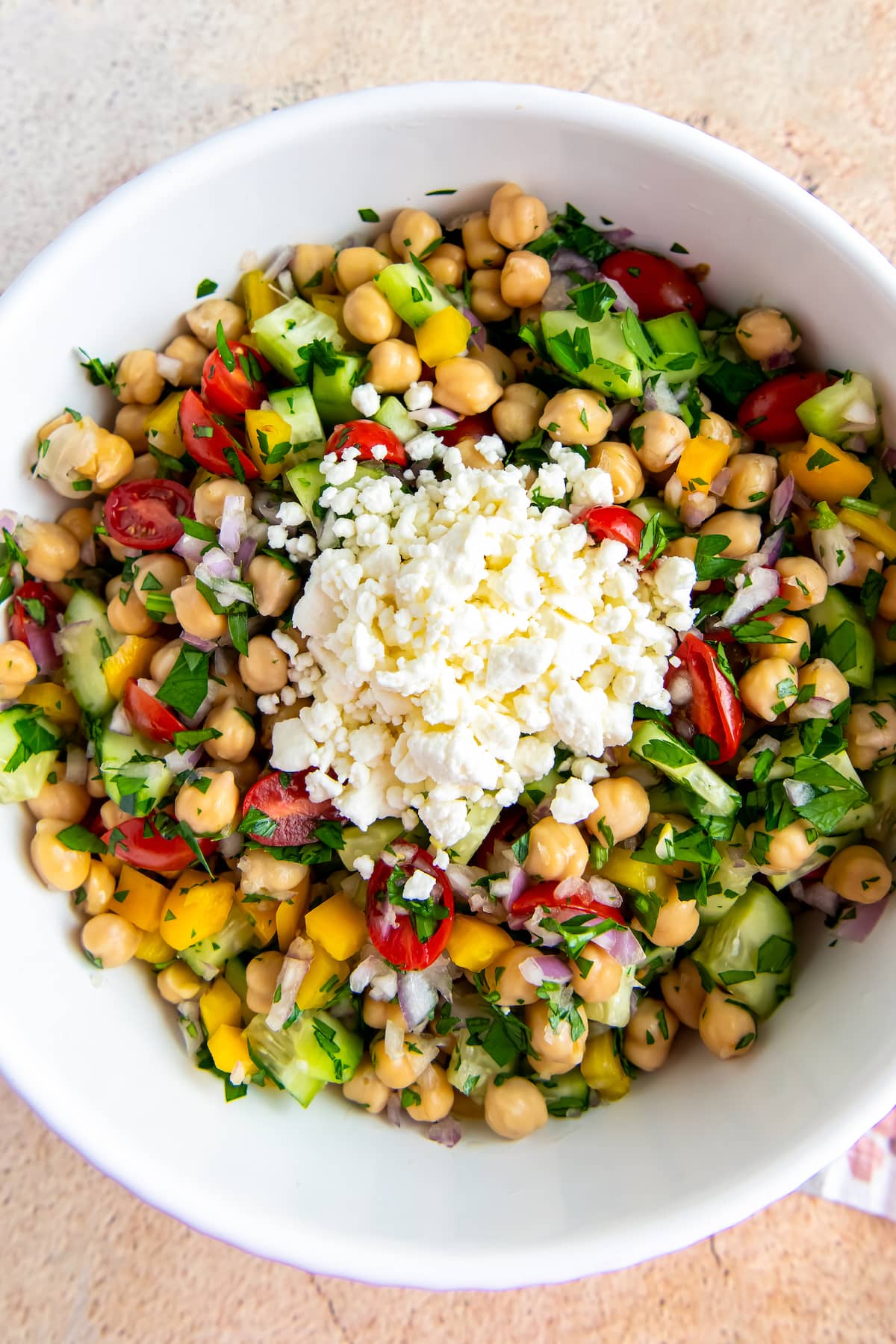 When adding the cheese – We like to add the cheese last so that it doesn't break down too much when the salad is mixed together. So we suggest mixing the vegetables and herbs first and then gently tossing in the feta.
Then add the dressing when you're ready to serve. We added about 1/3 cup of dressing, but add more or less depending on your taste preference.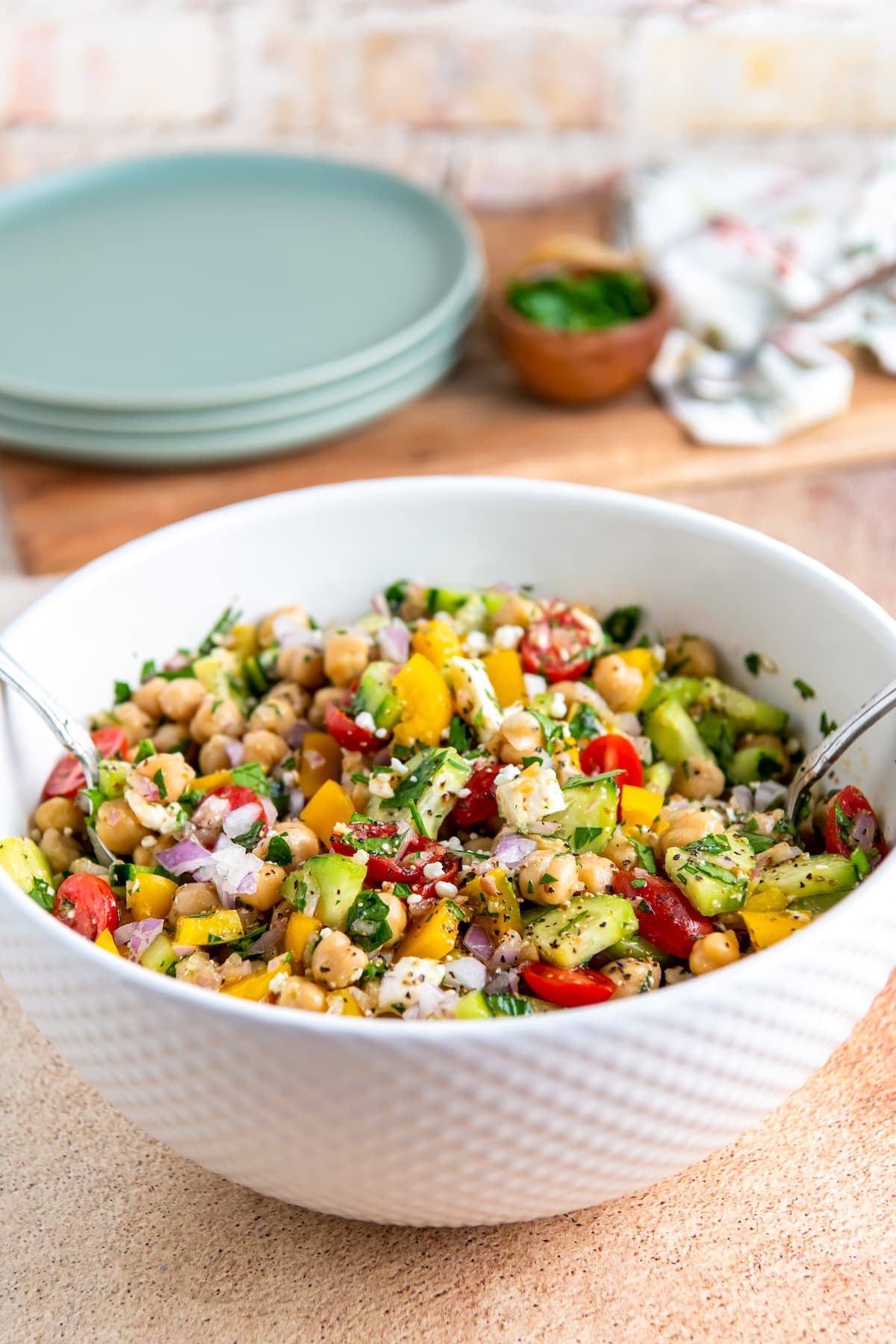 Helpful Tips
Here are some helpful tips to follow when making Chickpea Salad.
Cut the vegetables to the approximately same size. This salad tastes best when you can get every single ingredient into one bite! And you do that by cutting everything to be about the same size.
Make the dressing ahead of time. To save even more time, make a batch of your favorite dressing and keep it in the fridge. Most homemade dressings will last for up to a week.
Be mindful when seasoning with salt and pepper. We didn't add salt and pepper because our dressing was already heavily seasoned. So, be sure to taste the salad before you season it to check if it even needs that extra salt and pepper.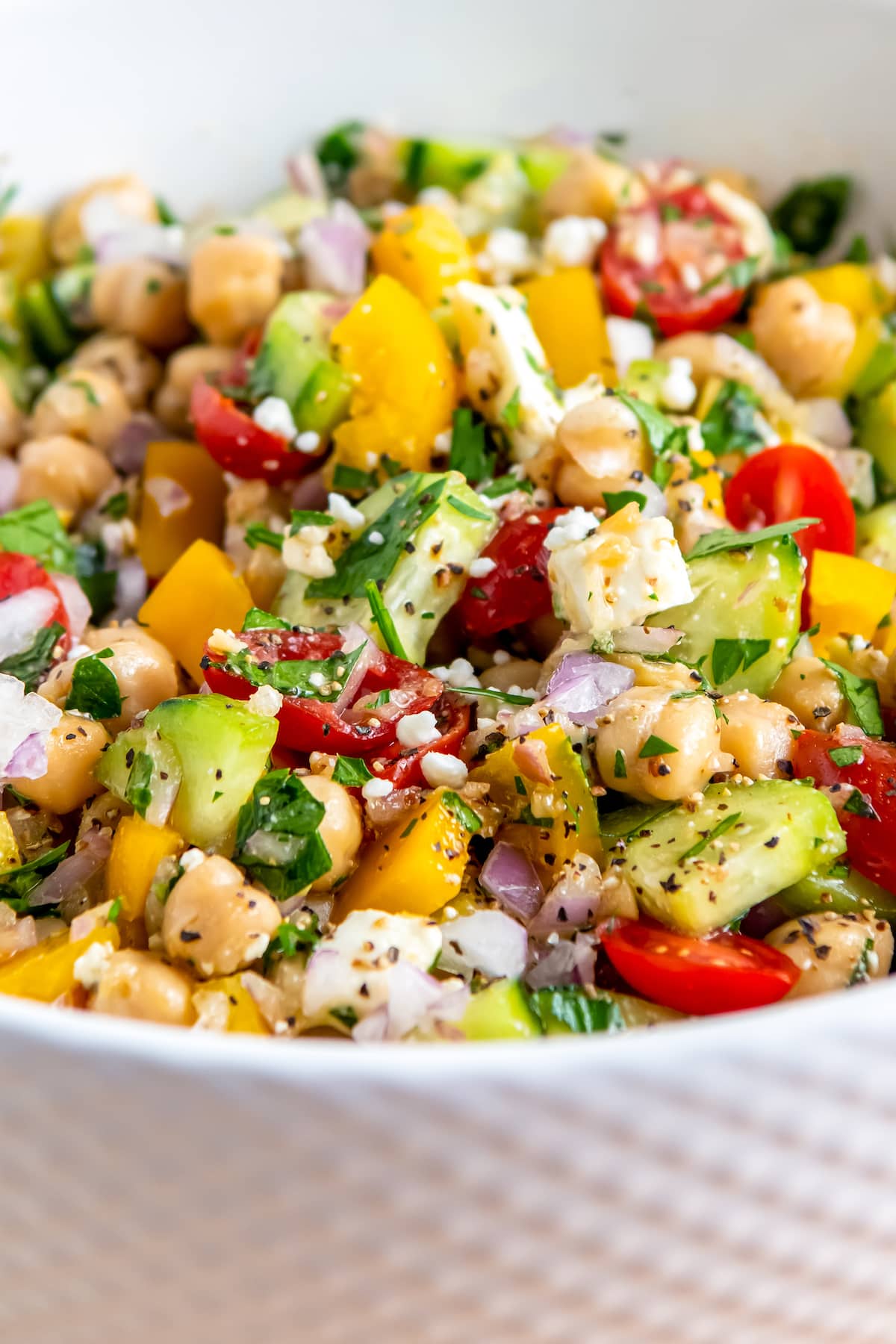 What Goes with Chickpea Salad?
This recipe is great on its own or as a side to many of our other easy lunch and dinner ideas. Here are some of our favorite pairing suggestions.
Add a Protein: You can add Grilled Chicken Breasts or Shrimp to this recipe for added protein. You could also add chopped deli meat, too, for a quick and easy addition.
Your Favorite BBQ Dishes: This is a great recipe to bring to a potluck or BBQ. It goes well with BBQ Chicken Sandwiches, Country Style Ribs, and Steak Kabobs.
Quick Air Fryer Recipes: Need a quick side for a weeknight dinner? You can serve it with one of our fast air fryer recipes, like these Pork Chops. You can easily make the salad while the pork chops cook in the air fryer.
Can I Make This Ahead of Time?
The beauty of this salad recipe is that you can make it ahead of time! We'd argue that it tastes even better after chilling in the fridge for a few hours. Which makes it perfect as a make-ahead lunch idea or something you can bring to a potluck.
Just make sure that you leave the dressing and cheese out if you make it ahead of time. Simply toss in the dressing right before you want to serve the Chickpea Salad.
How to Store Leftovers
Chickpea Salad will stay fresh in the fridge for up to 3 days. Store it in an air-tight container for the best results.
Yield: 4 servings
Chickpea Salad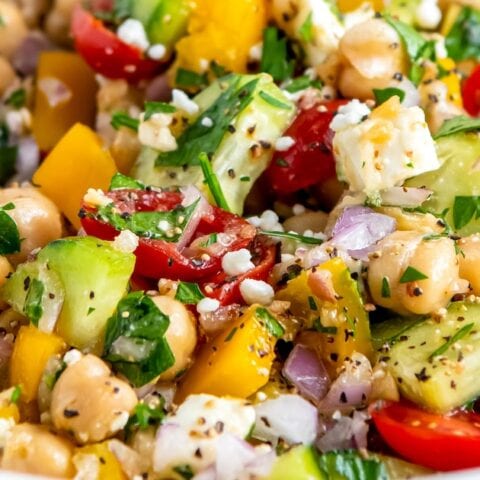 This quick and easy Chickpea Salad is a healthy vegetarian salad recipe packed with protein and fresh flavors. It's loaded with chickpeas, tomatoes, red onions, cucumber, feta, and parsley. You can also add a protein to make it a great meal option for lunch or dinner.
Ingredients
2 cans chickpeas, rinsed and drained
1 large bell pepper, seeded and diced
1 cup cherry tomatoes, sliced
1 medium cucumber, sliced
1 cup fresh parsley, chopped
1 small red onion, diced
½ cup crumbled feta
Use our citrus dressing, or vinaigrette of your choice
Salt and pepper, to taste
Instructions
In a large bowl, toss to combine all the ingredients except the vinaigrette. Store salad in fridge until ready to serve.
When ready to serve, toss in the vinaigrette (I used 1/3 cup). Season to taste with salt and pepper. Serve with extra dressing on the side for those who like it with more dressing.
Notes
Storage: Chickpea Salad will stay fresh in the fridge for up to 3 days. Store it in an air-tight container for the best results.
Make Ahead: Toss everything together in a bowl, expect the dressing and cheese, and store in an airtight container in the fridge for up to 24 hours before. Simply toss in the cheese and dressing right before you want to serve this Chickpea Salad.
Dressing: If you aren't a fan of Orange Salad Dressing, try out our favorite easy Greek Salad Dressing instead.
Nutrition Information:
Yield:
4
Serving Size:
1
Amount Per Serving:
Calories:

268
Total Fat:

11g
Saturated Fat:

4g
Trans Fat:

0g
Unsaturated Fat:

6g
Cholesterol:

19mg
Sodium:

404mg
Carbohydrates:

32g
Fiber:

8g
Sugar:

9g
Protein:

12g
Filed Under:
More Easy Salad Recipes