Sweet and savory Honey Mustard Dressing is the perfect blend of zesty and tangy. Distinctive dijon mustard mixed with honey creates a sweet, spicy dressing for your favorite salads. You can also try using this homemade salad dressing as a dip!
Homemade Honey Mustard Dressing Recipe
This delectable Honey Mustard Salad Dressing makes healthy eating so easy. We're not kidding when we tell you that you'll want to eat salads every day once you've got a batch ready to go in the fridge. Drizzle some of this zesty, spicy homemade dressing over the salad of your choosing, and prepare to be amazed.
There are so many bold, bright flavors that blend together in this simple salad dressing recipe. We've got spicy dijon mustard, sweet honey, zesty lemon juice, pungent minced garlic, and more! Whisk all of that together, and you get a sweet and savory dressing that you can use on your favorite salads, or as a dip for fresh veggies.
So, if you've been feeling like you might want to switch up your go-to salad recipe, give this honey mustard salad dressing recipe a try! You'll be so glad that you did.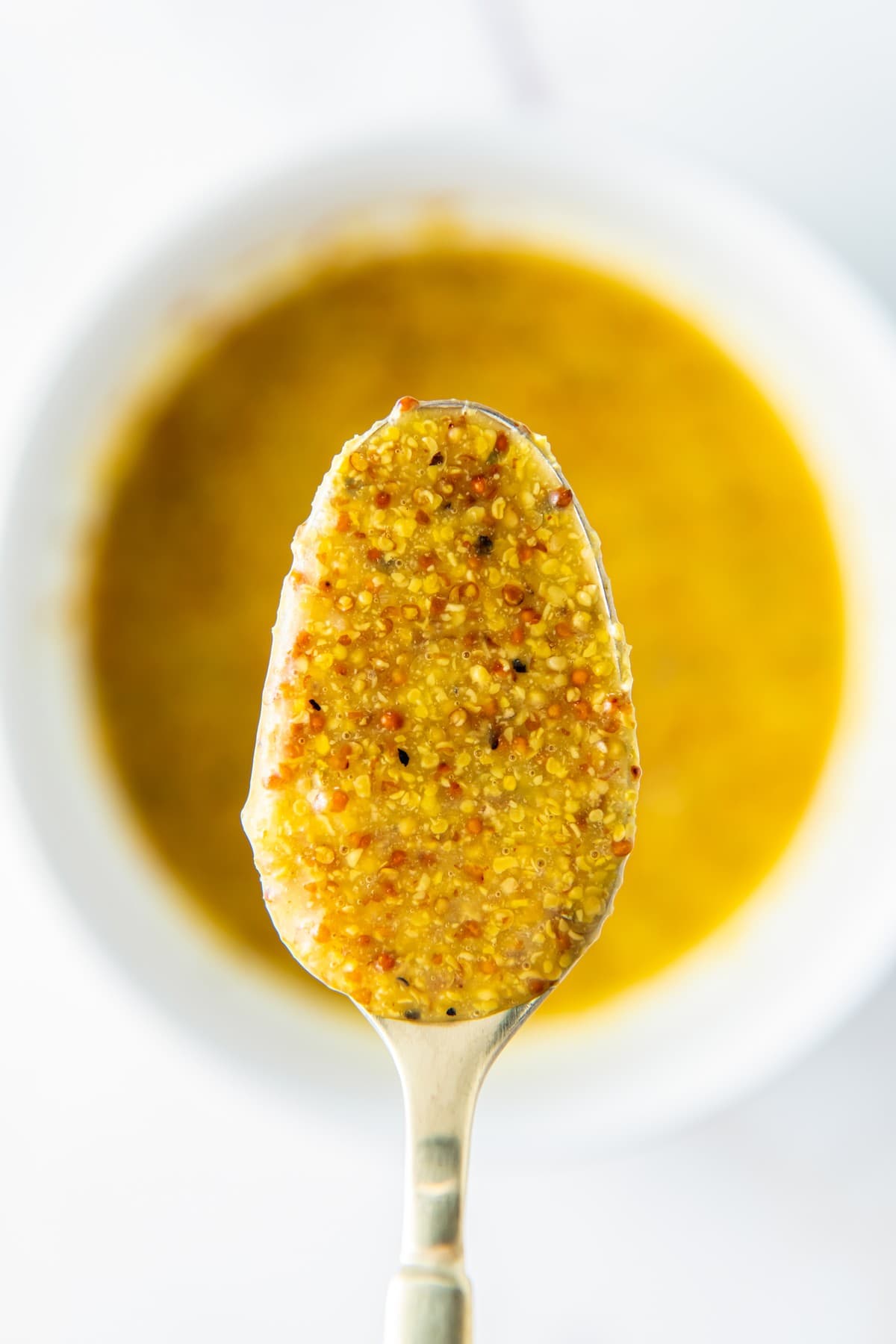 What Makes This Honey Dijon Dressing So Good?
Honey mustard is a pretty popular flavor combination, so there are quite a few dressing recipes out there that you could choose from. Here's why we love this one so much, and think that you will too:
Terrific Taste: Something about the way the tangy dijon mustard mixes with the sweet, sugary honey and the citrusy lemon juice is so addictive.
Super Quick: All you have to do is mix the ingredients together, and shake well to make sure that everything integrates properly. The process couldn't be easier!
Budget Friendly: You more than likely have most, if not all, of the ingredients needed for this recipe on hand! I love any recipe that doesn't require a trip to the store.
Make Ahead: This homemade salad dressing stores really well, so you can make it ahead and use it all week for lunches, dinners, or even snacks if you want!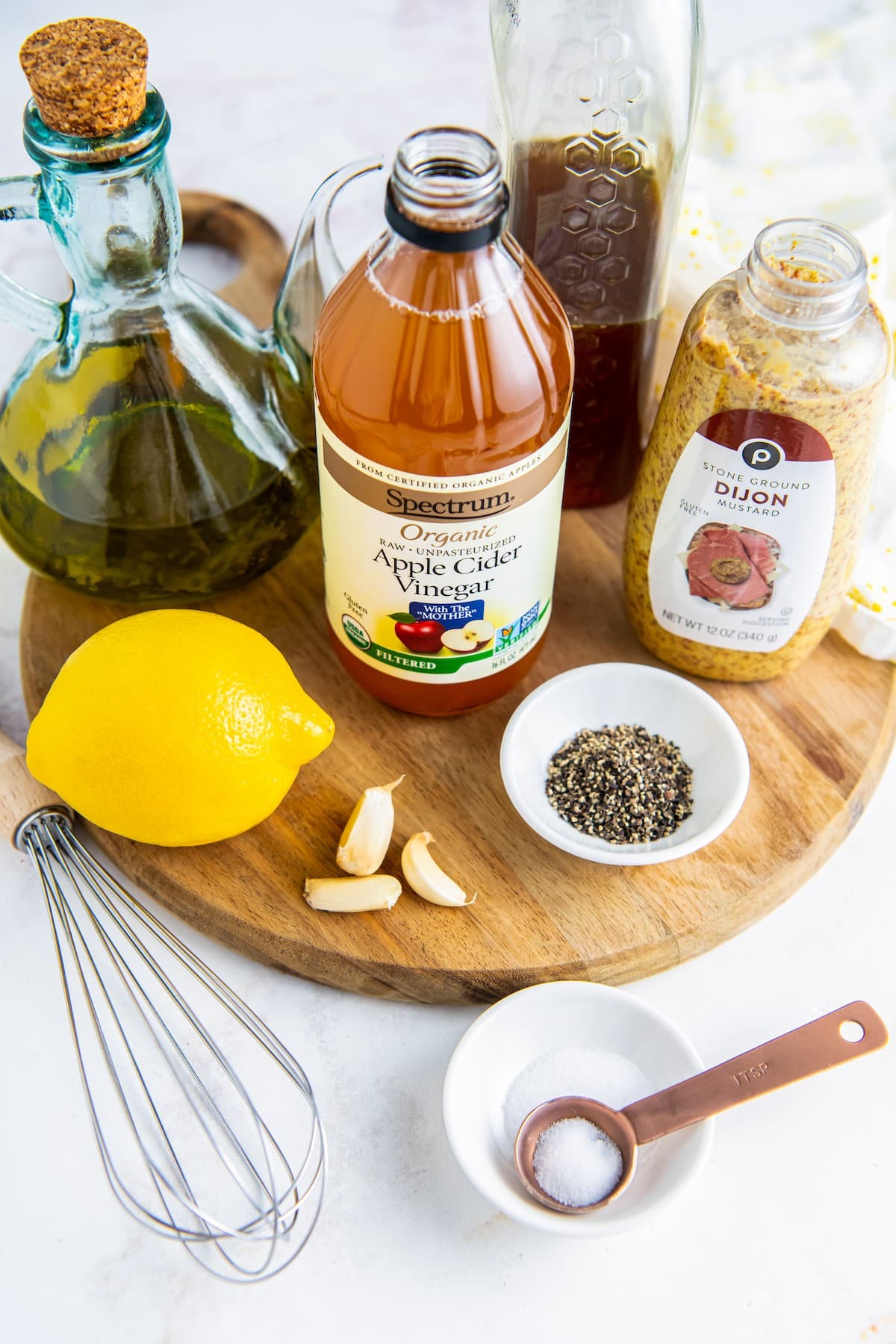 Recipe Ingredients
Let's do a quick overview of each of the ingredients that you'll need to make this dijon mustard dressing. If you're looking for the specific amounts, check out the printable recipe card at the bottom of this post.
Dijon Mustard: Dijon mustard provides that classic pungent flavor, but you can also use yellow mustard as a substitute if needed.
Honey: You can swap the honey for agave syrup if you prefer.
Apple Cider Vinegar: This adds extra acidic tanginess to the dressing. You could use white wine vinegar instead, if you don't have any apple cider vinegar.
Lemon Juice: Use fresh lemon juice if you can for maximum bright, tangy flavor.
Minced Garlic: You don't have to put this in your dressing, but we love the vibrant, slightly spicy flavor it adds.
Seasoning: A simple mix of black pepper and salt is all you need! Freshly cracked black pepper will give your dressing the most flavor.
Olive Oil: Makes the texture of your salad dressing nice and smooth. You can also use avocado oil.
How to Make Honey Mustard Salad Dressing
There are two basic steps to preparing homemade honey mustard dressing: stir and then shake! Here are the rest of the details:
Combine Everything Except the Olive Oil: In a small bowl, whisk to combine the dijon mustard, honey, apple cider vinegar, lemon juice, garlic, salt, and pepper.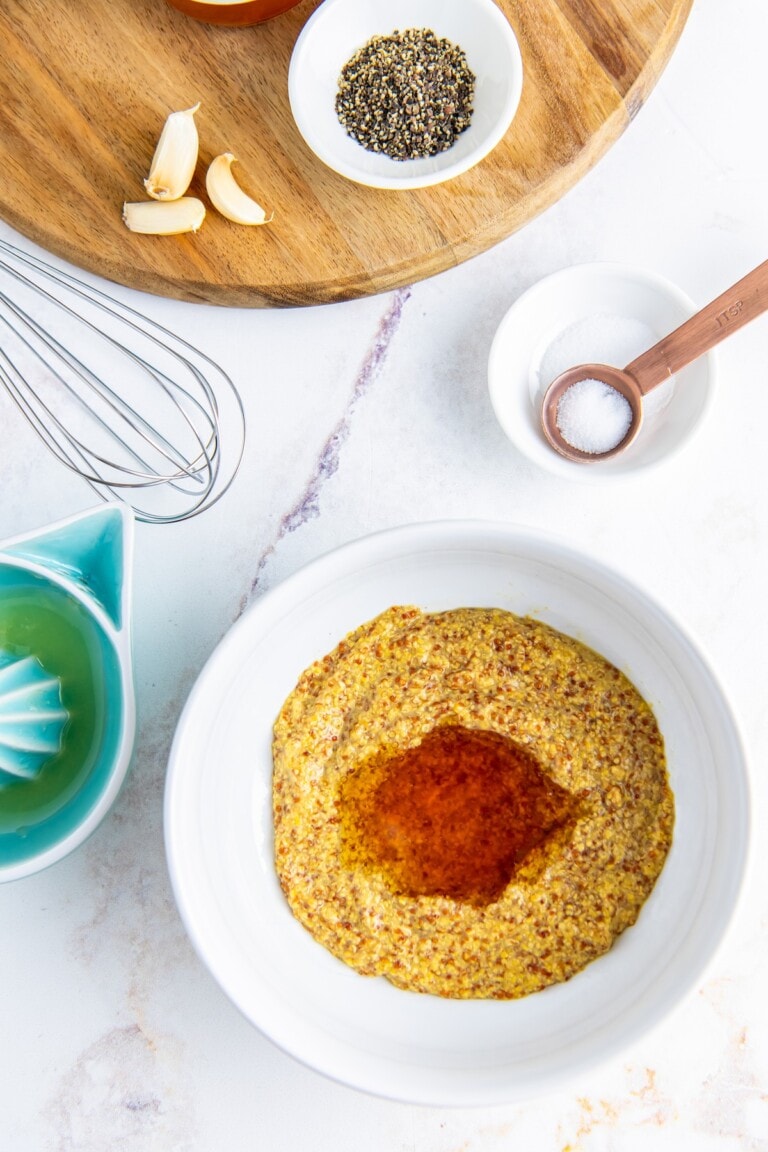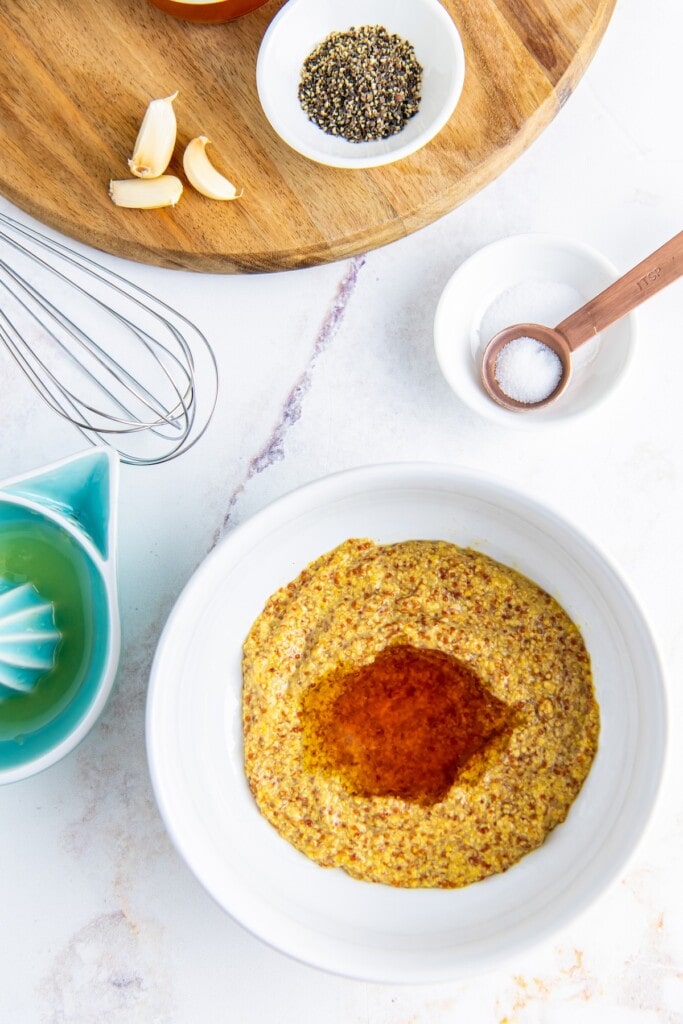 Add the Olive Oil: Then stir everything until well combined.
Let the Salad Dressing Rest: Let the dressing rest for 5 minutes, and make sure to shake it well before serving.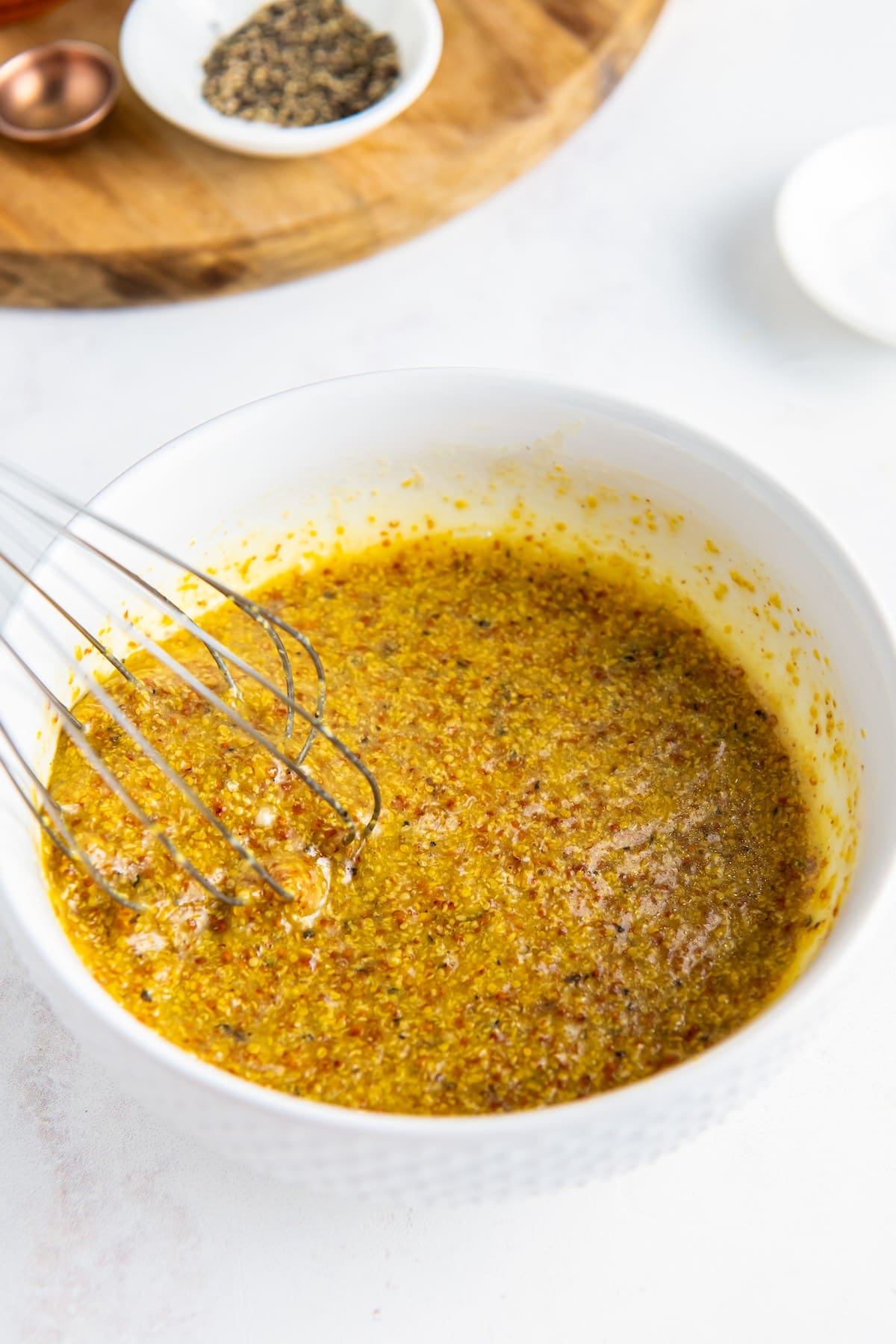 Tips for Success
This honey mustard dressing may be simple, but we still have a few tips for you. Here are a couple of things to keep in mind in order to get the best results:
For Creamy Dressing: If you would like your salad dressing to be creamy, you could consider adding a scoop of yogurt, sour cream, or mayonnaise to it.
For A Thicker Dressing: Use less olive oil! Start with half the olive oil called for in the recipe and add more till it suits your tastes.
Refrigerate Your Dressing Before Serving: If you let the dressing sit in the fridge for an hour or so before using it, the flavors have more time to meld together. This is optional, but highly recommended!
Add Some Spice: If you want a little more heat in this honey mustard salad dressing, try adding in crushed red pepper flakes or a pinch of cayenne pepper.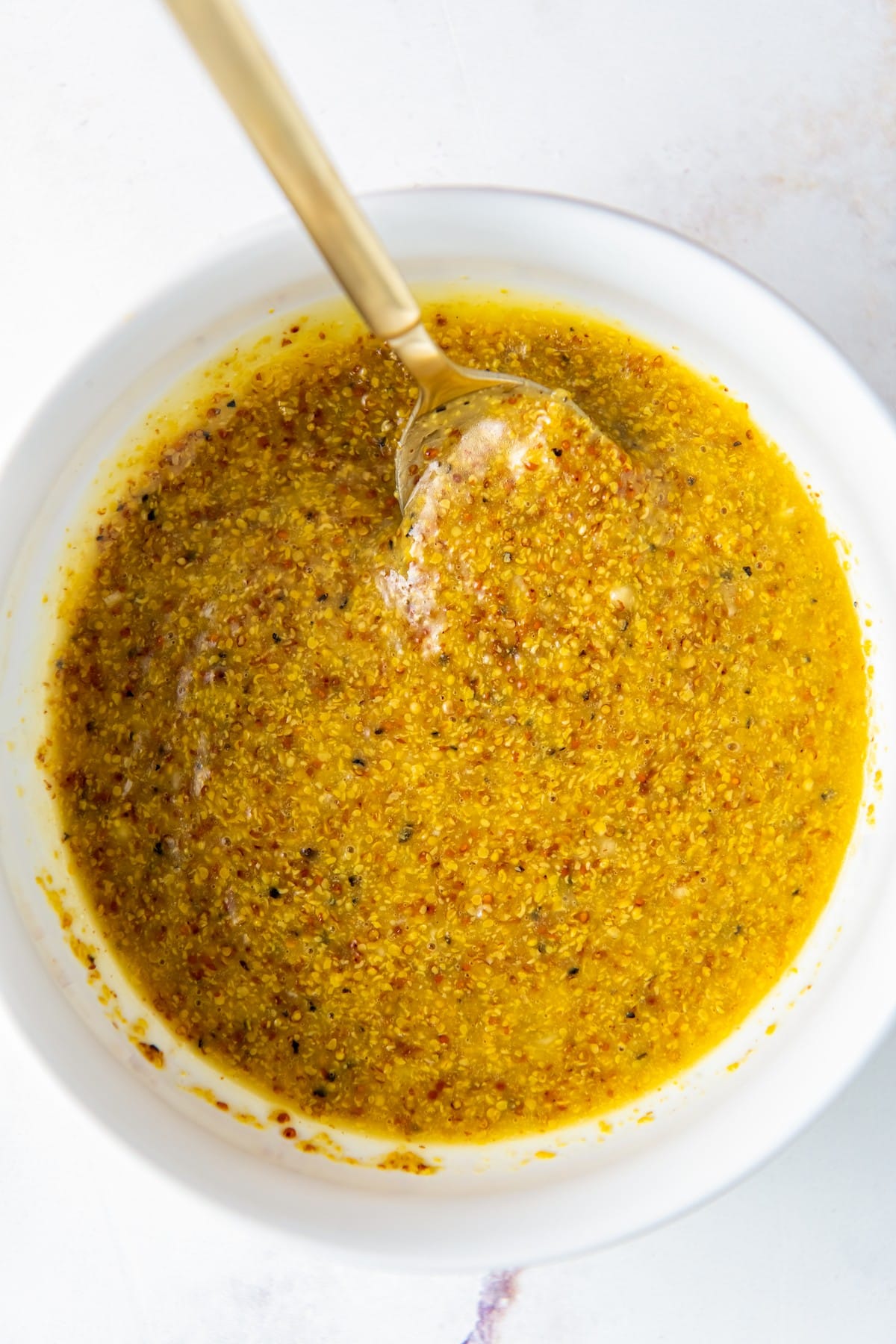 What Goes With Honey Mustard Dressing?
Once you have this honey dijon dressing prepped and ready to eat, how should you use it? These are some of our favorite ways to enjoy it:
How to Store Homemade Salad Dressing
Honey mustard dressing stores quite well for a relatively long time! You can keep it in an airtight container, in the fridge, for up to 7 days.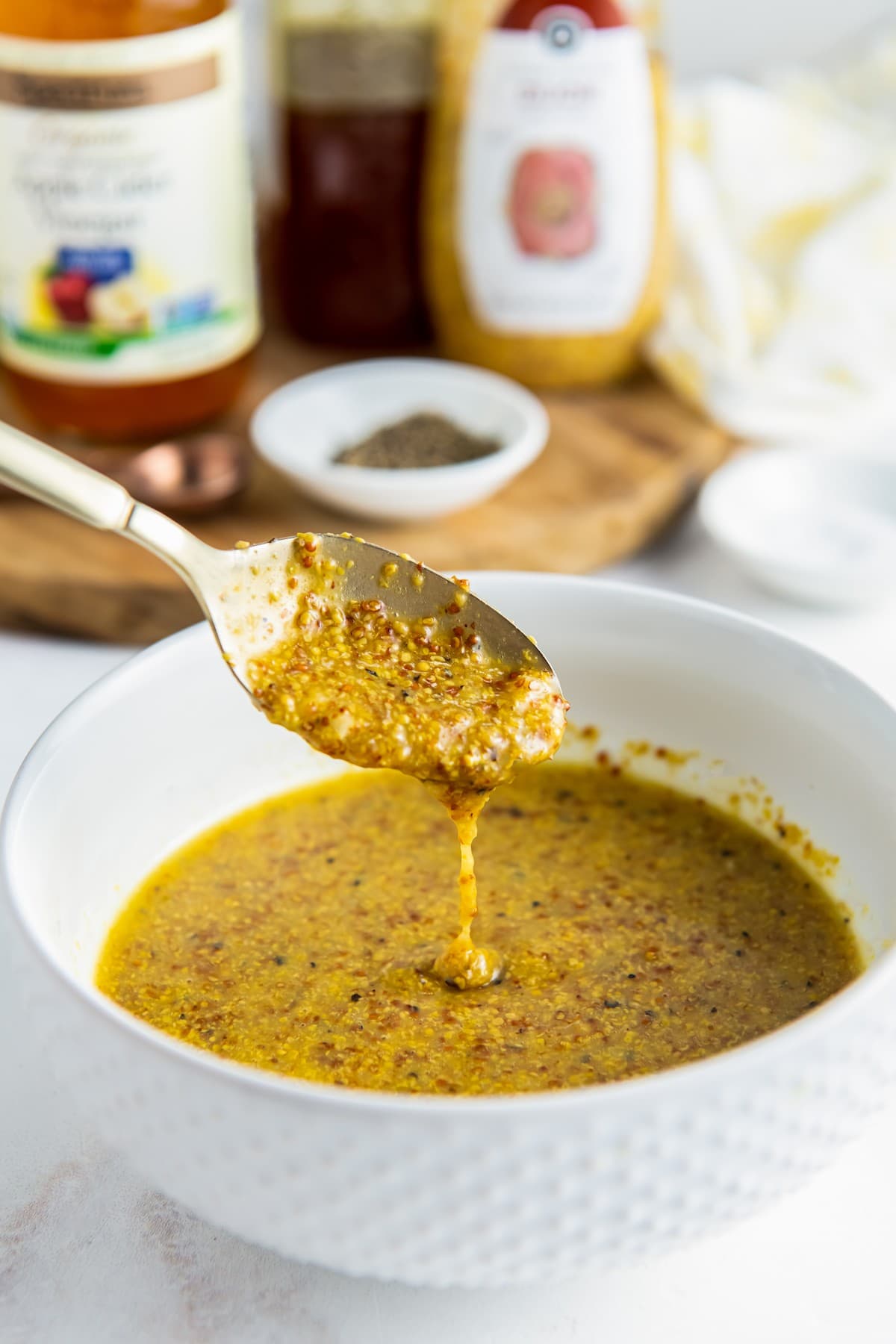 More Simple Sauces and Salad Dressing Recipes
Hooked on homemade salad dressing recipes? We've got a couple more for you to try!
Honey Mustard Salad Dressing
Honey Mustard Salad Dressing is sweet, spicy, tangy, and zesty all at once! Serve this simple homemade dressing over your favorite salad or as a dip!
Ingredients
½

cup

dijon mustard

¼

cup

honey

2

tablespoons

apple cider vinegar

2

tablespoons

lemon juice

1

teaspoon

minced garlic

1

teaspoon

black pepper

½

teaspoon

salt

¼

cup

olive oil
Instructions
In a small bowl whisk to combine dijon mustard, honey, apple cider vinegar, lemon juice, garlic, salt and pepper.

Add olive oil and stir until well combined.

Let rest 5 minutes before serving or refrigerate in an airtight container for up to 7 days. Make sure to shake well before serving.
Notes
Storage: Store in an airtight container, in the fridge, for up to 7 days.
Nutrition
Serving:
1
,
Calories:
138
kcal
,
Carbohydrates:
14
g
,
Protein:
1
g
,
Fat:
10
g
,
Saturated Fat:
1
g
,
Polyunsaturated Fat:
8
g
,
Sodium:
719
mg
,
Fiber:
1
g
,
Sugar:
12
g