Salsa Verde Chicken Enchiladas require just 4 simple ingredients and they are chicken, salsa, cheese, and corn tortillas. This easy Mexican dish is ready in under an hour making it the perfect easy weeknight meal.
The Best Chicken Enchiladas with Salsa Verde
A restaurant plate of enchiladas is always comforting, rich, and the perfect dinner! It's filled to the edge with a delicious and rich sauce that's topped with gooey cheese. Once you make your way through the sauce and cheese, you've got a corn tortilla stuffed with even more flavorful meat and more melted cheese.
So to recreate that experience at home, we've put together a recipe for Salsa Verde Chicken Enchiladas. And they are just as good (if not better!) than what we get at a restaurant. The ingredients are simple and affordable, making this meal worth the effort.
First, you need chicken, of course. You can use leftover chicken, rotisserie chicken, or one of our shredded chicken recipes (Crockpot Salsa Chicken is perfect!). Then we put the chicken, some salsa verde, and lots of cheese into corn tortillas. Each one is filled with flavor and then is baked until all that cheese is melted and perfectly covers all of the tortillas.
Then it's up to you if you want to put toppings on the finished enchiladas. But we highly recommend adding toppings because it adds more flavor and texture to the dish. Crispy white onions, creamy Cilantro Lime Crema, pickled jalapenos, fresh cilantro, and avocado or this Easy Guacamole are some of our favorites because they add flavor and contrasting textures.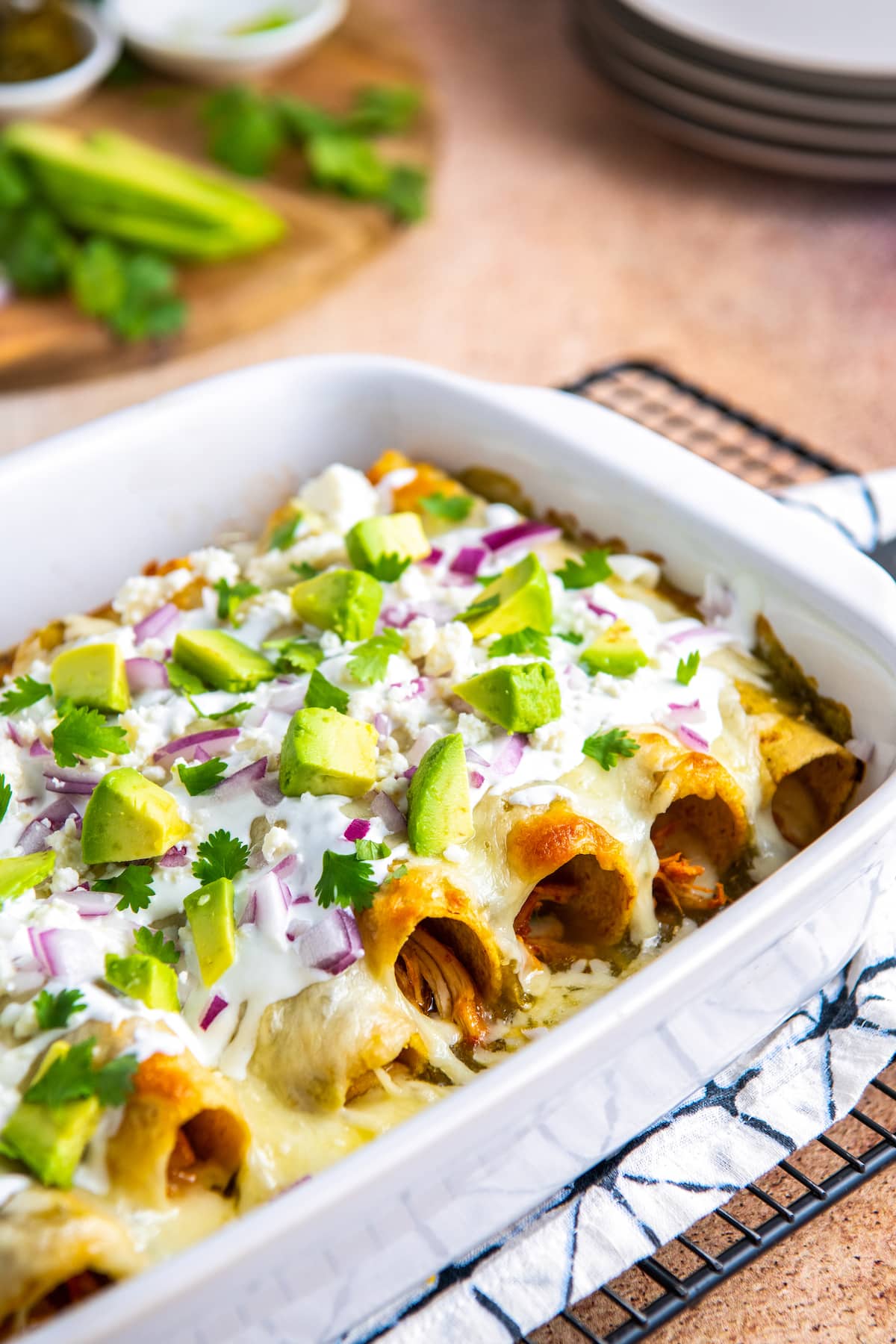 Why You'll Love This Recipe
There are lots of reasons to love Salsa Verde Chicken Enchiladas! Here's why it's a the top of our list:
Easy Mexican food: Mexican food does not have to be complicated and this recipe is a prime example! You only need four ingredients to create incredible-tasting enchiladas.
Ready in under an hour: You can have dinner on the table in about 45 minutes because this recipe is so quick and easy to prepare.
Make Ahead: This is a great meal prep dinner that you can prep ahead. Also great for when you are having company!
Travels Well: Like any casserole, enchiladas travel great! You can prep them ahead and bake them when you get where you're going.
Mix it up with toppings: You can serve it without the toppings or add things like fresh herbs, sour cream, or cilantro.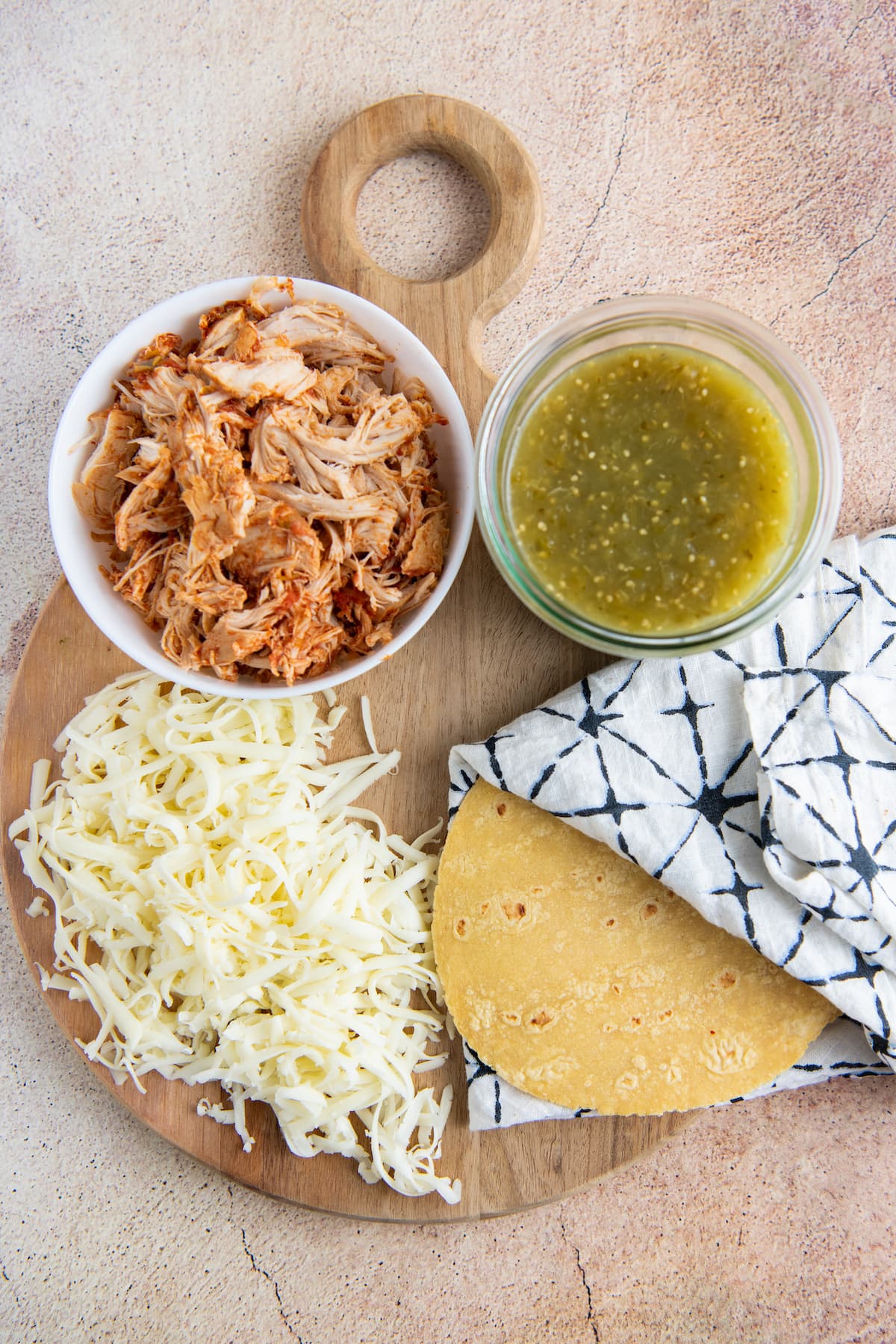 Recipe Ingredients
Here's what you need to make this delicious chicken enchilada recipe.
Salsa Verde: You can use your favorite jar from the supermarket. We like Herdez Salsa Verde if you can find this brand at your local store.
Corn Tortillas: Corn tortillas are what's used to make authentic enchiladas, but you can also use flour tortillas if you prefer.
Shredded Chicken: You can use rotisserie chicken or one of our favorite shredded chicken recipes like Crockpot Salsa Chicken or Instant Pot Shredded Chicken.
Shredded Cheese: We like to use Monterey Jack for this recipe, but feel free to use whatever you have on hand. A shredded Mexican cheese blend is also good.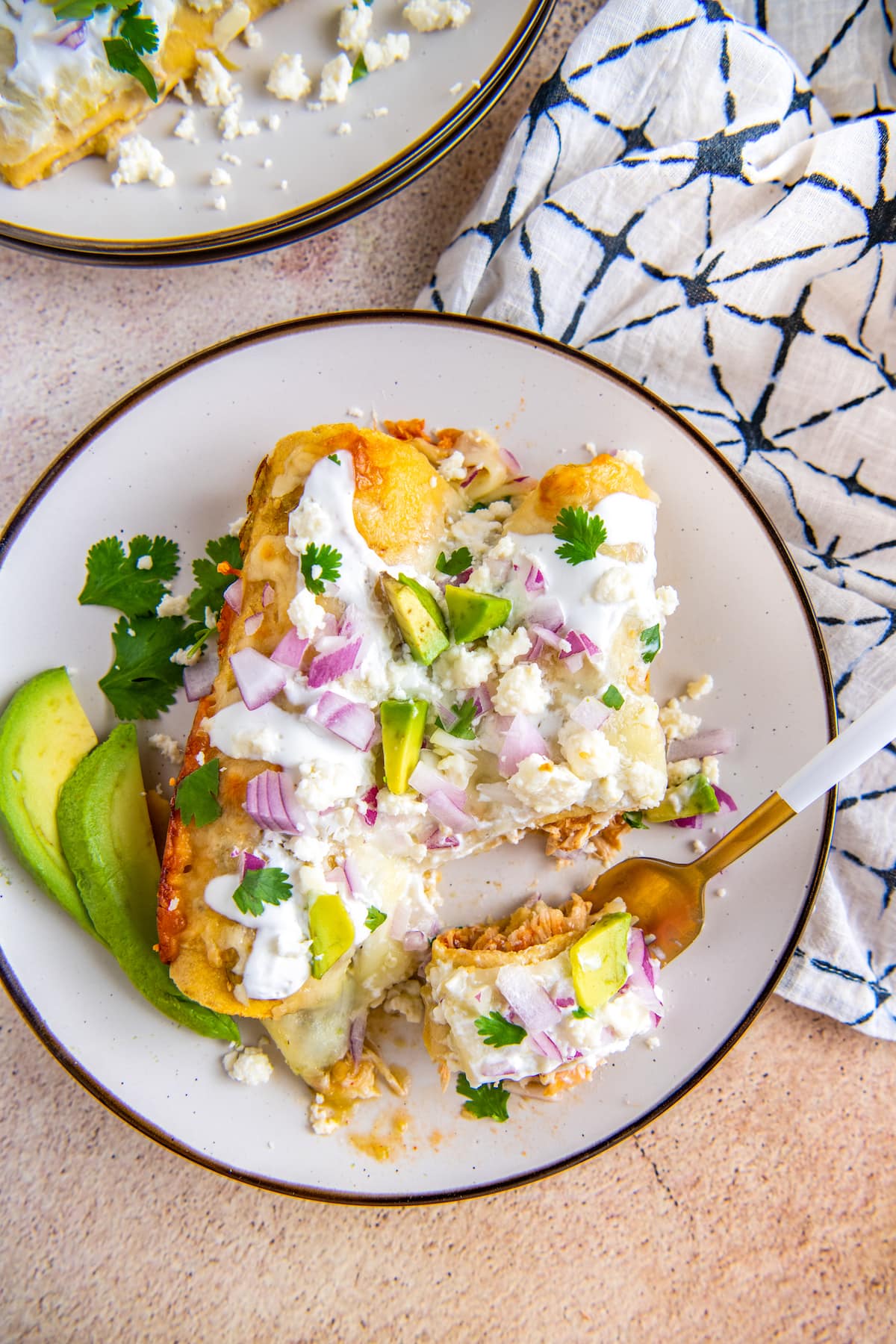 Is Salsa Verde the Same as Enchilada Sauce?
Yes there is a difference between salsa verde and enchilada sauce. First, salsa verde is also a regular salsa (a dip) and can be used in many different applications. Second, it's usually not cooked and has raw ingredients like tomatillos, onions, and garlic.
Enchilada sauce is different because it is usually pureed and also cooked. If you like using traditional enchilada sauce, try our Beef Enchiladas or Chicken Enchilada Skillet. They have rich and flavorful red enchilada sauce which is one of our favorite pantry ingredients!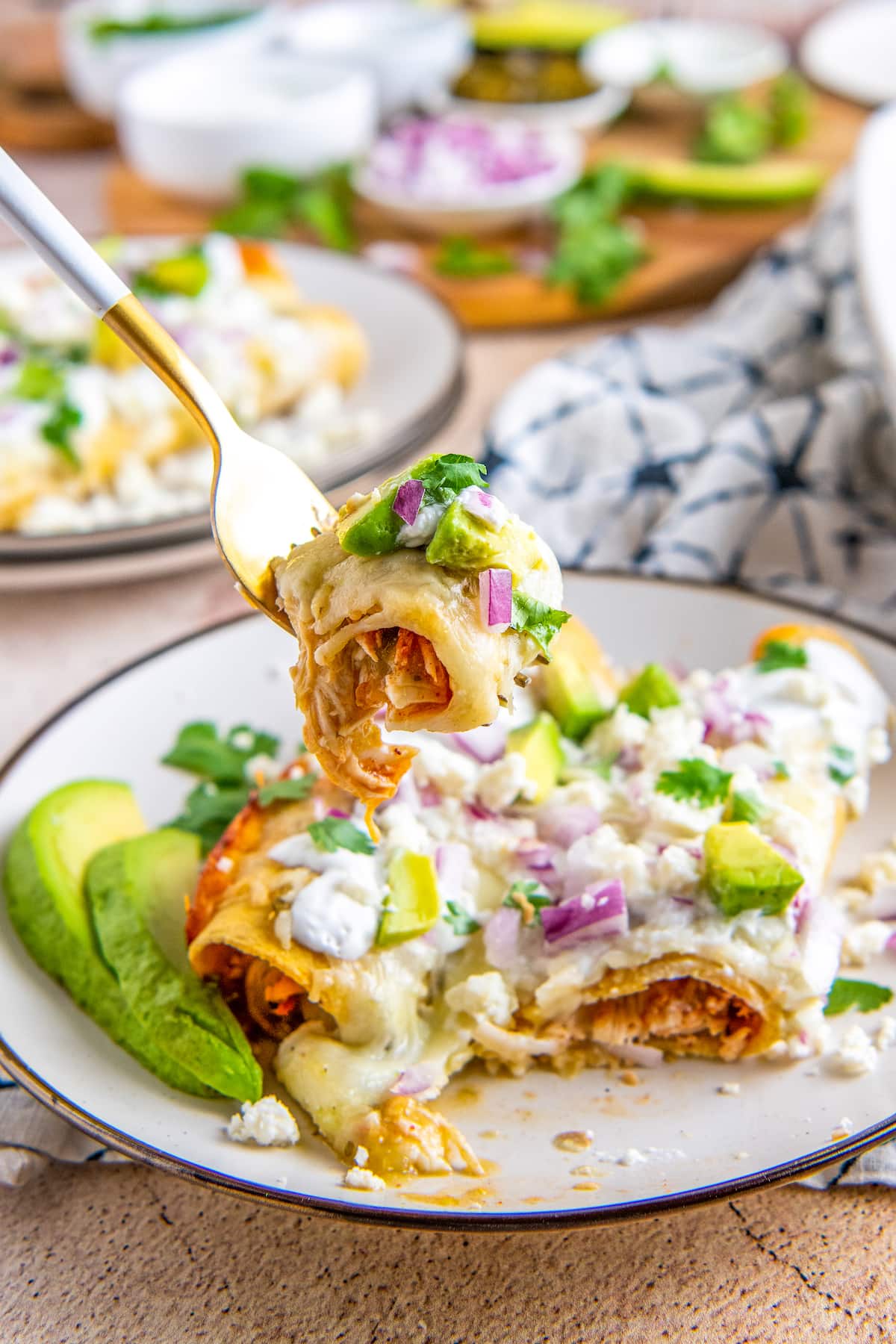 Topping Ideas
What better way to complete the dish than an assortment of fresh and flavorful toppings? And here are some of our favorites:
Chopped Onions
Sour Cream or Mexican Crema
Avocado or Guacamole
Jalapenos (Pickled or Fresh)
Cilantro
Queso Fresco or Cotija Cheese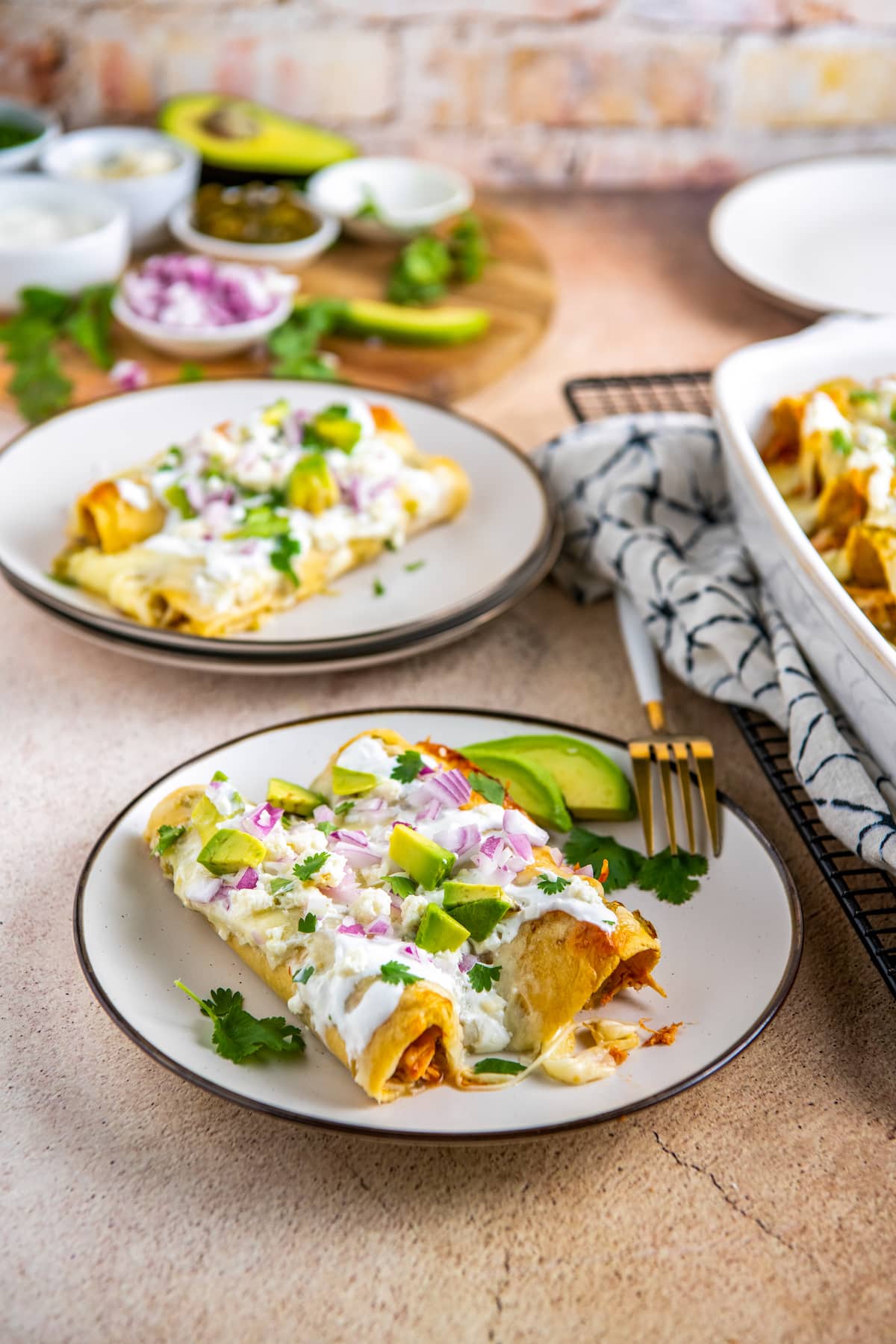 How to Make Salsa Verde Chicken Enchiladas
Here are the simple steps for making Salsa Verde Chicken Enchiladas.
First, get yourself set up. Do this by preheating the oven and microwaving the tortillas. Wrap them in a damp paper towel and microwave for about 30 seconds. This way they are soft and easy to work with.
Next, prepare the casserole dish. Pour a small amount of the salsa verde on the bottom of the dish.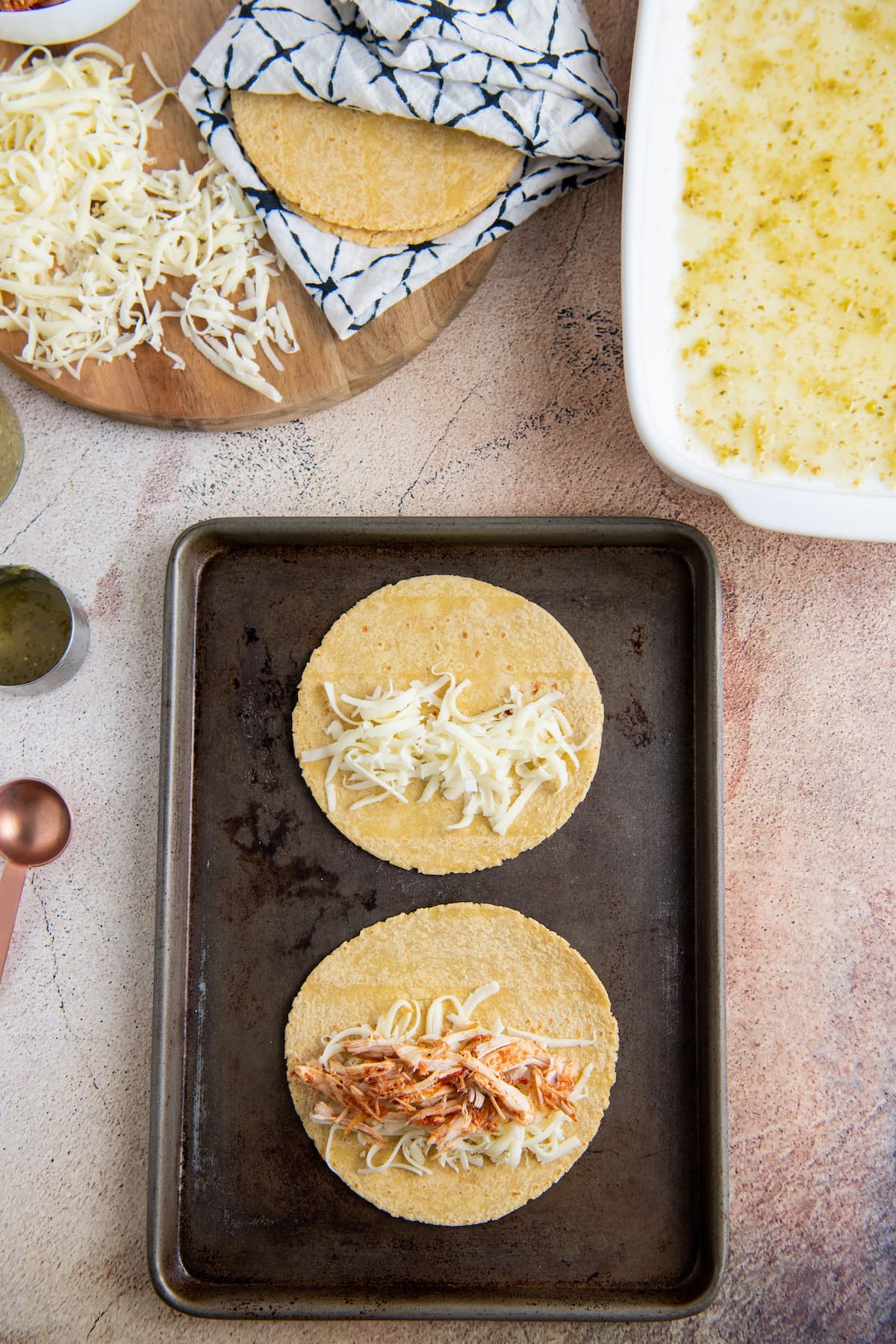 Now build the enchiladas. Put a scoop of chicken and cheese into each tortilla and then top with one tablespoon of salsa verde. Roll the tortillas up and place them seam-side down in the baking dish.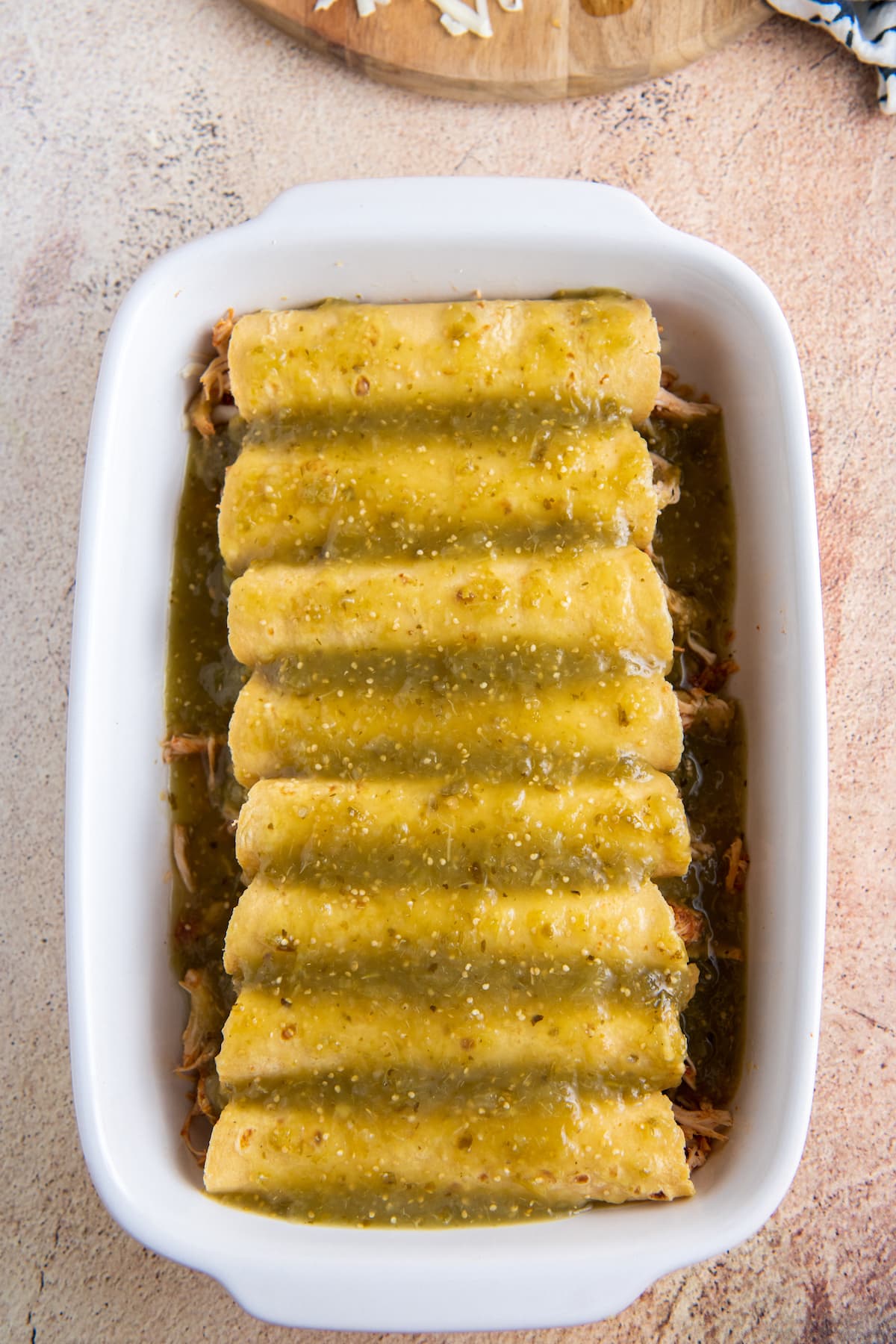 Lastly, pour the salsa and cheese on top of the enchiladas. Then bake uncovered for about 20-25 minutes.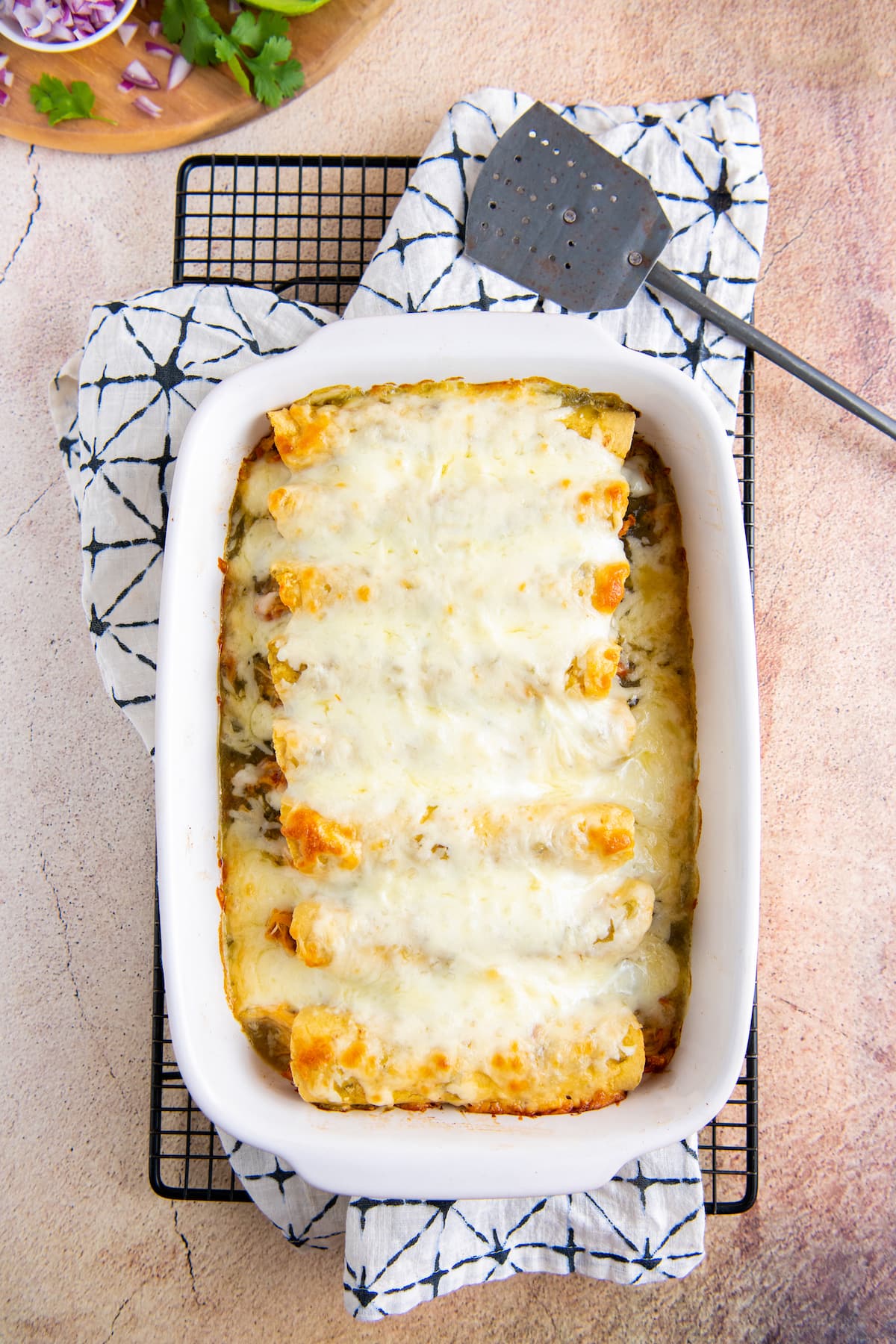 Finally add the toppings! Top with your favorite goodies and then the enchiladas are good to go!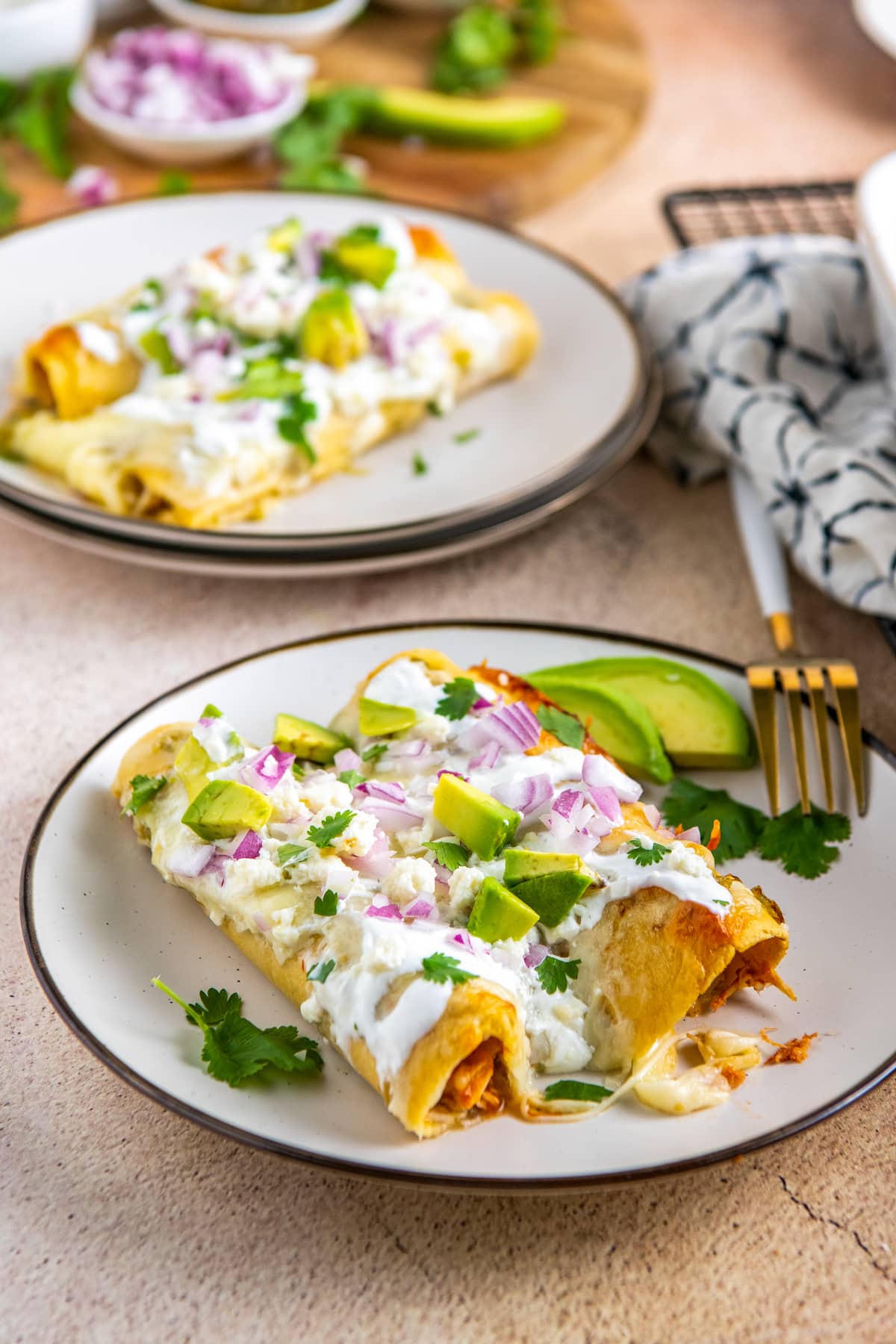 Tips for Success
Follow these helpful tips when making Salsa Verde Chicken Enchiladas so that the recipe turns out perfect every time!
Use the right corn tortillas. Our favorite tortillas are LaTortilla Factory corn tortillas. These tortillas are made with yellow corn and wheat. They are perfect because they are soft and flexible so they do not tear when rolling.
Do not overfill the tortillas. Overfilling makes it difficult to roll them tightly and also makes it hard to stay rolled once in the baking pan.
For creamy enchiladas: If you like a creamy salsa verde sauce for your enchiladas, you can whisk 1/2 cup sour cream or Mexican crema into the salsa verde.
Rotisserie Chicken: If you are in a rush and don't have time to make your own shredded chicken for the filling, you can always grab a store bought rotisserie chicken!
What to Serve with Chicken Enchiladas
Here are some of our favorite dishes to serve with this recipe:
Salsa Verde Chicken Enchiladas will pair great with our Cilantro Lime Rice becase the subtle flavor of the lime and cilantro compliment the bold flavors of the chicken enchiladas.
We love any excuse to make our Mexican Corn Salad because it's quick, easy, and a great light and fresh side dish for enchiladas.
Keep it simple with some seasoned black beans. We like to warm a can of drained and rinsed black beans in a sauce pot with a squeeze of lime juice and some of our Homemade Taco Seasoning.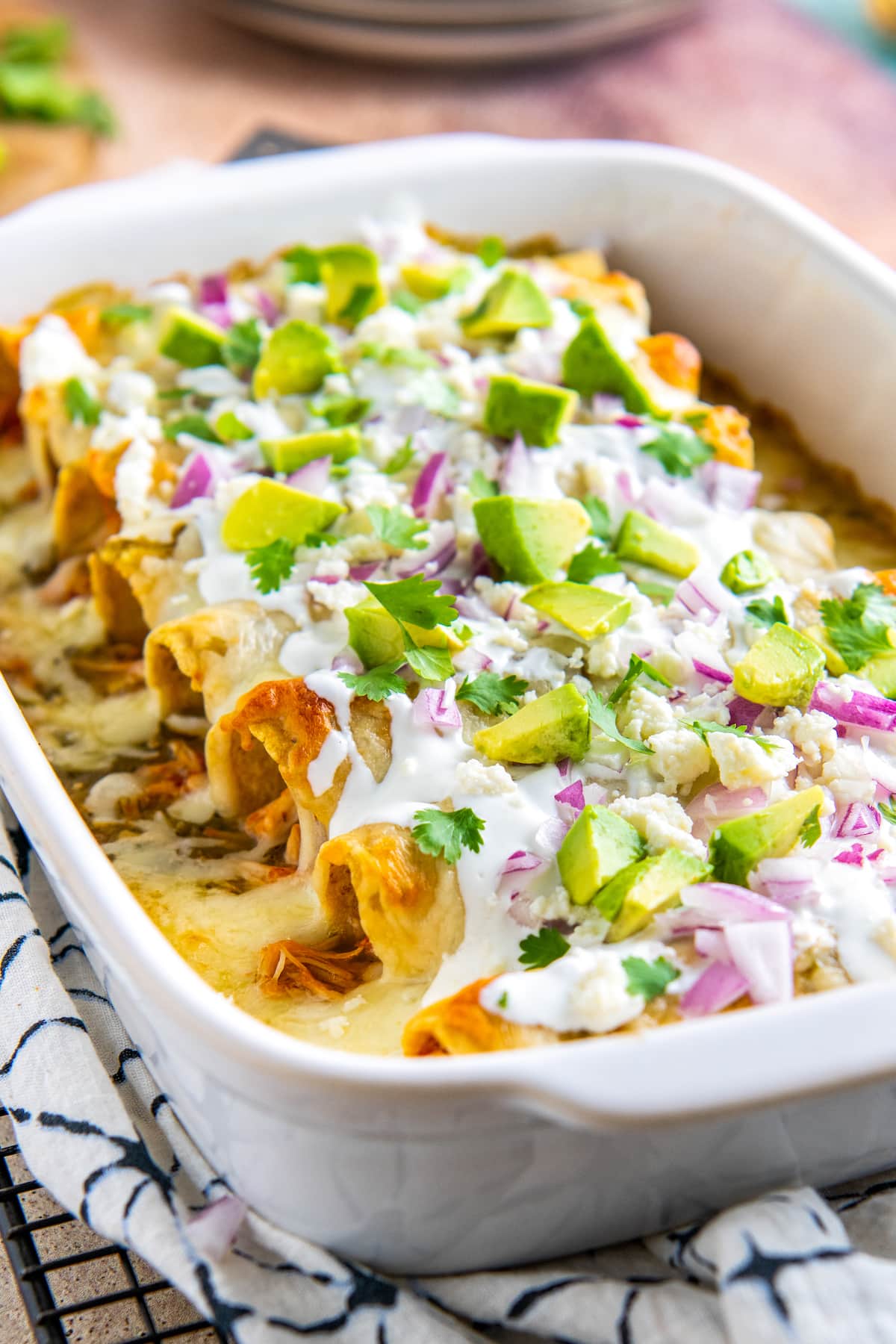 How to Store and Reheat Leftover Enchiladas
These chicken enchiladas are best when they are served right away because the salsa verde will cause the corn tortillas to get soggy and break apart. But if you do have leftovers, just store them in the fridge in an airtight container for up to 3 days.
You can reheat them in the microwave and just keep in mind they might be a little softer than when you originally baked them.
Can I Freeze Chicken Enchiladas?
We don't recommend freezing this recipe after cooking. The corn tortillas will get soggy and fall apart with all of the sauce on them.
However, you can freeze them before baking them! Assemble the enchiladas, cover them tightly and freeze for up to 3 months. We recommend using a foil casserole pan for freezing enchiladas.
When ready to bake them, they can go directly from the freezer to the oven. This helps preserve the texture of the tortillas and prevents them from becoming soggy. Bake them for 30 to 35 minutes, until warm and bubbly!
Salsa Verde Chicken Enchiladas
This 4 ingredient Salsa Verde Chicken Enchilada recipe is so easy but tastes like your favorite restaurant enchiladas! Dinner will be ready in under an hour!
Ingredients
8

corn tortillas

3

cups

cooked and shredded chicken

4

cups

shredded Monterey jack cheese
Optional Toppings:
Chopped onion

Sour cream,

Mexican crema or Cilantro Lime Crema

Jalapeños

,

pickled or fresh

Cilantro

Queso fresco or Cotija cheese
Instructions
Preheat oven to 350°F.

Spread 2 tablespoons of salsa verde in the bottom of a 9×13 casserole dish.

Wrap tortillas in a damp paper towel and microwave them for 30 seconds. This will help them be pliable so they don't rip/tear while filling and rolling.

Spread 2 tablespoons of the cheese and chicken in the center of a tortilla. Spread 1 tablespoon of salsa over the chicken.

Roll the tortilla tight and lay it seam side down in the prepared baking dish. Repeat until all tortillas are filled.

Pour the remaining salsa verde over the top of the enchiladas and then spread the remaining cheese over the top.

Bake uncovered for 20 to 25 minutes, or until the cheese is melted and the enchiladas are hot. Let rest for 5 minutes and serve with your favorite toppings and sides.
Notes
Storage: Store leftovers in an airtight container, in the fridge, for up to 3 days.
Freeze: If you want to freeze your enchiladas, freeze them prior to cooking. Assemble the enchiladas in a freezer friendly casserole dish (we like to use a foil baking dish) and cover them tightly with foil. Freeze for up to 3 months. Bake the enchiladas frozen straight from the freezer (do not thaw). Bake for 30 to 35 minutes until warmed through and bubbly.
Shredded Chicken: You can use a rotisserie chicken or make your own. We love salsa chicken (Crockpot Salsa Chicken or Instant Pot Salsa Chicken) or you can use this Instant Pot Shredded Chicken as well!
Nutrition
Serving:
1
,
Calories:
927
kcal
,
Carbohydrates:
33
g
,
Protein:
64
g
,
Fat:
61
g
,
Saturated Fat:
31
g
,
Polyunsaturated Fat:
26
g
,
Cholesterol:
207
mg
,
Sodium:
1200
mg
,
Fiber:
8
g
,
Sugar:
4
g
More Easy Chicken Dinner Recipes